WOODSTOCK – Marian Central senior guard Jordyn Kratochvil felt her team was capable of some pretty incredible things after winning the Johnsburg Thanksgiving Tournament in November.
Kratochvil, a four-year varsity player, was on to something.
After pulling away late and picking up a 56-40 victory against Westlake Christian on Monday at Landers Pavilion, the Hurricanes are one win from breaking the team's single-season wins record.
This year's Hurricanes (22-7) can become the program's all-time winningest team by knocking off Belvidere North in their final regular-season game at 7 p.m. Tuesday. Marian's previous most wins came during the 1993-94 season, when they went 22-2 under longtime coach Jim Speaker.
The Hurricanes, after going 5-20 last season, also surpassed 20 wins for the first time since 2000.
"This team's definitely had a lot of ups and downs over the years, so it feels good that all of our hard work has finally paid off," said Kratochvil, one of Marian's captains with senior Kerri Johnson. "Honestly, we're just a family at the end of it all. That's been our motto. We've always just kind of bonded and stuck together through anything, and that's made us better because of it."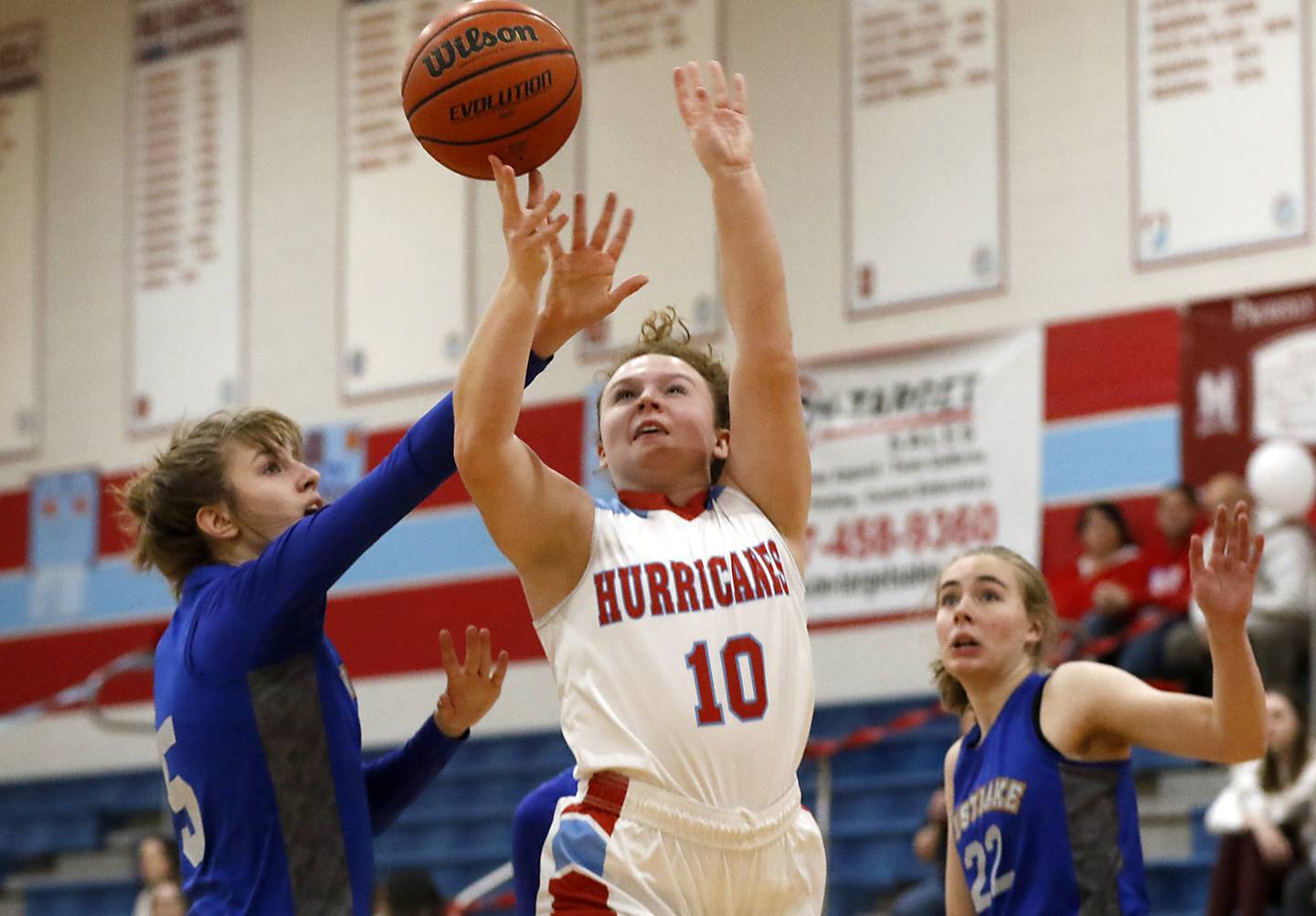 Marian coach Lee Brown saw potential in his team after taking over in the middle of last season. The Hurricanes have only gotten better.
"The first thing that stuck out to me was how hard they worked on defense," Brown said. "So I saw potential in them, but it's hard to know exactly what that's going to turn out to be. I know how hard the girls have been working the entire year. I'm just so happy for them. They deserve it. I'm happy for myself, my coaches and Marian. Now we've got to keep it going."
Junior Madison Kenyon led the Hurricanes with a team-high 17 points and 16 rebounds. She also had five steals and made two key putbacks on consecutive possessions near the start of the fourth quarter after Westlake Christian (20-8) trimmed Marian's lead to 37-36.
Kenyon had seven of her 17 points in the last quarter, including a steal at midcourt that led to a three-point play to put her team up 46-36 with 3:43 to go. Marian also got hot from 3-point range in the second half after not hitting any in the first two quarters. Johnson had 13 points with three 3s, and sophomore forward Juliette Huff had 11 points with two 3s.
Sophomore point guard Abbey Miner chipped in five points and four steals.
"We all just kind of started working together and sharing the ball more," said Kenyon, who is averaging a double-double this season. "And that's what really helps us, just sharing the ball with each other, because everyone has amazing skills. Everyone contributes. There's not one person who doesn't."
Westlake Christian coach Dennis Sigurnjak said his team had a difficult time slowing down Kenyon. And once Johnson and Huff started making 3s, it was too much.
The Eagles were led by Coco Rochelemange with a game-high 20 points and four 3s. Juliette Sigurnjak had 11 points.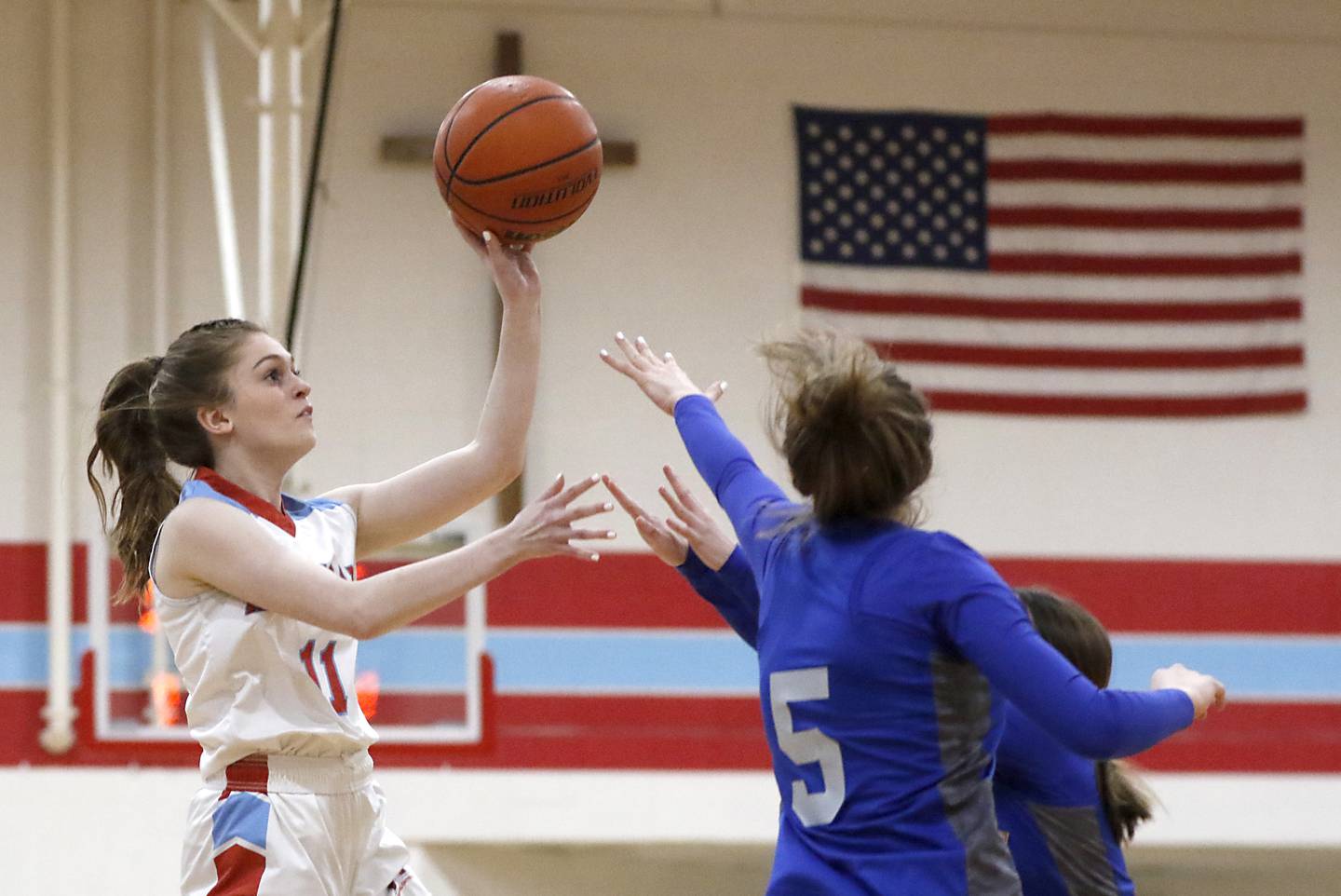 "They've got a lot more depth than we do," Dennis Sigurnjak said. "They woke up there, and their 3-point shooters started hitting. They have a wonderful player in [Kenyon], who was working us in the middle early in the game. She's a strong player, quick, got good handles and can finish when she gets to the rim. That aggressiveness goes a long way."
After Tuesday's regular-season finale against Belvidere North, Marian will begin the postseason as the No. 1 seed in the Class 2A Winnebago Sectional. The Hurricanes will see the winner of Somonauk co-op and Rosary in a Rosary Regional semifinal Feb. 14.
Marian last won a regional title in 2020.
"I was a freshman on that team, so it's all come full circle," Kratochvil said. "I think we've got a good shot at winning it again. It's going to be exciting."