Many northern Illinois residents will be spending part of their Sunday digging out from the first significant snowstorm of the winter, which is set to be followed by a night of subzero temperatures into Monday, the National Weather Service said.
Heavy snow fell on the region beginning in the mid-morning hours and continued until tapering off late Saturday night.
McHenry, Kane, DuPage and Lake counties took much of the brunt of Saturday's storm.
Snowfall totals reported in northern DuPage and Kane counties ranged from 4.8 inches to 6.5 inches, according to the National Weather Service snowfall observations posted at 9:44 a.m. Sunday.
The snowfall totals reported in McHenry, Kane, DuPage and Lake counties are roughly more than double the highest snowfall totals reported in most other northeastern Illinois counties.
The highest snowfall totals in the northern Illinois were reported in sections of Henry and Knox counties in in western Illinois where 6.8 inches of snow fell.
Within Cook County and its collar counties, Hoffman Estates saw the most snow with 6.5 inches, said National Weather Service meteorologist Rafal Ogorek.
In McHenry County, Woodstock received the highest total at 5.4 inches, Ogorek said, while Marengo saw 4.5 inches, Harvard saw 4 inches, McHenry saw 3.6 inches and Crystal Lake saw 2.4.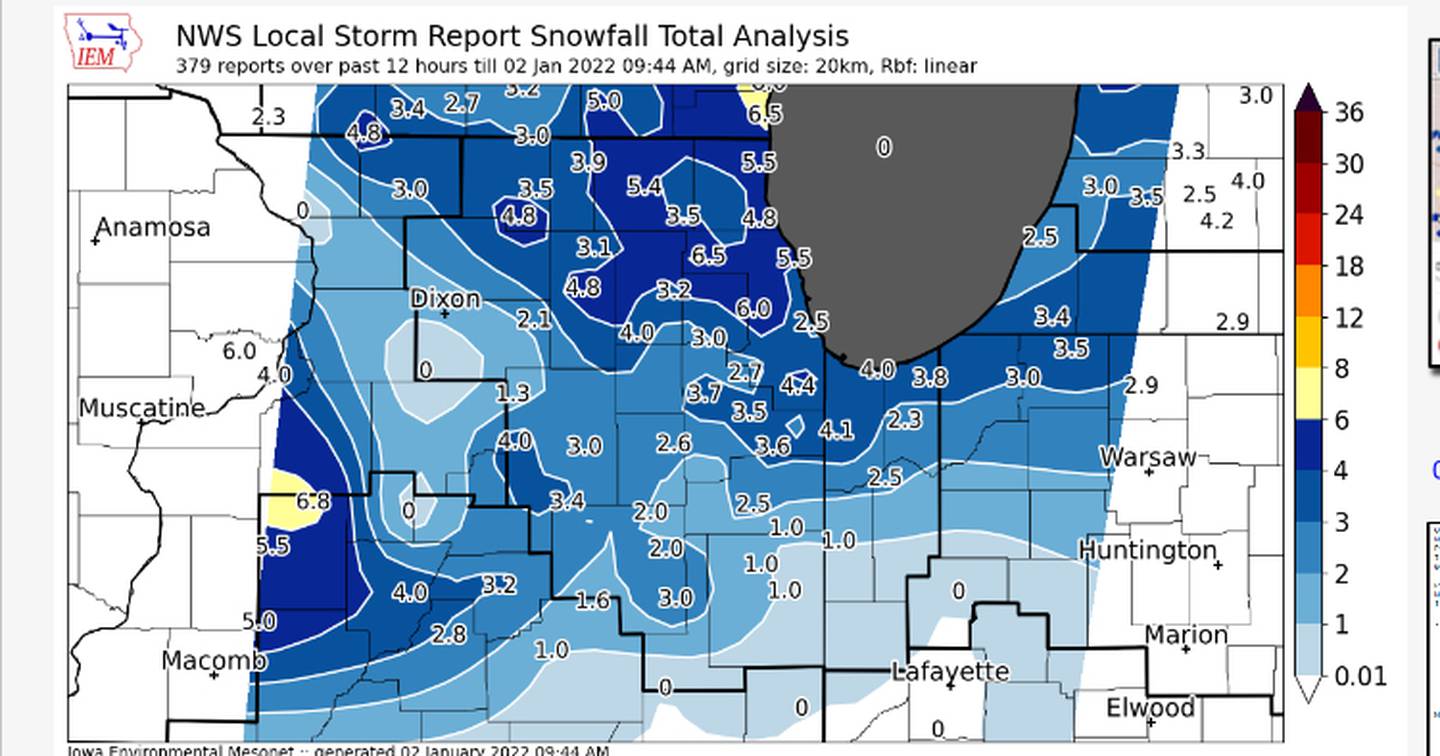 Pockets of snowfall that reached 4.8 inches were reported at the Winnebago and Ogle county line and in central DeKalb County.
Snowfall totals for the balance of the northern Illinois region ranged from approximately 2.5 inches to 4 inches.
A winter storm warning was in effect throughout the day Saturday for most of northern Illinois, according to the weather service and hazardous driving conditions along with numerous accidents were reported throughout the area.
But no more snowfall was expected to accumulate in northern Illinois as of mid-morning Sunday, as the precipitation had moved into Indiana, Ogorek said.
Frigid temperatures are expected Sunday night into Monday throughout northern Illinois, with lows between zero and minus 10 degrees, and corresponding wind chills that will make it feel between minus 5 and minus 15 degrees, he said.
"Fortunately, it won't last very long," Ogorek said. "We'll start a bit of a warming trend Monday into Tuesday. We have highs forecasted in the 30s already for Tuesday."
Coldest night so far this winter tonight! Away from the lake and city, the actual air temperatures will drop below zero, with double digit subzero lows possible at a couple of the typically coldest locations. Winds will be light, but enough for bitter cold wind chills! pic.twitter.com/50PiTWCr4e

— NWS Chicago (@NWSChicago) January 2, 2022
Sunday's high will fall between 15 and 29 degrees, the National Weather Service tweeted, and then Monday's will be between 15 and 27 degrees with a low of 13 to 23 degrees.
Single-digit temperatures could return later in the week.
"There probably will be another shot of cold air coming into the weekend," Ogorek said.
Forecasts show a chance of scattered snow showers Wednesday with a high between 21 and 31 degrees, with lows that night between three and 15 degrees. On Thursday, there is a chance of snow with highs between 10 and 20 degrees followed by nighttime lows between minus eight degrees and nine degrees.
A winter storm warning for parts of DuPage and Cook counties and northwest Indiana was in effect until 6 a.m. Sunday, the weather service said.
The weather service also issued a winter weather advisory for Kendall County and northern Will County late Saturday night which was lifted at 3 a.m. Sunday.
Motorists encounter snowy, ice road conditions
Road conditions were improving, but many highways still were were snow-packed or icy throughout northern Illinois by midday Sunday.
The Illinois Department of Transportation website showed most major roadways in the state's northern reaches were at least "partially covered" by ice and snow as of 2 p.m., and many others, especially in Lake and Cook counties, were considered "mostly covered."
This is a developing story and will be updated.