DeKALB – Carolyn Zasada, 1st Ward alderwoman for DeKalb, announced that she'll seek the 76th District in the Illinois House in 2024 as a Democrat, putting her in line for another battle with Mayor Cohen Barnes.
Barnes also announced Sept. 22 that he plans to run as a Democrat.
Fellow Democrat and Northern Illinois University graduate Lance Yednock, D-Ottawa, has said he won't seek reelection in 2024.
"I've been thinking about [running for 76th District] for the past month or so and finally made the decision last weekend," Zasada said in an interview Monday, adding that she want to continue "fighting for working families and their everyday needs."
Zasada – formerly Carolyn Morris – and Barnes faced each other in the 2021 mayoral race in DeKalb, with Barnes coming out on top. If Barnes, who was first elected in 2021, wins a spot in the General Assembly in Springfield, he said he intends to continue serving his mayoral term to the end and continue in both elected offices at the same time. Zasada, who was first elected in 2019 and whose current term also ends in 2025, said it's too early for her to decide on serving out her alderperson term.
In her second term on the DeKalb City Council, Zasada said she feels confident now in her work as an elected leader and knows that she'll be able to bring that to Springfield to represent a much larger constituency.
"Ever since I began serving on the City Council in DeKalb, I have absolutely loved serving the community, and I think that I am equipped on a larger level," Zasada said.
[ DeKalb mayor announces 2024 election bid for Illinois District 76 House of Representatives ]
The DeKalb U.S. Marine Corps veteran, real estate agent, NIU graduate and mother of four who attend DeKalb District 428 schools is no stranger to public office bids.
She said she was first inspired to pay more attention to politics in school.
"I had an amazing social studies teacher and after a specific class, I felt like I understood the system so well that I felt like I would be able to go into this challenging abstract system and fight for the people our government overlooks and change the things that people need to be changed," Zasada said. "That is the same thing that led me to join the Marine Corps. I thought I could replace someone in a combat zone who had children to return to. I see a need, and I work to meet it."
In addition to her 2021 mayoral campaign, Zasada ran an unsuccessful 2018 bid as a Democrat for the DeKalb County Clerk and Recorder's Office, losing to longtime clerk and Republican Douglas Johnson. She's been representing the 1st Ward unopposed since 2019.
Zasada joined the Marine Corps in 2002. She served for 11 years as active duty and two more as reserve, and served a tour in Iraq. She holds a bachelor's degree in economics from NIU, and earned her master's in public policy and administration at Northwestern University. She's worked in nonprofit management and now is a real estate agent.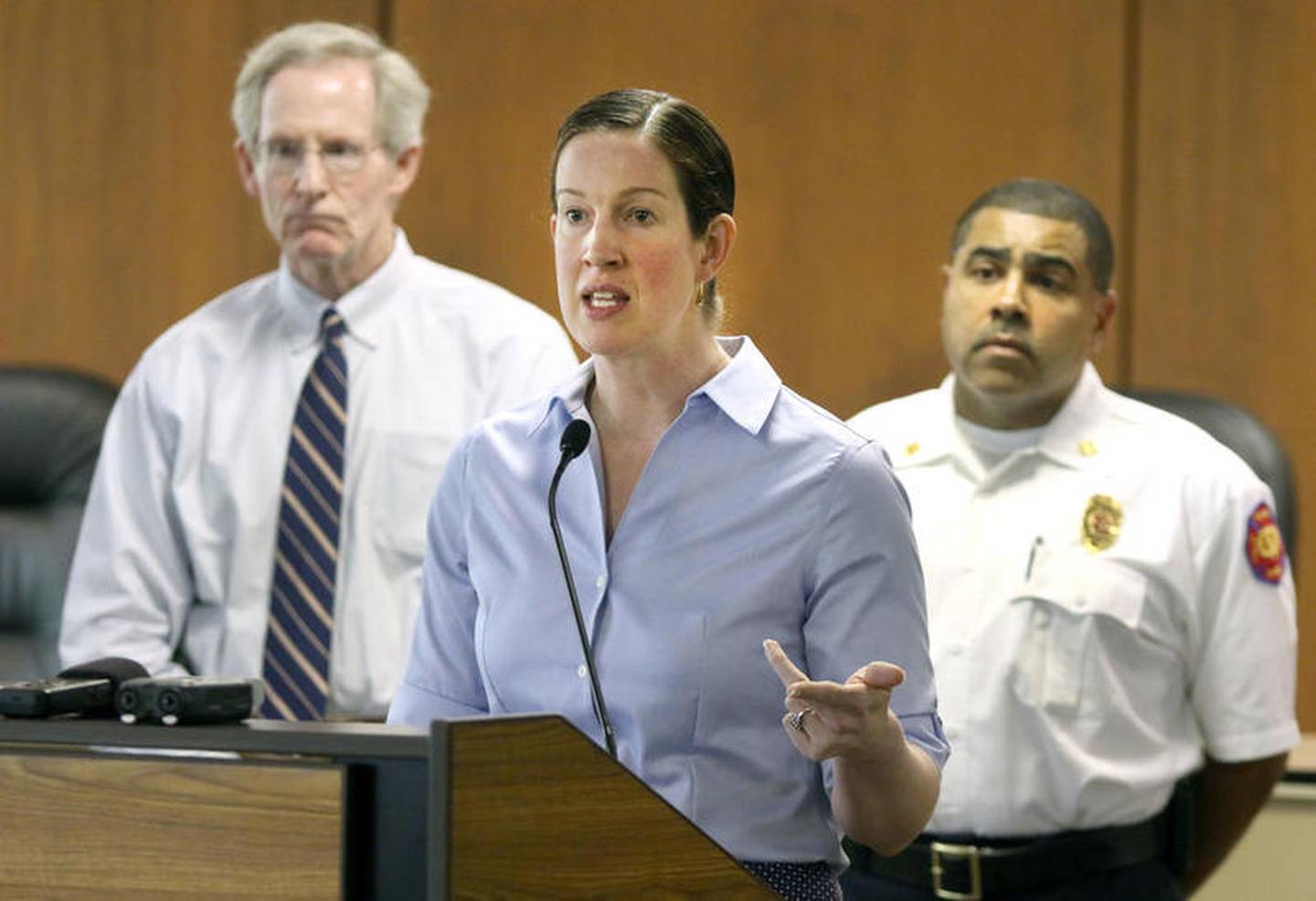 A hot-button issue likely to play a role in 2024 campaigns is the controversial closure of St. Margaret's Hospital, which closed June 16 in Spring Valley. St. Margaret's Health-Peru closed in January and has since been acquired by OSF HealthCare.
The Illinois Valley has been without a nearby hospital since, as OSF St. Elizabeth Medical Center in Ottawa is the closest.
"I think that it's important to focus on the needs of the entire district, and I think the things the entire district are facing are shortage of health care, access to health care – I think that's a significant factor for people and a significant factor in reducing crime, quality of life and poverty," Zasada said.
In a social media post Sunday night to her political public page, Zasada announced her candidacy with a photo alongside DeKalb County Democratic Party Chair Anna Wilhelmi.
Zasada said she also wants to tackle job growth and lowering taxes.
"I think we need more good-paying jobs," she said. "The [Interstate] 88 corridor has been growing big time, but there's a lot of need for more growth in the southern portion of the district. I think we've done a fantastic job in the city of DeKalb for reducing taxes, but it's something we need to do in other parts of the district as well."
In her time representing the 1st Ward, Zasada has worked with city officials, area landlords and tenants to help facilitate major changes to property ownership on the city's north side. During a 2019 summer of fires at multiple DeKalb apartments, including many owned by former Evanston-based landlord Hunter Properties – once the city of DeKalb's largest landlord – Zasada could be seen at the apartment complexes, aiding residents displaced and injured by the fires.
In April 2021, Zasada supported a unanimous vote for the city to sign a settlement contract with Hunter Properties – which at one point had almost 500 unresolved code violations, according to DeKalb County court records – which established a plan for Hunter to sell multiple properties to the city or to a different landlord. All Hunter Properties buildings that changed ownership were in the 1st Ward, except for The Terraces, formerly Lincoln Tower on West Lincoln Highway.
"The 1st Ward has really seen some transformation," Zasada said. "There's certainly room to grow and to improve, but we've taken the necessary steps to get that ball rolling and to change what it looks like."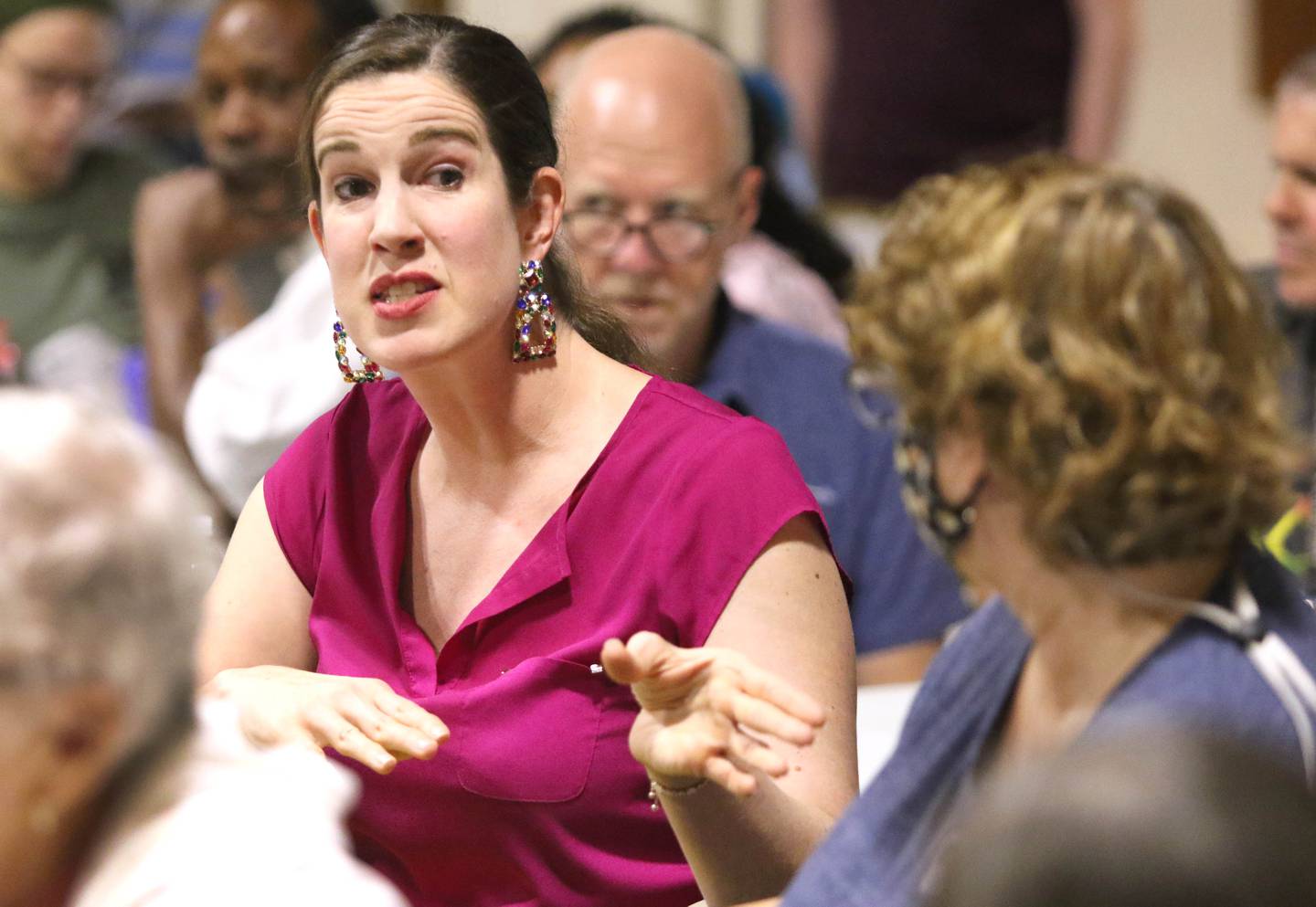 The candidate filing period doesn't open until Nov. 27, according to the Illinois State Board of Elections. However, petitions to collect voter signatures could begin circulating as of Sept. 5.
The general primary election in Illinois is March 19.
The 76th District includes La Salle, Bureau and DeKalb counties, including the cities of Ottawa, La Salle, Peru, DeKalb and Spring Valley.
For Zasada, she hopes to bring her ability to listen and learn – what she counted a strength – to the district.
"I think that on [the] City Council I'm an open-minded voice of reason and think I listen very well to both sides of every situation that we come across," Zasada said. "I'm always willing to change my mind, which I think is a positive when new ideas present themselves."