The four Joliet City Council candidates in District 4 met at a forum Thursday, with one claiming to be the only independent candidate in the race, although not all agreed.
The candidates in the April 4 election are Cesar Cardenas, William Ferguson, Rosa Hernandez and Christopher Parker. The Joliet district includes most of the east side, downtown and a section of the near west side.
In opening remarks, Parker said he is "the only independent candidate who is not tied to any individual," although he added that current District 4 council member Bettye Gavin has endorsed him.
Ferguson, who spoke next, disagreed.
"I am not affiliated with any of the three mayoral candidates, and I am not affiliated with anyone else who is running in this election," he said.
Cardenas told the audience that he has been associated with mayoral candidate Terry D'Arcy for 17 years.
"I'm proud to say I support Terry D'Arcy, simply because I've learned a lot from him," Cardenas said, noting D'Arcy's involvement in the community and saying he is running for the council seat "because I wanted to give back to the community."
Hernandez, who was appointed to the Joliet Board of Fire and Police Commissioners by Mayor Bob O'Dekirk with approval from the City Council, did not address the issue.
It was the one episode of mild political fireworks as the candidates otherwise addressed a series of questions posed at the forum – organized by neighborhood organizations – provided information about themselves and shared some ideas.
Cardenas
Cardenas is the owner of Unidos Marketing Network. He also renovated the former Steelworkers union building downtown, now named simply 310 for its address at 310 N. Ottawa St., into incubator offices space.
He has served on several boards, including the Will County Center for Economic Development, and is past president of the Spanish Community Center.
"My goal is to be on the City Council and give back from the experience I've had from being on those boards," Cardenas said.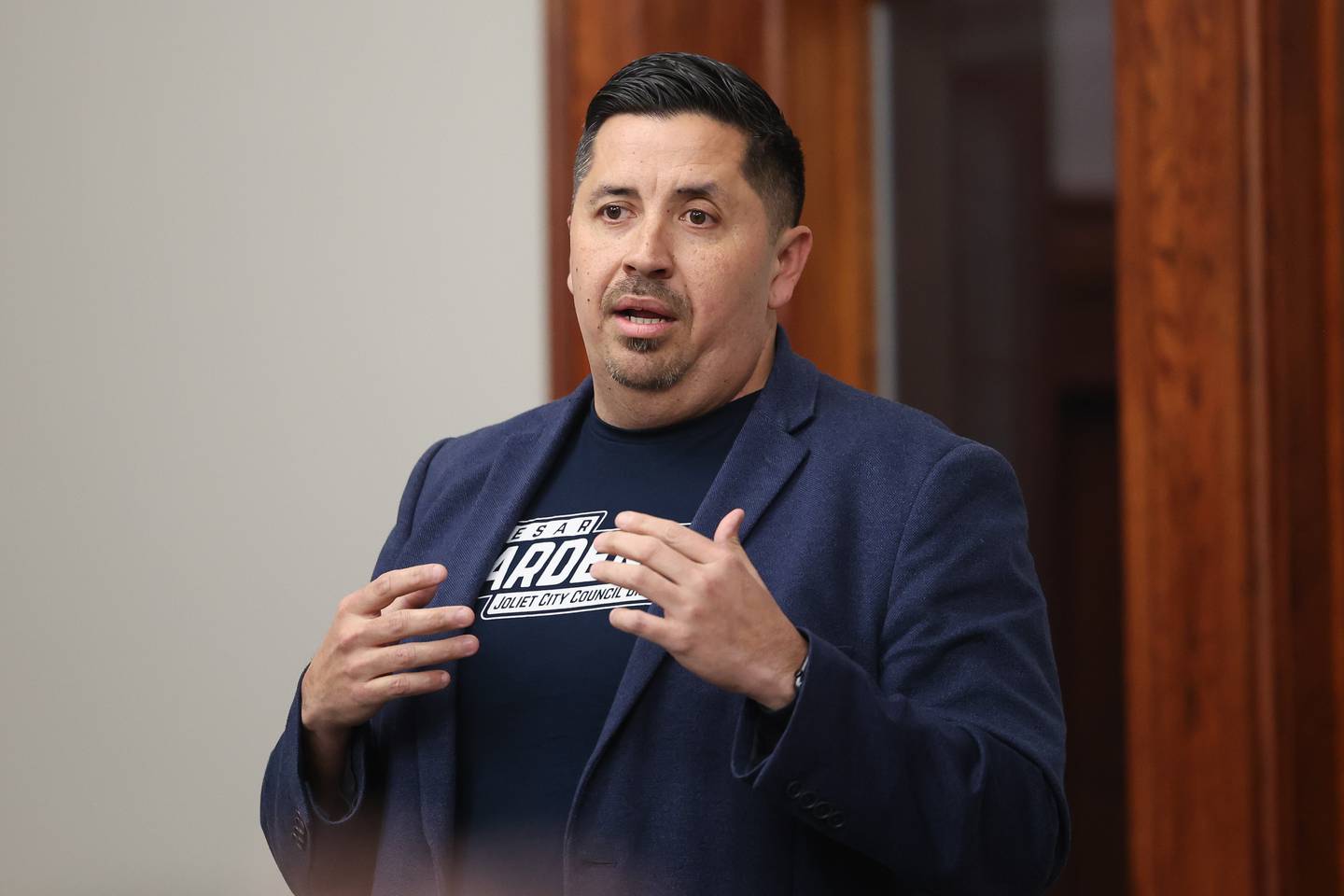 Comparing Joliet with other cities, Cardenas said tourism is the best opportunity for development downtown.
"I've seen some of these downtown areas that are thriving," he said. "They're not built up by just local residents. They're built up by people who travel from all over.
Parker
Parker is a vice president with Wintrust Bank at its branch in Maywood, where he served as a past economic development chairman for the village. He now is chairman of the African American Business Association of Will County.
Parker is a Joliet native whose grandfather ran the Parker Laundromat business that had several locations on the east side.
"This town needs a plan," Parker said in response to a question about initiatives to improve District 4. "All of our districts need a plan. To me, if you don't have a plan, you're just acting aimlessly."
He advocated "zoning reform" to foster redevelopment, saying Joliet should focus on growth through rehabilitation of older sections of the city.
"I believe in rehabilitating, expanding and better utilizing our existing structures," Parker said. "We have enough existing property to focus on redevelopment."
Ferguson
Ferguson is a former director of the Will County Emergency Management Agency and a former deputy coroner in Will County. He said he will soon be retiring from his current job as a death investigator for the Cook County Medical Examiner's Office.
Public safety is a top concern, he said. Ferguson wants to see the Neighborhood-Oriented Policing Team built back to previous levels.
People "become familiar with the officers. They become comfortable with them," Ferguson said.
The city should create programs to foster redevelopment in older areas, he said.
"Joliet is not unique in that we have old housing stock or in that we have neighborhoods that have no grocery stores," he said. "We need to encourage that development with programs."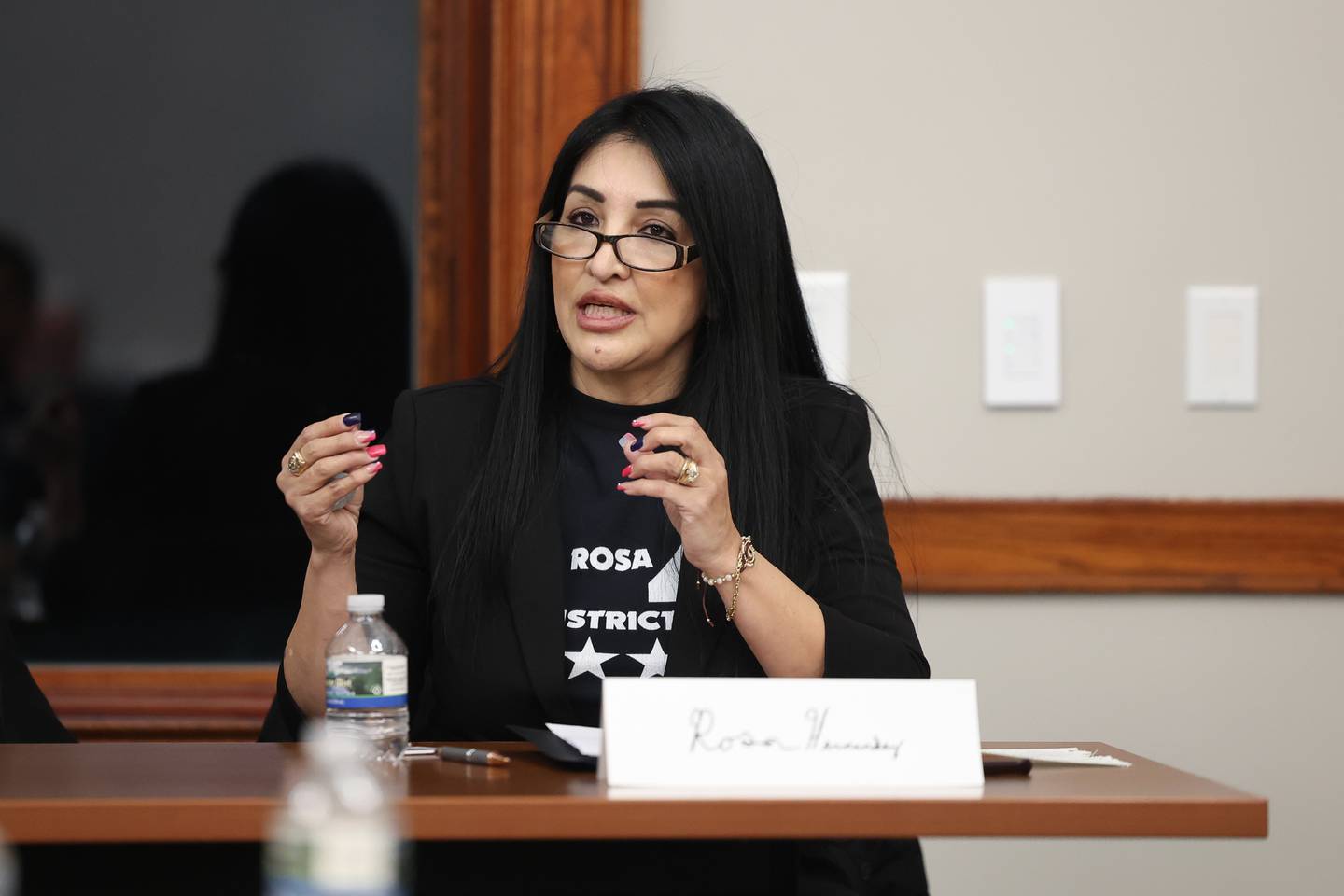 Hernandez
Hernandez is an administrator for the Facebook page "Friends of Joliet."
District 4 needs more attention from its council member, she said, noting that streetlights can be out for long periods of time without being fixed.
"It makes the city look like we're not taking care of it," Hernandez said, adding that she would encourage residents to speak up on issues in the neighborhoods. "I think that the more people call and complain, it's going to get done and it's going to get fixed."
Fixing up the neighborhoods and public safety would be top priorities, Hernandez said.
She also said Jefferson Street needs attention. Pointing to the economic resurgence on Collins Street since she was a child, Hernandez said, "I'd like to see that on Jefferson Street."