Editor's Note: To read more election coverage, check out Daily Chronicle Election Central at shawlocal.com/daily-chronicle/election/. Coverage of all this week's forums will be there.
DeKALB – Candidates vying for one of three contested four-year seats on the DeKalb City Council in the April 4 consolidated election traded barbs over several hot topics such as affordable housing, the idea of a potential commuter rail service and the extent to which environmental concerns should influence economic development.
The forum, put on this week by the League of Women Voters DeKalb County and sponsored by Northern Public Radio's WNIJ, was moderated by Cate Williams. The event was the first in a series of three virtual programs held this week ahead of the election. A final virtual forum is set for Thursday night and will feature candidates for Sycamore and Sandwich city councils.
The public can tune in on WNIJ's Facebook page or website at 6 p.m. Thursday.
First Ward candidate and incumbent Carolyn Morris is running for reelection unopposed and, as such, did not participate in Tuesday's City Council forum as the event was meant for contested races.
"I have daily witnessed good property management and bad and know what goes into running housing properties. We have to understand the differing issues that tenants and landlords face and work together to find fair and equitable solutions."

—  John Walker, Ward 7 DeKalb City Council candidate
Third Ward
Third Ward Alderman Tracy Smith, who is seeking reelection, said the reason he is seeking a second term on the DeKalb City Council is easy to pinpoint.
"DeKalb is in a good position," said Smith, a retired DeKalb police officer. "DeKalb is coming back. I like to say we're getting back to the way it used to be. We've seen the downtown grow. We've seen our tax rate come down for four years. I anticipate as our [equalized assessed valuation] continues to rise, that the taxes on our citizens will continue to go lower. We've got a ton of development down on the south end, which is really helping our community and [is] a way to lessen the impact on our citizens."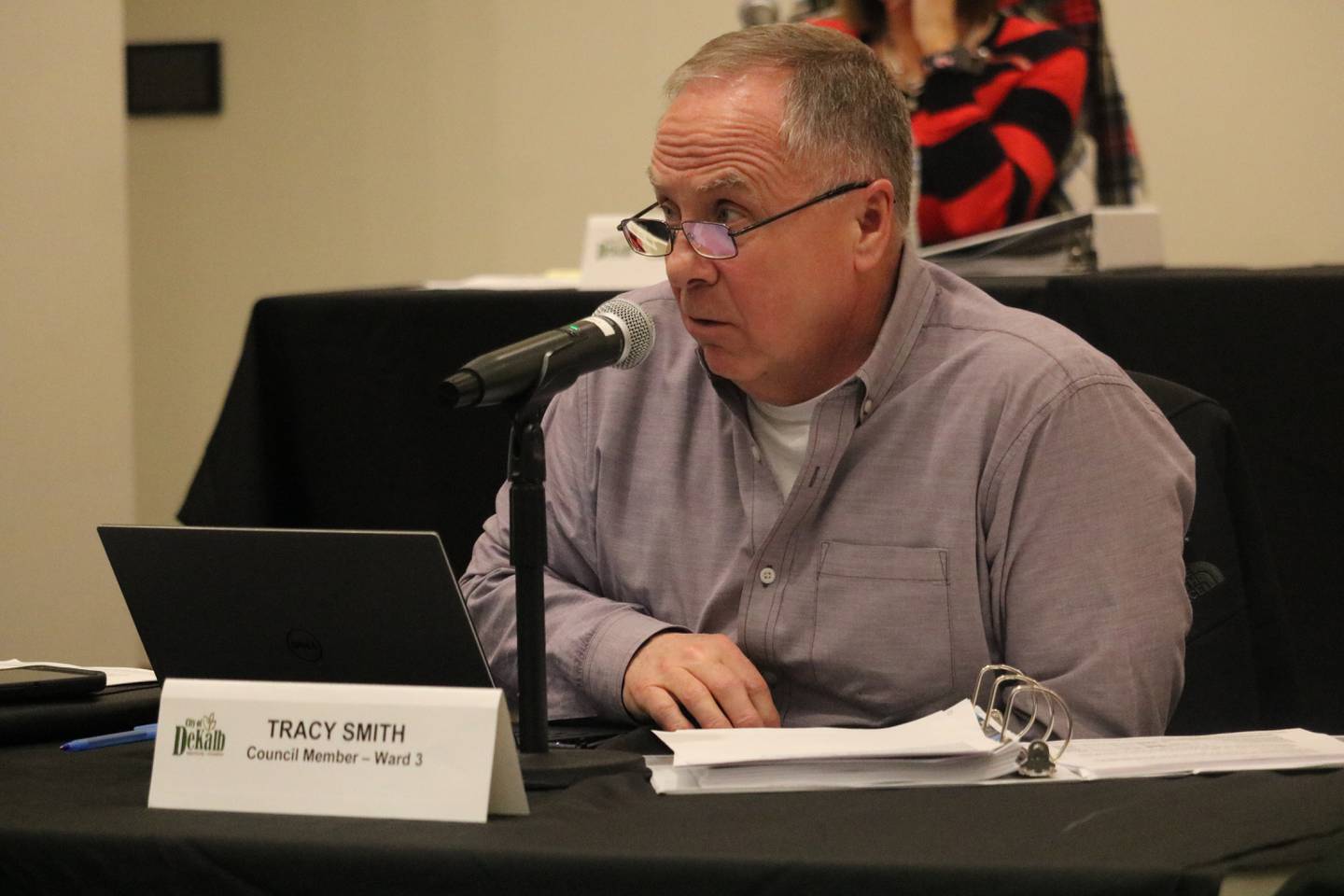 Smith's lone opponent, John Hadley, was a no-show for this week's League of Women DeKalb County forum.
Smith said he's will be committed to prioritizing infrastructure if he's reelected.
"We have been able to start working on more roads" Smith said. "However, we were behind on roads for several years. Repairing more roads is a priority for me."
The city is undergoing two major bridge replacements this summer on Lucinda Avenue and North First Street.
Fifth Ward
Fifth Ward Alderman Scott McAdams, who is seeking reelection for a second consecutive term, said he would like to ensure that the progress that's been made in the city continues.
"With the rise of ChicagoWest and the revitalization of downtown, we are headed in the right direction," McAdams said. "Bridges are being repaired. Streets, like First and Taylor, through the heart of the Fifth Ward have been repaired. We want to work diligently to transform the Annie Glidden North area into a vibrant welcoming neighborhood because there's a real sense of connection now in DeKalb. Neighbors are taking pride in their communities again. It's an exciting time to be in town."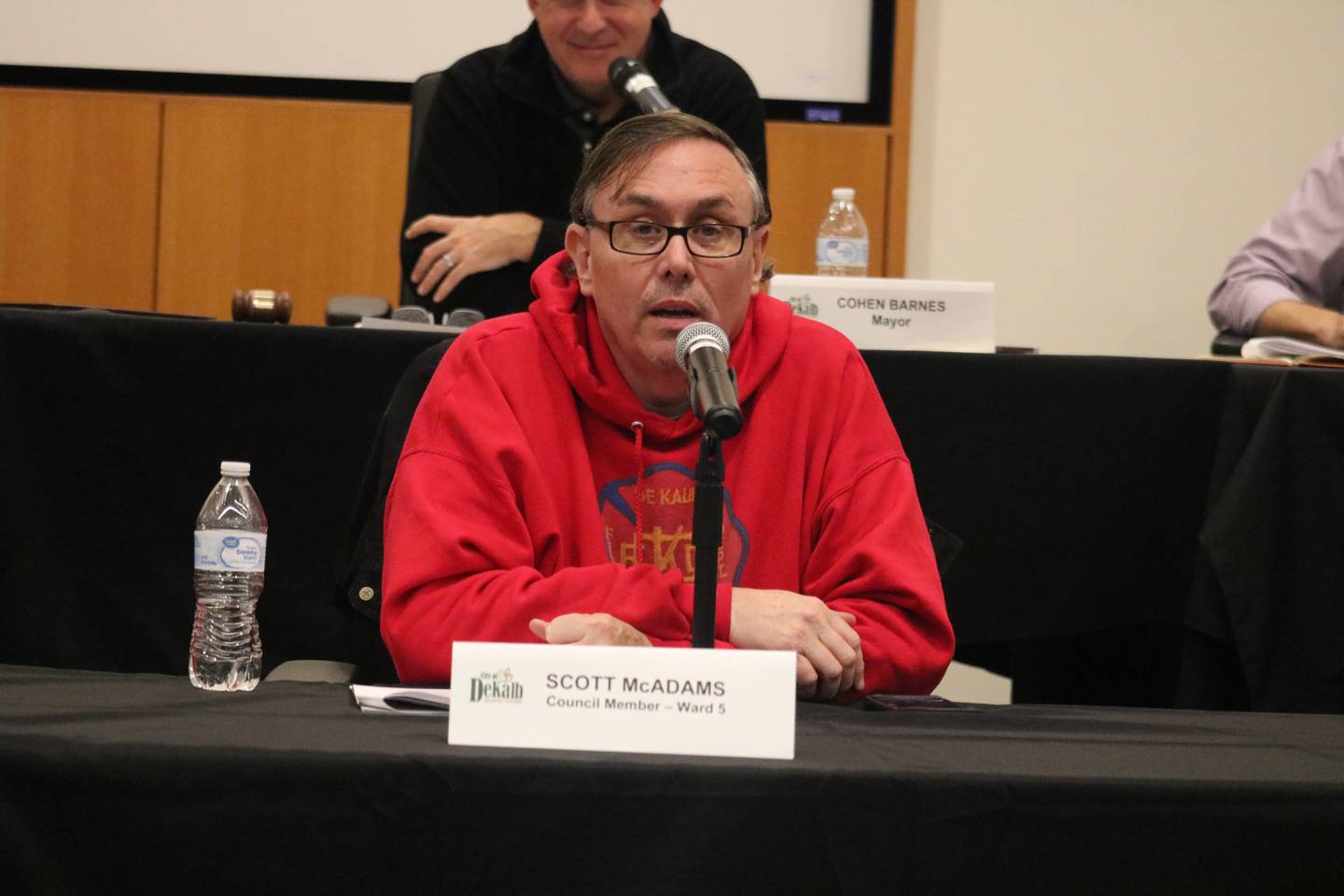 Derek Van Buer, who's waging a write-in campaign against McAdams, said he's motivated to oust McAdams from sitting on the City Council.
"Everyday I hear people disappointed in our current leadership whether it's wasting taxpayer money, disrespecting our neighbors or selling their senior community center right out from under them," Van Buer said. "Enough is enough."
Thomas Riley, a U.S. Army veteran who also is running as a write-in candidate, said he's an active Republican, but he's willing to work with Democrats, as well, to get things done. April's consolidated election is nonpartisan.
Riley said he takes issue with imagining a future for more affordable housing in the city. In October, the DeKalb City Council approved a new crime-free housing initiative meant to target negligent landlords and ensure quality of life for area tenants.
"There's one thing I don't want and that's low-income housing because that seems to bring crime to the area," Riley said. "Right now, we have apartment buildings that are already in place, and that's attracting a lot of people from the … counties that are actually here in DeKalb now. So, that's what we're trying to do is bring people out here rather than everybody going back to St. Charles and Geneva. It's fairly affordable right now. Even some of the landlords are doing quite well. I think they're doing their job to keep prices down."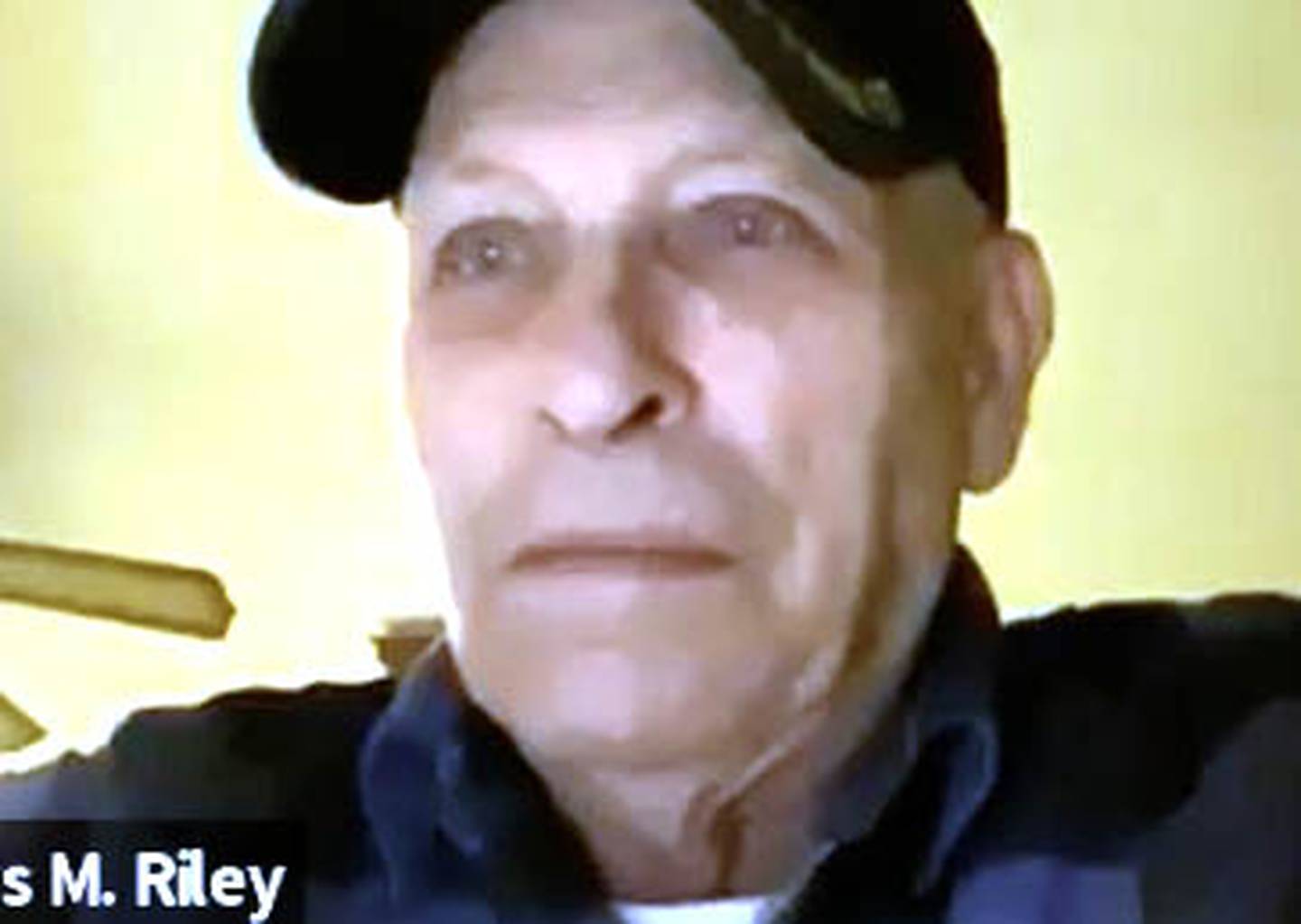 McAdams disagreed. He referenced a April 20201 settlement reached between the city and former controversial landlord Hunter Properties, once the city's largest landlord, which mandated the property owner sell its largest buildings to new ownership amid years of alleged neglect and court battles.
"Saying that low-income housing is not desirable is not correct," McAdams said. "The Annie Glidden North project envisions quite a bit of low-income housing subsiding next to medium and high-end housing. We spent a million dollars and helped negotiate a deal to get rid of Hunter Properties. The owner of what was Hunter is now in the process of renovating those buildings and will be bringing you affordable housing to the area at a higher qualify of living for those folks living in those homes. We want to make the community affordable and available to everyone regardless of what they make, and we want to make sure that everyone stays in a safe building and has a good standard of living."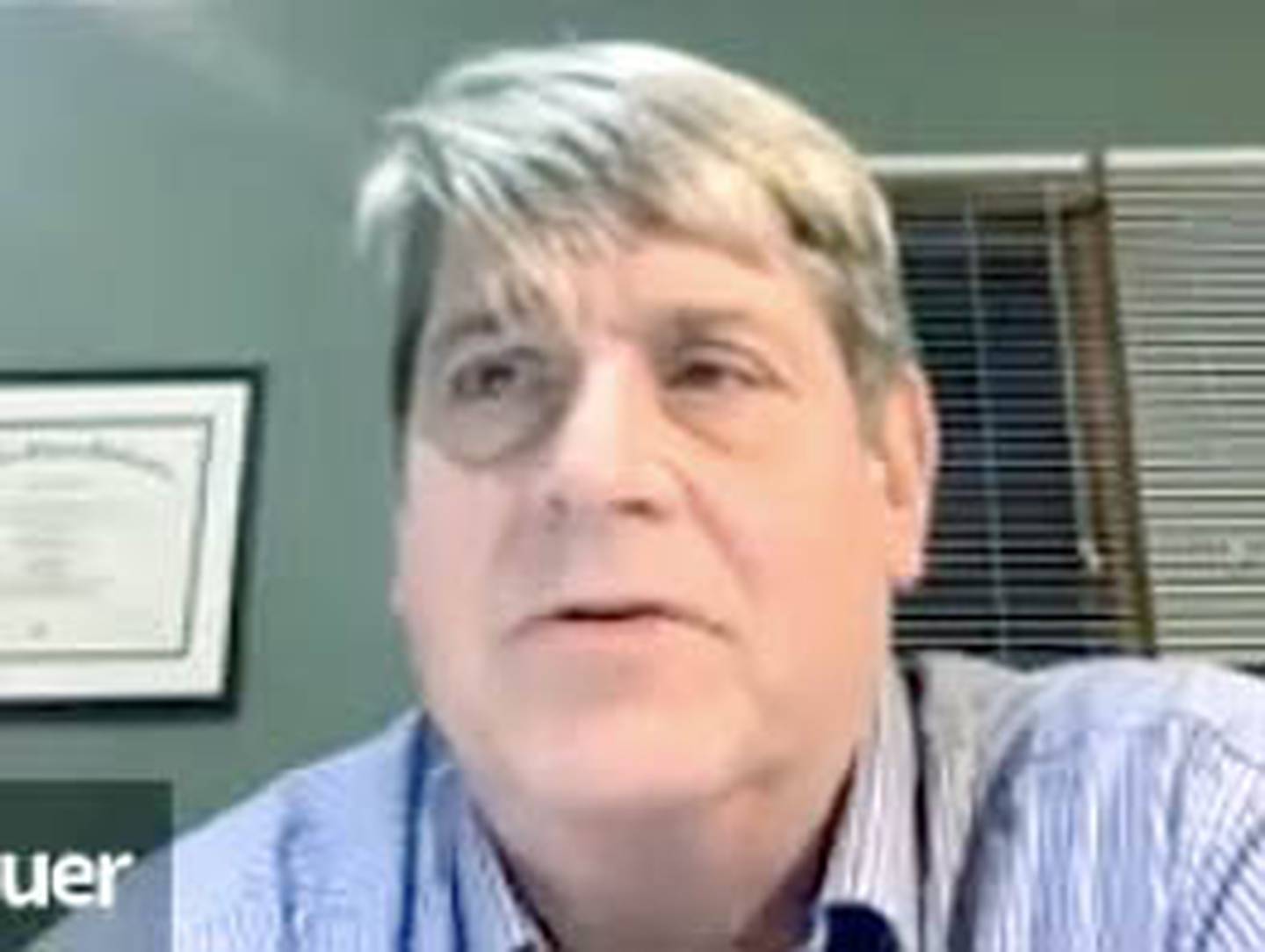 Van Buer said he believe the effort to promote more affordable housing can be driven by the city in more ways than one.
"I think it starts with building codes," Van Buer said. "We need to be able to adopt the building codes to maybe introduce new type of materials that can reduce the cost of construction or rehabilitation of existing buildings. You can also change city code to provide additional monetary incentives for conversions to reduce the costs. I think some of it's alternative power supply because that's really one of things that's really driving down the cost of housing is the cost of utilities – natural gases, electricities. Prices are going up."
Another topic included debate over a recently approved comprehensive study to gauge whether a Metra commuter train station could connect DeKalb to Chicago. In January, the council approved a $98,379 contract with Chicago-based firm, Sam Schwartz Consulting LLC, for consulting services for the study.
McAdams said he would be excited to bring a commuter rail service to DeKalb.
"I know the residents are very anxious to have it," he said. "We're spending money to find ways to make it happen. We have resources at the federal and state level. We have very cooperative help from our partners in both of those areas. I'm looking forward to the exciting possibility that the train could come to DeKalb in the future."
Riley shared that sentiment.
"I thinks it's important that the city of DeKalb and the residents around the area do get this opportunity to have Metra come in," Riley said.
Van Buer disagreed, saying the idea of launching a commuter rail service in DeKalb is not a local issue but a countywide issue.
"The $100,000 that the city just approved for the [transportation] study is wasteful money," Van Buer said.
McAdams said the city should pay major attention to environmental concerns as it seeks opportunities to spur economic development.
"It's super important because we're talking about the long-term viability of our planet, which is super important and must be addressed," McAdams said. "I was very proud when our partner, Facebook, built all sorts of solar farms in order to support the data center. I'm excited to take our city in that direction. I will always approve solar farms. I'm a big fan of wind energy. I think that's the wave of the future."
Van Buer, who said he supports addressing climate change, agreed.
"I think anything we can do to increase the adaptability of businesses to reduce carbon footprints, environmental concerns is a very positive direction to take," he said. "We need to be concerned about the rail, especially with what's been happening in Ohio with the derailments. So, it's not just building new businesses. It's also helping old businesses convert their existing sites to be more environmentally friendly."
Riley shared a differing view.
"I agree with Scott on solar but not on the wind," Riley said. "Unfortunately, wind farms require mechanical upkeep. I just don't think it's really good for like the birds that are flying by. The geese going north and south. They have a tendency to hit those blades. As far as the environmental, I am an environmentalist. I'm an avid gardener, so I think it's important we do the best we can with the environment safely."
Seventh Ward
Seventh Ward aldermanic candidate John Walker, who works for UPS, said he would take the duties of alderman seriously if elected to serve. Walker also serves on the city's Citizens Police Review Board.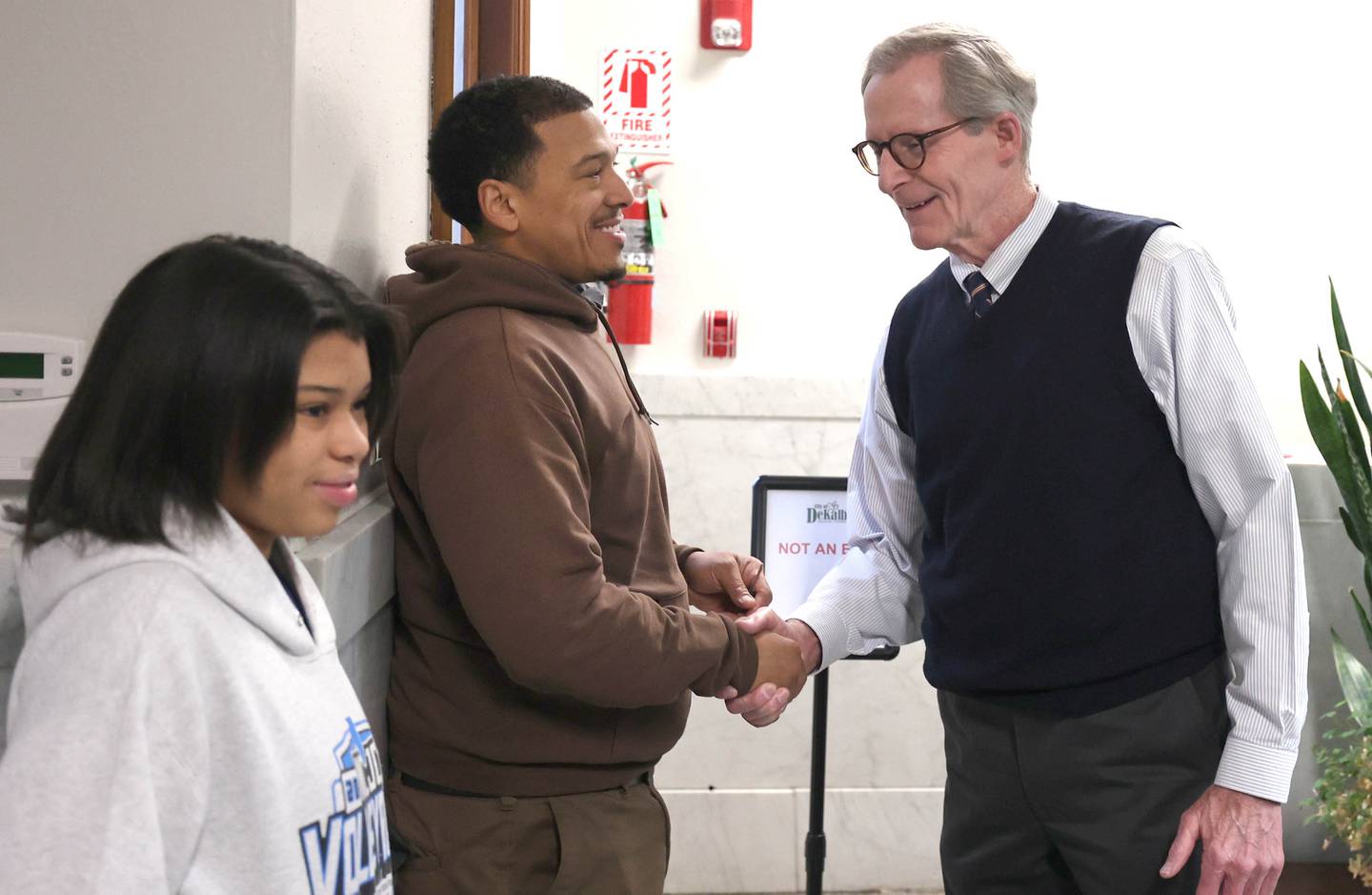 "I love my small business customers that I have served everyday for 25 years and will strive to help their businesses survive and prosper because they are a strong fabric of our town," Walker said. "I love our police, fire, first responders and city workers who overall take care of the people and confront real issues in this town. I will support them in every honest way I can."
Walker's lone opponent, Thomas Boken, was a no-show for this week's League of Women DeKalb County forum.
Walker, who is a big proponent for tenant advocacy rights, said he hopes to put his knowledge and experience in this realm to use as the city's 7th Ward alderman.
"I have daily witnessed good property management and bad and know what goes into running housing properties," Walker said. "We have to understand the differing issues that tenants and landlords face and work together to find fair and equitable solutions."