Students were just arriving for school when the call came in at Dundee-Crown High School.
The male caller, who also contacted Carpentersville village hall, said he was at the school and planned to start shooting.
Though there were signs the Aug. 30 call could be a hoax, the school went into full lockdown. Police from Carpentersville and surrounding areas descended on the grounds to do a full sweep of the building.
By 11:30 a.m., Carpentersville police had cleared the building and confirmed the school was the victim of a swatting call that appeared to have come from an out-of-state number with no ties to Dundee-Crown.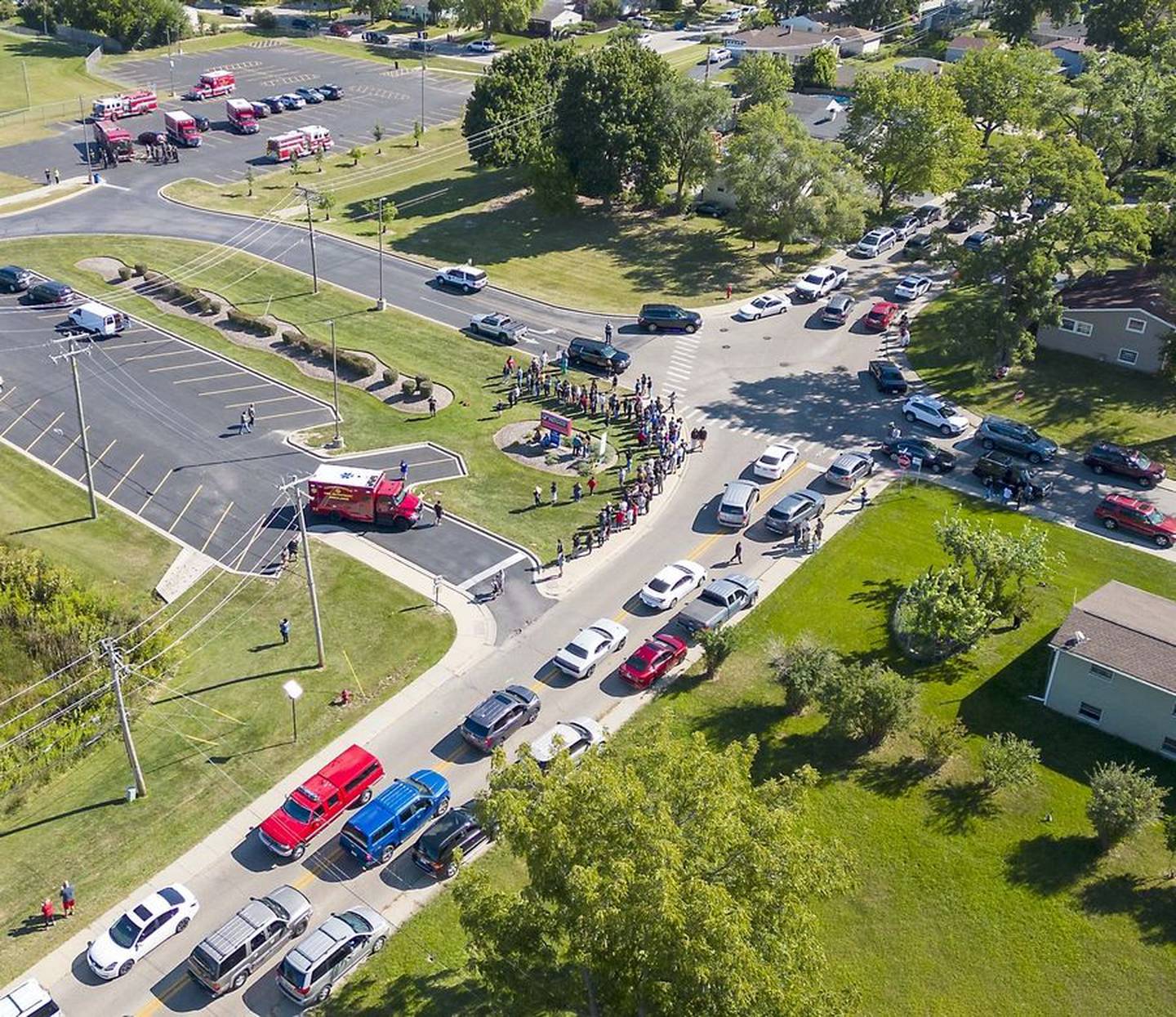 "Swatting" – prank calls designed to draw a law enforcement response to a particular place – create chaos and emotional distress. Law enforcement officials treat swatting calls as real threats until they can determine otherwise and ensure the target is secure.
While Algonquin-based Community District 300, which includes Dundee-Crown High School, has seen its share of threats on social media, the swatting call was a first.
"We have never experienced someone calling in and saying they were going to do something and take it to that level," District 300 Superintendent Susan Harkin said.
School swatting is a newer trend, making headlines in the 2022-23 school year. From mid-September 2022 to March 31, the National Association of School Resource Officers logged 153 media reports of school swatting in 42 states.
On March 30 alone, 226 schools across New York were targeted by 36 phony reports of mass shootings, according to an ABC News report. At that time, U.S. Sen. Chuck Schumer of New York called for an FBI investigation into the incidents.
In one day last April, 21 schools across Illinois, including some in Rockford and Chicago, were the target of swatting calls, according to news reports.
While the calls often come into police departments or schools, apps that help bounce the calls to various locations or disguise the original number make it difficult to track the caller.
"I had allowed myself to think maybe this was a one-year thing and maybe this is going to go away," said Mo Canady, president of the National Association of School Resource Officers. "I'm hopeful that will happen, but we're going to have to see how these next few weeks and months play out."
He noted the incident at Dundee-Crown High School is the first he had been made aware of for the 2023-24 school year. Since then, the association learned of two other school swatting calls­ – one in Tennessee on Wednesday and another in Oklahoma on Thursday.
While no one was physically injured, the experience at Dundee-Crown shook many.
Students were pulled into classrooms with teachers as armed police searched the building. Those just arriving on buses had to wait in their seats as worried parents looked on.
Students and parents were visibly shaken as they were reunited once the all-clear was given.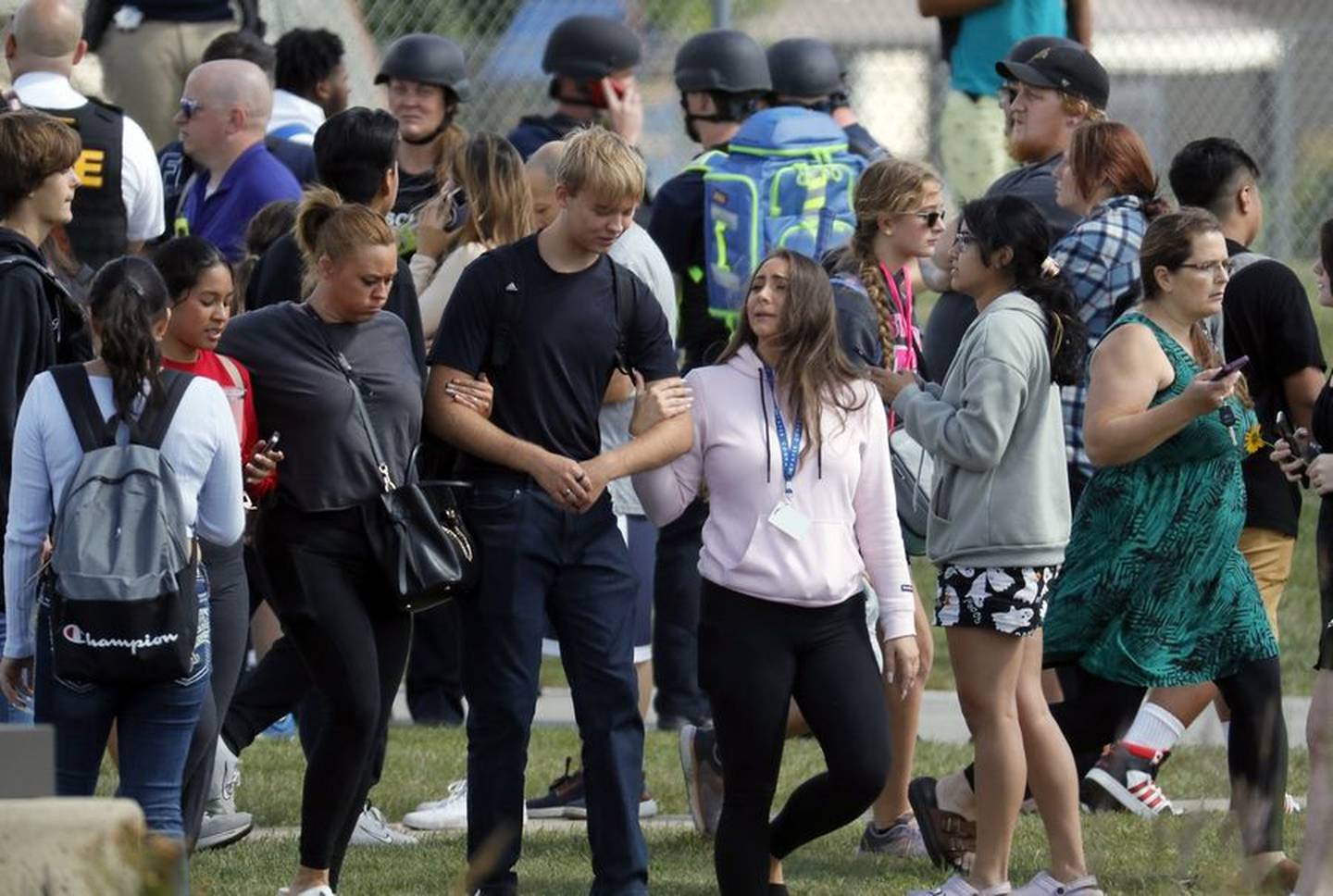 "It was very emotional," said Carpentersville Village President John Skillman, whose brother teaches at Dundee-Crown. "It took a lot out of everybody."
District 300 deployed its crisis response team in the following days to provide additional support for students and staff members.
"It was a horrible hoax that got pulled on our school," Harkin said. "We want people to know that our schools are safe for them."
In addition to the emotional toll, officials point to the massive police response prompted by such calls.
Carpentersville Police Chief Todd Shaver said at least 20 of the department's officers were on scene with dozens of officers from about 20 other law enforcement agencies. He estimates the cost of man-hours for his department alone to be in the thousands.
"I know that a call like that is very stressful to deal with," Shaver said. "But they [first responders] did what they had to do to safeguard everybody."
Earlier the same week, two phony bomb threats at South Elgin High School prompted similar responses.
"We will always do our due diligence," said Kane County Sheriff Ron Hain, whose office assisted at all three calls. "It's still good to make sure we take it from A to Z to make sure there is no real threat."
Shaver said police continue to investigate the Dundee-Crown incident and the department has requested records from the app used to make the initial call.
And for Dundee-Crown, the focus now is on moving forward and assuring students and staff members the school is safe. Harkin encouraged parents to talk to their students about swatting.
"Safety is our highest priority," Harkin said "There are many caring people in the school district who will do whatever they can to keep kids safe."
https://www.dailyherald.com/news/20230909/a-horrible-hoax-school-swatting-takes-phony-threats-to-a-new-emotional-costly-level