CHICAGO (AP) — A judge on Monday refused to dismiss the case against a father who helped his son obtain a gun license three years before authorities say the younger man fatally shot seven people at a 2022 Fourth of July parade in Highland Park.
Illinois prosecutors charged Robert Crimo Jr. under a unconstitutionally vague law, his lawyer argued at a hearing earlier this month in Waukegan, north of Highland Park where the shooting took place.
Lake County Judge George Strickland rejected that argument, as well as a defense contention that prosecutors charged Crimo Jr. too late — after a three-year statute of limitations had passed. The court's rulings mean Crimo Jr.'s Nov. 6 trial will go head as previously scheduled.
The judge said at the hearing earlier in August that he would take three weeks to mull a decision, and he announced his ruling at a Monday hearing, which was also in Waukegan. He heard additional arguments on the statute of limitations issue Monday before ruling on it.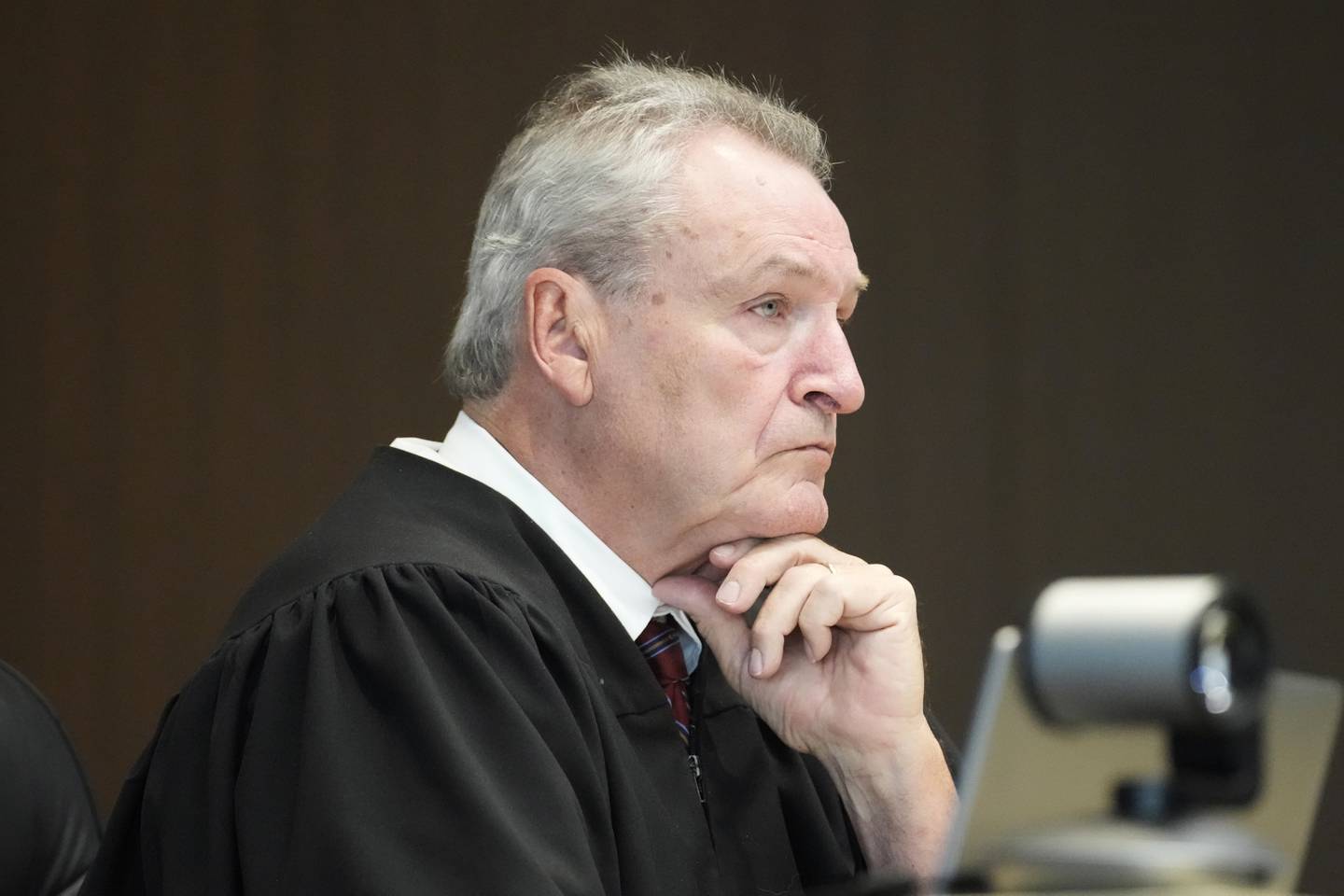 Crimo Jr. listened intently from a defense table chair, his hands folded in front of him, as the judge went through the arguments. He didn't appear to show any outward reaction as the judge dashed any hopes the case would be thrown out.
Crimo Jr. pleaded not guilty earlier this year to seven counts of reckless conduct — one count for each person killed. Each count carries a maximum three-year prison term.
Prosecutors had alleged that he helped his son, Robert Crimo III, obtain a gun license even though the then-19-year-old had threatened violence.
According to the four-sentence section of the state law invoked to charge Crimo Jr., "a person commits reckless conduct when he or she, by any means lawful or unlawful, recklessly performs an act or acts that ... cause great bodily harm or permanent disability or disfigurement to another person."
A defense filing argued that the law's lack of specificity makes it impossible to know what actions qualify as criminal reckless conduct. They also say it offers no definition of "cause," opening the way for prosecutors to wrongly link the signing of a gun license application to a shooting years later.
"Here, the reckless conduct charge ... specifically seeks to criminalize the Defendant's lawful act of signing a truthful affidavit," according to the filing. It adds that, until Crimo Jr.'s case, "Illinois has never prosecuted an individual for signing a truthful affidavit under oath."
Crimo Jr.'s lawyer, George Gomez, argued earlier this month that prosecutors interpreted the law in an overly broad way that could create a "chilling effect" for residents who would worry that signing any affidavit, in this case a firearm owners ID application, could eventually be deemed reckless conduct.
Explaining his rulings Monday, Judge Strickland said the law was specific enough and was structured similarly to many, clearly constitutional laws. It was not overly broad, he said, including because it is limited to reckless conduct that causes great bodily harm.
A grand jury indicted the son last year on 21 first-degree murder counts, 48 counts of attempted murder and 48 counts of aggravated battery, representing the seven people killed and dozens wounded in the attack. Potential evidence is voluminous in the son's case, for which no trial date has been set. He has pleaded not guilty.
Prosecutors said after the father's arrest that the accusations were based on his sponsorship of his son's application for a gun license in December 2019. Authorities say Crimo III tried to kill himself in April 2019 and was accused by a relative in September 2019 of making threats to "kill everyone."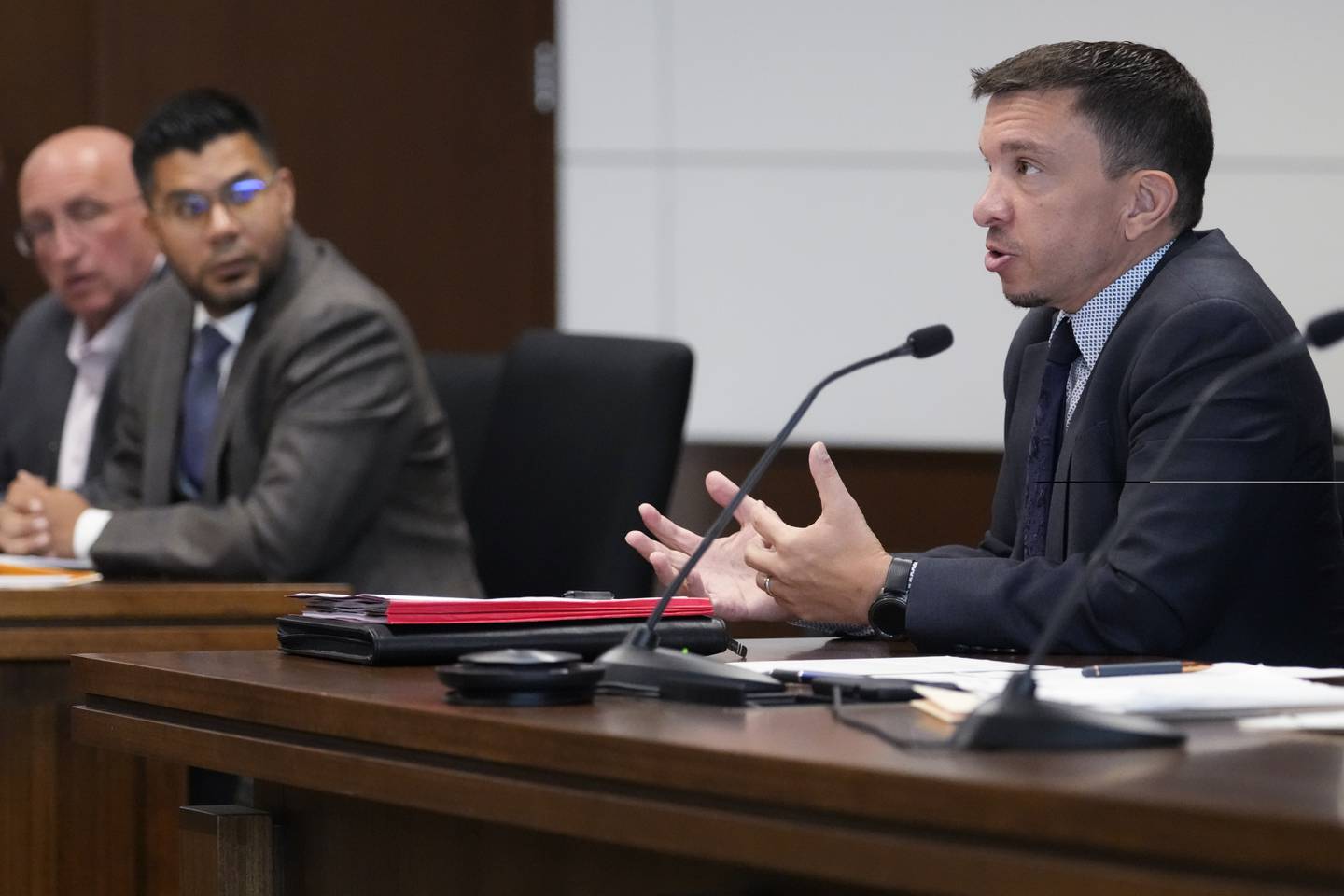 Gomez argued Monday that prosecutors missed the deadline to charge Crimo Jr. because three years had passed. The judge agreed the statute of limitations was three years. But he said the years should be counted from the day of the Highland Park shooting, not from Crimo Jr.'s signature on the application.
Legal experts have said it's rare for a parent or guardian of a suspect in a shooting to face charges, in part because it's so difficult to prove such charges.
The father is a familiar face around Highland Park, where he was once a mayoral candidate and operated convenience stores. He was released on a $50,000 bond after his December arrest.
Also Monday, the judge indicated he was open to a TV camera being in court during Crimo Jr.'s trial and to live streaming of the proceedings. Strickland has previously allowed a photographer to take photographs during the pretrial hearings and said that would continue.
Lake County State's Attorney Eric Rinehart told the judge he wouldn't want media coverage of any evidence in the father's case to disrupt prosecutors' case against the son but that, ultimately, his office did not object to permitting live and filmed footage.
Gomez also didn't object to expanded media coverage. He did say two potential defense witnesses may object to TV coverage of their testimony — Crimo III and his mother, Denise Crimo. Crimo III's defense attorneys, he added, have said they will object to calling him to testify in his father's case.
Strickland said he'd ask lawyers for the son to attend a hearing on Oct. 30 to discuss any last-minute issues or conflicts related to the father's trial.
__
Associated Press correspondent Katie Foody also contributed to this report.