CHICAGO – — Being the longtime friend of longtime Illinois House Speaker Michael Madigan granted Mike McClain certain privileges not afforded to other lobbyists in Springfield, jurors heard in a federal corruption trial that, in part, centers around the relationship between the two.
McClain "had pretty free access" to the offices in Madigan's suite on the third floor of the state Capitol building in Springfield, according to the Tuesday testimony of the former top attorney at electric utility Commonwealth Edison.
Shortly after Tom O'Neill became ComEd's general counsel in 2010, he began negotiating key legislation on behalf of the utility – a lengthy and arduous process he'd repeat twice more over the next six years. While negotiating in Springfield, he observed that McClain, a contract lobbyist for ComEd, "had broad connections" in the world of Illinois politics and government.
"Everybody knew him, and he knew everybody," O'Neill said. "[He was] highly regarded and could basically get into any meeting."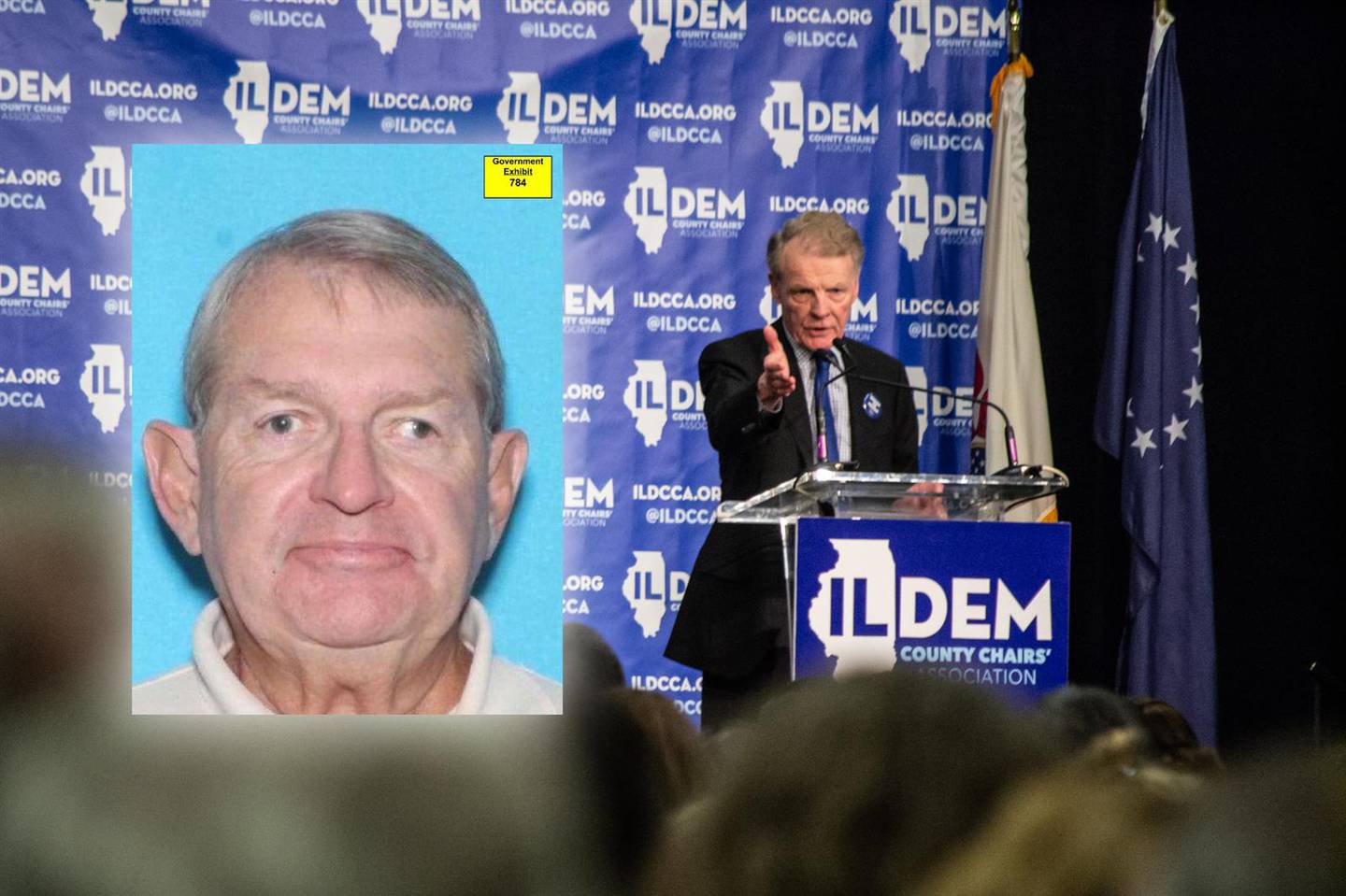 O'Neill came to rely on McClain's access to and understanding of the powerful House speaker, which helped get ComEd's legislative priorities across the finish line. But in time, he testified Tuesday, he began questioning McClain's motivations. O'Neill said he wasn't always sure whether McClain was representing ComEd's interests or the speaker's, noting he'd sometimes jokingly refer to McClain as a "double agent."
O'Neill knew McClain had other corporate clients aside from ComEd as a contract lobbyist, but he also got the impression that Madigan was one of McClain's clients.
"By the way he conducted himself … he represented the speaker's position on matters, to the point where it seemed like the speaker was his primary client," O'Neill told the jury Tuesday.
That observation matched McClain's own words, which the jury heard last week on a wiretapped recording.
"I finally came to peace with that maybe 20 years ago when I convinced myself that my client is the speaker," McClain said in a 2019 call counseling a top staffer in Madigan's office. "My client is not ComEd, my client is not [the Chicago Board Options Exchange], my client is not Walgreens, my client is the speaker."
Now McClain, along with two other fellow ex-lobbyists and a former executive for ComEd, stand accused of orchestrating a yearslong bribery scheme to benefit both Madigan and the utility. Prosecutors allege the foursome traded jobs and contracts for Madigan's political allies in exchange for help passing key pieces of legislation that benefitted the utility's bottom line.
Madigan and McClain had been friends going back decades, since they were both young members of the Illinois House. McClain served a district around his hometown of Quincy for 10 years before a lost election in 1982 forced him out of lawmaking and into lobbying.
Nearly 35 years later, in an April 2017 email to then-ComEd CEO Anne Pramaggiore – now also a co-defendant in the case – McClain recounted that loss in a positive light, writing that "one learns more from the losses then (sic) we do with the wins."
Pramaggiore replied that she was "forever grateful" McClain didn't win that election.
"Because of that loss and because of you, ComEd was saved," she wrote.
Pramaggiore wrote her message of gratitude to McClain four months after the General Assembly passed the Future Energy Jobs Act, the third in a string of hard-fought legislative wins for ComEd that began in 2011. The utility had spent the previous five years trying to avoid insolvency.
And on Tuesday, prosecutors attempted to tie that first legislative win to a lucrative contract the utility inked with a law firm headed by a key Madigan ally.
On Oct. 26, 2011, the General Assembly overrode then-Gov. Pat Quinn's veto on the Energy Infrastructure Modernization Act, also known as "Smart Grid."
The override vote came one day after O'Neill agreed to execute a contract with the law firm Reyes Kurson, headed by Democratic operative and bigtime Madigan fundraiser Victor Reyes.
O'Neill described himself as having "relented" after months of inquiries from McClain about whether ComEd's legal department was going to retain Reyes Kurson, even in the middle of working "around the clock" on the Smart Grid veto override effort.
John Hooker, who was ComEd's top in-house lobbyist at the time, visited O'Neill at the utility's Springfield offices during the legislature's fall veto session in 2011. Hooker, one of the co-defendants in the trial, came with a message to O'Neill.
"Tom, you need to move on Victor Reyes," O'Neill recalled Hooker telling him. "It's important to get this done, when can we get this done?"
The draft contract O'Neill had been given stipulated 850 billable hours of legal work for Reyes Kurson for three years. O'Neill said he was "uncomfortable" with that guarantee, so he inserted language into the contract to give ComEd some more wiggle room.
But ultimately, O'Neill said he retained Reyes Kurson for four reasons: He'd already given his word; he'd interviewed Reyes personally and believed his firm was equipped to take on some specialized legal work; as a Latino- and woman-owned firm, Reyes Kurson fit with ComEd's values of diverse contracting; and because he felt pressured to do so.
"I did feel some pressure to do it and I wanted to just get it done," O'Neill said of the October 2011 episode, saying he'd have normally pushed off such a contract until he was much less busy.
In 2012, the first full year of the contract, Reyes Kurson performed 212 hours of legal work for ComEd – far short of the 850 hours promised. That figure picked up the next year, when the firm billed for 740 hours, and in 2014 when it billed for 1,163 hours. O'Neill said the firm had been a big help during those two years when ComEd had a lot of administrative hearings related to implementing so-called "smart meters."
But by September 2015, another attorney in ComEd's law department emailed O'Neill to tell him that Reyes Kurson was very unlikely to perform anywhere near the 850 billable hours of work stipulated in the contract; the firm had only performed 355 hours so far that year, according to an attachment on the email.
"If we are pushed for another agreement, one thing is clear — 850 hours [is] way, way too many," Stacy O'Brien wrote to O'Neill. "We just do not have that much work for them."
But O'Neill was pushed to renew Reyes Kurson's agreement in the coming months, he told the jury, noting McClain was "engaged, active, relentless at a point" in making the push.
In January 2016, just as negotiations were getting underway for the legislation that would become the Future Energy Jobs Act, McClain wrote a lengthy email to O'Neill detailing Reyes Kurson's history of billable hours worked for ComEd.
"I know you are concerned about how many hours to 'guarantee' them," McClain wrote. "Do you intend to offer something less than 850 per year or could you give me some idea? I know I will hear about it no matter what."
In addition to O'Neill, McClain had copied both Hooker and Fidel Marquez, who had since taken over for Hooker as ComEd's most senior in-house lobbyist. In response, Marquez replied with advice for his colleagues to "keep in mind" that ComEd also had a contract with the Roosevelt Group, a political consulting firm also owned by Reyes.
"The same but different ????" Marquez wrote.
"Different arrangement," McClain wrote back minutes later.
Three years later, Marquez would become a cooperating witness in the government's investigation of ComEd's alleged bribery scheme.
When Assistant U.S. Attorney Sarah Streicker asked O'Neill what he believed McClain meant when he wrote in his email that he knew he'd "hear about it no matter what," O'Neill said he took it to mean McClain would hear about the billable hours issue from either Reyes or Madigan.
Prosecutors sought to firm up O'Neill's perception by next showing the jury an email McClain wrote to Pramaggiore two days later. In the email, McClain admonished Pramaggiore that she had to get involved with the Reyes Kurson contract renewal, or else "provoke a reaction from our Friend" – a nickname McClain used often when speaking of Madigan.
"I know the drill and so do you. If you do not get involve (sic) and resolve this issue of 850 hours for his law firm per year then he will go to our Friend," McClain wrote. "Our Friend will call me and then I will call you. Is this a drill we must go through?"
Later that day, Pramaggiore forwarded McClain's email to O'Neill without adding anything to the body of the email.
Instead of responding to that email forward, however, O'Neill replied one minute later by forwarding to Pramaggiore his earlier email exchange regarding the Roosevelt Group's contract with ComEd.
When Streicker asked O'Neill on Tuesday why he'd done that, he said he wanted Pramaggiore to see he was now aware that Reyes had two contracts with ComEd.
"I felt he was double dipping," O'Neill told the jury. "I wanted her to know that."
Capitol News Illinois is a nonprofit, nonpartisan news service covering state government. It is distributed to more than 400 newspapers statewide, as well as hundreds of radio and TV stations. It is funded primarily by the Illinois Press Foundation and the Robert R. McCormick Foundation.