PEORIA – To be the champion, the St. Bede softball team had to beat the champion.
Falling behind by three runs in the second inning, the Bruins rallied to defeat two-time defending champion llini Bluffs 7-6 on Saturday at the Louisville Slugger Complex.
The Bruins scored six runs in the third inning and Madelyn Torrance drove in the game-winning run in the bottom of the sixth to capture St. Bede's first state championship in program history
"We knew we could always come back. That's what we always do," said junior pitcher Ella Hermes, who earned the victory in relief.
"It's the best thing that's ever happened to me," Torrance said.
[ Photo gallery: St. Bede wins Class 1A state championship ]
"I've been waiting for this moment," starting pitcher Reagan Stoudt said. "There was definitely some moments where we were a little bit down and we had to pick it up. We had to leave everything out there no matter what, win or lose."
"It feels amazing. It's everything I ever imagined. The fans and the team, it just feels so good to do this with everyone," junior first baseman Maddy Dalton said.
We knew we could come back. That's what we always do."

—  Ella Hermes, St. Bede junior pitcher
Junior catcher Bella Pinter said it was an emotional roller-coaster.
"We were down, then we were up and then we were down. It always comes back to the energy. Our girls, we never ever give it up," she said.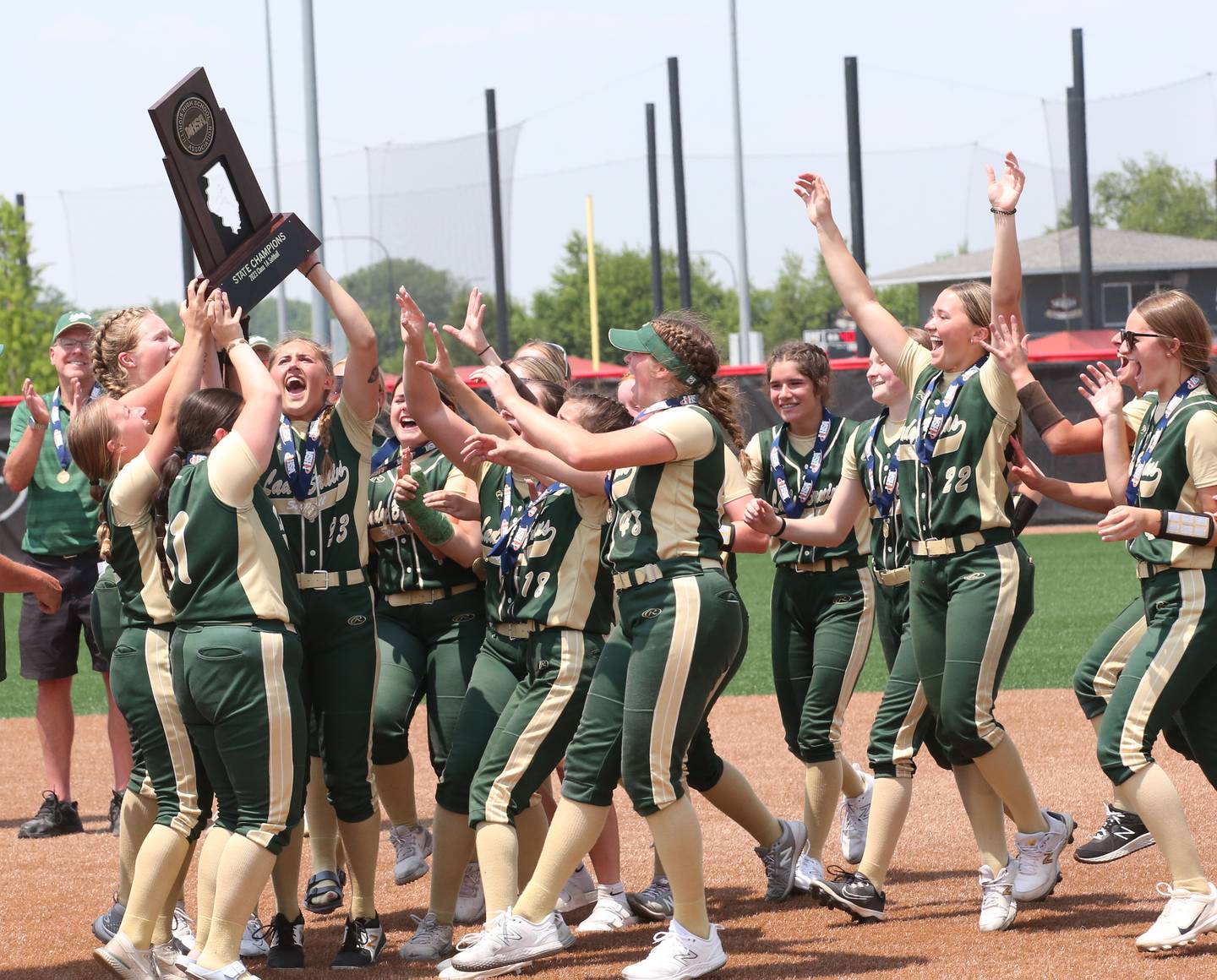 Down 3-0, the Bruins (26-7) went to work in the third. Freshman Lily Bosnich muscled up for a leadoff triple, classmate Emma Slingsby walked and stole second. Bosnich scored on a comebacker to pitcher Cora Ellison when Bluffs catcher Lexi Brinkman dropped the throw home.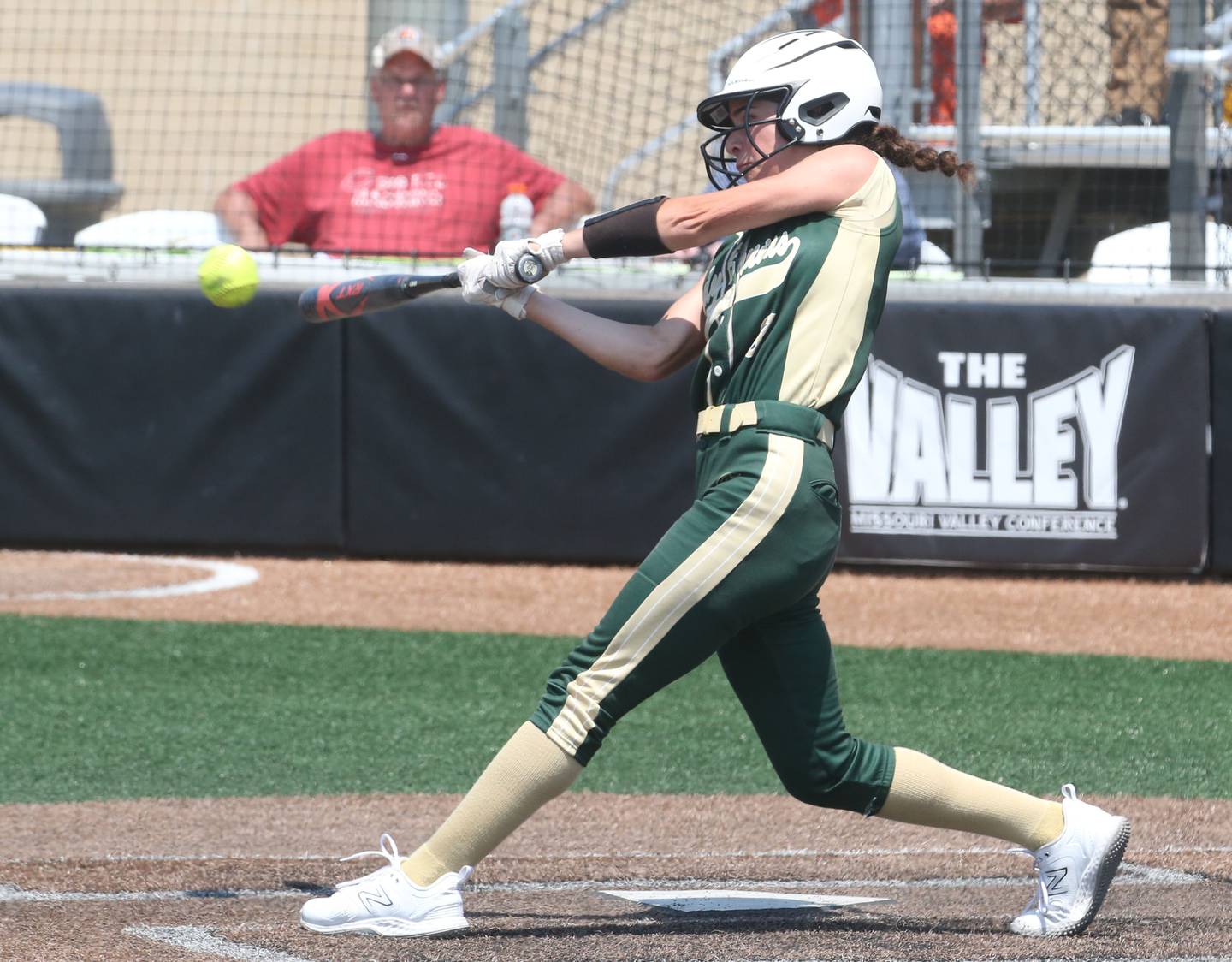 Senior Addie Bontz brought in a run on a fielder's choice and Hermes smashed a two-run double to give the Bruins a 4-3 lead. Torrance added a two-run double to cap the six-run rally for a 6-3 lead.
"Bos hit that triple and right away, the students section and entire cheering section got the energy. Bruin Nation was alive, truly," Torrance said. "We needed something. We're a little slow the first few innings. We're always going to come back. We play on an even keel as coach (Shawn) Sons always says. We come back no matter what. We hate to lose."
"Every offensive huddle, we said all it takes is one spark. This has happened to us so many times this season. And these girls know they can catch fire at any time and they believe in one another," Sons said.
Freshman Ava Balestri came up big with a pinch hit single to lead off the sixth. Bontz walked and both runners moved up on Hermes' groundout to second.
Reagan Stoudt bounded a ball to shortstop Zoe Eeten as Bontz crossed in front of her and courtesy runner Lili McClain came home with the apparent go-ahead run.
The umpires conferred and ruled that Bontz interfered with Eeten, sending McClain back to third and calling Bontz out.
While Sons didn't agree with the interference call, he changed his plan of attack to get that winning run home.
"I thought we had a situation where we'd have Addie at third and Madelyn up to bat. I was going to do the squeeze (bunt) there and really put the pressure on them," Sons said. "When they called Addie out, I just couldn't believe it. My argument was, there was no way the shortstop was going to make a play on that ball.
"I called that offensive huddle and said, 'We're going to call (the squeeze) off. You're swinging a hot bat.' I said, 'Shoot a gap,' and sure enough, Madelyn did. She came up huge and we ended up getting that run in."
Torrance, who had a key RBI hit in Friday's semifinal win over Goreville, delivered again with an RBI hit to plate McClain for good this time. Stoudt was thrown out trying to get to third to end the inning, but the damage had been done.
"I knew she would come through. She's been so hype all weekend and I just knew she'd come in clutch," Stoudt said.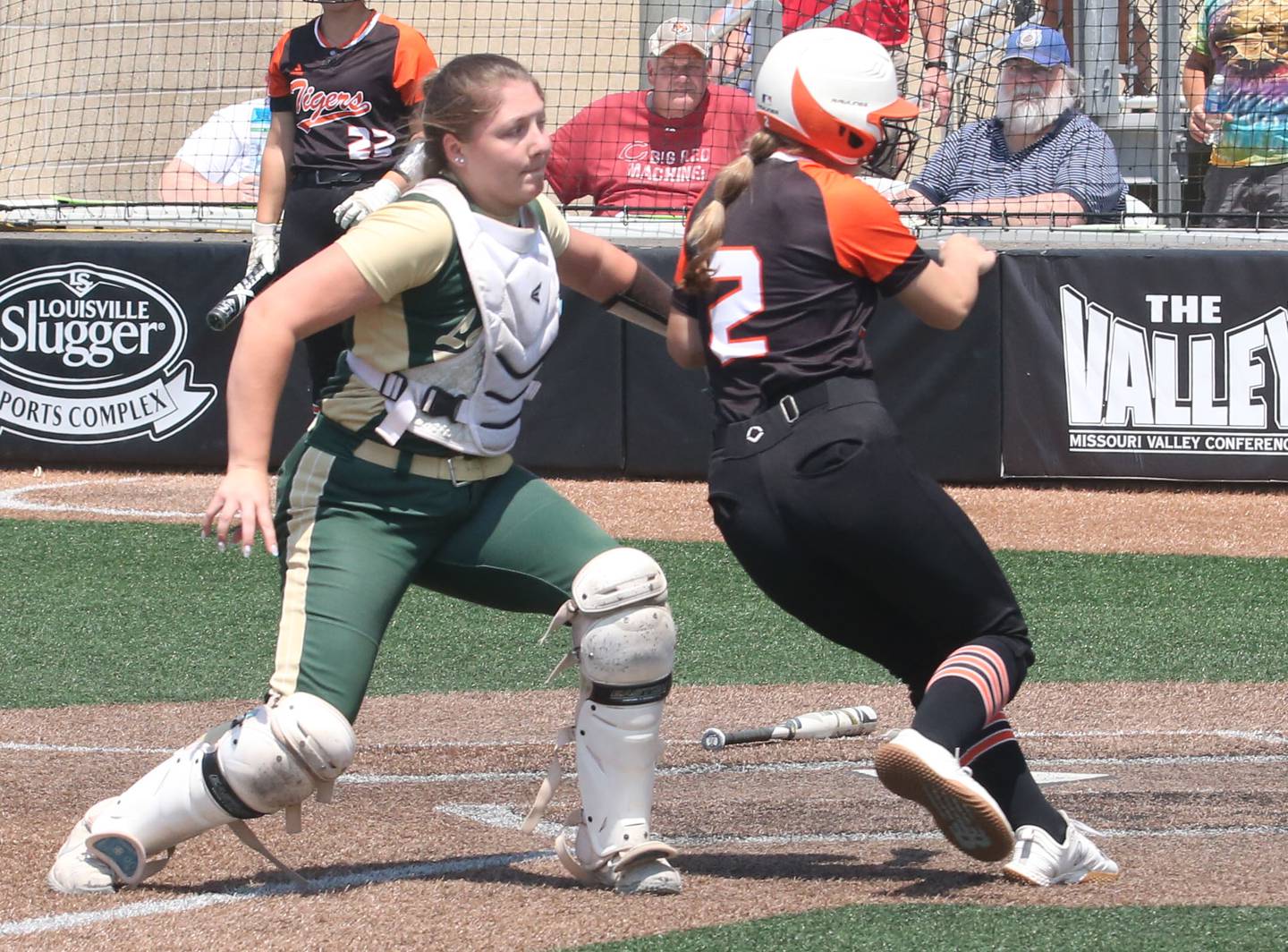 Hermes was the winning pitcher, coming on in relief after Stoudt walked the first batter in the fifth.
St. Bede outhit Illini Bluffs, 11-10, with Bosnich with three hits and Hermes, Stoudt and Torrance adding two each. Sara Finn went 3 for 4 for the Tigers.
"I'm so proud of these girls. They deserve this," Sons said. "It's not about me as a coach. I'm passionate about the game of softball and affecting young people's lives in a positive way. These girls are the best group of girls you can be associated with. That's why I'm so, so happy they brought it home for themselves. They deserve it.
"We knew we had a talented group of girls. The amount of work they put in, you could see their confidence just growing and growing throughout the year. When you said that at the beginning of the year, 'Yeah, (winning state) is a goal to shoot for,' and the longer you go, you see it become a reality, it's an awesome feeling."
Illini Bluffs (25-6) struck first in the top of the first on a bloop to right that took a bad hop past right fielder Tessa Dugosh for a two-run triple.
The Tigers tacked on another run in the second with a double by Eeten and an RBI single by Finn to go up 3-0.
After falling behind 6-3, Illini Bluffs rallied for one run on a RBI triple by Finn in the fourth and two more in the fifth on a two-run hit by relief pitcher Hannah Thomas to tie the game at 6-6.