Located in the heart of downtown La Salle, Savvy Custom Tees has officially opened its first storefront. The brand, which has been in business since 2013, has now made the move to 552 First St. Unit D.
Customers can create custom apparel items from pre-made designs and also can create their own vision on various T-shirts and sweatshirts.
"People can come and pick out their color and their size and then we'll print it," owner Jennie Koons said. "They can design their own right in the store or they can bring one in."
Aside from offering custom apparel, Savvy Custom Tees also offers fans of local high school sports a chance to pick up some of their team's gear.
The store currently offers La Salle-Peru High School and St. Bede Academy gear and has plans to expand to Hall and Putnam County high schools in the coming weeks. With the purchase of these items, 20% of the proceeds will go toward supporting the schools they represent.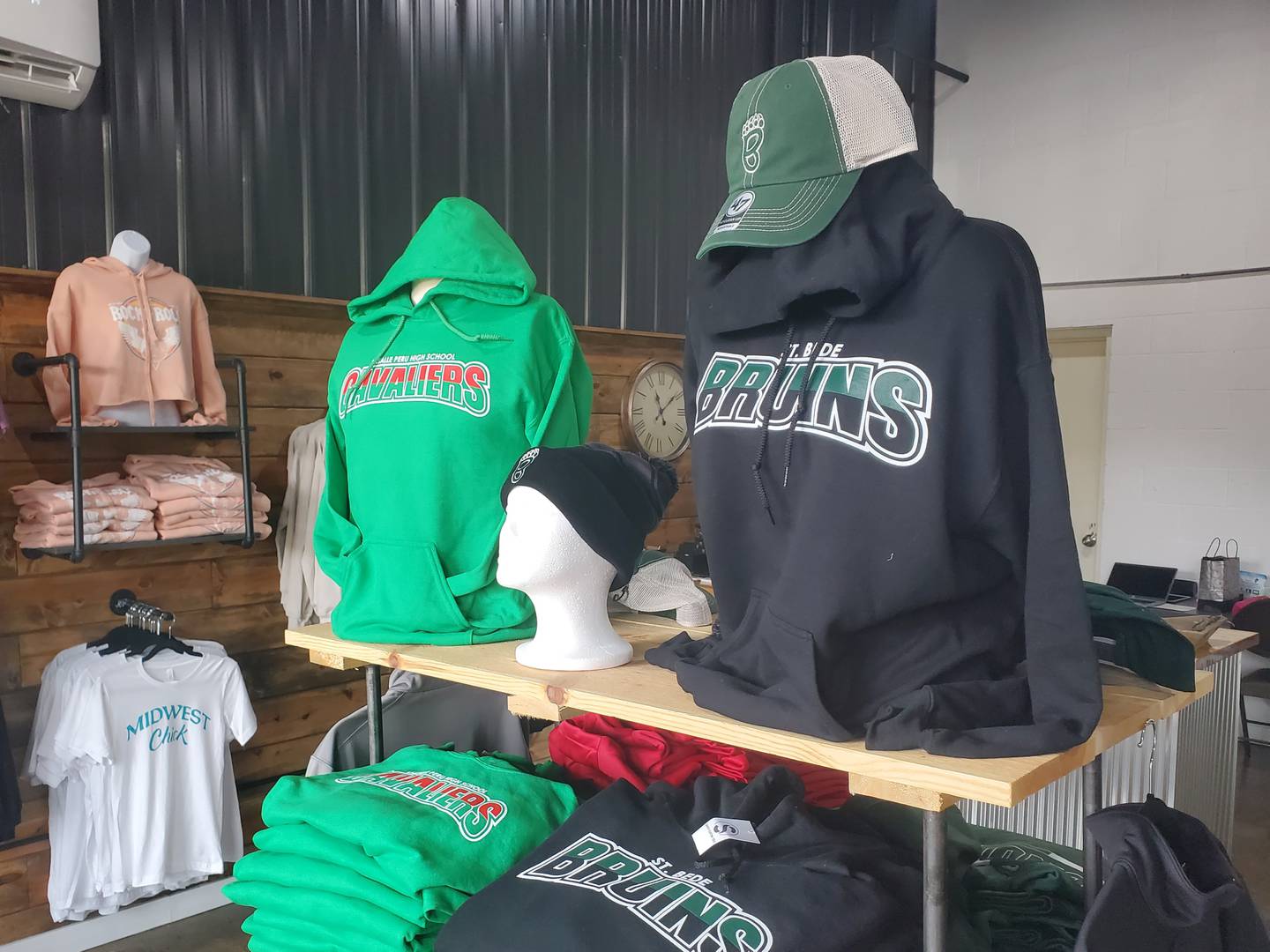 While many around the area have come to know the custom apparel brand, this venture into La Salle is the first for the business.
The business has been operating out of the family's home for the last seven years as the owners believed now was a good time to set up a storefront location.
"We've been talking about having a storefront, [but] we just weren't there yet," Koons said. "We've wanted to have a storefront for a while because we constantly have people coming to our house to pick up orders and it's more convenient for people to come and pick up."
The business began in the basement before moving to the garage.
The convenience of a storefront location is something the owners has strived for, but it also has given them a chance to expand their ideas.
"We want to show our work and we also want to support the schools," Koons said.
The store has quickly moved to provide St. Bede football fans with first-round playoff shirts and are prepared to continue as far as the team is able to advance.
The store opened Monday and has already seen its fair share of support from businesses and individuals welcoming them into the community.
"The support of the city of La Salle has been great," Koons said. "Kelsey (Vogel of Kea Roze Boutique), Peyton (Lamps of Petals by Peyton) and Paws on First have been amazing to me. That's been wonderful."
While the business had previous relationships with some of the business owners in La Salle, storekeepers quickly had conversations with many they didn't know already.
"We're getting great support from the downtown area," Koons said. "It is such an awesome thing."
Koons also couldn't speak more highly of the cooperation of those working with the city of La Salle, and mentioned that Director of Economic Development Leah Inman and Mayor Jeff Grove have been incredibly helpful and welcoming.
"It's been wonderful," Koons said. "I felt so welcomed from [Inman] and getting this location and just the help that I got and the help that she's trying to do to find us a print shop in La Salle instead of in Tonica. They are just wonderful with the help and support that they give."
The business is open five days a week and customers can stop by from 10 a.m. to 5:30 p.m. Tuesday through Friday and from 10 a.m. to 3 p.m. Saturday. For more information, call 815-250-0934. The store has a Facebook page and Instagram account.