Peru Mayor Ken Kolowski said the city started a tradition of hanging signs celebrating local state champions in Washington Park where the athletes and their parents would be more likely to see them. Many communities hang their signs at their city's boundaries in the same location as welcome signs.
Wednesday, the Peru City Council honored the IHSA Class 1A state champion St. Bede girls softball team with its own commemorative signs.
As Director of Parks, Recreation and Special Events Adam Thorsen was handing the sign to St. Bede softball players for a photo op, another photo appeared on the video screen behind them showing a state championship sign hung at McKinley Park, the city's softball diamond.
"That'll be there to inspire future generations of softball players to achieve what you did," Kolowski said. "That one is already up at McKinley Park and I know a lot of you started your playing days there."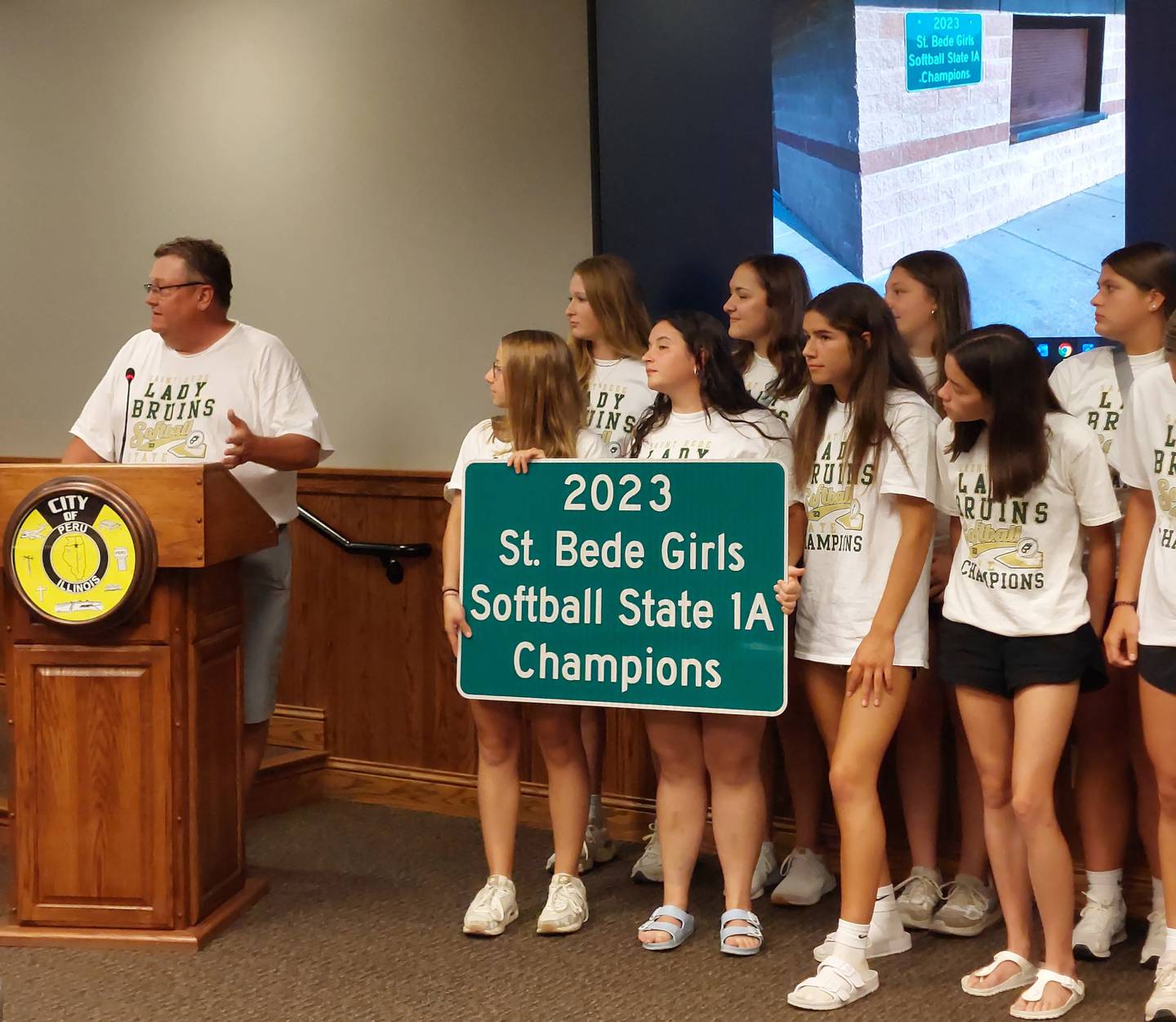 The sign Thorsen held up with the softball team is headed to Washington Park, Kolowski said.
"The excitement and energy that you brought our community was really, really great," Kolowski said. "We appreciate it. The whole town, the whole community, the whole Illinois valley region was buzzing about what you guys did. History was made."
This accomplishment we hope in some way it inspires young girls to go out for a sport and try to do the same thing.

—  St. Bede softball coach Shawn Sons
St. Bede softball coach Shawn Sons said people ask frequently if the state championship has sunk in yet.
"For me, it sunk in when we got back to town and the police were leading the procession through town," Sons said. "We saw all the people lined up in the city of Peru, La Salle, Oglesby, Spring Valley. ... To see our local community come together and support these young ladies for what they did was phenomenal.
"This accomplishment we hope in some way it inspires young girls to go out for a sport and try to do the same thing," Sons said. "I'm so proud of these girls. You deserve this."
Peru Alderman Andy Moreno said he hasn't attended a girls softball game in 30 years, but he watched some games at St. Bede and then the state tournament in Peoria, and he commended the coaches and players for their hard work.
"I was very, very impressed, every single player was in position at all times," Moreno said.
Alderman Tom Payton said he's watched St. Bede and other area teams softball for almost 30 years.
"I know the hard work you coaches, and players, have put in playing all summer, working out and doing this," Payton said. "To build a program like this, it takes hard work, it takes dedication, and I want you to know we're very, very proud of you. There's a friend of ours we all know that's looking down at you, and saying, yep, this is a good thing."
Alderman Jason Edgcomb asked for all the seniors on the team to raise their hands. Three girls raised their hand, and Sons noted one was not present Wednesday.
"Girls I'm looking forward to watching you again next year," Edgcomb said.