Dom Rivara of Oglesby served in the U.S. Navy and was at sea for a nine-month span that included the 1962 Cuban Missile Crisis. He was on duty when word came a shot was fired across the bow of a Russian trawler.
The United States was perilously close to nuclear war and nerves were on edge. Upon hearing the news, Rivara fell to his knees, crossed himself and uttered the most heartfelt prayer of his young life.
"I thought this was it," Rivara recalled.
Mindful of his close scrape, Rivara donned his veterans garb Monday to participate in the Memorial Day program in Oglesby, a joint observance by Oglesby and La Salle veterans, to remember his brethren who weren't as fortunate.
Across the Illinois Valley, flags were raised and volleys fired as city after city remembered those who sacrificed their lives in defense of our nation. While some died in recent times – Lincoln Hollinsaid of Malden in 2003, Thomas Heitmann of Mendota in 2011 – many veterans assembled to preserve the memory of more distantly-fallen heroes such as Danny Carey of Utica and Joe Ajster of La Salle.
"I think it's important and it's good for the kids to come out and understand our history."

—  Pat Dooley, commander of La Salle American Legion Post 426 and La Salle-Oglesby Veterans Memorial Group
Pat Dooley is commander of both La Salle American Legion Post 426 and the La Salle-Oglesby Veterans Memorial Group. Dooley served in the U.S. Army (1969-71) at a nuclear weapons facility in Germany. While he came home safely, he knew remembered Joe Ajster, a classmate from grade school, and has made it a point to honor Ajster and others who didn't return home.
"I enjoy doing it," Dooley said. "I think it's important and it's good for the kids to come out and understand our history."
Joe Woodshank, adjutant for the Utica American Legion Pierce-Davis Post 731, U.S. Navy 1959-62. Technically, he's considered a Vietnam veteran but he regards himself as a Cold War veteran who nonetheless won't miss the opportunity to celebrate the lives of those who fought in combat zones.
"Every year we do this to pay honor to those who gave their all in service to the country," he said.
Don Maurer of Spring Valley, like Rivara, served in the U.S. Navy and was at sea near Cuba in 1962 when things nearly came to a head with the Soviet Union.
"We were sitting there when (President John F.) Kennedy told (Nikita) Khrushchev to get those missiles out of there," Maurer said. "I was very proud of what Kennedy did."
Maurer attended the Spring Valley Memorial Day program not only to greet fellow veterans but also to honor the memory of his father-in-law, Jesse Davis, a veteran of the U.S. Marine Corps, with a ceremonial flag – one of nearly 500.
"It's the most I've ever seen," Maurer marveled.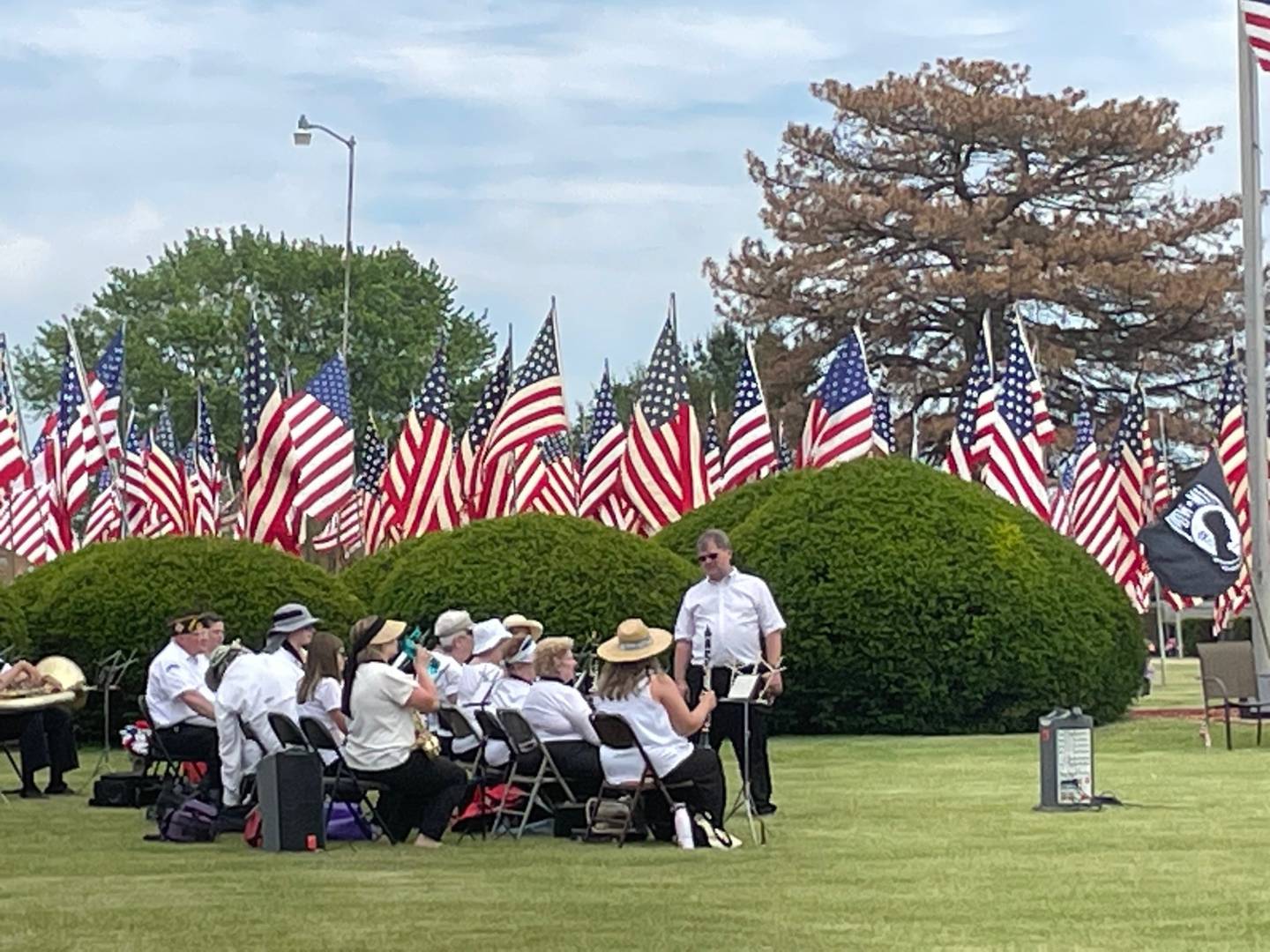 The celebrations exist to honor the deceased but also to encourage vigilance. Rivara once witnessed a chilling incident in East Berlin that underscored why Americans must never take their freedoms for granted. An elderly woman approached him and his comrades with a small boy, begging the servicemen to take the child into West Berlin and to a life of freedom.
It was a heartbreaking scene – "There wasn't a dry-eyed serviceman on that bus when we went back," Rivara said – but then approached a black car, from which emerged two men who put the woman in the back car. Rivara doubts she was ever seen again.
"In this country, we have so many benefits," Rivara said. "We can criticize our mayor, our governor and our elected officials. We can go to California or New York or Florida and we don't have to ask permission."