Mendota's entire third ward was blacked out. Dozens of trees and utility poles were blown over. Section of roof from the long-closed FS Plant were blown onto Route 251, obstructing traffic.
Any time there's not a loss of life, I'm thankful.

—  Greg Kellen, Mendota police chief
Despite the widespread damage inflicted in Friday storms – and despite the lengthy cleanup ahead – Mendota Police Chief Greg Kellen counted his blessings as he surveyed the town.
"We were very, very fortunate," Kellen said. "It could have been a whole lot worse. Any time there's not a loss of life, I'm thankful."
Kellen could well have spoken on behalf of the entire Illinois Valley, where there were multiple reports of storm damage – but no reports of injury – from a line of storms that struck the region in a one-two punch late Friday afternoon and early Friday evening.
A tornado warning was issued Friday for an extended portion of Bureau County. Saturday, however, the National Weather Service in the Quad Cities had no confirmed report of a funnel cloud touching down in Bureau County, though there was damage near Bedford and Manlius that the service wants to take a closer look at.
"It's straight-line wind damage," said NWS meteorologist Dave Cousins, "but with further investigation needed."
The Chicago office of the National Weather Service was similarly hesitant to confirm or rule out tornado activity in La Salle County, citing damage reports that bear closer scrutiny in and around Mendota, Earlville and La Salle-Peru.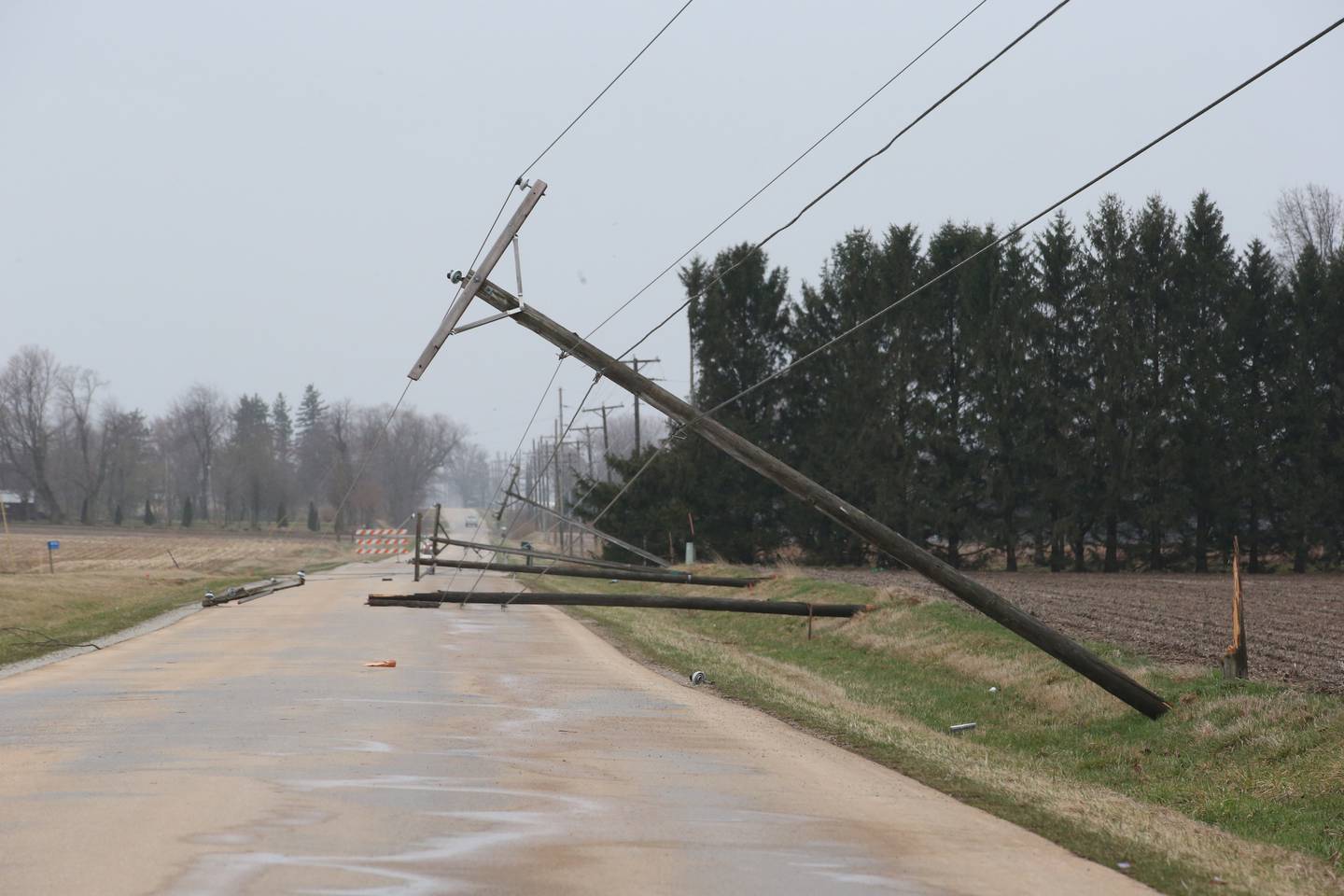 "It's really early to say because we have so many damage reports across the state," said Scott Lincoln, senior service hydrologist with the NWS Chicago office. "We're still getting calls and it's going to take days to investigate."
While forecasters probe the storm damage, utilities were scrambling to get the lights back on. ComEd had a particularly busy morning Saturday, with more than 22,000 without power statewide and, locally, dozens of reported outages north of Interstate 80, including 1,238 in Mendota as of 10 a.m. Saturday.
Ameren was further along in restoring service. The utility reported about 8,000 statewide customers without power at 10 a.m. Saturday, including a small handful in Bureau County north and northeast of LaMoille.
Power was knocked out to much of Peru for about four hours Friday night after a line of utility poles along Plank Road was felled by strong winds. Power was restored by midnight and Peru Mayor Ken Kolowski praised city workers for the "amazing job" they did restoring service.
"We've still got some things to fix, of course," Kolowski reported Saturday. "It will be a process, but we're on it."
Kolowski and other city officials took no chances as the storms approached. Reverse-911 advisories were issued telling residents to hunker down. Schools dismissed early Friday and extracurricular activities were canceled.
All of which was spurred by a forecast issued days ago when meteorologists spied the vast system brewing and then warned residents to prepare accordingly.
Already, there's another worrisome system in the pipeline.
At the NWS Chicago office, Lincoln confirmed that "pretty much all of Illinois" is under a severe weather outlook this coming Tuesday, which is Election Day. The odds of severe weather stood at 30% as of Saturday, but Lincoln encouraged residents to monitor the forecast.
"Will it be like what we just had?" Lincoln said. "It's too early to say, but the ingredients are there."