Waiting for gas prices to fall? Some relief may be on the way.
Waiting for prices to slip below $4 a gallon? Don't hold your breath.
Academics who study the global oil market and an advocate for motorists said oil prices are in retreat, and that could means less pain at the pump in the weeks ahead.
Big relief, however, is not in the short-term forecast. Rick Pretzsch, an economics professor at Illinois Valley Community, said he doesn't see prices tumbling into the $3 territory until turmoil across the globe – not just in Ukraine – lessens.
"If they were to reach a peace agreement, oil prices will fall, there is no doubt about that," Pretzsch said. "Now, they will not fall as fast as they rose, but we will see oil prices fall because there will be more confidence in the market."
Prices won't fall substantially because commodities as a whole, not just crude oil, are subject to what economists call "sticky prices." For example, when the price of beef rises, fast-food companies will raise the price of hamburgers – but they'll be decidedly slower in bringing them down. That applies to gas, too.
"We do see prices rise very rapidly, and a lot of this has to do with speculation and fear," Pretzsch said. "But when oil falls, gas prices fall slowly, and there is no real concrete reason why."
Here's what else to know about oil, gas and the world market.
How the market works
Although there are supply and demand problems driving up fuel costs, the U.S. does produce more domestic oil than it consumes.
Mahdi Vaezi, an assistant professor at Northern Illinois University's College of Engineering and Engineering Technology, cited data showing in 2020 that the U.S. produced 18.4 million barrels of oil a day and consumed 18.1 million.
"And yet that same report reveals that the U.S. imported 7.86 million barrels of oil per day," Vaezi said. "The reasons are, first, overseas oil, shipping costs included, is often cheaper than domestically produced oil and, second, [the] majority of the refineries in the U.S. are historically designed to refine heavy oil that comes from the Middle East and Russia."
Vaezi further explained that the retail price of gasoline includes four main components: the cost of crude oil, refining costs, distribution and marketing costs and taxes.
"Among these, the cost of crude oil is the largest component and accounts for about 56% of the gas retail price, according to the Energy Information Administration," Vaezi said. "So when it fluctuates (as it often does), we see the effects."
Record gas prices
Illinois is among the nation's 10 most expensive gas markets. On March 9, Illinois ranked seventh highest in the nation for regular fuel at an average of $4.52 a gallon.
Molly Hart, who provides public and government relations for AAA-The Auto Club Group, said no single issue is driving fuel costs, although the Russian invasion of Ukraine has played a role in the price of gas. After Russia invaded Ukraine, the U.S. price of oil spiked a total of $32 a barrel (35%) in two weeks, reaching a high of $123.70 a barrel. That increased gas prices to new highs.
"Russia is one of the leading oil producers globally, behind only the U.S. and Saudi Arabia," Hart said. "This conflict has added to what was already an extremely tight and volatile market.
"Prices rose because of global supply concerns, as regulations and sanctions against Russia has limited the second largest oil exporter's ability to supply the market. However, late last week (the week of March 6) prices drifted lower on supply news that the U.S. and other countries were examining ways to fill the void left by Russian oil."
Nevertheless, market watchers said it's important to understand Ukraine is only one of several global issues affecting U.S. gas prices, and Russia supplies about 3% of annual crude imports into the U.S.
Pretzsch said traders are on edge about the pending nuclear deal with Iran. They are watching to see if the U.S. government increases oil supply by normalizing relations with Venezuela. Saudi Arabia has increased its oil prices, too.
"Unless there is some major breakthrough of that type," Pretzsch said, "I don't believe we will see gasoline prices fall below $4 by next week."
Hart said Russia's invasion of Ukraine happened at a time when gas prices were going to creep up anyway.
"In the spring, we change from winter blend to summer blend, which is more expensive to make," Hart said. "Also in the spring, oil refineries do seasonal maintenance, so for a period of time they are not producing at full capacity.
"[In the] spring and summer there are many more people on the road taking road trips and vacations – again, [a] supply and demand issue."
Colin Kuehl, assistant professor of political science at Northern Illinois University, said it's easy to overlook the fact prices rose in no small part because the U.S. has emerged from the worst of the COVID-19 pandemic and domestic consumption has soared as a result.
"The economy in this country is red-hot with the post-pandemic surge, so there's been this big increase in demand and, when the Ukraine crisis happened, a big drop in supply," Kuehl said.
COVID-19 also explained why oil prices – if not prices at the pump – are retreating: China is grappling with a wave of the omicron variant that is suppressing China's demand for oil. That will do some to alleviate record prices, Kuehl said, but anyone expecting the U.S. to return to mid-pandemic prices is in for an unhappy surprise.
"It's not going to go back to summer 2020 prices anytime soon – or ever," he said.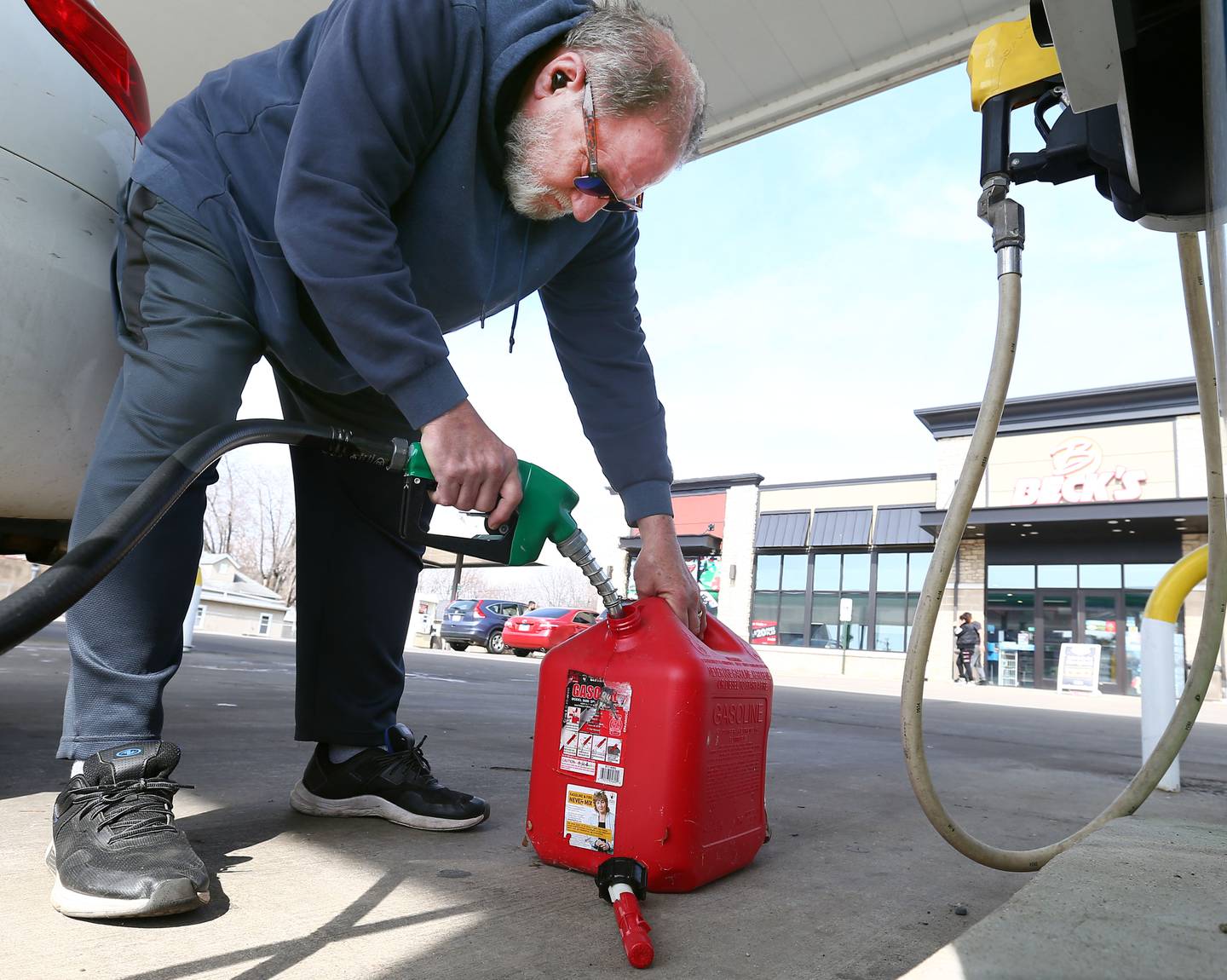 Government's role
Can the U.S. government ease the pain at the pump? Here, opinions vary.
Vaezi said restarting the Keystone XL pipeline, for example, would not help boost production in the short term.
"The Keystone XL, in full capacity, would add 500,000 barrel per day of oil capacity," Vaezi said. "This is an increase of less than 1% in global oil production and, hadn't it been terminated, wouldn't have been completed until at least 2023. Therefore, no role can be considered for the Keystone XL to play in the current oil price and market."
Kuehl agreed that some proposed fixes are political talking points that would have little or no big-picture effect. Shale production is not a readily available option. There are lengthy processes required to resume fracking, and the oil companies would need manpower at a time when labor is tight.
"You can't just flip a switch and get these going again," he said.
Kuehl said the global issues driving fuel costs are too varied and too volatile to think a change in U.S. domestic energy policy can bring substantial relief to domestic motorists.
"It's playing politics is what it is," Kuehl said. "Prices are going up everywhere, and there isn't much [President Joe] Biden can do."
But Pretzsch said there is one option at Biden's disposal that could ease consumer prices: tap into the U.S. strategic oil reserves. This not only would increase supplies but also would boost consumer confidence at a time when uncertainty has hijacked world markets.
Kuehl said all the talk about government intervention has overshadowed another not-less-important theme: The current energy crisis serves as a reminder that the U.S. can invest in renewable energy and become less beholden to foreign oil interests.
"The big picture for me is this is an opportunity to do something about climate change and not be dependent on [Russian President] Vladimir Putin, Saudi Arabia or Venezuela," Kuehl said. "We have this opportunity to use this as a reason to push away from fossil fuels and move toward renewables."