STREATOR - Kody Danko had been waiting for Saturday morning for a while now.
From the smile on his face after winning the individual boys title at the 2022 La Salle County Cross Country Invitational — the first title on his home course at The Eastwood for the Streator senior — the wait was worth it.
The hometown team's ace put in a dominant effort with a personal best time of 15:35.8, winning by better than half a minute after a third-place showing in last fall's county meet. Streator most seasons hosts just this one event, though this year Danko will get another chance to win at home when the Bulldogs host the upcoming Illinois Central Eight Conference Meet.
"It feels great to come out here and get first in front of the home crowd," Danko said. "I didn't get first last year. And to be able to get a decent gap between first and second place is always something I want. ...
"[My times] are great right now, I think. I'm at 15:35 today with nobody really pushing me ... and I think all-state is usually around high 15:20s and lower, so I'm doing great right now."
The girls event saw a winning individual run just as dominant. Seneca sophomore Evelyn O'Connor repeated as county champ by better than a minute with her 18:10.1.
"I felt good," O'Connor said. "I like the flat course, it felt really fast today.
"I think I'm already way ahead of where I thought I was going to be at this time this year, so I can only keep improving. [In terms of my time with the postseason approaching,] I think I'm good where I'm at."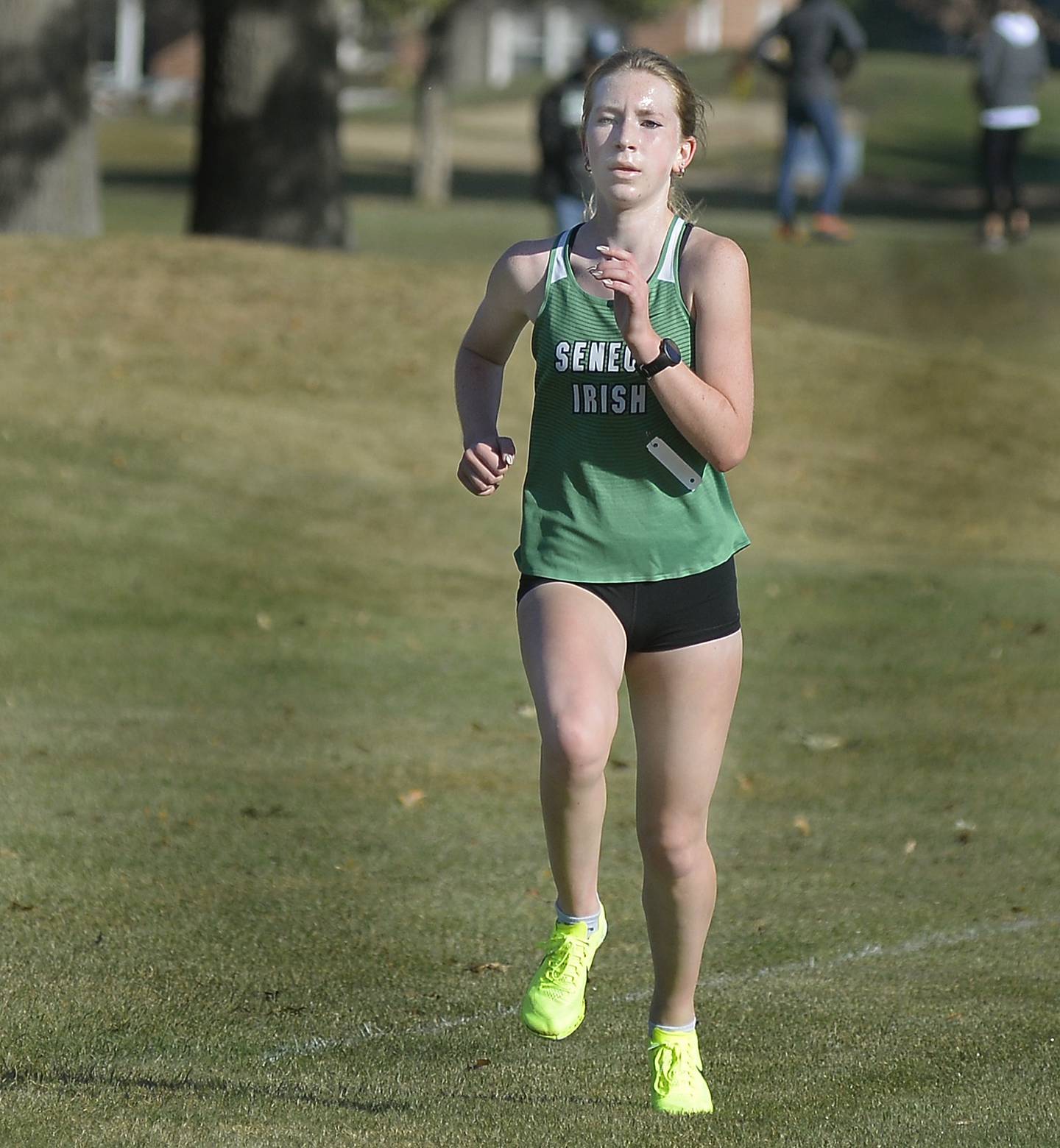 In the team standings, it was the Ottawa girls repeating as county champions, paced by scoring three of the top four times led by fourth-place Addyson Miller (20:11.3), third-place Kendra Martin (19:52.2) and individual runner-up Grace Carroll (19:15.7), all of them all-county medalists along with fellow Pirate harrier Eva Heimsoth (10th, 21:25.7).
"To be honest, I felt like I was sprinting the whole thing," said Carroll, who won the 2020 La Salle County Invitational as a sophomore. "I felt like my start was just as fast as my finish. Coach [Dan] Heaver said to focus on striding out of the curves, because it's a pretty flat course, so that was really what I focused on.
"I was just trying to beat my sophomore year time of 19:36 ... so I just put all I had left in and ran as fast as I could to the finish."
Shaylen Quinn (12th, 21:54.1), Morgan Stone (15th, 22:38.0), Michaela Froisland (16th, 22:49.4), Madison Towne (18th, 22:59.1), Makenzie Blazys (19th, 23:04.8) and Ava Downey (20th, 23:21.7) also scored top-20 finishes for the Pirates.
Behind Ottawa (31) in the team girls standings were Seneca (35) with all-county performances by O'Connor, Gracie Steffes (5th, 20:22.0) and Natalie Misener (9th, 21:17.8) plus top-20s from Keeli Pumphrey (13th, 22:22.8) and Ruthie Steffes (17th, 22:56.2); La Salle-Peru (86) led by all-county Anya De La Luz (8th, 21:03.9) as well as Kiely Domyancich (11th, 21:50.9) and Ashlee Lord (14th, 22:23.1); Marquette (96) led by all-county Maggie Jewett (6th, 20:30.4); and Streator (128) paced by Abby Pierce (21st, 23:26.7).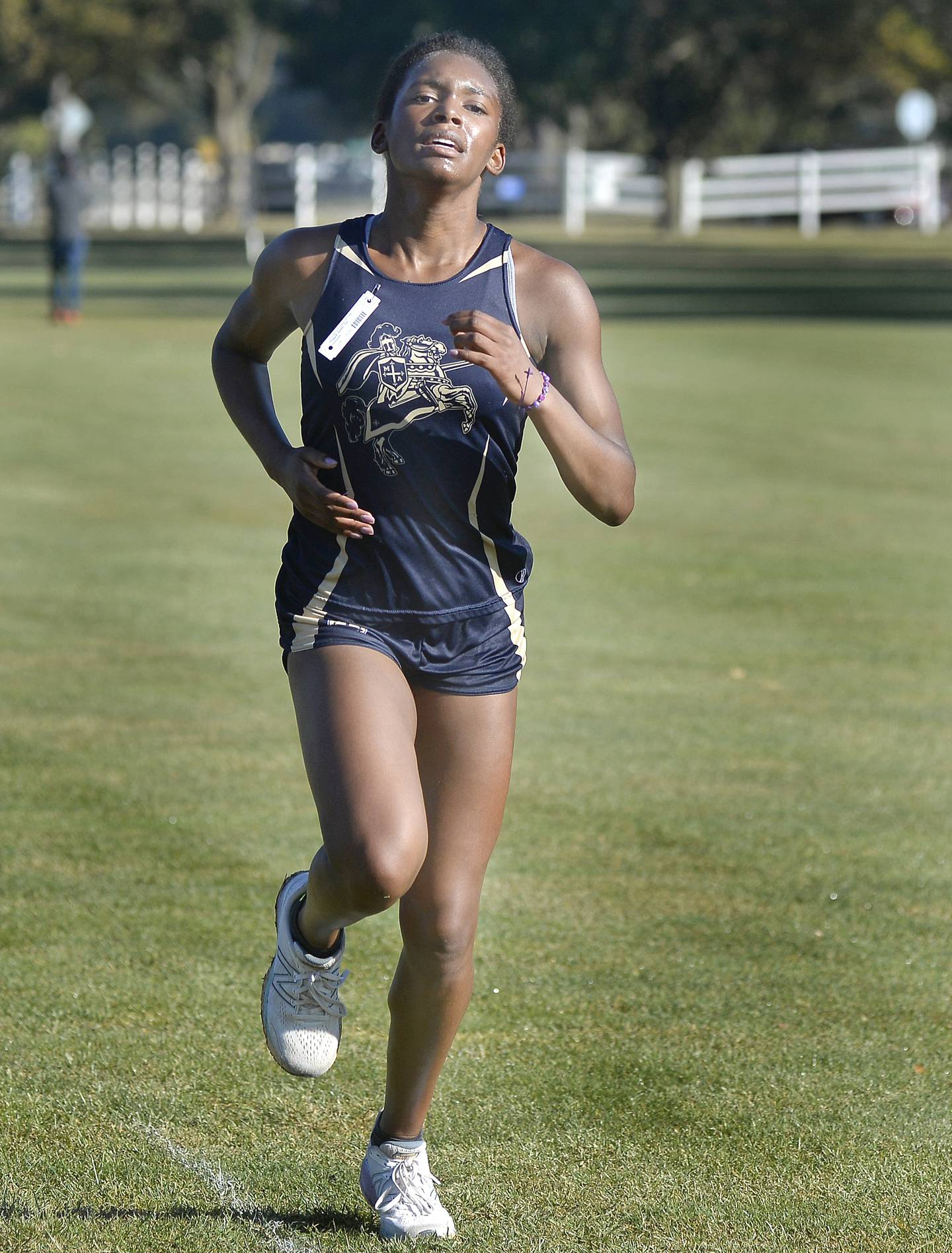 In the boys event, runner-up Austin Aldridge's time of 16:06.3 led the Fighting Irish (48) to the team title, with teammate Chris Poyner (6th, 17:08.7) also earning all-county honors while Logan Pasakarnis (11th, 18:16.9), Calvin Maierhofer (14th, 19:07.9), Nate Sprinkel (15th, 19:10.0) and Jaxson Finch (18th, 19:25.2) also finished in the top 20.
Ottawa's boys (65) came in second led by all-county Liam Tipple (5th, 16:45.3) and Lucas Farabaugh (7th, 17:21.7) as well as Gabe Nye (16th, 19:17.2), Oliver Ruvalcaba (17th, 19:19.7) and Grant Smithmeyer (20th, 19:42.2). The host Bulldogs (87) finished fifth led by Danko's winning effort and top-20 runs courtesy of Ryan Seaton (12th, 18:31.9) and Chance Robart (19th, 19:31.1).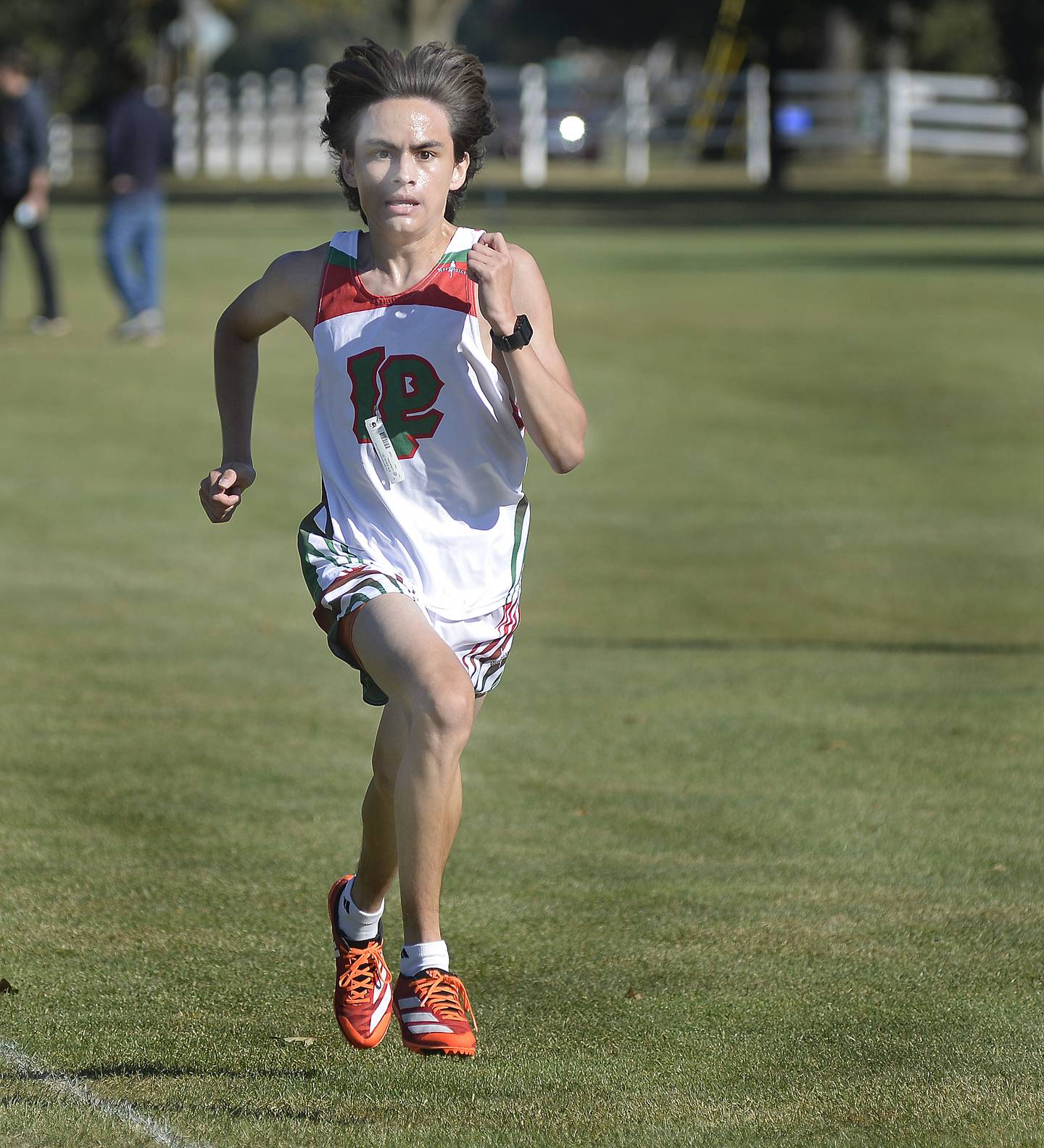 In between it was L-P (71) in third paced by all-county runners Erik Garcia (4th, 16:35.6), Griffin Hammers (8th, 17:32.5) and Braylin Bond (9th, 17:45.6); and Mendota (78) fourth led by Kody Chase (13th, 18:47.5) as well as all-county medalists Dagen Setchell (10th, 17:49.5) and, with a shattering of his previous personal record, Anthony Kelson (3rd, 16:28.2).
"I feel on Cloud 9," Kelson said. "It's amazing. The course is great, the competition is great, the camaraderie at this meet is great. It was just all amazing.
"It's a good course. I'm really happy with myself, happy with my team and happy with everyone here today."