LA SALLE – Friday's Interstate 8 Conference game between La Salle-Peru and Morris was tight throughout, but an 11-0 run in the fourth quarter thwarted a Morris comeback as the Cavaliers came away with a 55-52 victory.
With the Cavaliers leading 38-34 heading into the final eight minutes, Brett Bounds drained back-to-back 3-pointers to cut the Cavaliers' lead to 41-40. Moments later, a strong move to the basket by Gage Phillips gave the visitors a 42-41 edge.
But the Cavaliers did not panic, as they came right back with a short jumper from Josh Senica to regain the lead 43-42 on their way to the win.
"Yeah, it was a great atmosphere tonight," Cavaliers coach Jim Cherveny said. "Before the game, the 1969-70 basketball team that was inducted into the Hall of Honor talked to the kids and gave the message that they have to play hard and do the dirty things and be a great teammate to win, and I thought we did that tonight.
"We didn't lose our focus when Morris took the lead. [We] went on a run to get control of the game."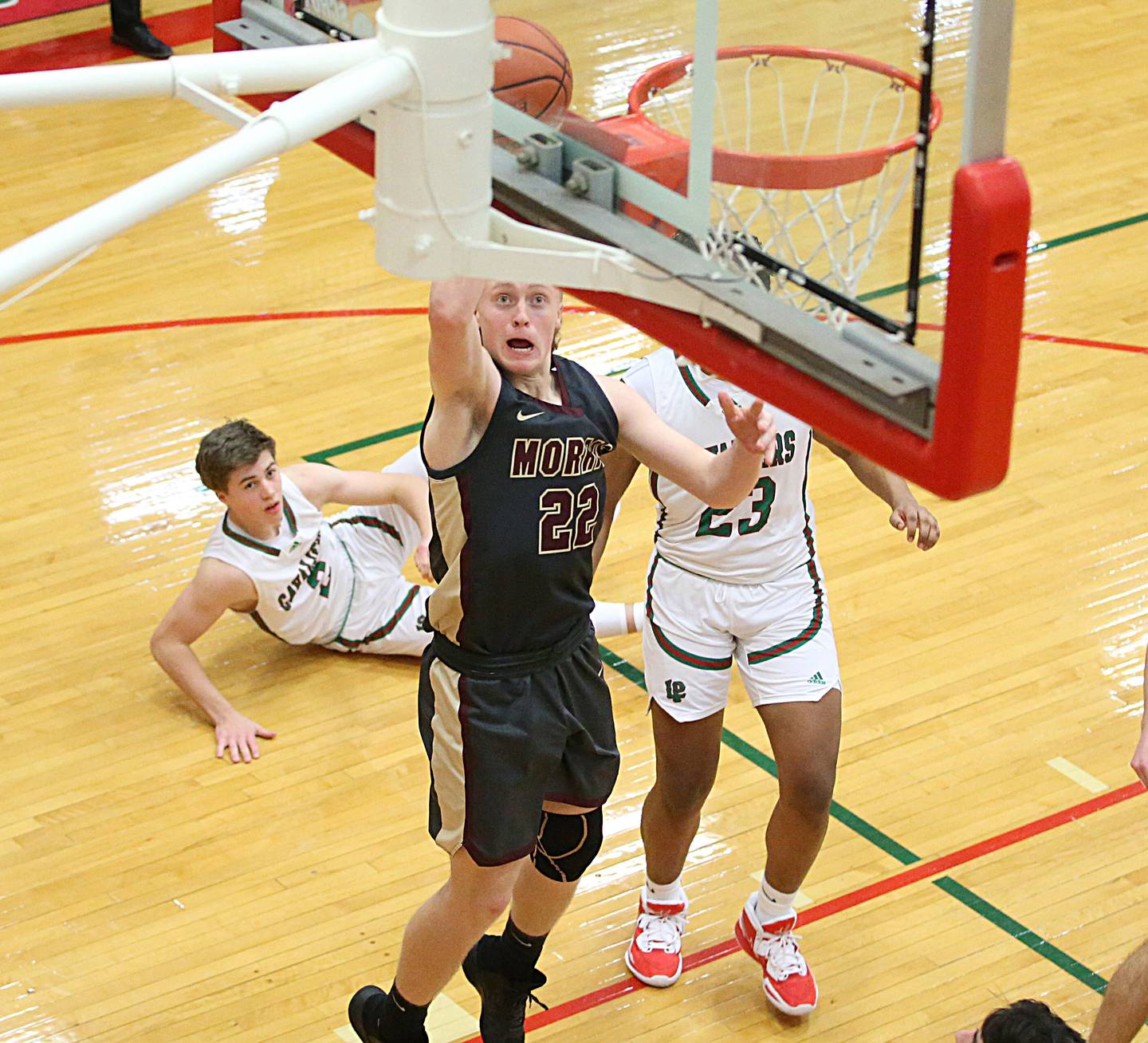 Senica continued to lead the Cavs, as he hit both of his free throws and then hit another short jumper to push the lead to 47-42. Shortly after that, Senica made a strong move to the basket before London Cabrera hit 3 of 4 from the foul line to cap an 11-0 L-P run and take a 52-42 advantage.
"It was nice having three guys in double figures, but I think sometimes we have guys who think points are the most important thing instead of taking charges and getting rebounds," Morris coach Joe Blumberg said. "We struggled to contain Senica, and they hit some timely 3s, and we really struggled to rebound tonight."
Phillips hit a step-back 3-pointer that ended the Cavaliers' run. Jack Wheeler then hit a short jumper that cut the L-P lead to 52-47 with 22.9 seconds left, but the Cavaliers hit a couple of more free throws to ice it.
"I think our guys took the pre-game to heart," Cherveny said, "came out with good intensity, and I thought Seth [Adams] did an amazing job on [Phillips]. He can light it up, and I thought he really made him work for it tonight."
L-P started the game taking an 8-2 lead, with Cabrera hitting a 3-pointer and Adams completing the fast-break layup before Cabrera drained his second consecutive long-range shot.
"Yeah, I didn't think our intensity was where it needed to be tonight," Blumberg said. "We came out and were down seven or so right off the bat, and you can't do that if you want to win a road conference game."
But Morris responded with Wheeler hitting the bucket and the bonus. Moments later he followed that up with a 3-pointer and one to cut the Cavs lead to 10-9. L-P had a response throughout, as Senica controlled the boards and the Cavaliers led 25-21 at intermission.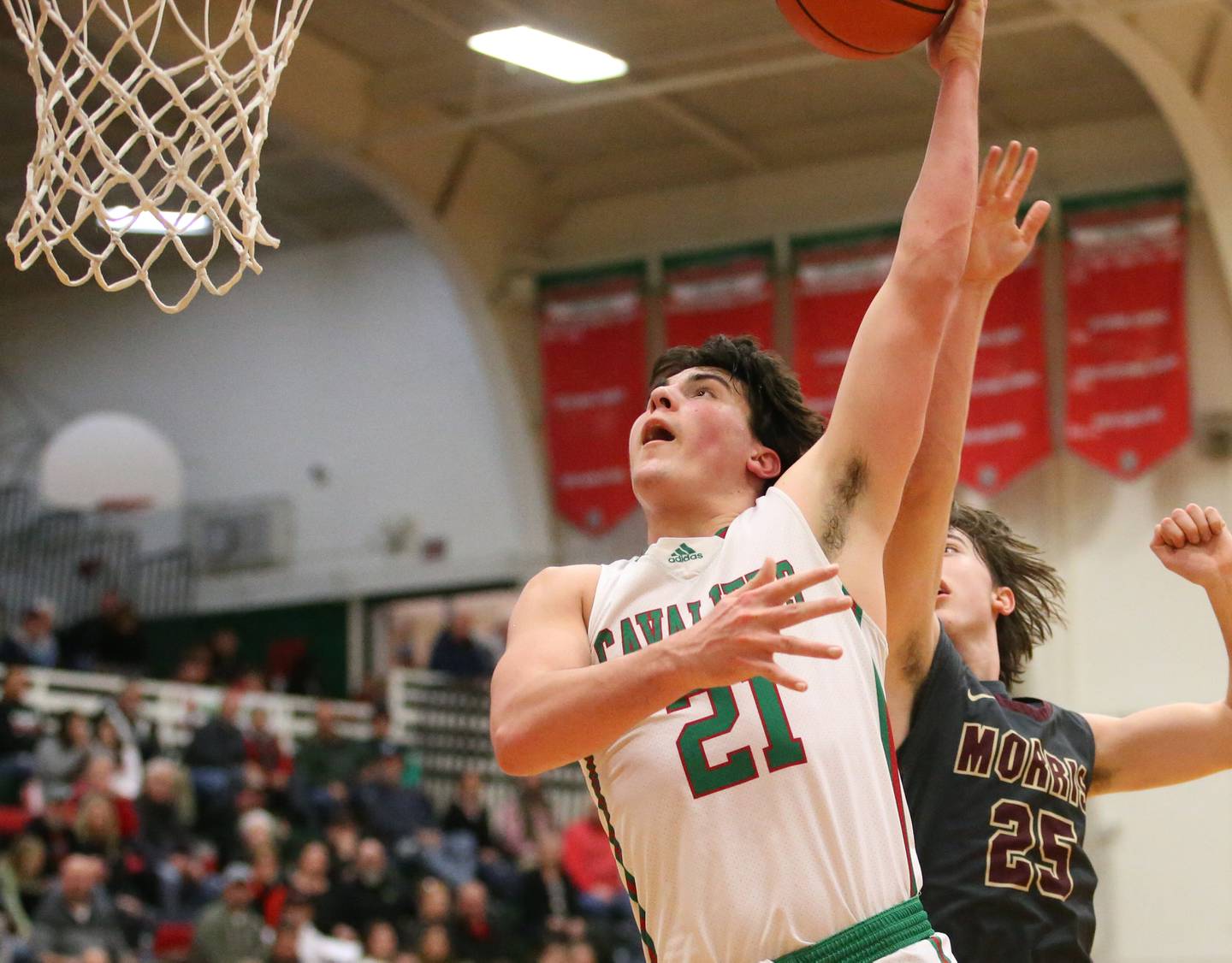 The teams continued to go back and forth as Senica got the putback to start the third, and Phillips followed for Morris with a stick back of his own. Adams picked up a put-back of his own miss, and then Jack Jereb nailed a long-range shot to give the Cavs a 32-27 advantage.
Bounds made sure Morris stayed close with a 3-pointer, but Senica's layup made sure the Cavs took a 38-34 lead into the final quarter, where they would hold on.
L-P had three in double figures, with Senica leading the way with 24 points and 12 rebounds to go along with Adams with 14 points and Cabrera with 12.
Morris also had three in double figures, with Wheeler netting 18, Phillips 14 and Bounds 12. Phillips had a double-double, as he added 12 rebounds.
L-P improves to 13-8 on the season, and Cherveny moves to third all-time on the La Salle-Peru wins list passing Howard Fellows with his 157th win (157-160 overall) behind Chips Giovanine (304-126) and Walter Tyler (186-149).