The St. Bede volleyball team has been focusing on its mental toughness this season.
The Bruins showed improvement in that area Tuesday.
St. Bede fell behind in both sets to rival Hall, but bounced back in both to earn a 25-22, 25-22 victory in a Three Rivers Conference East Division match in Peru.
"We've really been working on mental toughness," St. Bede coach Abbi Bosnich said. "It's something we've struggled with as the season has gone on. We're just having to work through that mental toughness. I'm happy to see them respond so well to that because that's hard just being able to fight through that and find our way one point at a time. I think sometimes we get caught up in looking at how many points we're behind rather than just chipping away at it one at a time."
In the first set, the Red Devils grabbed an 8-4 lead behind four kills from Kierra Wozniak.
Hall led 11-6 on a kill from Molly Dalzot before Aubree Acuncius and Ali Bosnich teamed up for a block to give the serve to Payton Giordano.
The Bruin libero rattled off seven consecutive points, including a pair of aces, to help St. Bede take a 14-11 lead.
"Payton did a great job serving tonight," Abbi Bosnich said. "She had two aces and didn't miss any serves. Without her serve in the first game, I don't think we would have been able to catch back up."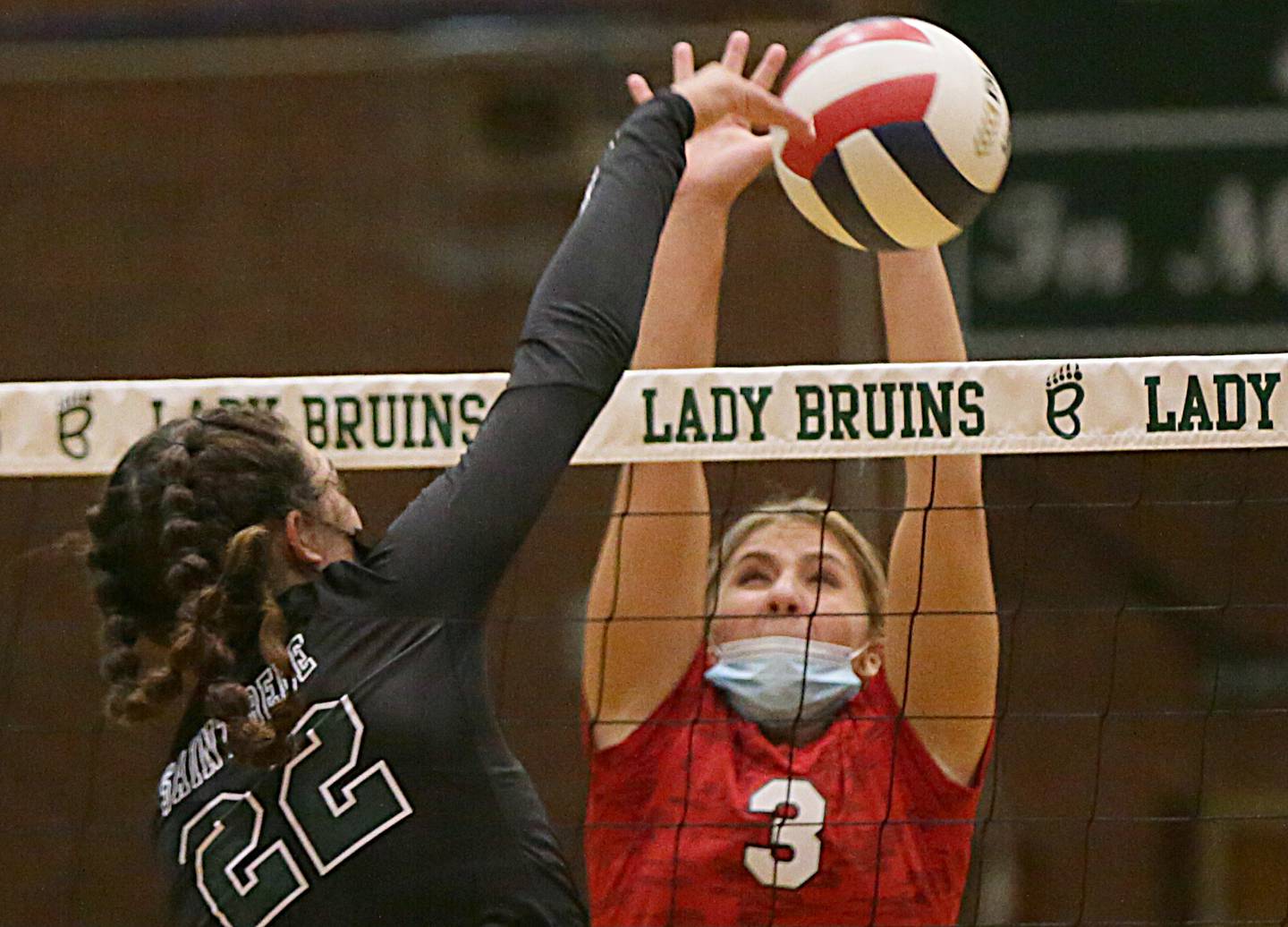 Acuncius scored on a tip and went on a four-point run to extend the Bruins' lead to 19-13.
Hall put together a rally of its own to tie it at 22, but a dump by Acuncius, a kill by Emily Robbins and a Red Devil lift gave St. Bede the first set.
The second set was tight with neither team leading by more than three until back-to-back kills by Dalzot and Mia DeAngelo put Hall ahead, 16-12.
Consecutive kills by Ali Bosnich tied the set at 17, and the Bruins pushed their lead to 22-17.
"We got it together," Ali Bosnich said. "I think a light bulb clicked. We were like, 'We need to win. This is our house.' "
As they did in the first set, the Red Devils put together a late rally to tie it at 22.
A service error, a kill by Ali Bosnich and an ace by Abby Nawa sealed the win for the Bruins.
Ali Bosnich finished with five kills for St. Bede (6-11, 3-4 TRC East), Acuncius had 14 assists, five aces, three digs and three kills and Emily Robbins added seven digs and five kills.
Wozniak put down eight kills to lead the Red Devils (4-14, 0-7), who played St. Bede much tighter than the first two meetings when they lost 25-17, 25-12 and 25-10, 25-11.
"I thought we played great," Hall coach Darcy Earley said. "They really stepped up. They followed the plan we put together. We just had a few short moments where we started to freak out a little bit. I reminded them we have a plan and we have to stick to it. We did really well."