After agreeing in concept to an "Empowered Women of Starved Rock Country" mural last month, the La Salle City Council granted Christie Pasieka permission to install the mural on her building at 552 First St. and to lease a small section of the adjacent city lot at 540 First St.
Pasieka was required to file for the leasing of a 40-by-18 foot section of the lot that is also 8 inches deep because of the manner in which the mural will be installed.
The mural will include Mary Ellen Evers, Marion Dane Bauer and Dr. Mary Margaret Weeg, and will have images of La Salle-Peru High School and Illinois Valley Community College in the background.
The mural will be mounted on the westward facing wall of the building that holds Petals by Peyton and Paws on First and will be bracketed to removable tiles that creates a movable mural.
The mural will be painted in full color on aluminum sheeting that has been power sanded flat to prepare for paint coatings. The mural will feature a small section that wraps around the front of the building to create an interesting effect.
Pasieka said Monday night she has received interest from other downtown La Salle building owners about wanting another mural and said she hopes this is the first of many more to come.
"I've got two people that would like to have a mural," Pasieka said. "There are supposed to be four to five (murals)."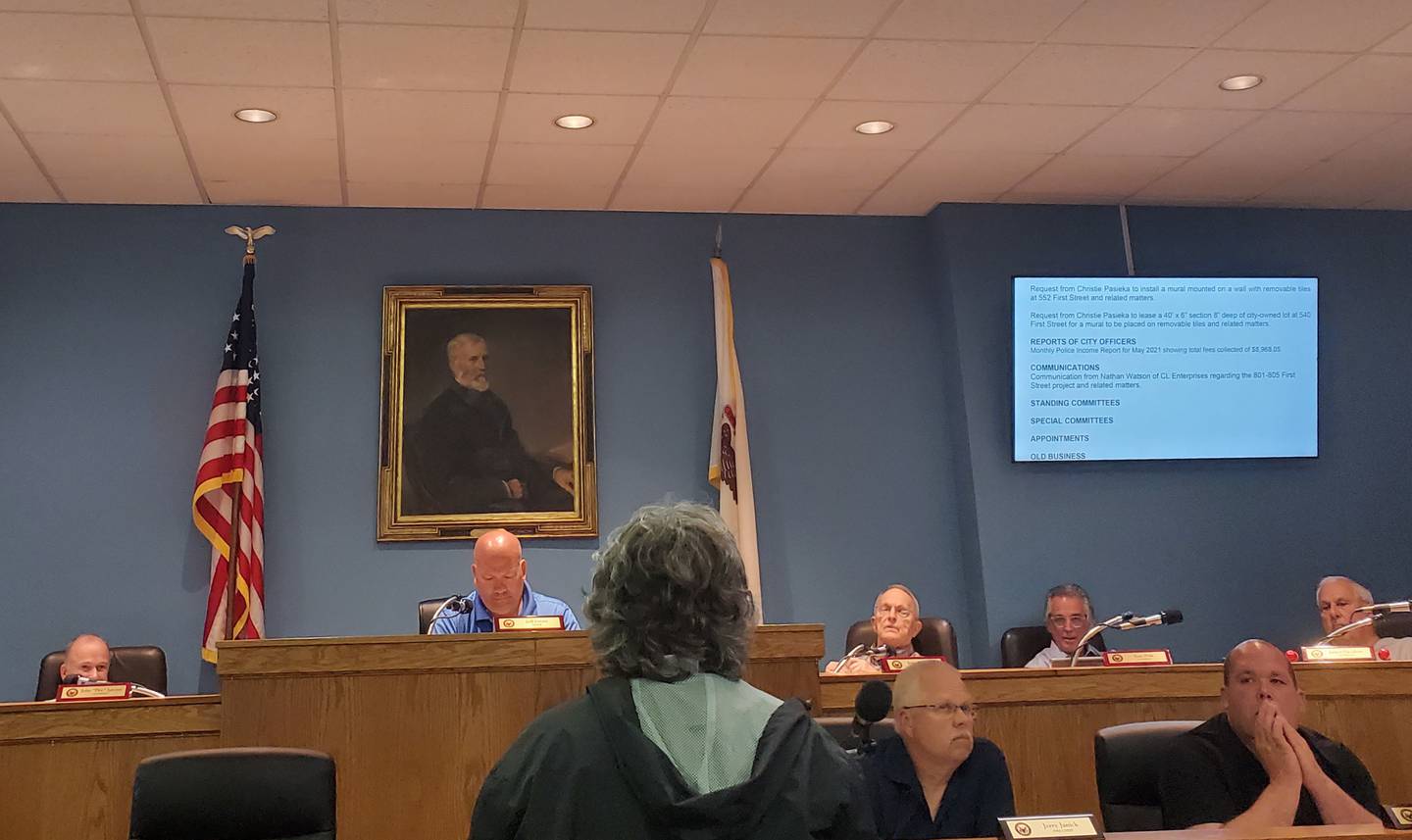 Pasieka said she would like to see all four corners and the middle of downtown with a mural in an ideal situation moving forward, although the first mural was the only one discussed Monday night.
The mural will be able to be moved, but not necessarily easily or without much cost. Because of these reasons Alderman Tom Ptak brought up the discussion of placing the mural elsewhere, because the city is trying to find a developer for the 540 First St. lot.
Ptak said he is in favor of the mural and thinks it will bring more culture to downtown La Salle but had concerns on the placement.
If a building were to be placed on the neighboring location, the mural would then be unable to be viewed and would have to be relocated.
"What I'm concerned about is if somebody were to build on that lot it would block that mural," Ptak said. "I know that we have a motion here and there would be conditions on it that you might have to remove it. I just question if that would be the right thing for you."
Pasieka said she is bothered the mural could be covered by another building but said at this point she was ready to move forward with the agreement with the city.
"We're at a point where we go with what we have, because that wall is set and can be done, or we redesign it and set it back further," Pasieka said. "I want to go forward and I think everyone here wants to go forward so it's a discussion right now."
The motion was unanimously approved with the following stipulations that were agreed upon and known by both parties:
The mural will not extend above the roof line
It is understood the mural will be voluntarily moved from the wall in the event of a tenant at 540 First St. or transferred by the city to an independent party subject to a 45-day notice to do so
The petitioner entered into the appropriate agreement to lease the city property involved
The final location and mural will be subject to the approval of the building inspector and director of economic development
The permit in any event will expire in five years, without prejudice, with the ability to apply for a renewal if the premise has not been sold or otherwise developed