PERU – Through two and a half innings of their Class 1A Marquette Regional quarterfinal Monday, the visiting Earlville Red Raiders (3-18-1) and St. Bede Bruins were locked in a close game for the right to keep their season alive and play their top-seeded regional hosts.
By the end of the third inning, however, the only things locked in were the St. Bede batters and a trip to Ottawa to face the Crusaders on Wednesday.
The Bruins batted around twice in the home half of the third, scoring 14 runs to transform a one-run ballgame into a 15-0, four-inning victory.
The Bruins (7-15) advance to the semifinals to play Marquette at 4:30 p.m. Wednesday.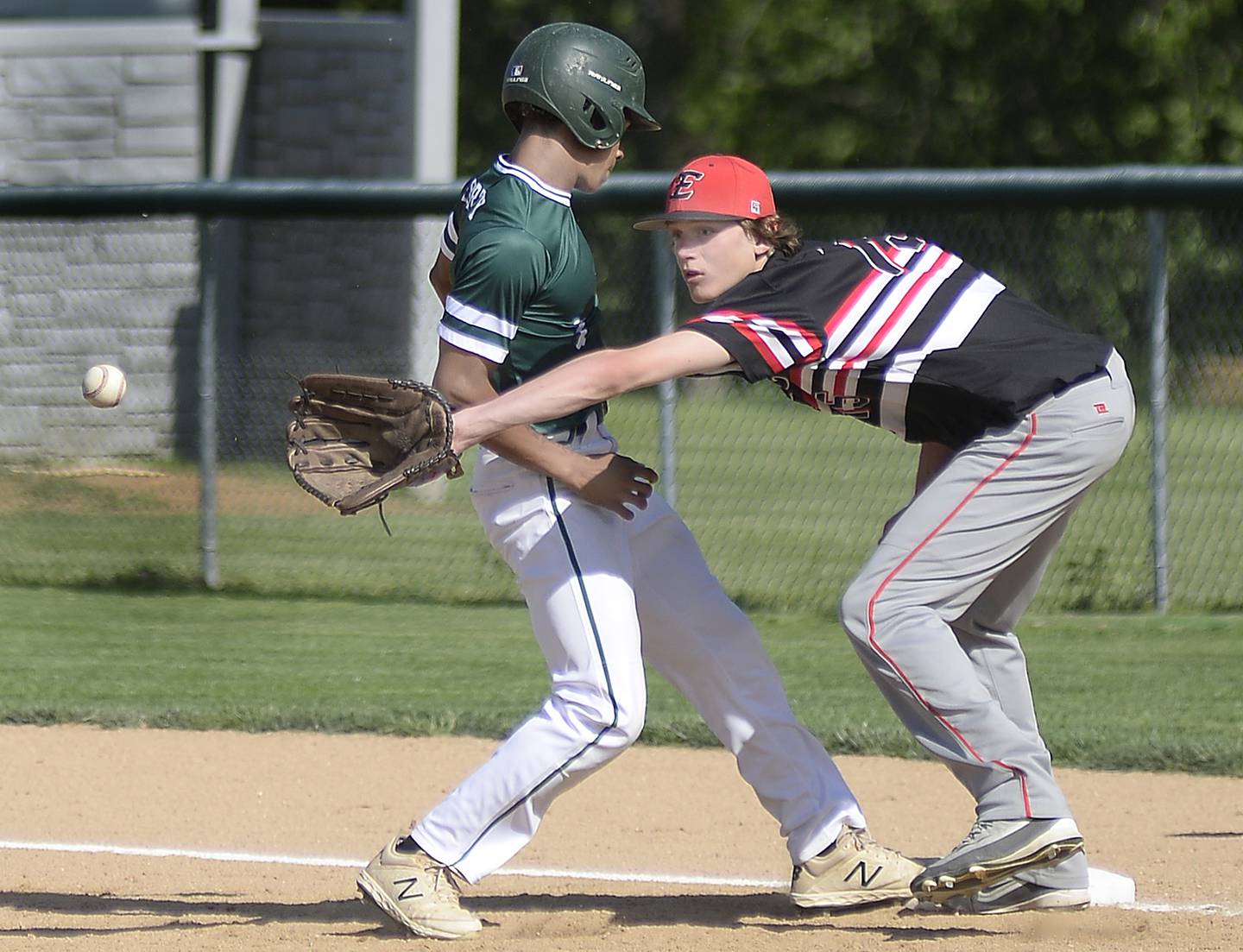 "I don't know if we were tight, but the start of the game was not sharp," Bruins coach Bill Booker said. "Auggie [Weisbrock, St. Bede's starting pitcher] had a real good outing the first couple innings, and that's why we were up 1-0, but it was a tight game going into the third.
"I thought the second time through the order we put better swings on the ball, had a better approach at the plate and kind of loosened up a bit. Once we got that first hit, second hit, there was blood in the water, and we went from there."
Before the game-changing inning, the Red Raiders managed to put a pair of runners on base against Weisbrock with no resulting runs. The Bruins had six men reach safely, although only one of them – Tyreke Fortney, who singled up the middle, moved to third on a pair of Earlville throwing errors and scored on Dan Dugosh's sinking line-drive triple to center just under the center fielder's glove – made it home.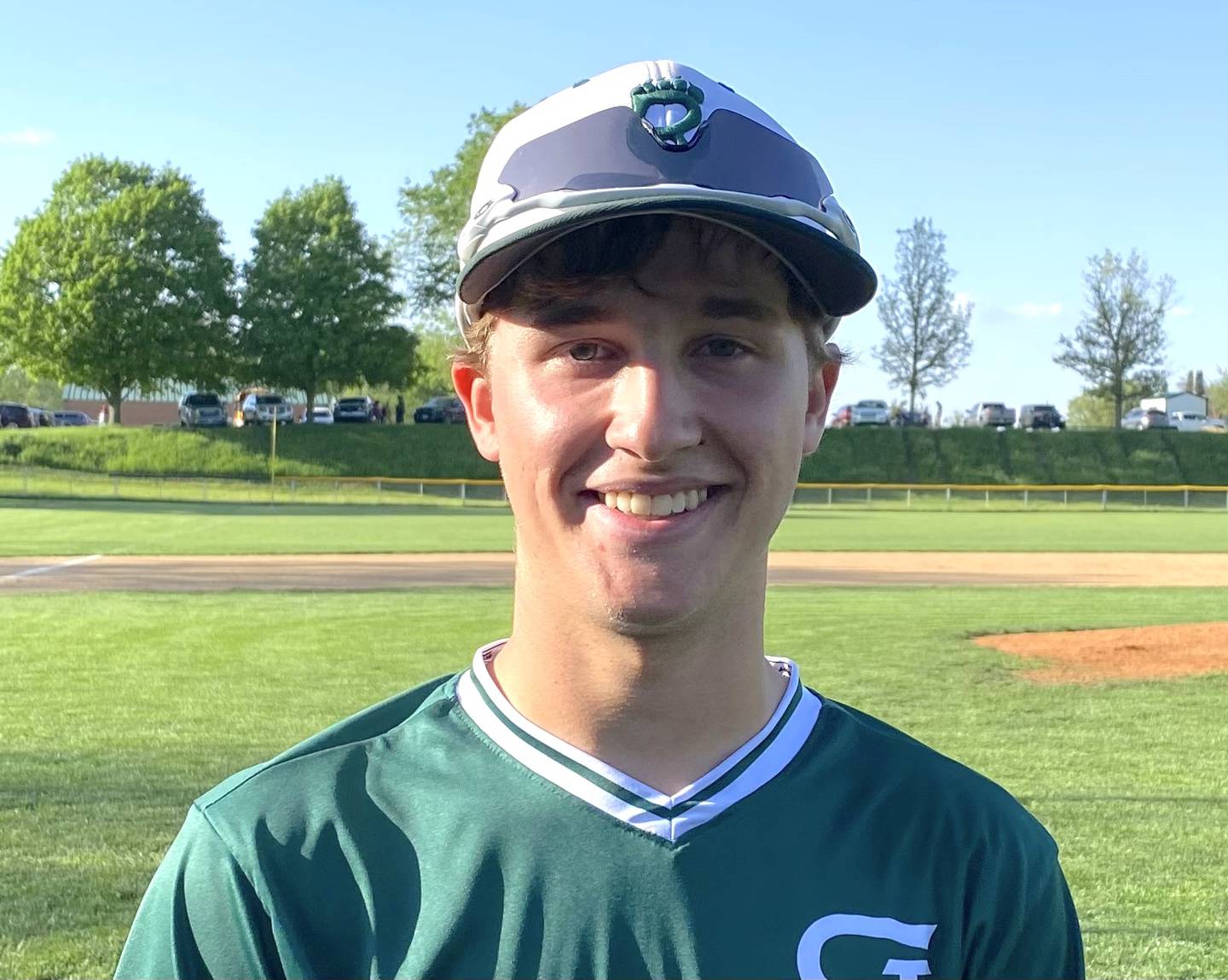 Earlville starting pitcher Bryar Keller used a hard-biting curveball to work through the first dozen St. Bede batters with minimum damage, but by the third his effectiveness with the pitch had worn out. The Bruins started the inning with three consecutive singles off the bats of Jayce Ladzinski, Brendan Pillion and Logan Humpage, and they just kept hitting.
Pillion's single was a run-scorer, as were a Fortney erred grounder, a Dugosh two-run single, back-to-back RBI singles by Colin Nave and Luke Story, Luke Tunnel's two-run triple, a Pillion double and Humpage's bloop single that scored Pillion and chased eventual losing pitcher Keller (2 1/3 IP, 8 ER, 11 H, 2 BB, 4 K).
St. Bede kept hitting, with Nave adding another RBI single for the Bruins' 15th run after Dugosh's third run-scoring hit of the game and second of the inning, a two-run two-bagger to left.
"Once we realized we could get past that curveball [Keller] was throwing, we started getting to him early before we got to those late-in-the-count [pitches]," said Dugosh, who finished 3 for 3 with five RBIs. "We started hitting, it got electric in the dugout, screaming and stuff, and we kept the momentum going."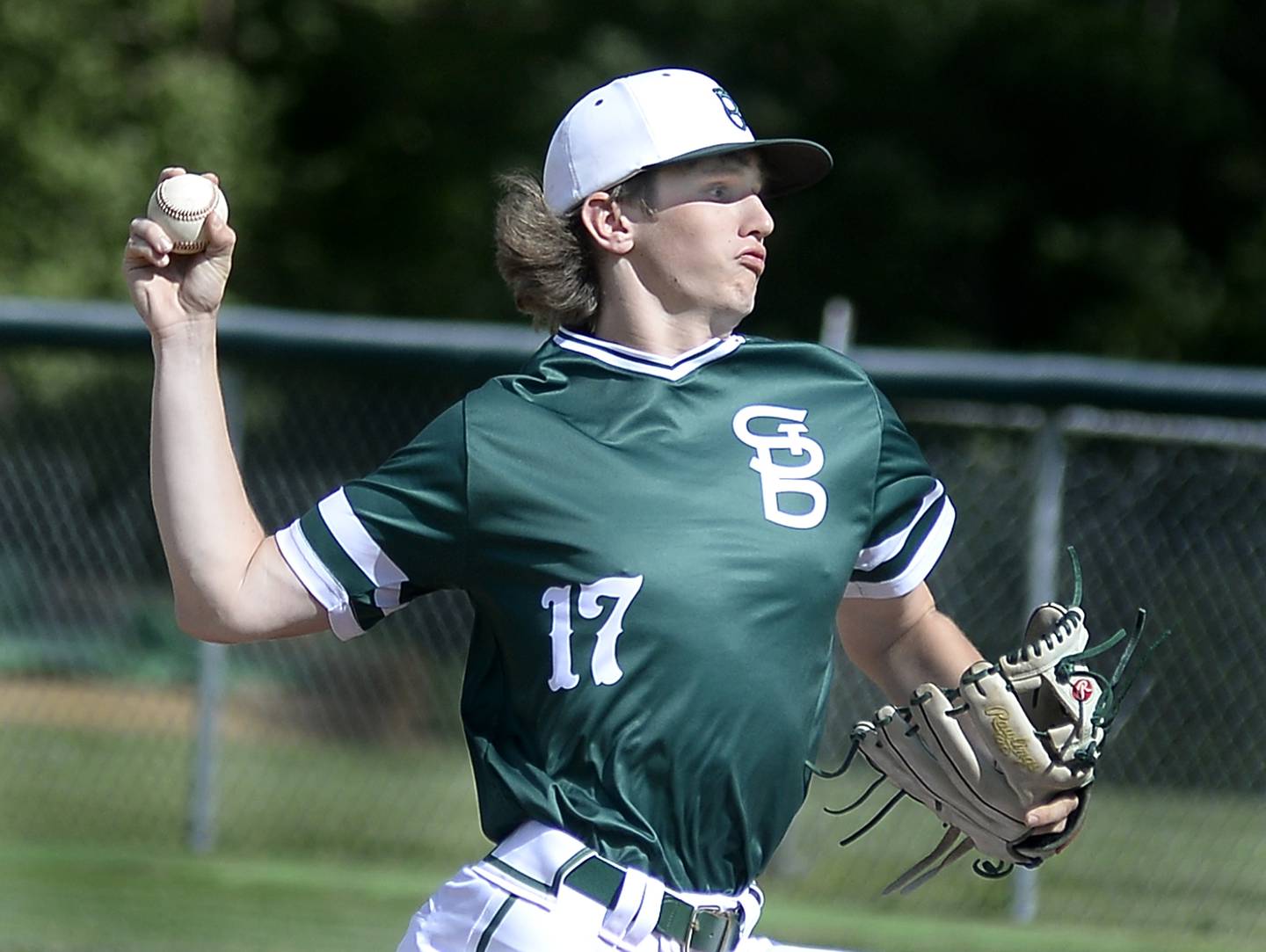 Game in hand, Booker removed Weisbrock (3 IP, 0 R, 0 H, 2 BB, 5 K) in favor of Alex Ankiewicz (1 IP, 0 R, 1 H, 1 BB, 1 K) to preserve Weisbrock's potential availability later in the regional. Trey Gauer did manage the Red Raiders' first and only hit in that fourth inning – a Texas league single to left-center with two away that put runners on the corners – but a strikeout by Ankiewicz ended the game.
"They had three hits in a row," Earlville coach Dillon Reel said, referring to the bottom of the third, "and then hit by pitch, error, and at the end of the day free bases are going to kill you. That's what it all comes down to, damage control, which we've had trouble with all year.
"But we have some younger players [who showed encouraging development] this season. There's hope."
In addition to Dugosh's big game, Pillion and Nave each had two hits and two runs batted in. Humpage had two hits and an RBI.