SENECA – The venerable Seneca Fighting Irish Wrestling Invitational returned for its 32nd year of competition, with the hosts hoping to raise a championship plaque for a third consecutive season.
Seneca came up just short in second place with 205 points behind Clifton Central, which edged out the Irish with a 211.5.
Seneca collected six individual medals by finishing in first through fourth places, including two championships, three second-place finishes and one fourth-place medal.
Orion (185) took third, while Kewanee (180) was fourth at the 19-team event.
"Our kids fought hard all day, and we had 10 place winners out of the top six in 14 weight classes with a lot of rookie and young wrestlers," Seneca 29th-year coach Todd Yegge said. "We only had one senior in the lineup today, so I'm very proud of just missing out on a third straight championship.
"This was an excellent building block for our young team even though we couldn't quite get past Clifton Central."
Six other area teams competed, with Ottawa (125) placing sixth, Amboy (80) eighth, Somonauk (49) 11th, Streator (48.5) 12th, St. Bede (31) 14th and Putnam County/Hall (20) 17th.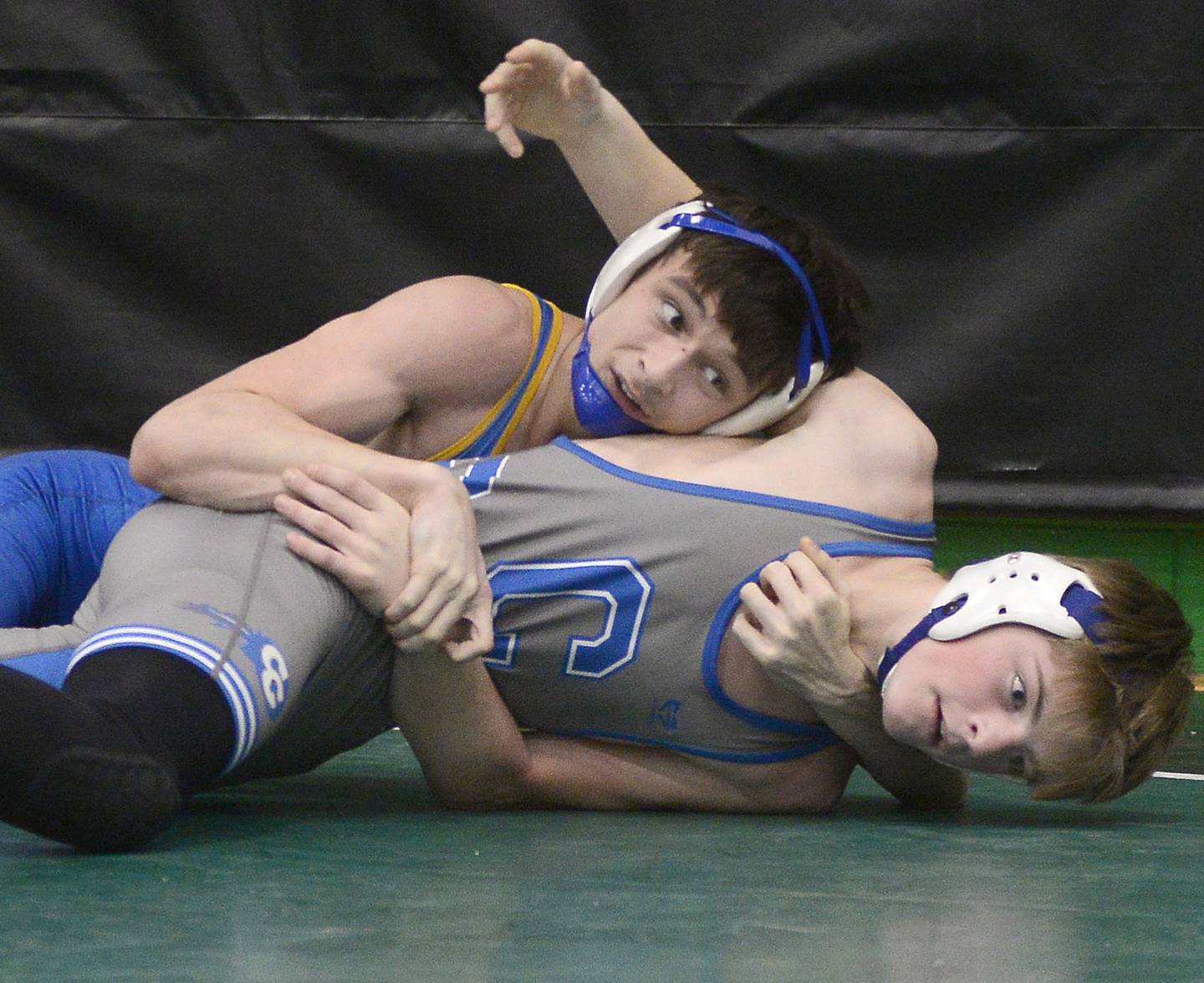 But it was the Irish that fueled most of the local success, with junior Asher Hamby earning Seneca's first championship of the day by pinning Pontiac's Dylan Ramsey 55 seconds into the title bout at 160 pounds.
"I finished fifth here last year, and I was really proud to get our team's first win on our home mats today," Hamby said. "This will definitely help me progress toward hopefully making it to state."
Classmate Chris Peura followed suit by winning the title at 195 pounds when he pinned Ryan Wilson of Ottawa at 1:06 of the opening frame to earn his second consecutive Seneca championship. Peura was also named the Most Valuable Wrestler at the upper weights (152-285).
"I started off on the tougher side of the bracket, and I knew I could go back-to-back with another title," Peura said. "It feels great to win here two years in a row, and it's going to motivate me to keep on going throughout the season."
Seneca also saw a trio of second-place finishes from Ethan Othon (113), Nick Grant (132) and Collin Wright (170). Nate Othon (145) earned a fourth-place medal, as the Irish surged to second in the team standings.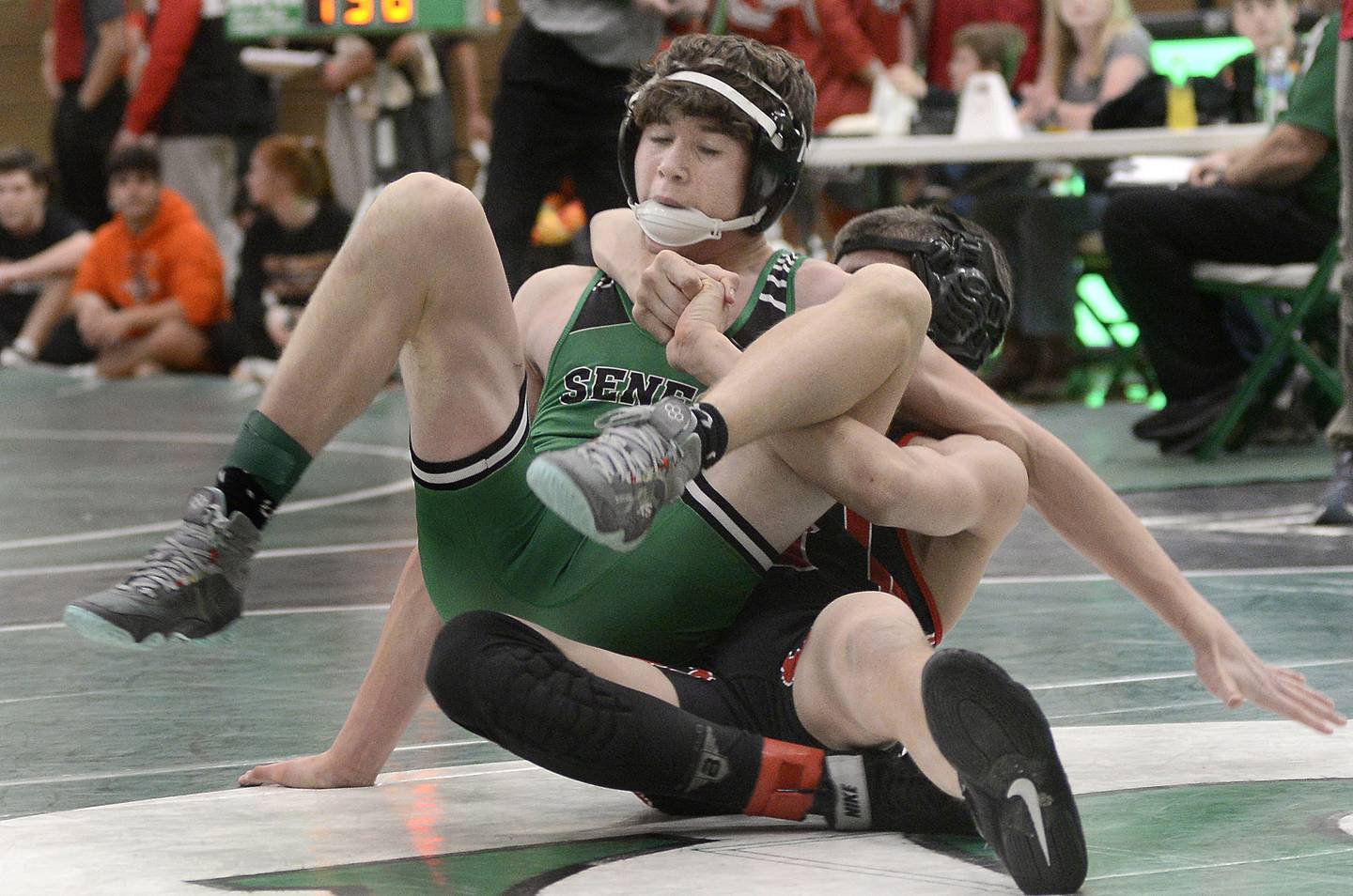 Ottawa's best performance of the day came from junior Ivan Munoz, who won the 106-pound championship after pinning Johan Bonilla of Evergreen Park at 2:43. Munoz was named Most Valuable Wrestler in the lower classes (106-145 pounds).
"I went for his leg in the second period, moved for a shot, and it worked out really well," Munoz said. "It was a great win, and I'm trying to get better so hopefully I can make it to state."
The Pirates garnered fourth-place medals via the efforts of Sebastian Cabrera (152) and Charles Medrow (220).
Amboy senior Levi Near sweated out a hard-fought 3-1 victory over Seneca's Grant at 132 by registering a 3-0 lead after two periods before holding on in the end.
"I was kind of scared that he [Grant] might get a takedown late in the match," Near said, "but I kept my composure, and it's a feel-good win with a lot of work left to do."
The Clippers also achieved success with third-place medals from Landon Blanton (120) and Lucas Blanton (170) and a fourth-place medallion from Josh McKendry (138).
Somonauk senior Aiden Rowan dominated his 126-pound championship match with Garrison Bailey of Clifton Central, winning the title with a pin at 2:17.
"I took him down in the first period, and I knew I had a good shot in the second after I rode him out," Rowan said. "I ended up stacking him to close out the match. I'm so proud to win a championship here in such a great tournament."
The Bobcats also earned a fourth-place finish from Mason Smith (113).
The Putnam County/Spring Valley Hall contingent saw James Irwin place second at 285 pounds.
Streator gained its only medal from junior Nick Pollett, who finished third at 106 pounds after a quick pin of Kewanee's Kingston Peterson only 23 seconds into the match.
St. Bede's best efforts came from Grady Gillan and Jake Migliorini, who both lost in the wrestleback semifinals at 182 and 195 pounds, respectively.