Every time I've driven by JACKpots in Streator since it debuted its new menu, the place has been jam-packed, whether it's noon, 2 or 7 p.m.
I now understand why.
I ordered the brisket and mac-and-cheese tacos specifically because I thought it sounded funky. I told myself there was no way it could work, but it was delicious: The brisket was tender and flavorful through the cheese and barbecue sauce. I'm still not entirely sure it's what God intended when he invented the taco, but it's a creative spin that tied together well.
My fellow diners ordered more traditional meals, one getting the Steakinator, and the other picking the Classic Jack burger. They were kind enough, or perhaps foolish enough, to lend me a bite for review purposes.
Yeah.
Right.
Review purposes.
The Steakinator is a seasoned rib-eye sandwich smothered in caramelized onion, green pepper, pepper Jack cheese and garlic aioli. Its taste lined up well with what I know of a Philly cheesesteak, and the kick was mild enough that the person who ordered it could handle it. He's notoriously anti-spicy food, and the Steakinator struck a good balance of tastes without being too hot.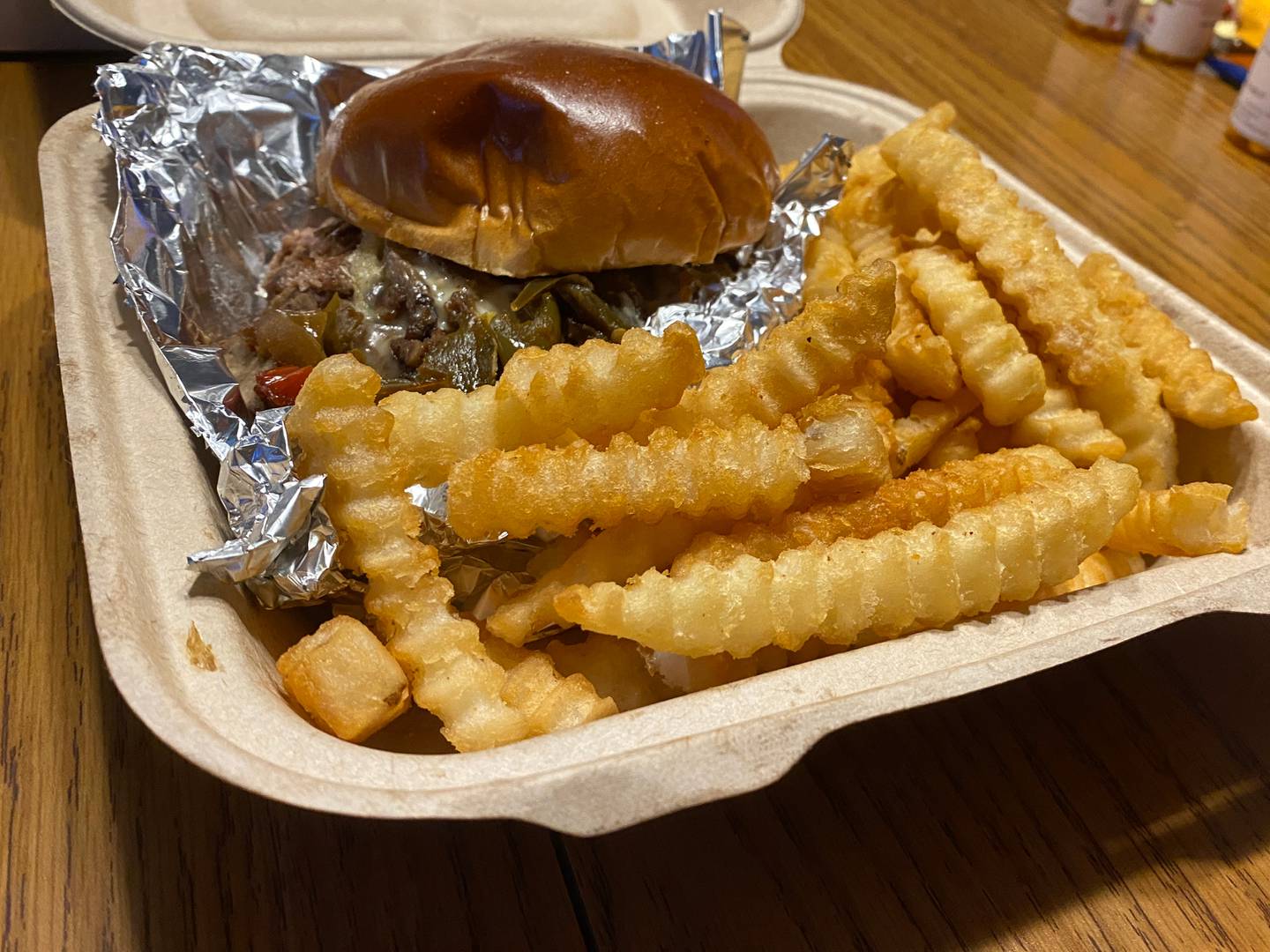 The Classic Jack is the stereotypical Midwestern cheeseburger, and a darn good one at that. Bacon, lettuce, tomato, onion, pickle, cheese and mayo are all that's really needed for a good burger, and this one was fresh and juicy. I was only allowed one bite, but had I not consumed three tacos beforehand, I probably would have stolen more.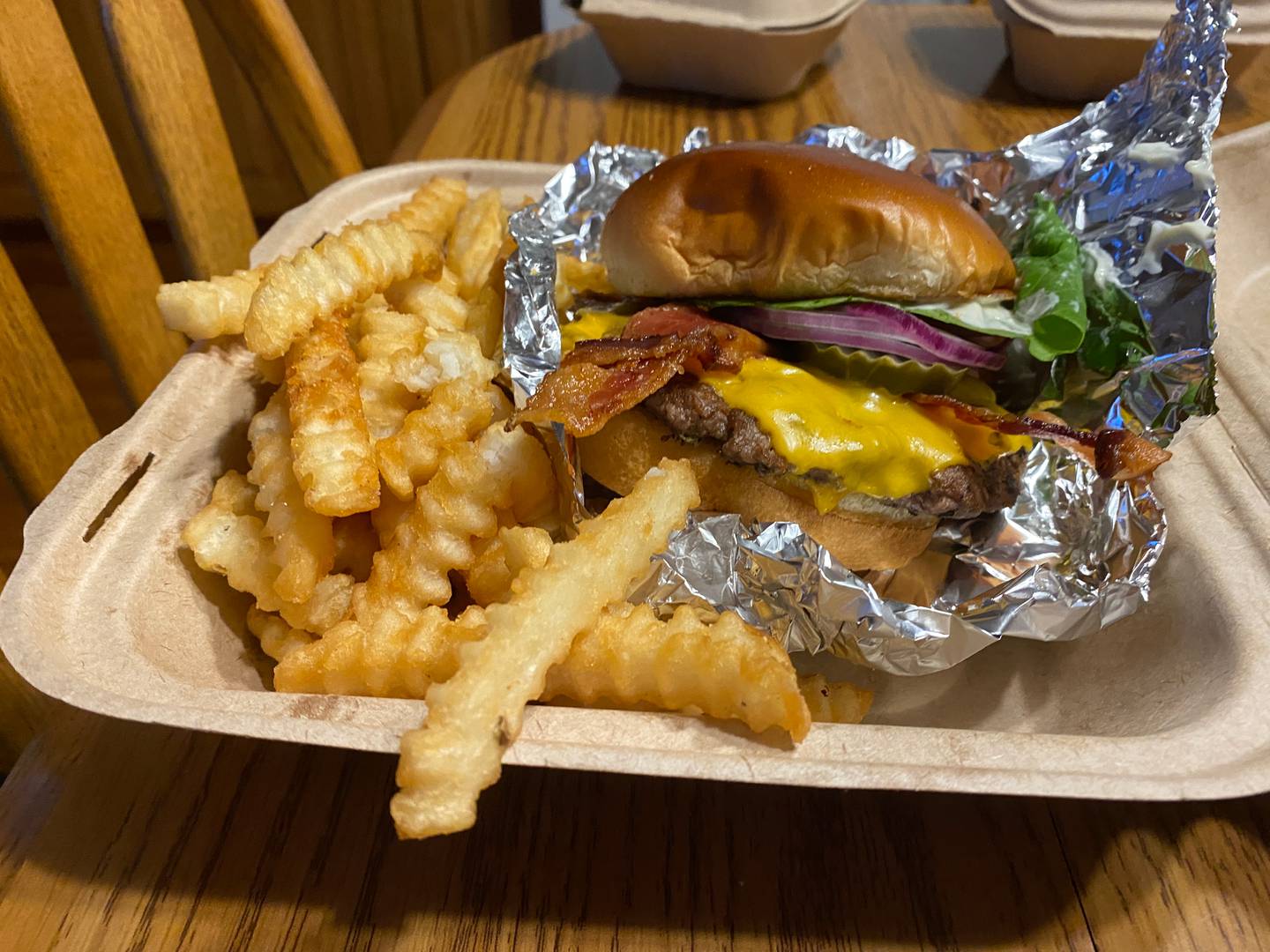 The whole reason I decided to dine at JACKpots was its Facebook ad for the jumbo flash-fried pretzel, because if I'm anything, I'm a sucker for giant versions of things I already like.
Jumbo was an understatement. The thing comes in an actual pizza box with three sauces, and it required a steak knife to cut. It was crispy on the outside, fluffy on the inside, and reminded me how long it has been since I had a good pretzel.
I'd be remiss if I didn't mention the fries, because I harp on them whenever I eat anywhere. JACKpots does fries right. They're crunchy without being burnt, and the inside is still soft. The seasoning isn't overwhelming, and they don't over-salt it. This might seem like small potatoes, but it's important to me.
Now, I still do carryout instead of dine-in at most places, for reasons that have more to do with me being a hermit and less to do with the pandemic. However, JACKpots recently built an addition off its north side that features a full outdoor bar, fire pits and several more tables. It has a good ambiance, and those worried about the weather can relax, knowing it's covered.
Price-wise, JACKpots cost a little over $60 to feed three people, but that easily could be cut down to $40, because all three of us were overly full. I definitely feel I got my money's worth, as the portion sizes were generous. I strongly recommend JACKpots to anyone who's still on the fence, and I look forward to a dining-in experience there in the future.
• The Mystery Diner is an employee at Shaw Media. The diner's identity is not revealed to restaurant staff when ordering or picking up the food. The Mystery Diner visits a different restaurant and then reports on the experience. If the Mystery Diner cannot recommend the establishment, we will not publish a story.
IF YOU GO
WHAT: JACKpots
WHERE: 110 E. Hickory St., Streator
PHONE: 815-510-9899
INFORMATION: www.facebook.com/JACKpots777