ELGIN – Sometimes, all it takes is staying alive and hanging around until fate steps in.
In the Elgin Harvest Christian 1A Sectional semifinal Thursday afternoon, the Marquette Crusaders grabbed the advantage early on, using a sacrifice fly by Taylor Waldron and an RBI double by Krew Bond to take a 2-0 lead on Chicago Hope Academy.
But several missed offensive opportunities by the Cru and a clutch two-run single by Esquival Bonilla in the sixth evened things out for what turned out to be a very long time.
The Eagles dodged bullet after bullet until one of the rarest of all baseball plays – a catcher's interference call – in the last of the 12th inning gave them a 3-2 victory over Marquette and a spot in Saturday's sectional title game against host Harvest Christian at at Judson University's Hoffer Field.
The incredibly tough loss ruined standout pitching performances by Aiden Thompson, Logan Nelson and Waldron, the latter suffering the loss despite surrendering just two hits and striking out nine over 5 2/3 innings of relief.
Marquette finishes the season at 28-3.
Ironically, the odd call – made on a bases-loaded swing of the bat by Esquival Bonilla – gave the win to Eagles sophomore reliever Roberto Rey, who as a freshman suffered the loss to the Crusaders in the same semifinal game a year ago.
He and starter Davian Villalobos gave up 10 total hits, but forced Marquette to strand a whopping 15 baserunners.
"We had a lot of opportunities, some really good chances to get in front, to win this game, and just didn't get it done," Marquette coach Todd Hopkins said. "We just had some breakdowns happen that don't usually happen in a baseball game, like that at the end. Mistakes are part of the game, but we kept fighting, and that's all you can ask for. Give Hope credit. They kept fighting 'til the end, too.
"It was a war. Unfortunately, they came out on top, but I'm very proud of my guys and always will be. It stinks right now, but it's been a heck of a ride."
The Cru took the lead in the second frame against Villalobos on a Tommy Durdan single, a walk to Sam Mitre and Waldron's sac fly to center. They upped it to 2-0 when Carson Zellers singled and, two outs later, Bond doubled to the wall in center.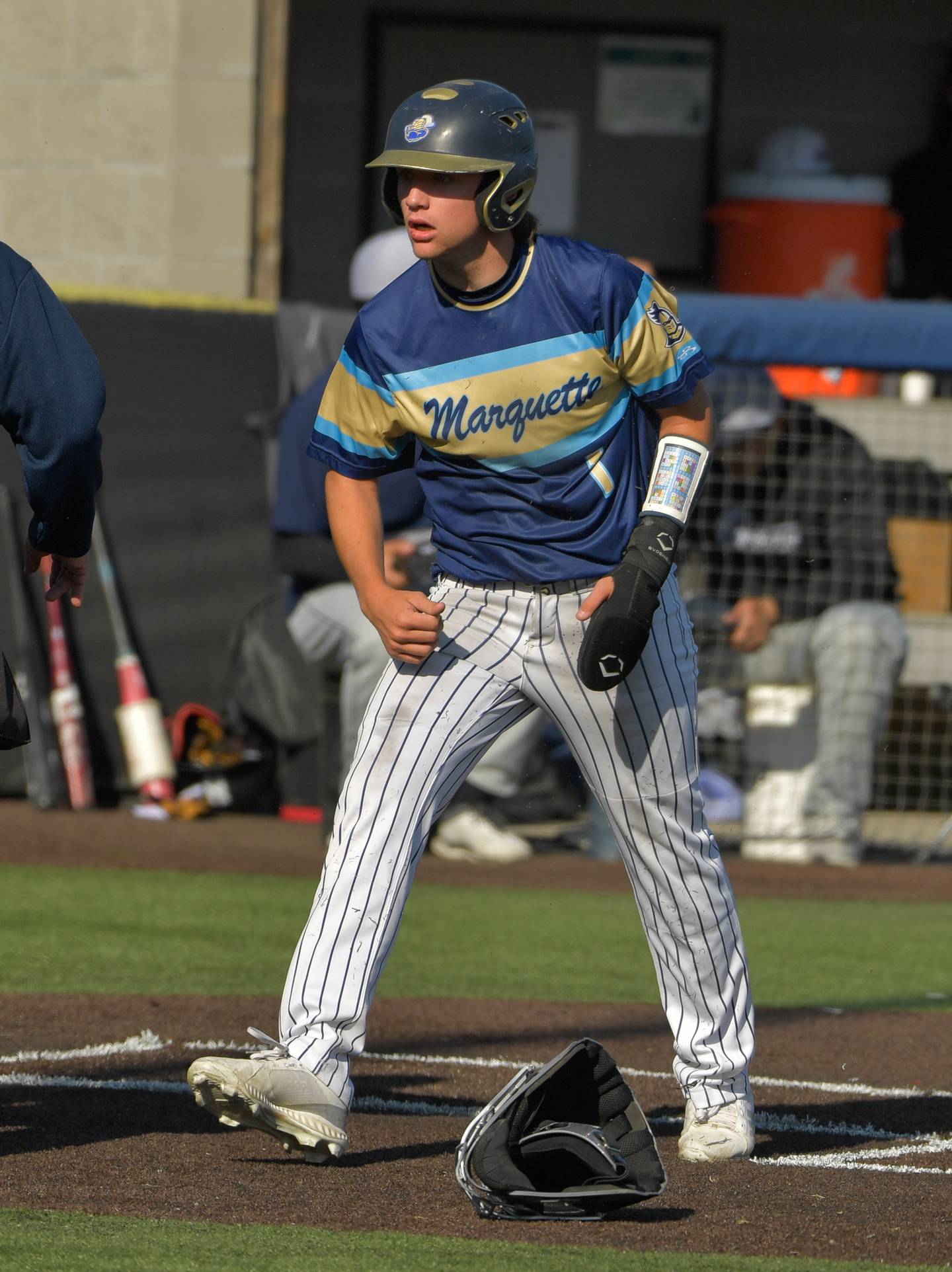 Meanwhile, Thompson was cruising, allowing just one hit before the sixth when he hit Dominic Bonilla with a pitch and surrendered a Villalobos single before Esquival Bonilla delivered the game-tying hit.
After that, Nelson threw a scoreless inning and Waldron added five more, but MA just could not get on top. Hope turned three double plays in the win, two on bunts that were popped up to the pitchers.
Finally in the 12th, Jorge Matos reached on a one-out walk, Dominic Bonilla singled, and Villalobos walked to bring up Esquival Bonilla, whose swing on a 2-1 pitch ticked the glove of Marquette catcher Keaton Davis to force in the winning run.
"It's a tough way to have a great game like this end, but we'll take it and not apologize for it," said Hope coach Efrain Mendez, his team now 25-8. "We know it hurts, because we've had some games like that go against us too, but today we managed to push through, got the right guys up at the right time and just didn't execute early, but we kept after it until something happened for us.
"Last year, [Rey] was a freshman and had all the butterflies and struggled, but this year he came to me and said he wanted to be back in the same spot, and he was able to flip that our way."
For the game, Waldron, Durdan and Zellers each had two of the Cru's hits.
"We knew this was going to be a tough game," Hopkins said. "No. 1, Thompson, Nelson and Waldron pitched one whale of a ballgame, our shortstop [freshman Alec Novotney] cut some runs off the board early, but we just didn't get the timely hit when we needed it."