Milton Pope eighth grader Landon Brandt hoisted a wheel barrow upward to dump mulch around one of the oak trees Wednesday at the Illinois Fallen Soldiers Tree Memorial in Illini State Park.
He and 16 of his classmates took part in the community project organized by the Illinois Department of Natural Resources with the help of the Laborers Union Local 393 in Marseilles.
The memorial dedicated to Illinois soldiers who have died in the Middle East has more than 200 oak and walnut trees, and several of them have not had new mulch in about five years, said Nick Foster, an intern at IDNR.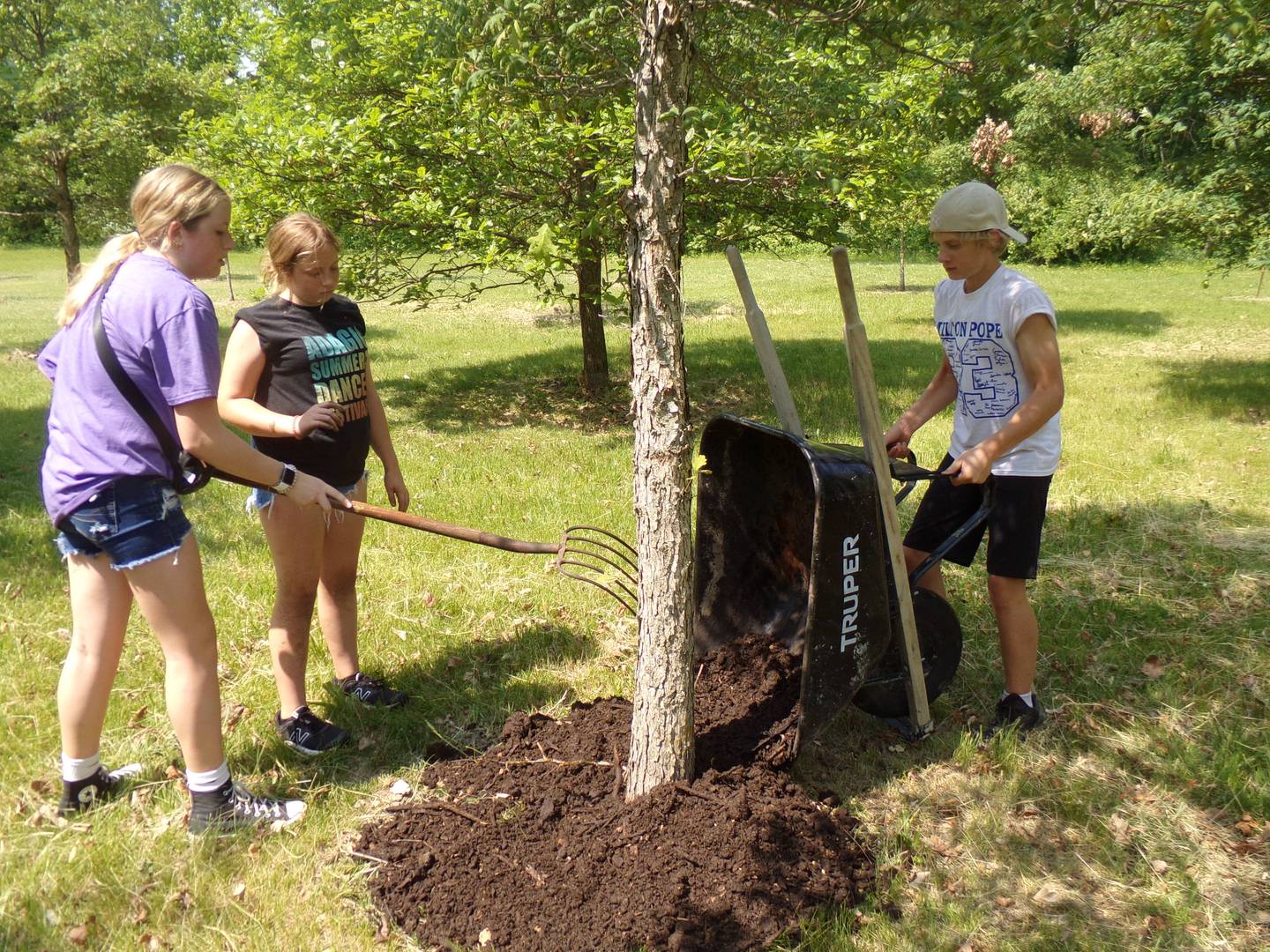 "I feel honored."

—  Bella Borkowski, Milton Pope eighth grade student
Sarah Farnsworth, who is in her first year as FFA instructor at Milton Pope, is the daughter of IDNR's district forester Randy Timmons. Farnsworth was looking for a project to get the students active outdoors on the day before their eighth grade graduation. Wednesday's task was a great fit.
"It's beautiful weather and they are enjoying being outside of the classroom," Farnsworth said. "They are learning how to spread mulch in a way that doesn't suffocate the tree, about planting for replacement in some areas, and especially about this memorial and what it means."
The students were not fazed by the physical labor or shy about doing their part with shovels. They said they liked doing their part to upkeep the memorial.
"I feel honored," said eighth grader Bella Borowski.
"I feel really helpful, it's been fun," said Madelyn Hedge.
"It's good to do something for veterans," Brandt said.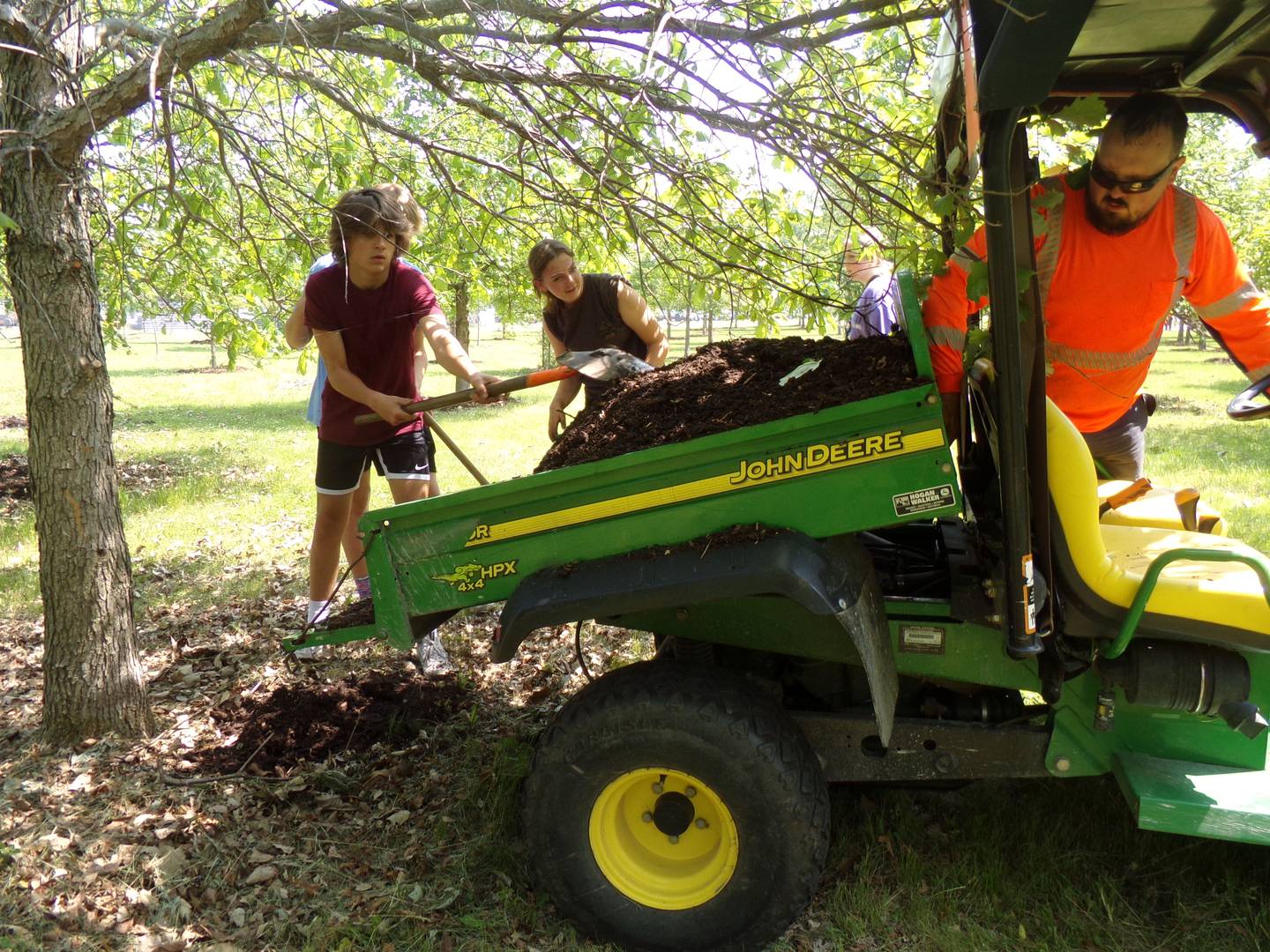 The Illini State Park Foundation started the Illinois Fallen Soldier Memorial to serve as a place to reflect on military members who died while serving in the Middle East. The memorial was dedicated on Nov. 10, 2009. The memorial, which is on the western end of Illini State park, near the entrance of the Marseilles Lock and Dam, includes a 7-ton natural granite memorial stone, a 33-foot flagpole with solar lighting and service medallions.
"I feel like this is perfect timing, just before Memorial Day," Timmons said. "It's an opportunity for students to learn about these veterans and giving back to them."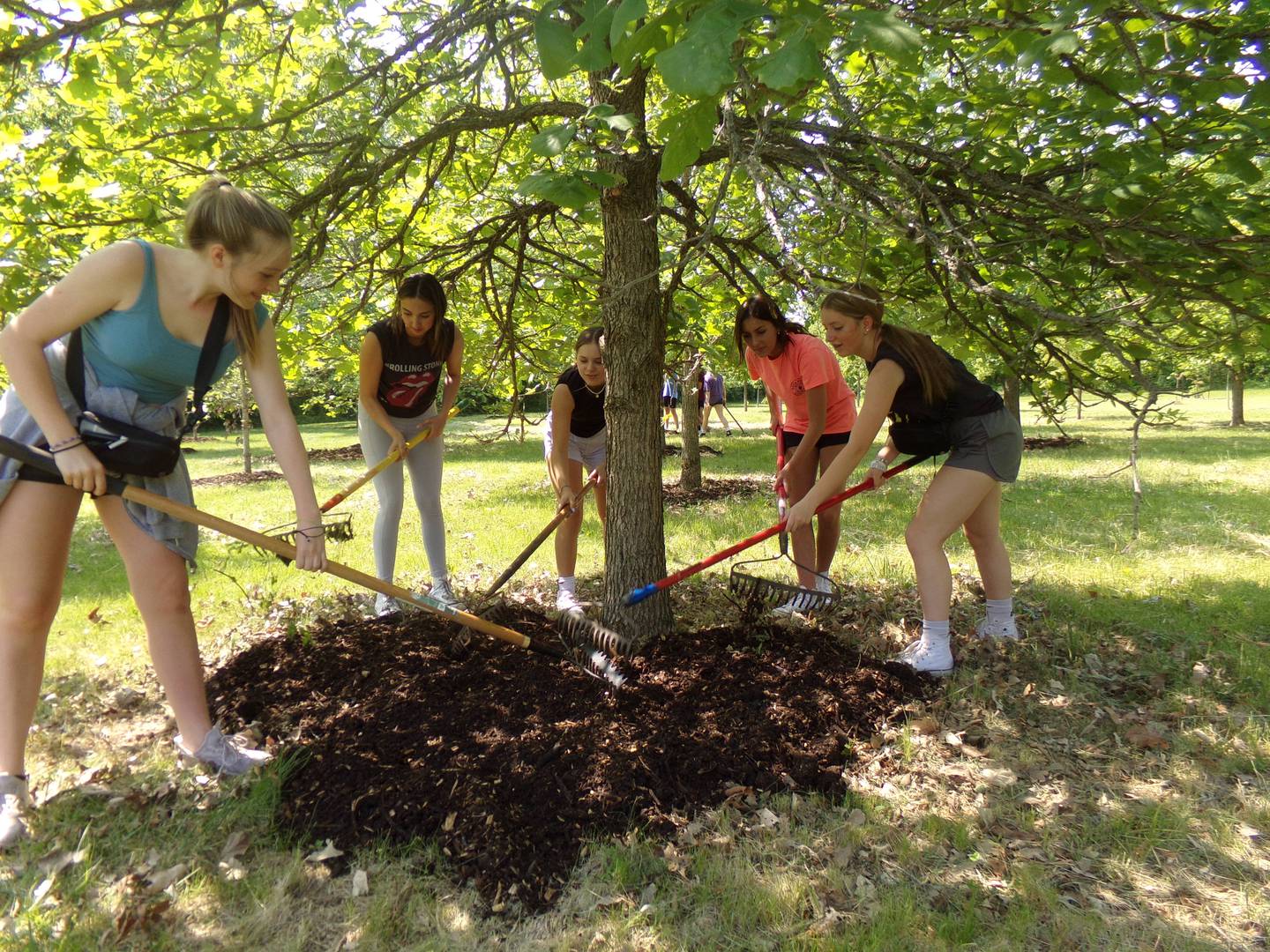 Foster recently pruned the trees to improve the grounds.
David Raikes, of the Laborers Union Local 393, said six other laborers volunteered their time Wednesday to provide the equipment and handle some of the heavier tasks of the job, but he was impressed with the students and their energy toward the project.
"They've been great," Raikes said. "This is a good educational experience for them, and giving back."
Farnsworth said the FFA emphasizes community service projects and hands-on work. Whether the students go on to work in a job outdoors or handle tasks around their home, the lessons learned on a day like Wednesday will be invaluable, she said.
"Sometimes it's the little things they learn," she said. "We came across some poison ivy and that was a good moment to teach them about identifying it, and how to handle it."