NAPERVILLE – Andy Dhanoa received a quick shot in his right arm, and received a round of applause from a roomful of fellow health care workers.
He smiled and gave two thumbs up.
With that, he made history.
At 2:30 p.m. Thursday afternoon Dhanoa, a 37-year-old respiratory therapist from South Elgin, became the first Edward Hospital employee to receive the first dose of the Pfizer/BioNTech COVID-19 vaccine on the third floor of the Naperville hospital.
Dhanoa didn't find out until that morning that he would be the first at his hospital to get the vaccine. He was one of the first to sign up for the vaccine, with good reason.
He knows all too well the seriousness of the virus.
"I had COVID in October, but I got better. I don't want to take a second chance," Dhanoa said. "It was bad. Every day you don't know if you're going to get better or get worse. My symptoms lasted eight days. I was fortunate to get better."
DuPage County received its first shipment of 13,650 vaccine doses on Wednesday at the DuPage Medical Group facility in Downers Grove. Edward-Elmhurst Health got its allotment of 3,900 early Thursday morning, Elmhurst Hospital receiving 1,950 doses around 5:45 a.m. and Edward Hospital's 1,950 arriving about 45 minutes later. The first tray of 975 doses taken out of its unfrozen state was to be administered Thursday afternoon and Friday morning.
Edward-Elmhurst Health has employees scheduled to get doses of the vaccine over the next 4-5 days. At Elmhurst on Thursday Edward Sulita, a transporter and employee of 18 years, a grandfather and veteran, was the first to receive the vaccine.
At Edward, employees lined the hallway outside the vaccination room waiting for their first dose. Fifteen stations were set up inside ready to administer them.
"We're excited to have the vaccine. It's the light at the end of the tunnel for us," said Dr. Sanjeeb Khatua, Chief Physician Executive and COVID-19 Incident Commander for Edward-Elmhurst Health.
Dhanoa knows as well as anyone how dark a year it has been for many, a virus that has infected close to 17 million people in the U.S. and killed over 300,000.
He works with COVID-19 patients all the time, mostly in intensive care. He said he definitely got sick from work, as he doesn't go anywhere and takes precautions.
"It's been horrible. I've ever seen anything like [COVID]," Dhanoa said. "Some patients get better soon, but for some of them it's been a struggle every day just waiting for them to recover, and some of them they just don't. We just keep doing our work, but we can't save them all."
Dhanoa said he plans to still take the necessary precautions, but felt peace of mind with the vaccine.
"It's a sigh of relief, I would say," Dhanoa said.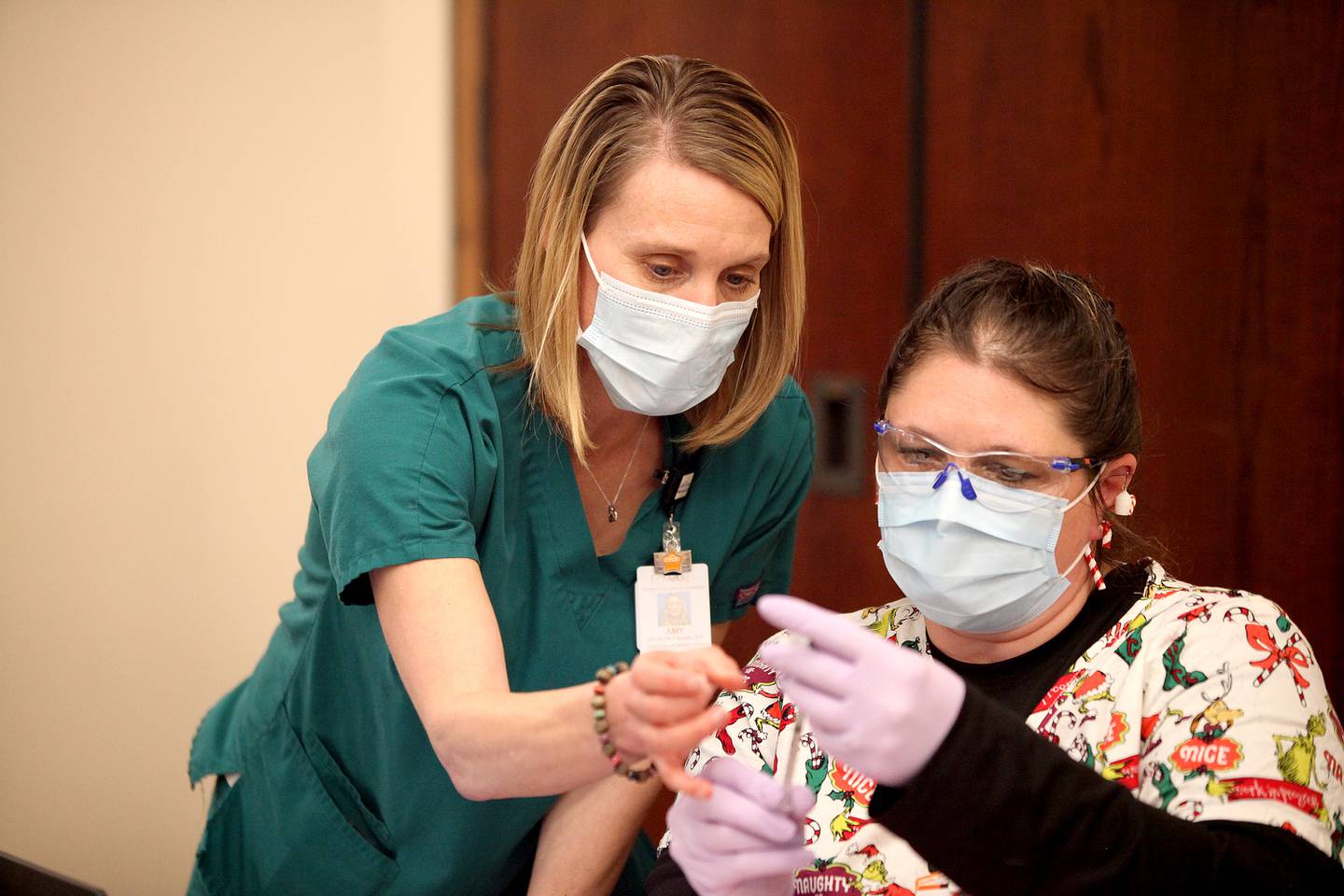 The U.S. Food and Drug Administration issued the first emergency use authorization for the Pfizer vaccine on Dec. 11, and the first vaccinations began on Monday. Illinois is receiving 109,000 doses in the first round of shipments, to be administered to health care workers and residents in long-term facilities.
Edward Hospital President and CEO Joseph Dant said they've been preparing for this day for about 12 weeks. The administrative team has worked for weeks on a prioritization schedule with workers in the COVID units given highest priority.
The hospital had planned to begin vaccinating employees on Tuesday, but the shipment to the county was delayed. Khatua didn't want to dwell on the delay.
"This is a historic day and honestly it's going to take a long time not just for the health care workers but the community to get vaccinated," Khatua said. "Today is about hope."
The vaccine doses at Edward are in a refrigerated state in their pharmacy, and the the hospital system will be ready for further shipments with ultra-cold freezers at the hospitals in Naperville and in Elmhurst in addition to the one at the DuPage Medical Group.
Dant said they do not know at this time how many doses will be in a second shipment, and additional shipments.
"We'll be ready to take what we can," Dant said.
Dant noted that appointments for the first shipment of vaccine were filled up within hours, and there is a waiting list for more.
"The vaccine was just approved a week ago, so it's reasonable to be hesitant about the vaccine, but what we're seeing is as people learn about the vaccine, and learn about the data, more and more people are interested in getting the vaccine," said Dr. Jonathan Pinsky, Edward's Medical Director for Infection Control and Prevention. "Getting the vaccine started with health care workers is important. We're the role models for everyone else the first phase."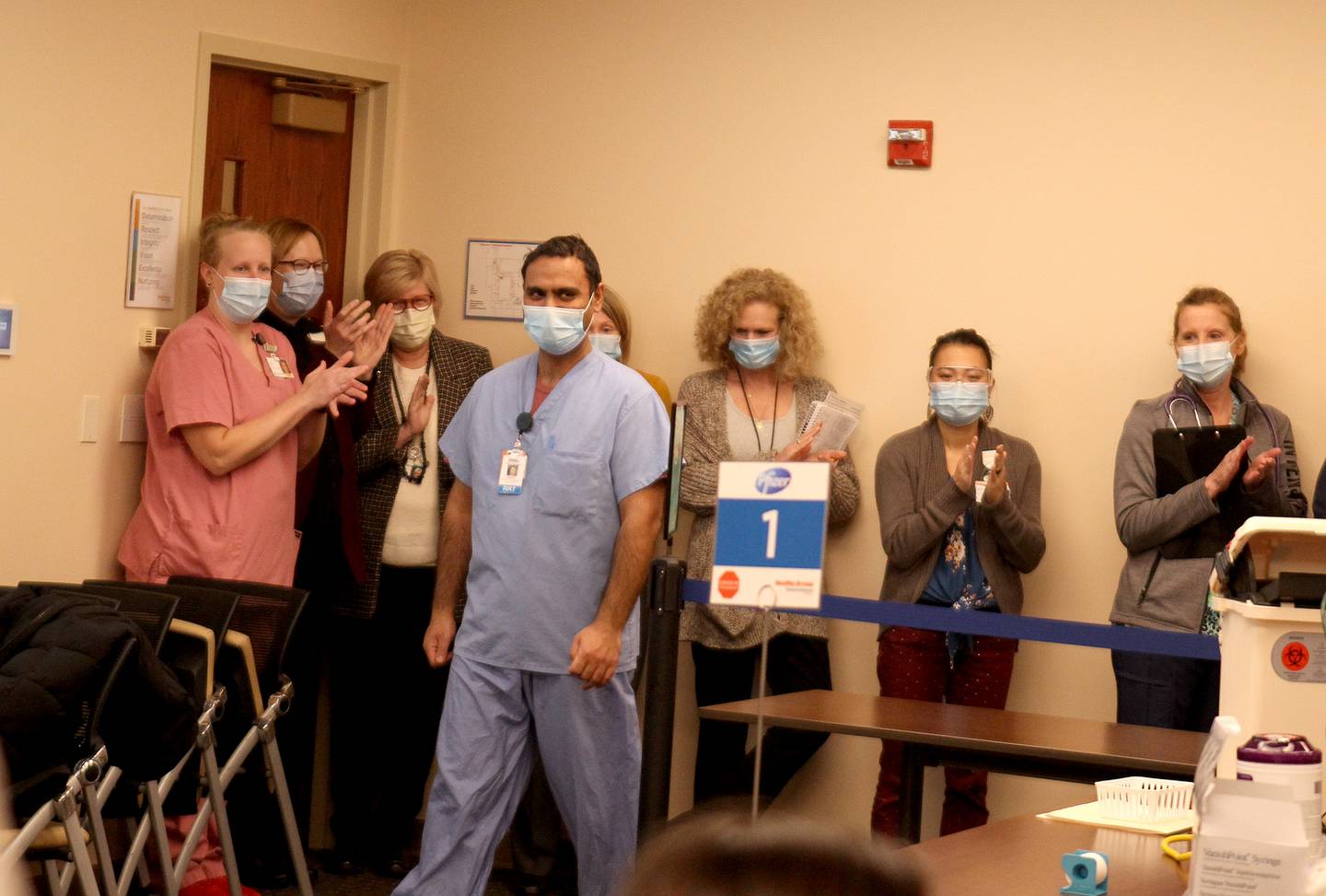 More vaccine could be on its way soon, as an FDA advisory panel on Thursday endorsed the Moderna COVID-19 vaccine, clearing the way for authorization. Clinical trials have shown both the Pfizer and Moderna vaccines to be effective, close to 95% within three weeks after the second dose. The vaccine requires two doses, the second to be administered 3-4 weeks after the first.
While Dant noted that communities cannot let their guard down and must continue to wear masks, social distance and practice frequent hand washing – this is a turning point and a first step against the virus.
"At some point, if we want to get back to normalcy, this is our pathway there," Khatua said. "The fact that we have this vaccine this quickly is nothing short of a miracle."
Dhanoa hopes that others follow his lead and get vaccinated.
"It's very important," he said. "We can save so many lives."