LA GRANGE PARK – For the first three quarters Tuesday, Sycamore's defense kept the Spartans in the game.
In the fourth, it proved to be the difference.
On a night Faith Feuerbach eclipsed the 1,000-point mark for her career, Sycamore used a full-court press late to help notch its second straight signature win with a 46-38 victory over Nazareth.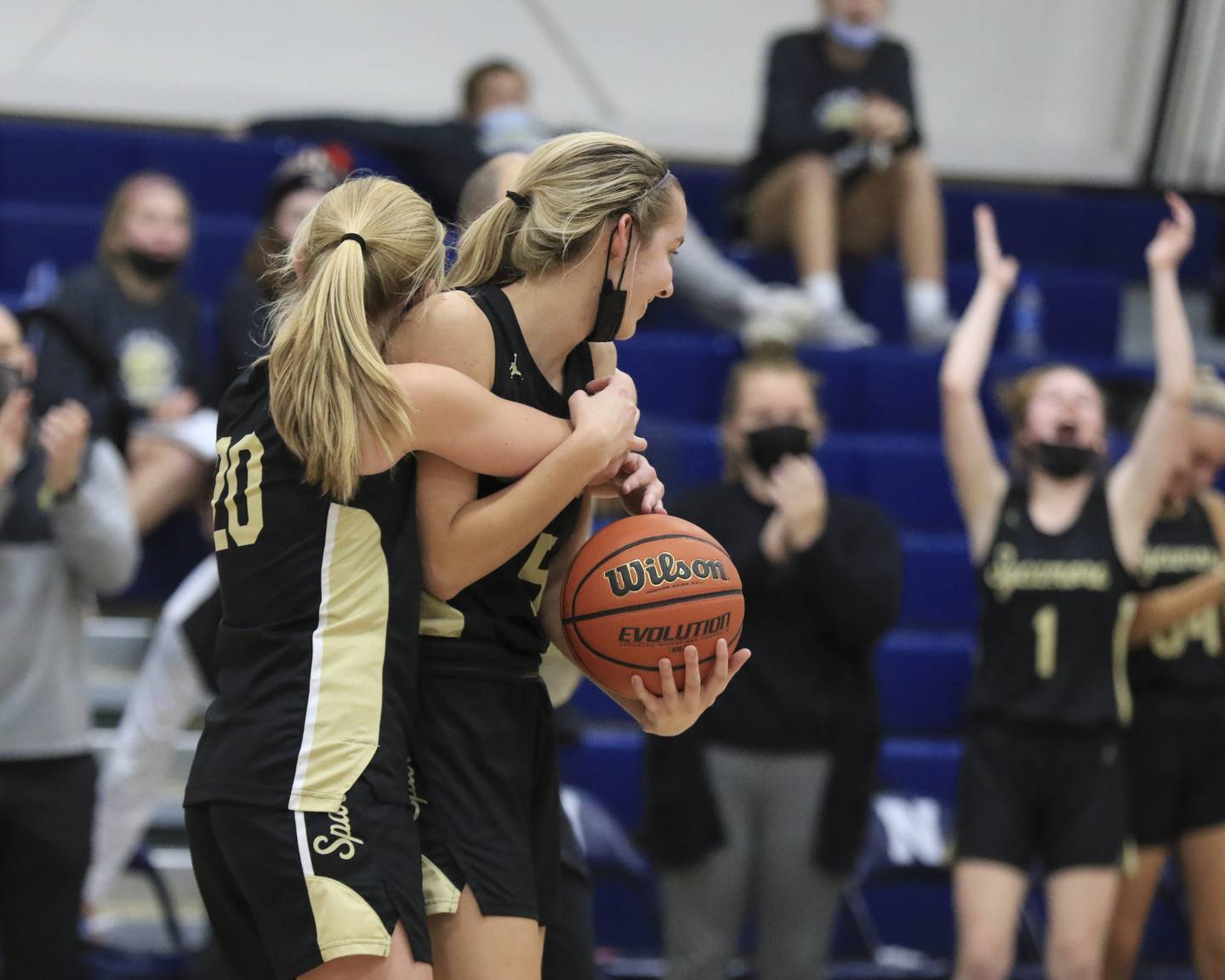 The Spartans (5-0), returning to the court 10 days after defeating Geneva, 48-47, to capture the Burlington Central tournament, forced 10 turnovers in the final period. Eight of those came over the last four minutes as the visitors fought back from an eight-point deficit.
"I feel like our half-court defense has always been solid," said Feuerbach, who finished with nine points. "But I'm pretty sure when we go to that full-court press, everyone's energy goes up like 10 levels. Everyone was really on their defensive game tonight.
"That was a great team win. Everybody stepped up, and we never gave up. Even when we were down in the fourth, we never gave up."
Feuerbach's special achievement came less than three minutes out of halftime, as the senior knocked down a 3-pointer from the left wing. She scored six of her team's eight points in the third quarter to help forge a 25-25 tie.
"It's always been a goal of mine," the St. Thomas recruit and four-year varsity player said. "I'm glad I was able to get it during my senior year. And 100%, it wouldn't have happened without my teammates. So props to my team."
The Roadrunners (4-1), who led 20-17 at halftime, began the fourth with a 10-2 spurt, kicked off by a 3-pointer from Danielle Scully. But Nazareth was held to just one more basket the rest of the way, a trifecta from Gracie Carstensen that put the home team up 38-37 with 2:48 left.
Sycamore then finished on a 9-0 run, with back-to-back baskets by Evyn Carrier giving the Spartans the lead for good. The junior had 12 points and 11 rebounds.
"We've set the goal for ourselves to be the team to get to state," Carrier said. "That's been our goal all year long. We all work hard, and each and every one of us brings something different. Everybody just brings it.
"That Geneva game set the tone for our season. And we knew coming in that Nazareth has a great program, too. But we have goals, and I believe we will continue to reach those if we play like we have been playing."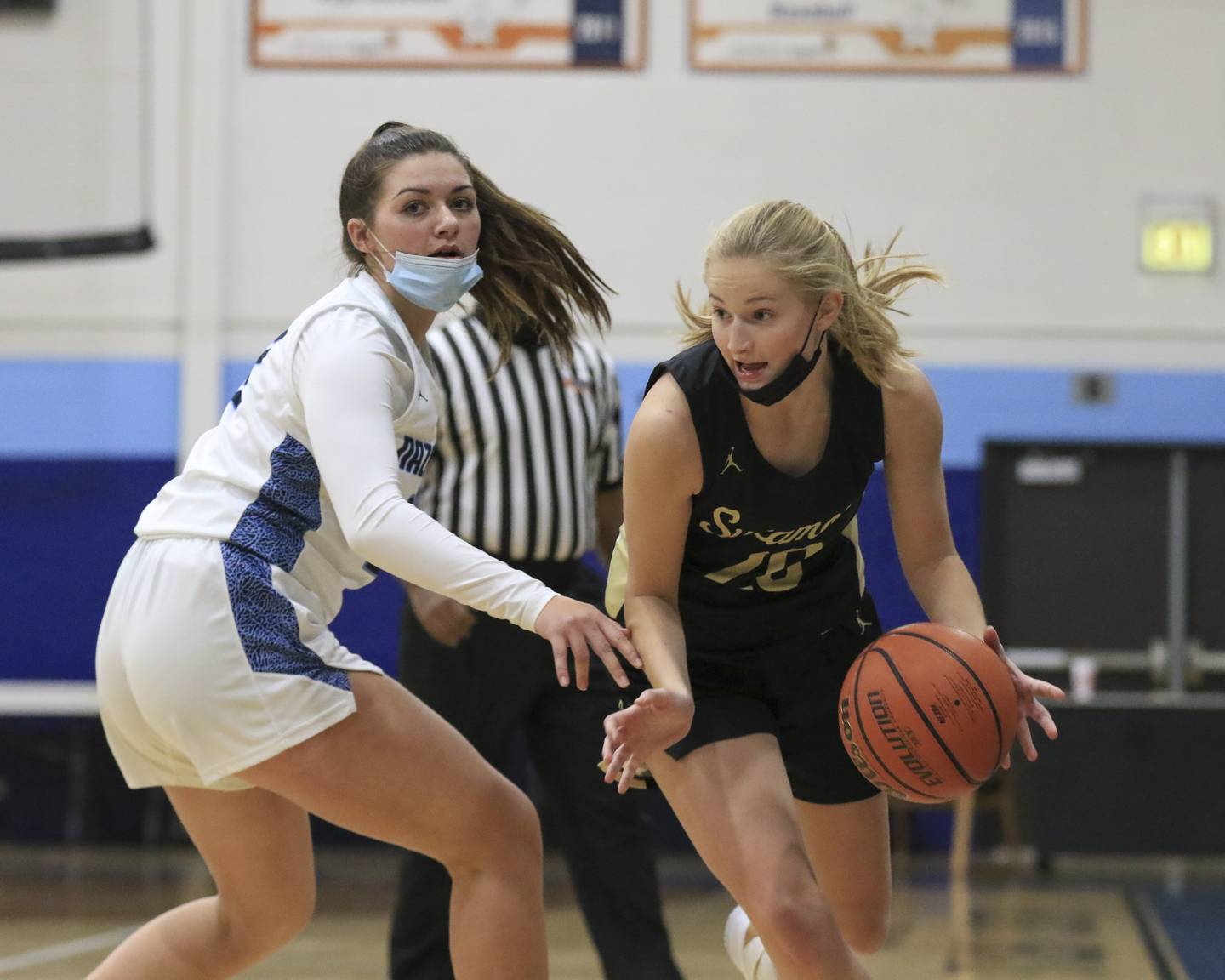 Lexi Carlson chipped in with 12 points, nine of which came in the fourth. JaKiya Thompson added seven points and four steals.
"These are the types of games we want," said Sycamore coach Adam Wickness, whose program had reached 20 wins for seven consecutive seasons before going 17-2 in the 2020-21 shortened season. "We knew Nazareth would be very good this year. We knew they'd be physical and tough, and they are really young for how good they are.
"I'm just so proud of the girls, we have a team that never quits. There is no give up until the buzzer rings. That's what I love most about them, there is no quit in the team.
"It's pretty fun to be a part of."
The Roadrunners' defense also impressed, with the home team forcing 20 turnovers. Olivia Austin topped them with 12 points, six rebounds and three steals, and Scully had 12 points. Carstensen scored eight to go along with six rebounds.
"Those were two very good teams," said Nazareth coach Ed Stritzel, whose group allowed only 73 total points in winning the Hinsdale South tournament with a 4-0 mark. "It was a great battle, and we both knew it would be a great early-season test. We gave them trouble, and they gave us trouble.
"I thought we had things under control in the fourth quarter when we went up eight, but they caught us off guard with their pressure, and one turnover turned into eight or nine. It's disappointing, but we will learn from this."