MORRIS- Deputy Tyler Post was recognized during the Grundy County Board meeting on Tuesday night.
Deputy Post was injured in the line of duty on Oct. 7 during a routine traffic stop on Route 47,north of Mazon that ended with him being shot once in the arm and twice in the vest.
Sheriff Ken Briley presented Deputy Post with a plaque from The International Association of Chiefs of Police (IACP) and the DuPont KEVLAR Survivors' Club.
"Deputy Post was involved in a pretty horrific incident in October, where a gunman tried to take his life, Tyler tried to do a traffic stop which ended up in a pursuit and a crash in Mazon. As a result of the foot pursuit the suspect turned and fired three rounds at Deputy Post. We are honored tonight to have Rep. Welter to present a proclamation, but I would also like to present Deputy Post with a plaque for surviving this horrific incident," said Sheriff Briley.
According to the website, "The Survivors' Club honors law enforcement officers who have survived a life-threatening situation as a result of wearing body armor. By recognizing officers through our program, we elevate the importance of wearing body armor for officer safety. The ultimate goal of the Survivors' Club is to reduce injury and death by encouraging officers to wear personal body armor during every shift."
"To come face to face with the man whose trying to kill you and be able to return to work in approximately 60 days, its more than anyone expected," said Sheriff Briley. "He handled the situation the exact way it was supposed to be handled. The fact that is back serving the citizens of Grundy County says a lot about his commitment."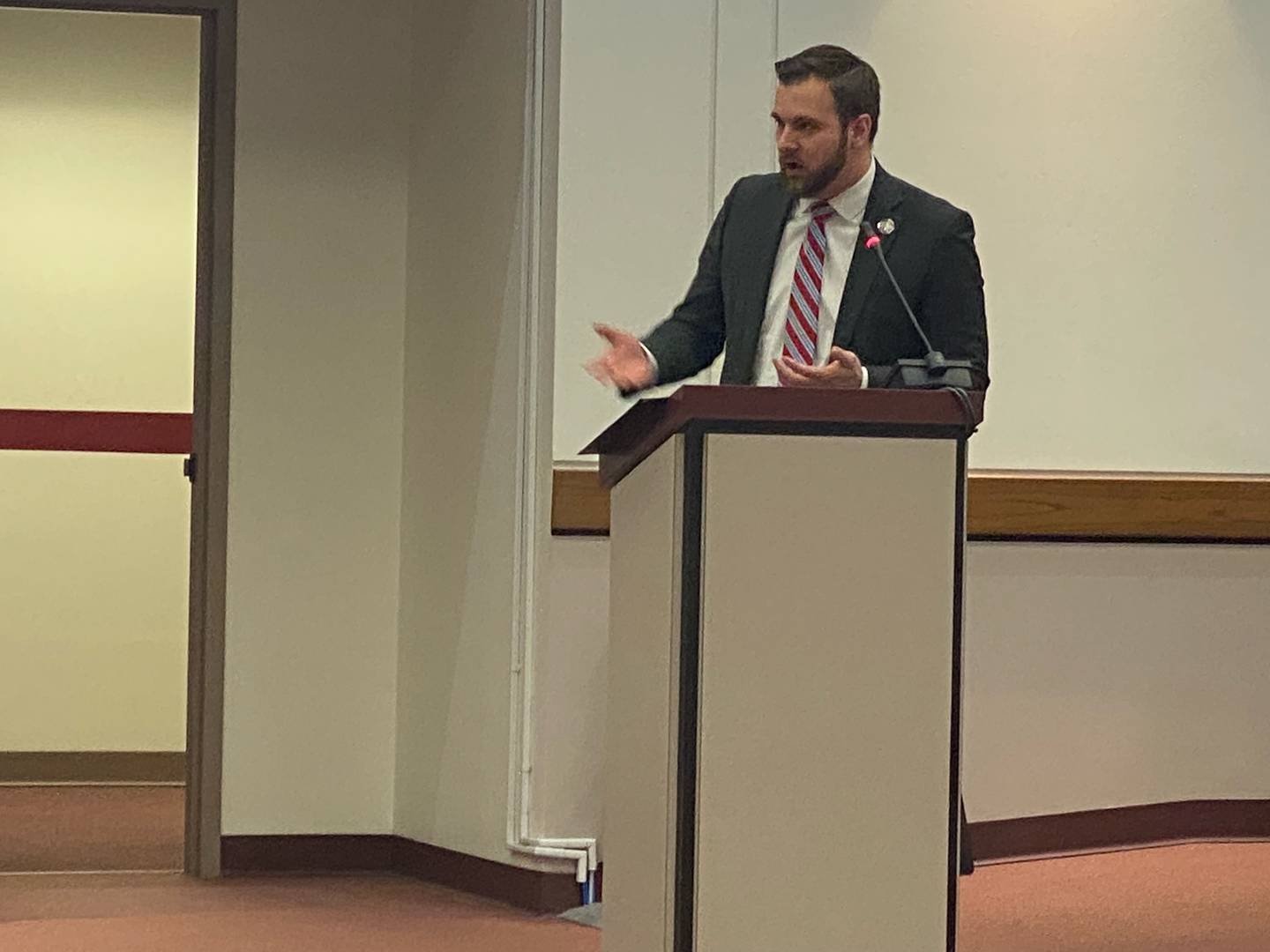 State Representative David Welter recognized Deputy Post as well, presenting him with a proclamation from Springfield. Rep. Welter thanked all first responders and read from the proclamation.
"The members of the Illinois of the House of Representatives would like to recognize Deputy Tyler Post of the Grundy County Sheriff's office for his courage as he was shot on October 7, 2021 while pursuing an offender. It goes on to take about the incident and what transpired. We get to present it to you, thank God in person," stated Welter.
Deputy Post spoke about his commitment to Grundy County and how grateful he was for its support.
"I love this community, it is where I wanted to raise my family. After what happened, it was more apparent. They outpouring of support for me and my family was overwhelming," stated Post. "Having my own proclamation that will hang in the Springfield for as long as Illinois will be a state is something that my family will have for generations. I couldn't be more grateful."