MORRIS – The end of an era came Monday night when the Morris Community High School District 101 board voted, 6-1, to approve a plan to retire the school's existing mascot by August 2025.
Board members Matt Eber, Todd Mettille, Chris Danek, Suzy Brown and Mike Wright and board President Scot Hastings voted to approve the plan, with Lynn Vermillion as the lone no vote.
"Now, we can move on," Hastings said. "RIght now, the plan is based on timelines. There's still a lot to do, but I am glad we can move forward."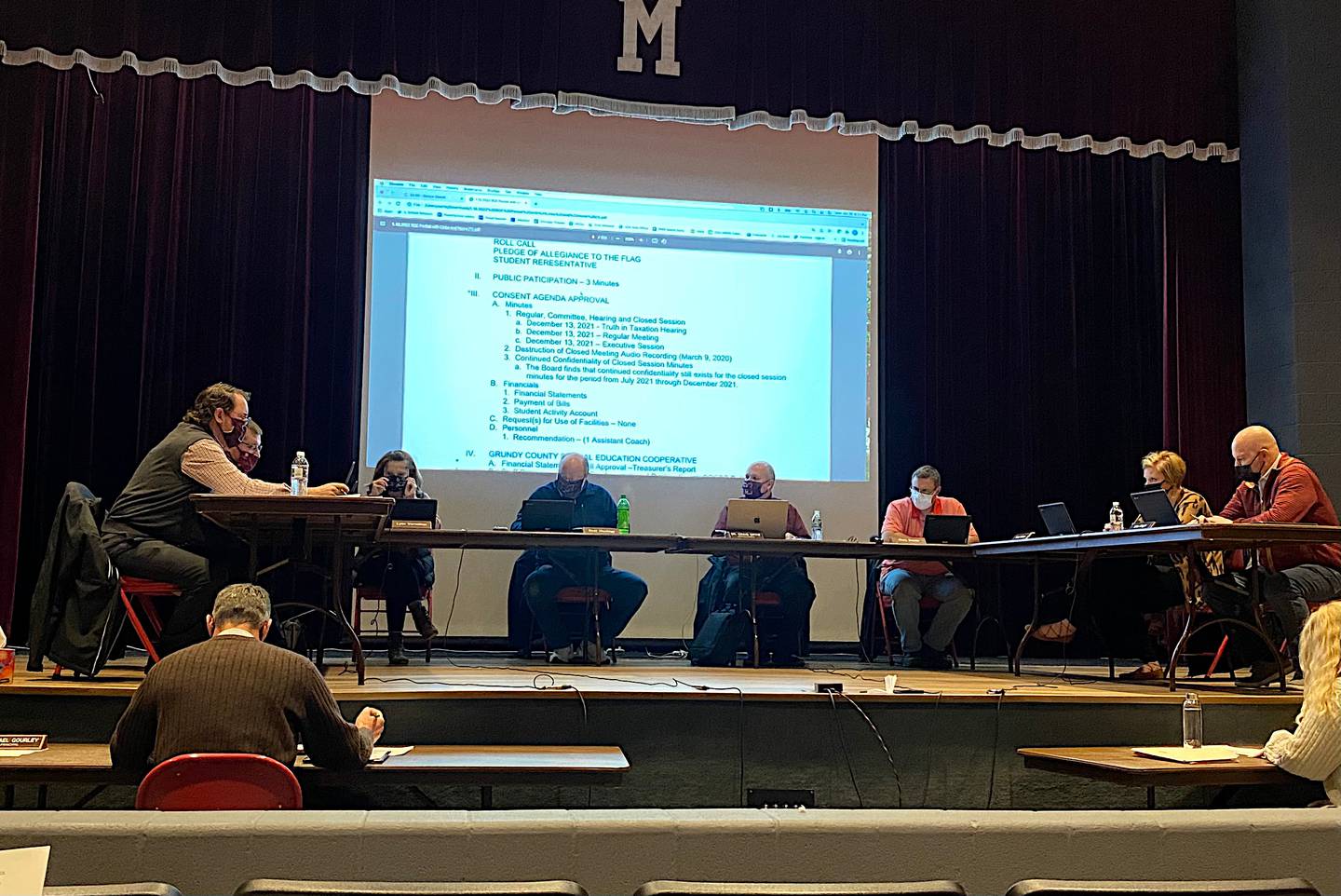 The plan to end the use of Redskins was approved Monday night. It reads as follows:
"The Morris Community High School District 101 Board of Education recognizes that there are strong emotions on both sides of the mascot debate. The Board believes the time has come to retire the current mascot and select one that can unify the community. The pride, spirit, and enthusiasm of the MCHS community can make this a positive and inclusive process for all. The Board desires to approach final transition to a new mascot in a considerate and respectful way, recognizing that the change impacts many aspects of the District's facilities, signage and uniforms.
"The Board hereby implements the following plan:
"1. The current mascot will be officially retired at the end of the 2024-25 school year. This date can be moved earlier due to legislation or IHSA mandates, or other good and reasonable cause as determined by the Board.
"2. Effective immediately, no new signage or decor with the current mascot will be purchased with District funds (such as signs, banners, flooring, graduation items, etc.).
"3. Effective immediately, no new team uniforms or any items with the current mascot will be purchased with District funds. Exceptions to this will be to complete existing uniform sets to new members, damage, etc., or as otherwise deemed necessary by the Superintendent.
"4. Should a team order new uniforms before the new mascot is officially introduced, teams or groups shall use a Morris 'M' logo or simply the name, 'Morris' like several other groups are already using.
"5. Suggestions for a new mascot will be welcomed from students, employees, and community members. A voting process can then be used to narrow appropriate choices, with the Board making the final decision on the new mascot. The final decision should be made by January, 2024, to allow adequate time for ordering replacement items.
"6. By August 2025, the new mascot shall be completely phased in to all uniforms, sign, flooring, graduation items, etc. Exceptions may apply to any team or group that is still using a Morris 'M' logo or simply the name 'Morris' due to costs or as deemed necessary by the Superintendent.
"7. The Superintendent has discretion to take the steps necessary to implement the plan as presented."
Superintendent Dr. Craig Ortiz said he was pleased to see the vote taken after it had been delayed for various reasons the past few months.
"It does bring closure to this issue," he said. "It gives the board a plan to follow, and it was good to have the vote taken. Now we can move on."
In other action Monday night, the board voted, 7-0, to approved commencement weekend as May 20-22. The commencement ceremony will be scheduled for Friday, May 20, with Saturday, May 21, and Sunday, May 22, being held as alternate dates depending on weather.
The board also voted, 7-0, to approve Policy Reference Education Subscription Service school board policy and revisions, to approve an ordinance for the Morris TIF District 1 Intergovernmental Agreement and to approve a Chromebook lease agreement with Trafera for 525 new devices at a cost of $49,120 a year.
Ortiz gave a presentation on student fees and their history. The IHSA Activity fee is $50, which was last increased from $40 in 2005-06. The textbook fee is $150 and was increased from $140 in 2005-06. The lab fee for art, ceramics, and foods classes of $30 was last increased from $25 in 2013-14. The parking fee of $25 was decreased from $50 in 2007-08. The GAVC certification fee of $100 was implementd in 2005-06 and has not increased. The driver education fee of $150 was increased from $50 in 2018-19.
In his report, Ortiz said that, due to increased costs associated with technology, the board may wish to consider a $30 technology fee starting in 2022-23. He pointed out that other school districts charge between $25 and $50 for technology.
Ortiz also gave an update on the school's COVID-19 situation. He said that last week, the school had 57 cases of the virus. Even with some of the cases involving staff, he said that the school was able to remain open. He also said that the district will abide by the new Centers for Disease Control and Prevention guidelines that shorten the quarantine time to five days.
Ortiz finished his report by announcing that during the Feb. 14 board meeting, there will be a model of a proposed campus expansion on display.