COAL CITY — Anyone looking at the brackets in the IHSA Class 2A Coal City regional semifinals Tuesday night would have certainly thought that Seneca would have a fairly easy time with Prairie Central. The eighth-seeded Hawks had to win a game Monday just for the right to play the top-seeded Lady Irish.
But, that's why they play the games on the court.
Prairie Central dominated from the start and kept it up throughout the match, handing Seneca a 25-12, 25-15 loss and advancing to the regional championship, where they will play fourth-seeded Coal City, a 25-21, 25-17 winner over Herscher.
Seneca (22-12) led 6-5 early in the first set, but Prairie Central got a point on a net violation, and then an ace by Alexandria Hari to take a 7-6 lead. Seneca never led again, although the Lady Irish did tie the match at 7 on a kill by Teagan Johnson.
Prairie Central's Alyssa Stein served back-to-back aces twice in a 10-0 run that put the Hawks in control at 17-7. The closest Seneca got after that was 17-9, getting points on a kill by Johnson and a four-hit violation against Prairie Central. The Hawks outscored Seneca 8-3 to take the first set.
"This wasn't our best match tonight," Seneca coach Noah Champene said. "It wasn't a lack of effort or energy on our part. The girls wanted to win, but sometimes that just doesn't happen. Sometimes, you run into a team that plays better than you do. Hats off to Prairie Central. They played a great match, and we played a poor one."
The momentum from the first set carried over into the second for Prairie Central. The Hawks never trailed, jumping out to a 3-0 lead and never looking back. Seneca got to within 11-9 and 12-10 midway through the set, but got no closer.
Emma Smith led Seneca with five kills on the night, while Zoe Hougas had three and Johnson and Sophie Cato each had two.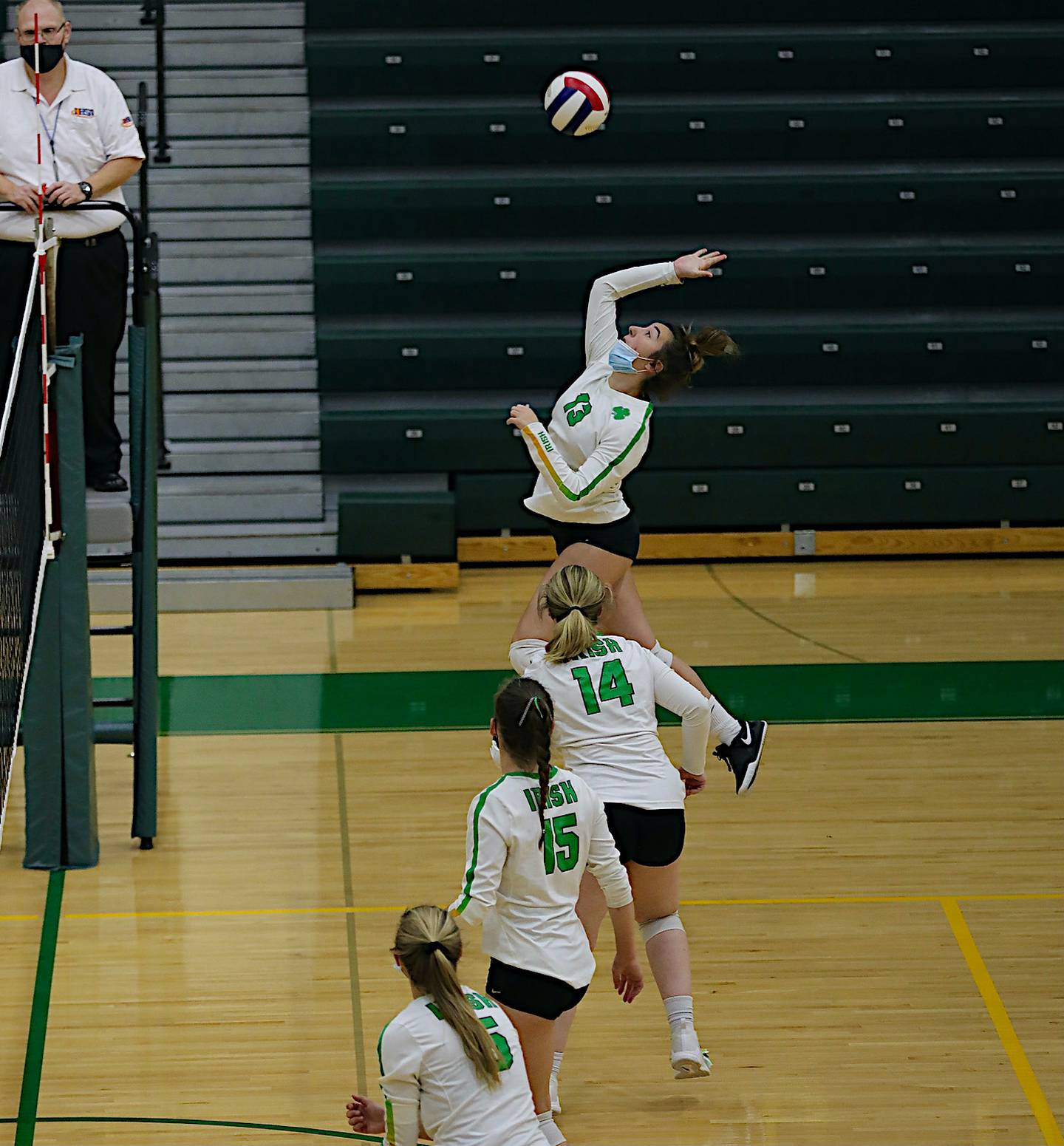 "Our serve is usually a strong part of our game," Champene said. "But, they received very well and their passing was awesome. They were able to get into system, and we really struggled to get into system. Our passing wasn't as sharp as it normally is.
"We had the No. 1 seed, but Prairie Central plays in an outstanding conference and they see good teams all the time. They can play, that's for sure."