MORRIS – Entering Tuesday night's girls tennis match with Ottawa, Morris coach Eric Davy was excited to see how his team measured up against its Interstate 8 Conference rival.
Ottawa got the upper hand at Morris' courts, scoring a 4-1 win. Liz Kenney and Gretchen Zarbock at first doubles recorded the only varsity win for Morris, downing Jenna Smithmeyer and Emma Walker, 6-3, 7-6 (7-5).
"Our first doubles team played really well," Davy said. "We were able to get a look at a team that will be in our sectional. This win was huge for Liz and Gretchen as far as sectional seeding goes."
At first singles, Ottawa's Ella Marvel defeated Grace Lines, 6-1, 6-1, and the Lady Pirates' Sara Meyer defeated Libby Wright, 6-1, 6-0 at No. 2 singles.
"We played some solid, smart tennis," Ottawa coach Steve Johnson said. "We were able to use the wind to our advantage. It's one thing for me to explain it to them, but when they see what the wind is doing and adjust to it, then they learn.
"I thought Sara Meyer played real smart against a girl that gave her some trouble last year."
In other varsity action, Ottawa's doubles team of Riley O'Fallon and Emma Cushing defeated Morris' Olivia Moore and Kayla Walker, 6-3, 6-3, and the Pirates' Madison Lineback and Emma Stump beat Addie Narwick and Keira Kjellesvik, 6-4, 6-3.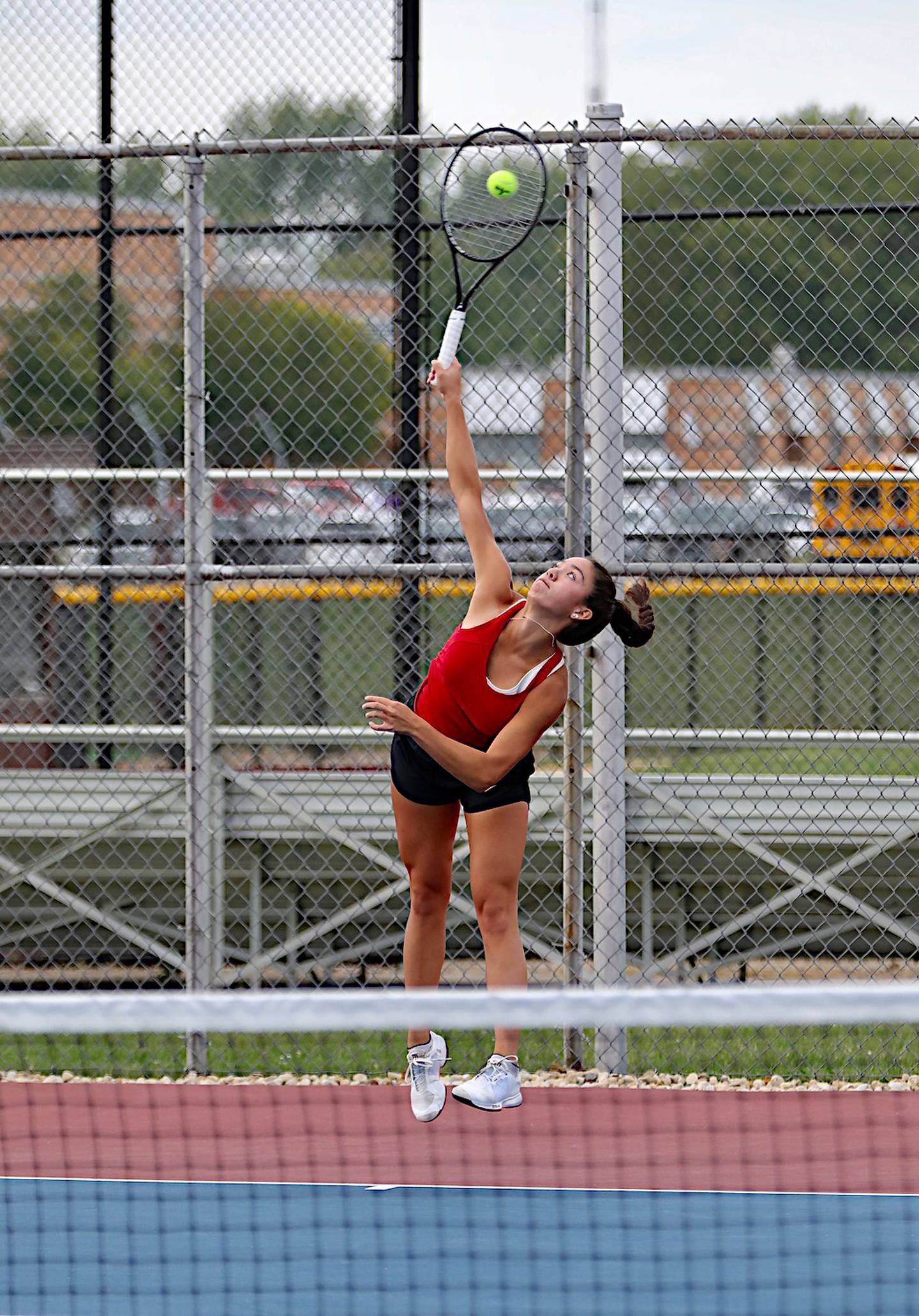 "It's hard to say if you got better in one day," Johnson said. "But I do hope we got smarter today."
Overall, Davy said he was pleased with what he saw despite the loss.
"Obviously [three-time sectional champion] Ella Marvel is at the top of the heap," he said. "But Grace Lines played well against her, and she has been getting better every week.
"Another good thing tonight was that everybody got to play a match. Steve at Ottawa does a nice job with his program. Ottawa is the standard in the conference, and they are what we are striving to be like. And I think we're getting there. We have some girls that have been coming to our summer camps since they were 8, 9 years old and, most importantly, they are good young ladies."