DIXON – Against a high-octane team that likes to push the pace, Morris just couldn't keep up.
Morris fell into a deep hole early in its Class 3A Dixon Regional semifinal Wednesday night against Sterling and never recovered in an 88-60 loss.
"They're a very elite team, and they really know how to speed the game up and get you moving. They tired us out, for sure," Morris senior guard Gage Phillips said.
Sterling (23-8) jumped out to an 18-7 lead in the first five minutes, with Andre Klaver closing that initial surge with a 3-pointer and a fast-break layup off his own steal.
Morris (11-22) fought back within 20-17 with 1:50 left in the opening quarter. A four-point play by Brett Bounds after he was fouled shooting a 3 in the left corner sparked the run, then Jonah Williams scored inside before Bounds and Jack Wheeler added baskets off assists by Phillips.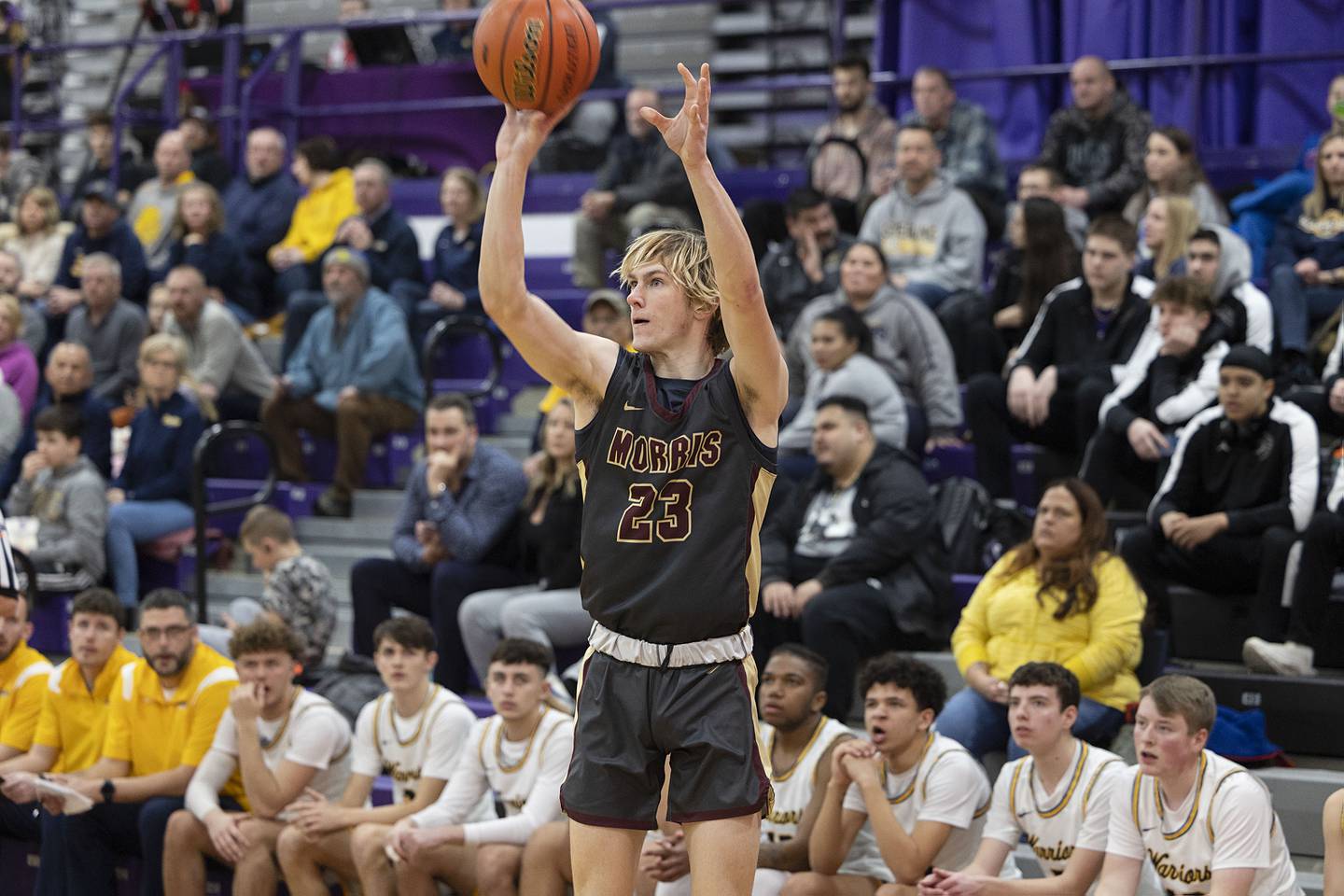 "We made a little run and got within three there at 20-17. I think we can score the basketball, but we just struggled to top them tonight," Morris coach Joe Blumberg said. "Give them credit, that's a very good basketball team."
The Golden Warriors answered swiftly and decisively. Lucas Austin's pump-fake turned into a pull-up jumper from 12 feet, then Klaver got back-to-back runout layups in the final minute of the first quarter before JP Schilling opened the second period with a 3 off a Klaver drive-and-kick play to stretch the lead back to 33-17.
Sterling scored 30 points in the first period, then added 31 more in the second to lead 61-36 at halftime. Back-to-back 3-pointers by Austin ignited a 1-11 run to close the first half, and Klaver, Austin, Schilling and Kaedon Phillips all scored layups down the stretch heading into the break.
"It keeps the defense guessing, so they never know what you're going to do, and it's easy to get buckets if they don't know who or where to guard," said Austin, who had 19 points, four rebounds, three assists and two steals. "When we get open shots from 3, it allows us to pump-fake and drive, basically just pick apart the defense and do whatever we want offensively. It really helps if we're making a bunch of 3s, too, because that opens everything up."
"I don't think we have the quickness to stay with them man-to-man, and I thought zone gave us the best opportunity to slow them and maybe control the pace a little bit," Blumberg said. "But it seemed like every open 3 they hit, and if they didn't hit it, they got the rebound and a second chance."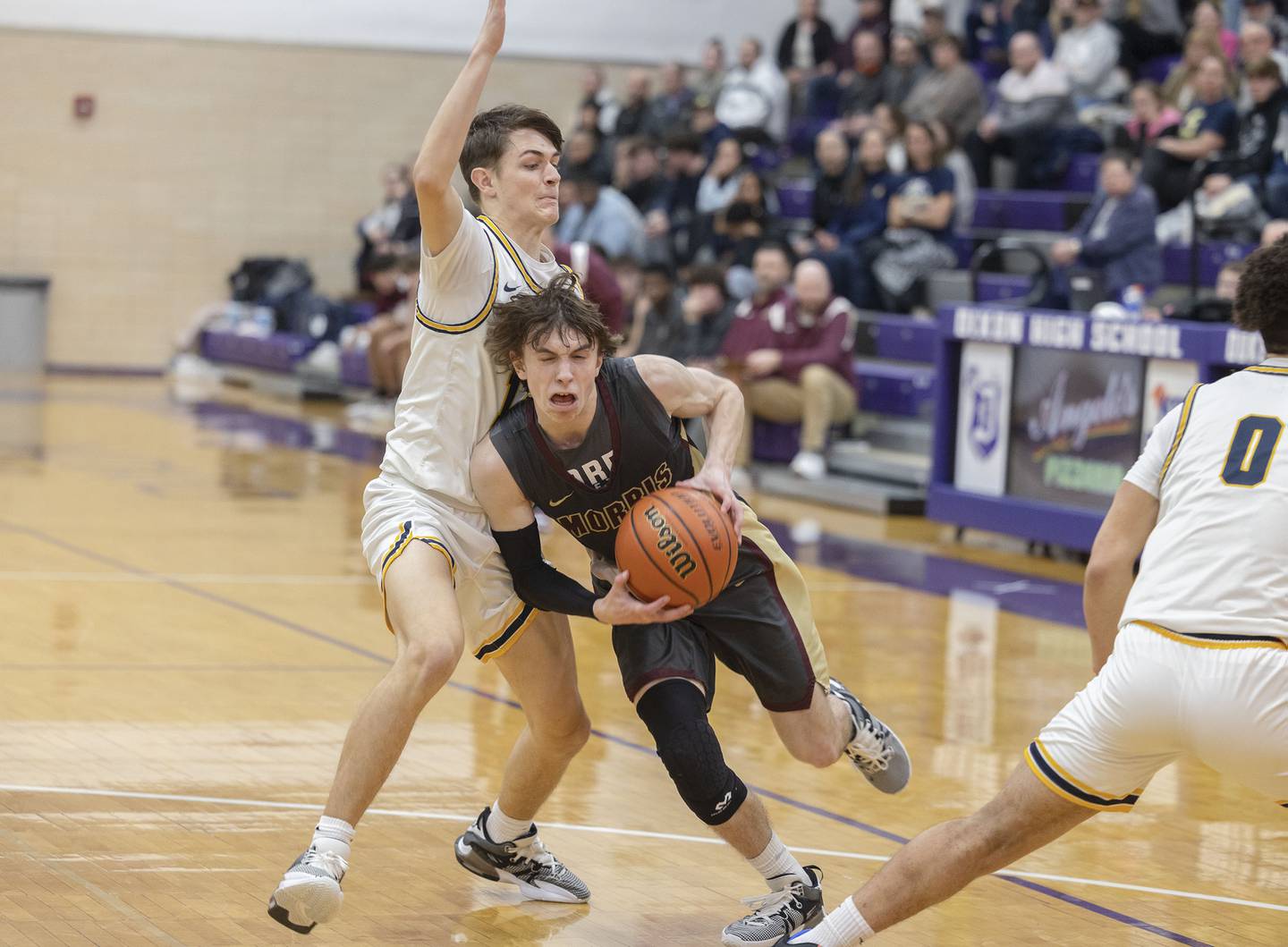 Turnovers were also costly for Morris. Sterling nabbed 14 steals, and scored 16 points off of 17 Morris turnovers, most of which were live-ball miscues that allowed Sterling to score layups and pull away to build the lead to as many as 35 late in the third quarter.
"Defense leads to offense. If we get a lot of steals, that contributes a lot of points, and we did a lot of that tonight," said Kaedon Phillips, who had 14 points, four rebounds, four steals and two assists. "Coach told us to just keep pushing, keep pressuring, and they won't get enough buckets to keep up with us."
"They double-teamed our first action across the half-court line and took us out of a lot of what we were trying to run, and that's their athleticism and them flying around on the floor," Blumberg said. "We showed the runouts on film, and they just play in a league where I think the pace of play is different than what we're accustomed to. We're going to have to continue to ramp up our schedule so we're a little more prepared for that athleticism and style."
Both teams pulled their started midway through the third quarter, and Blumberg reinserted his to start the fourth quarter before subbing them out one at a time early in the fourth.
Klaver led Sterling with 21 points and five assists, and Schilling chipped in 19 points, eight rebounds, four assists and four steals.
Gage Phillips had 16 points, three rebounds, two steals and two blocks for Morris, while Wheeler and Williams each scored 11 points; Williams grabbed five rebounds and Wheeler added four boards. Bounds chipped in nine points.
"It all starts out with defense. We could've slowed things down more. We got beat on the boards, so we should've rebounded better," Gage Phillips said. "Really all-around, we should have taken better shots, found each other on back open cuts."