MORRIS – Another week, another new opponent for the Morris football team.
Last week, Morris took on Antioch for the first time and came away with an impressive 31-21 win.
This week, Morris will hit the road – and be on the road for a long time – while visiting Woodstock North, a relatively new program. Woodstock North High School opened in 2008. It is the first game in the Kishwaukee River/Interstate 8 White for both teams.
Morris enters the game with a 2-0 record, having defeated Coal City, 13-3, in Week 1 and Antioch, 31-21, last week. Woodstock North, on the other hand, is 0-2. The Thunder dropped a 40-20 decision to Westosha Central of Salem, Wisconsin, in the opening week and then fell, 34-22, to Harvard last week.
Besides being a new opponent, Morris coach Alan Thorson sees other similarities between last week's opponent and this week's.
"Schemewise, they are very similar to what we saw last week," Thorson said. "They like to run the triple-option. The biggest difference is Woodstock North's quarterback is under center and Antioch's was in the shotgun. Woodstock North also will throw the ball out of the triple-option more than a lot of teams.
"We are going to have to be disciplined on defense and play assignment football. They like to go fullback dive, fullback dive, fullback dive, and then the quarterback will pull it out and either pitch it to another running back or drop back and pass. We're hoping that having seen just seen that will help us out, but it's definitely about being disciplined for our defense."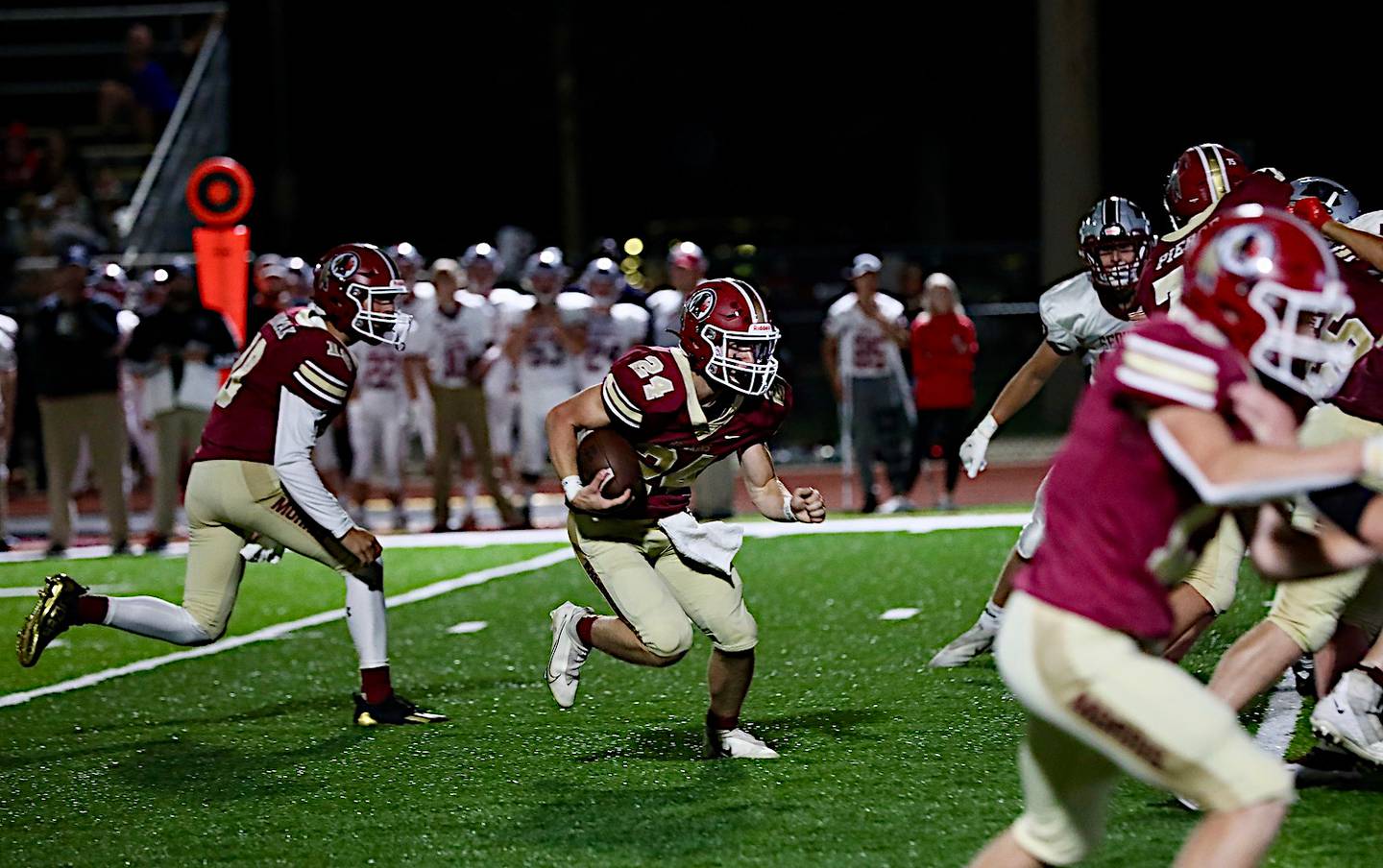 As far as when Morris has the ball on offense, Thorson said his team can expect to see a similar defense to Antioch's as well.
"They will run a three-man front," Thorson said. "But they will be very aggressive on defense and blitz some linebackers. It will be a challenge for our offensive line. I thought those guys played great last week, but now they have to do it again against the same style of defense. We want to keep getting better each week as a team."
Although Morris traveled to Coal City in the season opener, Thorson considers this game the first true road game for his club.
"This is one where we are in the bus for two hours, then have to get off and get ready to play football," he said. "Some of our guys haven't had a road trip this long, so there will be some adjustments. The good thing is that we have come out of our first two weeks pretty healthy, and everybody should be ready to go. We're looking forward to it."