SYCAMORE – College basketball's March Madness tipped off this month, but it wasn't the only tournament bracket the DeKalb County Convention and Visitors Bureau hopes is on the mind of northern Illinois residents.
The bureau is hoping to shore up some additional friendly competition this month, with a chance to enjoy some tasty fare along the way. As part of the March Madness season, usually reserved for college basketball, the bureau is encouraging community members to participate in a special bracket – this time with pizza.
"We're doing a March Madness-style pizza bracket with pizza places all throughout the county," said Katherine McLaughlin, the bureau's marketing director.
McLaughlin said the bureau's main goal is to put DeKalb County on the map for people throughout northern Illinois. The bureau also wants to encourage DeKalb County residents to travel to different municipalities within the county.
McLaughlin's idea was born to highlight different restaurants in DeKalb County while piggybacking off one of the largest college sports competitions in the country.
An avid college basketball fan, McLaughlin said she thought the annual tournament offered a perfect opportunity to kickstart the bureau's newest campaign.
"Pizza and wings, I feel like, is always around sports, and we have enough pizza places to fill up. We have 24 teams competing to fill up the bracket," McLaughlin said. "Even when I was doing research, I found there were places that I had never even heard of – and I feel like we're pretty well connected with the county – so for me to not hear of them, too, was interesting."
The DeKalb County Convention and Visitors Bureau's March Madness Pizza Challenge features 24 DeKalb County restaurants known for their pizza.
"The cool thing about it is, it's not just a one-day event, like St. Patrick's Day. This is an event that's going to go on for the duration of the tournament, and I think that's a lot of fun."

—  Brad Hoey, special project manager at DeKalb County Convention and Visitors Bureau
From 10 a.m. to 10 p.m. each day, voting is open in a head-to-head matchup between the pizzas of two DeKalb County restaurants on the bureau's Facebook page. To vote, Facebook users must click on the specific image of the pizza they are voting for.
The 24 restaurants were randomly seeded, so the bureau did not ascribe favorites or underdogs for its makeshift tournament.
"They were all placed randomly, so I just entered them in," McLaughlin said. "It's not a ranking, it's just how it was entered into the bracket."
Brad Hoey, special projects manager for the bureau, said he's a big fan of McLaughlin's idea and believes the initiative fits perfectly with the bureau's goals.
"The great thing about doing it on social media is because our mission is really promoting our restaurants, our attractions and our events beyond our county borders, but we also do a lot within the county," Hoey said. "And if somebody is like, 'I didn't know there was a place down in Sandwich, let's go visit that.' So somebody from Sycamore could be going down to Sandwich, Sandwich could be going to Somonauk or Malta, Genoa to DeKalb, and vice versa."
Although McLaughlin and Hoey said the pizza challenge fits the bureau's mission, they both acknowledged their delight in combining their love of college basketball with their work, even if the connection is only abstract.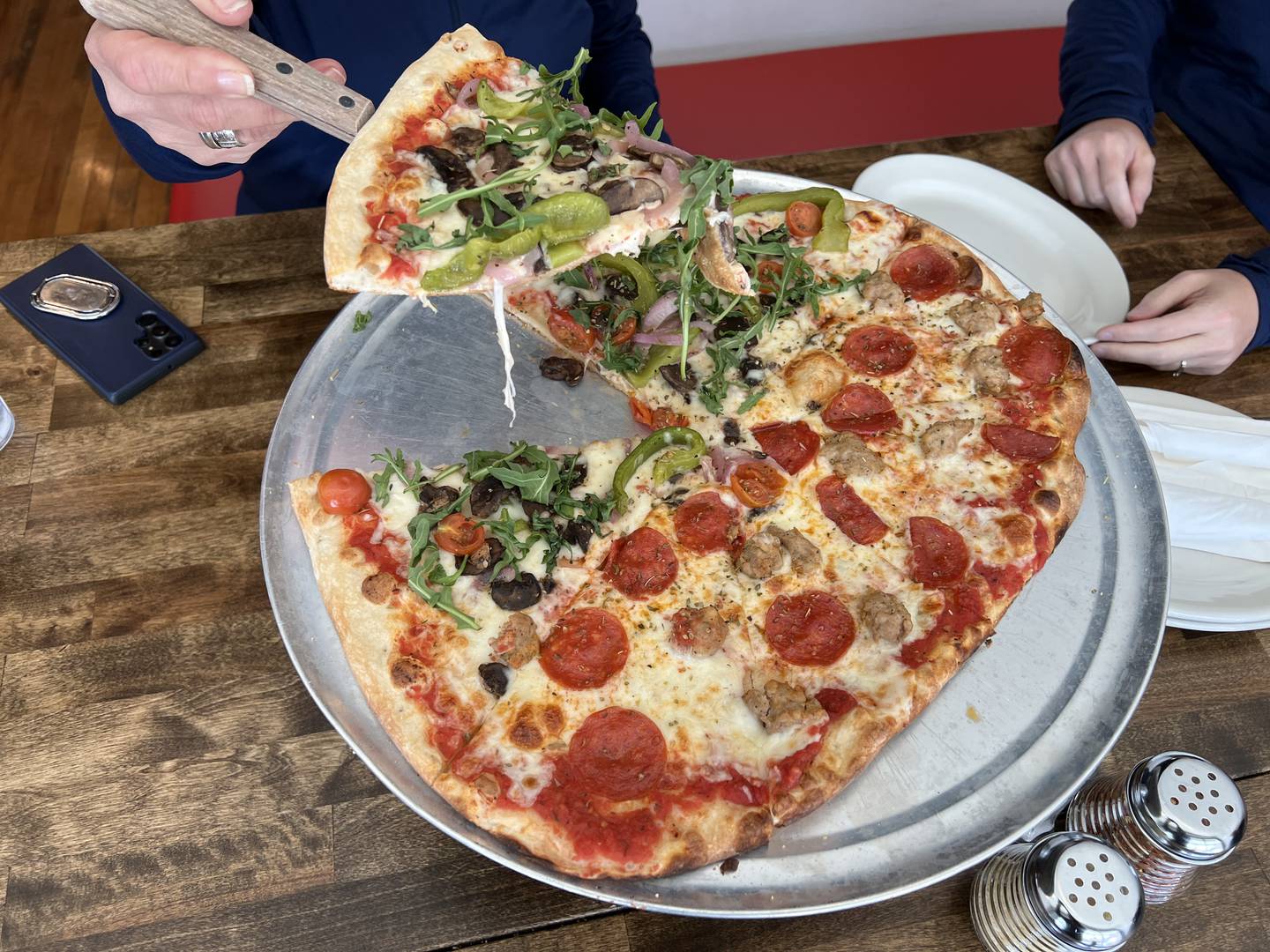 For DeKalb County Convention and Visitors Bureau Executive Director Cortney Strohacker, the perk of the campaign wasn't it mirroring the basketball tournament but instead the food featured.
"I'm not a fan of basketball, but I am a fan of pizza, so this is great for me," Strohacker said. "They're very much into the sports and stuff, and no, beyond baseball, I don't really get it. So the whole March Madness thing never really resonated with me. But when it came to pizza, it certainly did."
Since the tournament started last week, the bureau has received great feedback, McLaughlin said, noting that different residents in the area have told her they didn't know some of the restaurants featured in the tournament existed.
Because the campaign runs on social media, all of the featured restaurants are able to be linked in the bureau's Facebook posts, further driving awareness and business for the DeKalb County-based establishments.
Strohacker, Hoey and McLaughlin all hope the extra attention helps the businesses that chose to participate. One of the best parts of the campaign, they said, is its duration.
"The cool thing about it is it's not just a one-day event, like St. Patrick's Day," Hoey said. "This is an event that's going to go on for the duration of the tournament, and I think that's a lot of fun."