DeKALB – Two years ago, Mike Holland, Kishwaukee Water Reclamation District engineer, began hearing about a novel way to test for the virus that causes COVID-19 in wastewater – today, the concept operates in DeKalb.
Holland, who oversees capital improvement projects with the water reclamation district, said he'd heard of folks testing wastewater for viruses, specifically SARS-CoV-2, to gauge how prevalent the virus is in the community.
He did some digging and learned of Northern Illinois University's microbiology department and Barrie Bode, who chairs the department.
"So it got me thinking who would be able to do that," Holland said, recalling his conversation with Bode. "[I said] 'I think that your lab is capable of doing that, is that something you'd be interested in working together on?' And that kind of got things going."
Bode, director of COVID-19 facilities at NIU, quickly latched onto the idea and found he had support from the university as well.
"We had the equipment, the knowledge, the technical expertise to measure virus and he had the sampling power and technology," Bode said. "So we just combined the two and literally created a wastewater testing program out of existing equipment, existing personnel and technology."
The program effectively starts from collection samples of wastewater from different sites on NIU's campus, such as specific dorms or buildings to test.
"We process it in the laboratory and we measure it for the SARS-CoV-2 virus," Bode said. "And so people shed the virus into the wastewater through the feces and it's a really good passive indicator of COVID infections."
That passive indicator was a huge tool for the university when students began coming back to campus en masse in late 2020 after the spring onslaught of the pandemic moved classes online and remote.
"Having the surveillance here, particularly people who might be at risk, [gives] some level of confidence that we're monitoring virus levels on campus," Bode said.
He also noted the program "is a big deal" for university instructors, who are often among the most vulnerable population on campus.
"They like to have an idea of if we're in the middle of another surge, and what that might lead to is having people wear masks in class to mitigate the spread of the virus," Bode said.
Wastewater testing also allows the university to determine if surges might occur sooner than testing data might show.
Syed Hyder, who works with Bode at NIU's COVID-19 facilities, said as of Jan. 19 the dorms where the lab collects samples from had a "low to moderate" prevalence rate.
On top of the dorm sample sites, the program has two community sites that sample wastewater on a larger public scale: buildings which are open to the general public, and the Kishwaukee Water Reclamation District's water treatment plant that's used for a zoomed out view of the broader community.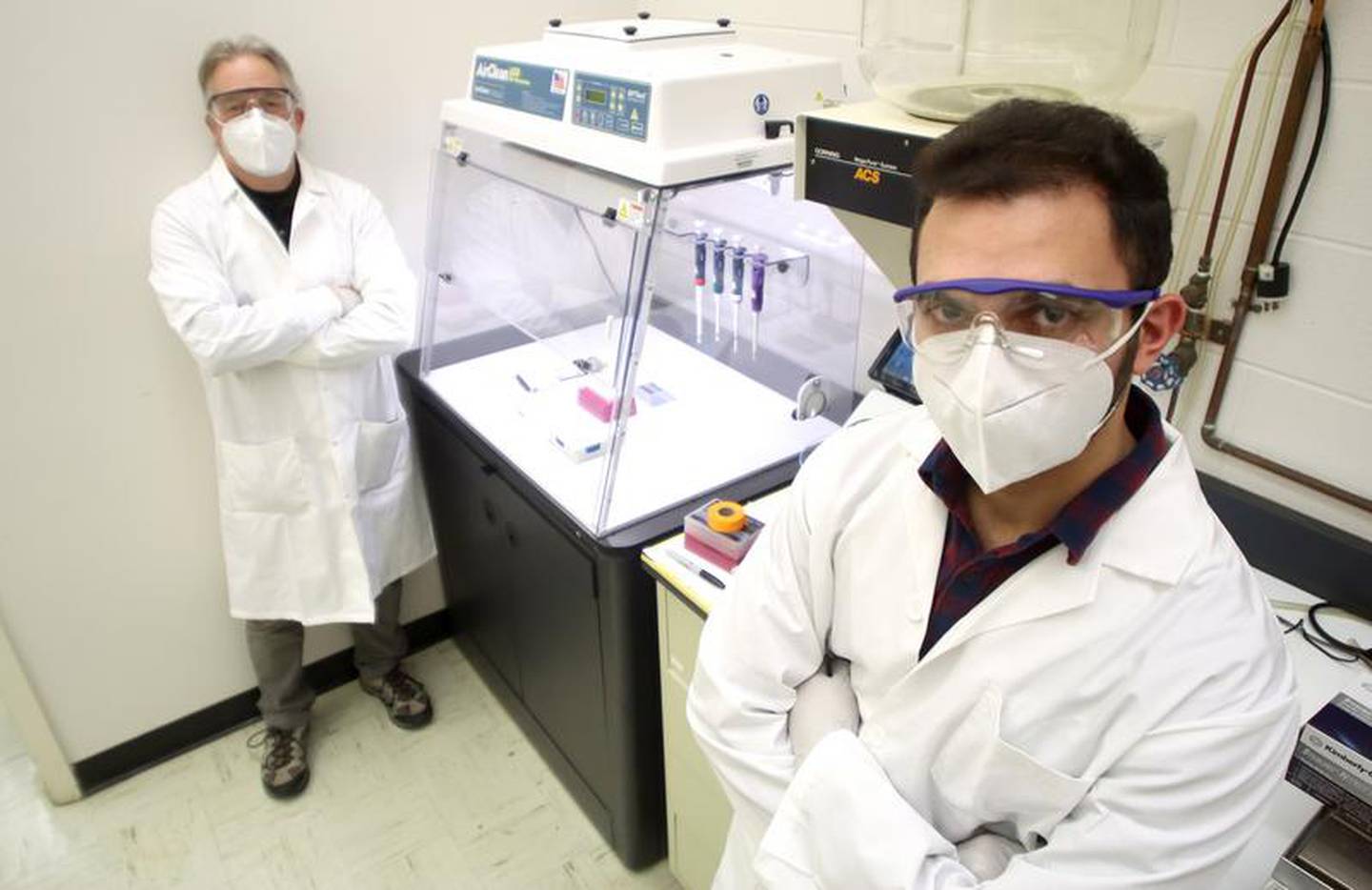 Although the virus that causes COVID-19 has a low prevalence in dorm wastewater samples, there's a community site near the Hillcrest area of DeKalb that Hyder said is seeing increasing infections.
"We can't really tell you what viral levels will correlate to in terms of case numbers or anything," Hyder said, "but we can say as things trend upward or downward how things are looking, and Hillcrest, the site, is looking more toward the moderate and steadily at that."
As of Jan. 19, DeKalb County's COVID-19 transmission rate is at medium level, according to the Illinois Department of Public Health. Health officials recommend taking extra care for those who are immunocompromised or at higher risk of more severe illness, and wearing masks when appropriate indoors where crowd control or social distancing is limited.
Bode said wastewater based epidemiology has a predictive value.
"We often see increases in virus levels in the wastewater before case numbers go up in the community," Bode said. "So it's got a predictive value to it as well."
Now that this means of testing has been proven by the COVID-19 pandemic, there's a new push to use it for other viruses that chronically affect the community.
This week Hyder will conduct tests to find out if the same process can be used to test for Respiratory Syncytial Virus – known as RSV – as well as types A and B of influenza in wastewater. In the fall, New York public health officials announced poliovirus had been detected in New York City wastewater after similar tests, The Associated Press reported.
Hyder said in theory testing for other viruses shouldn't be hard to do.
"We don't really have to change much of what we're doing other than getting the primer probe sets, which are virus specific," Hyder said. "We actually just got the RSV and influenza primer probe sets today."