GRAYSLAKE – The Blue Moon Gallery is proud to present "Painting in Fiber" by guest artist Maureen Ivy Fisher of Grayslake.
An opening reception is planned from 6 to 9 p.m. Nov. 18. The event is free and open to the public. Fisher is the gallery's first fiber artist.
Influenced by her professional artist father, Fisher has been a painter, illustrator and art educator most of her life. She has a Bachelor of Arts in fine art/illustration from Art Center College of Design in Pasadena, California, and a master's degree in art education from Chicago's North Park University.
Fisher is showing 15 "fiber paintings" at the gallery through Jan. 7.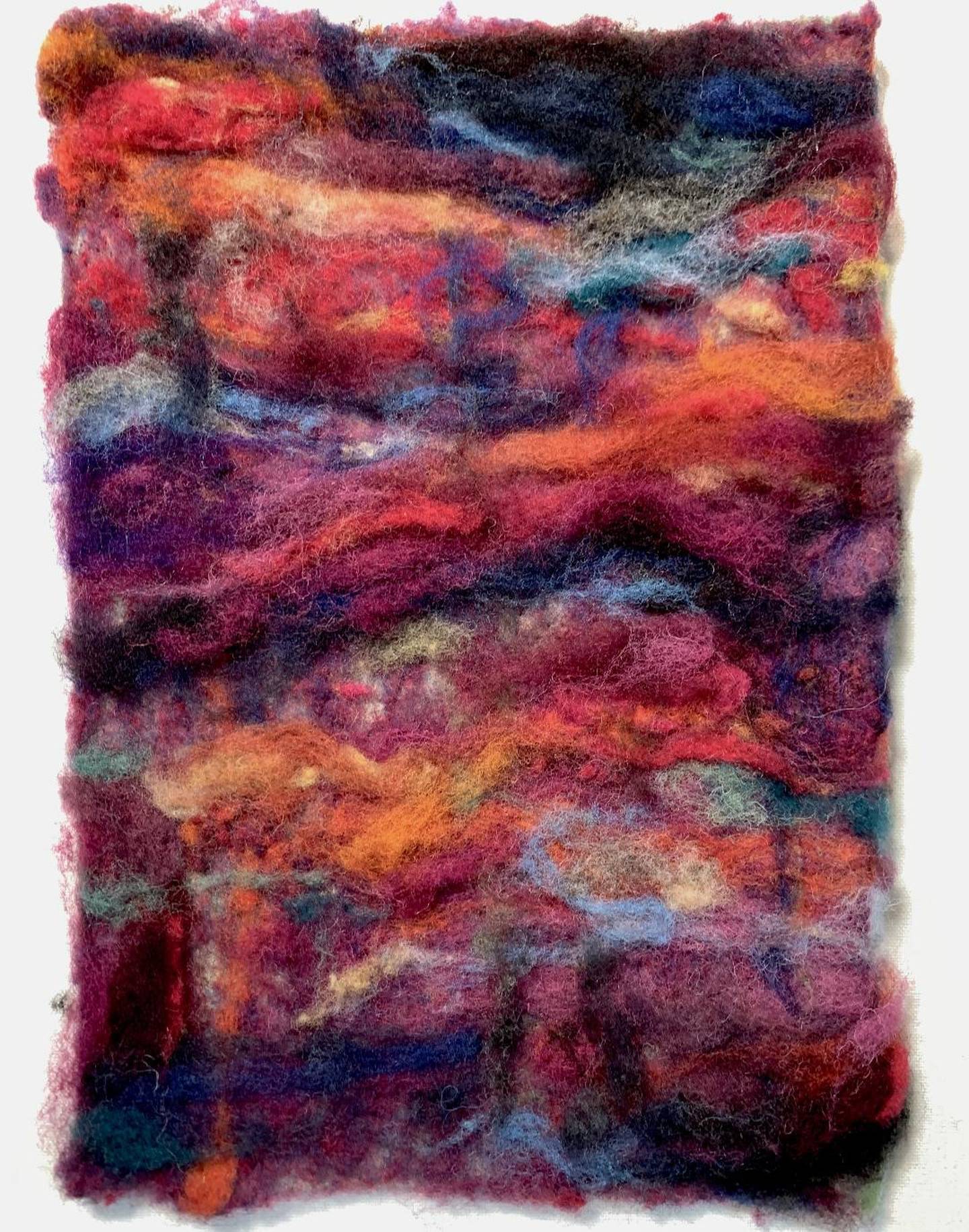 "The process I use to create my fiber work is called needle felting," Fisher said in a news release. "Dyed sheep's wool is the paint on my palette. A sheet of felted wool is the canvas. Special needles that adhere the colored wool to the felt sheet are my paintbrushes. I blend and layer the colored wool to achieve desired hues, tones and gradations, just as I would with paint. Simultaneously, I build with the wool fiber to add a sculptural element."
Patrons can also experience both "Metamorphosis," an exhibition of 25 collage art paintings by Gurnee artist Crystal Marie, as well as "Small Wonders," which is an exhibition of more than 35 encaustic artworks all under 20 inches in size created by the FUSEDChicago network of encaustic artists. Both exhibitions are on view through Dec. 3.
In addition, the gallery's five collective artists who show year-round in the gallery – Kathleen Heitmann of Buffalo Grove, John Kirkpatrick of Libertyville, Kendra Kett of Gurnee, Michael Litewski of Zion, and Juli Janovicz of Kenosha, Wisconsin – will be displaying recent works including paintings, drawings, and wall sculptures.
The gallery is located at 18620 Belvidere Road in Grayslake and is open weekends 1 to 4pm. The gallery is closed during the afternoon when evening opening receptions are hosted. For more information and to check holiday hours, visit www.thebluemoongallery.com or call gallery director Kendra Kett at 224-388-7948.