YORKVILLE – Competition drives wrestlers to be the best fighters they can be, and the Southwest Prairie Conference is proving to be a great place to compete.
On Saturday, Jan. 21, at Yorkville, the host Foxes, with 471 points, may have repeated as conference meet champs, but got a hard fight from runner-up West Aurora (416) and others in the field.
Oswego (375) was third, followed by Joliet West (355) and Plainfield South (349.5) to round out the Top 5.
"We work hard and we're really dedicated to the sport," said Yorkville's Dom Coronado, who won the 138-pound title. "It took us some time to maneuver and go through the obstacles and persevere and get to where we are now. We've got a good group of kids and I think that we will go really far downstate, as well."
Jack Ferguson (132), Luke Zook (170) and Ben Alvarez (220) also won titles for the Foxes, who also won the league's regular-season dual championship and repeated as tournament champs.
"I think we are definitely coming close to our goals of being one of the top teams in the state," Zook said. "I think we have a little more work to do, but I think we'll get there very soon."
Alvarez caught a break after his opponent from Plainfield North went down with an injury and couldn't wrestle in the title match.
"We knew we were the favorite and it's been like that the whole season," Alvarez said. "We were pretty good last year, but we know we're a good team in the state now and trying to push the pace and get ready for the state series."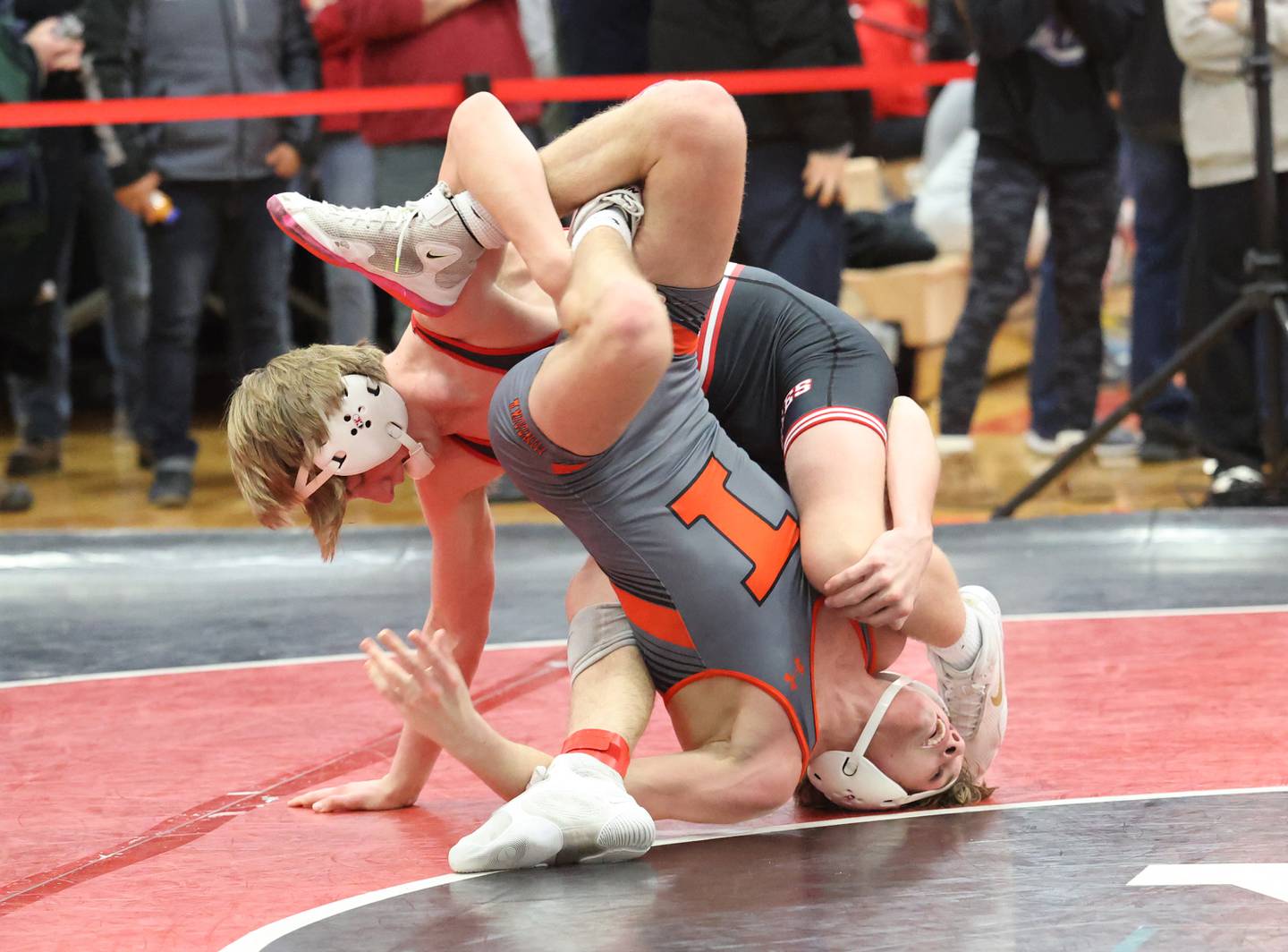 While the Foxes and Blackhawks had the most success in the meet, the conference displayed great parity with eight schools having at least one wrestler crowned a champion.
"This is a really good conference with awesome competition," said West Aurora's Dominic Serio, who knocked off Yorkville's Ryder Janeczko 14-4 to win at 145 pounds. "It's fun to wrestle here, and our team just comes to win. Yorkville is a good team, but we were right up there. The distance from second to third was big and it just shows you how good the top two teams are."
The Blackhawks claimed three titles as Robby Wyland (113) and Noah Quintana (160) also prevailed in hard-fought title bouts. Wyland survived Plainfield South's Rudy Silva 5-2, and Quintana knocked off Plainfield North's Anthony Gulino 8-5.
Joliet West's Wyatt Schmitt fought off Yorkville's Logan Fenoglio 7-4 to win the 285-pound title.
"Losing the conference championship last year was a low point last year," Schmitt said. "To come back like this feels pretty good. It [losing last year] really propelled me to the state run I made last year. I had to focus up and get ready."
Carson Weber also came away with a big win, slipping past Yorkville's Dominic Recchia at 126 pounds.
"Every team in our conference has one or two really good kids so there's always good finals and third-place matches and brackets," Schmitt said. "It's a good tournament before the state series."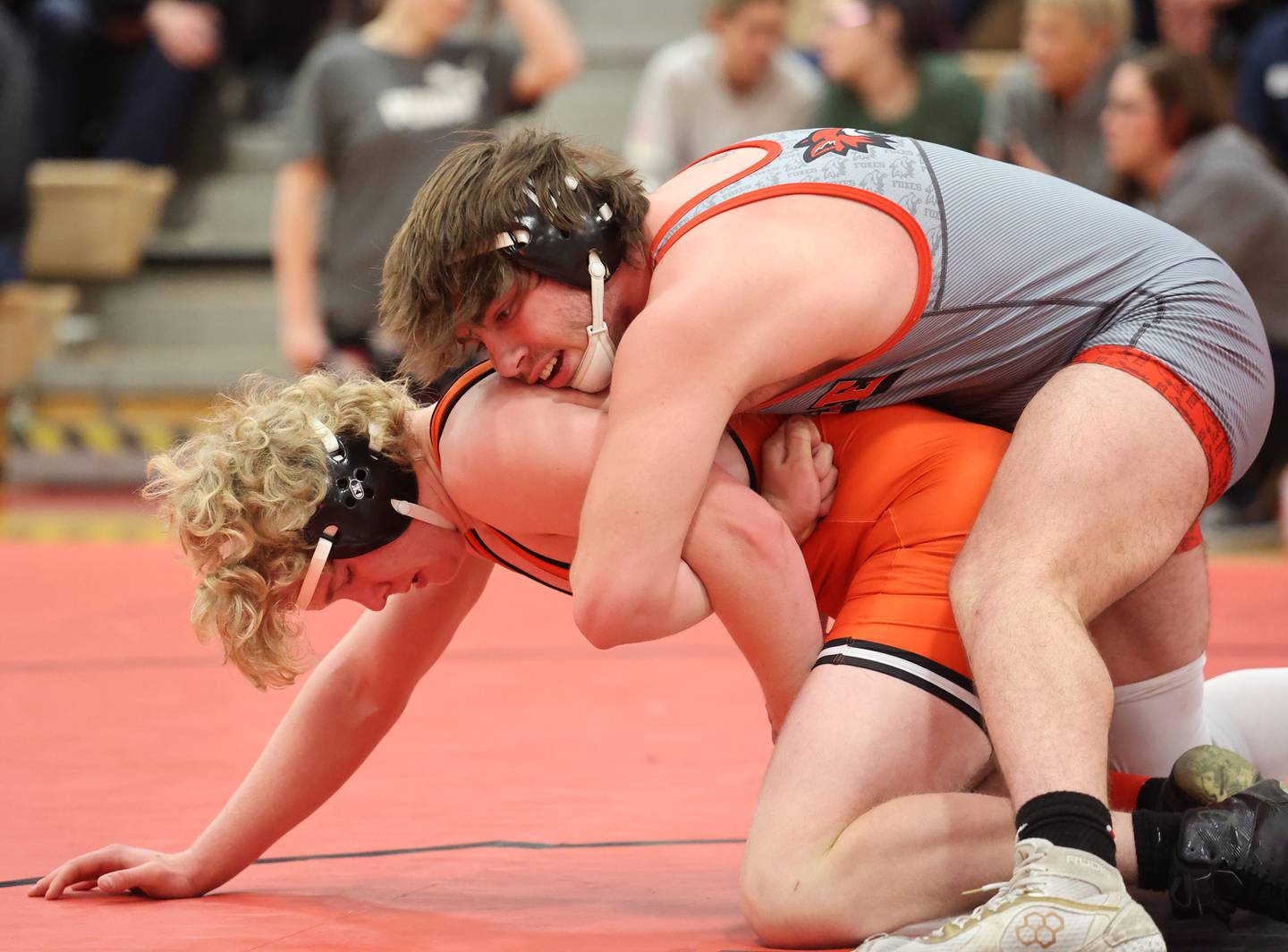 A year ago Plainfield Central's Max Bowen got caught up in the numbers game and believes it got in the way of greater success. As judged by his big 4-2 win over Yorkville's Colten Stevens in the 182-pound final, he may be onto something.
"Something I've done a lot better with is my mentality," Bowen said. "I used to be really nervous and concerned with rankings. 'He's above me. …' I love that this year numbers are just numbers. It's just how you wrestle really."
He's doing that extremely well.
"The conference is really tough here and pretty solid all the way up," Bown said. "I felt like I performed pretty well. I can always do better, but I'll take what I got."
Bowen previously defeated Stevens to win a regional title.
"It was a similar score and the third time I've seen him," Bowen said. "It feels good. I'm excited for the postseason. I've got a lot of work to do, but I think state champ is achievable."
Plainfield North's Maddox Garbix pinned Oswego's Jonny Theodor for the 106-pound title, and Minooka's Elijah Munoz did the same to Oswego East's Noah Demarco for the 152-pound championship.
Romeoville's Brian Farley (120) and Plainfield South's Matthew Janiak (195) also earned titles with Janiak winning a 3-2 thriller over Oswego's Cruz Ibarra.
Other team results included Plainfield North (338.5), which was sixth, followed by Minooka (303.5), Joliet Central (270.5), Plainfield Central (258), Oswego East (244.5), Romeoville (205) and Plainfield East (163).
In the girls competition, Minooka (242) finished comfortably ahead of runner-up Joliet Central (188.5). West Aurora (79) and Yorkville tied for third.