OSWEGO – Mekhi Lowery dribbled the ball off the court and cradled it in his arms as he walked through the postgame handshake line.
Oswego East held on to crosstown supremacy Friday, too — albeit in a close one.
Lowery shook off early foul trouble to post a double-double, among three Wolves scoring in double figures. Oswego East held visiting Oswego scoreless for a key five-minute stretch in the fourth quarter to close out a 58-53 win in the Southwest Prairie Conference.
It's Oswego East's 11th straight win in the crosstown rivalry — but the closest margin during that stretch – dating back to 2018.
"It's very important to get the win here," said Lowery, who has never lost to Oswego at any level. "These are our backyard brothers. It wasn't a great win, but a win is a win. We're happy to get the 'W.' "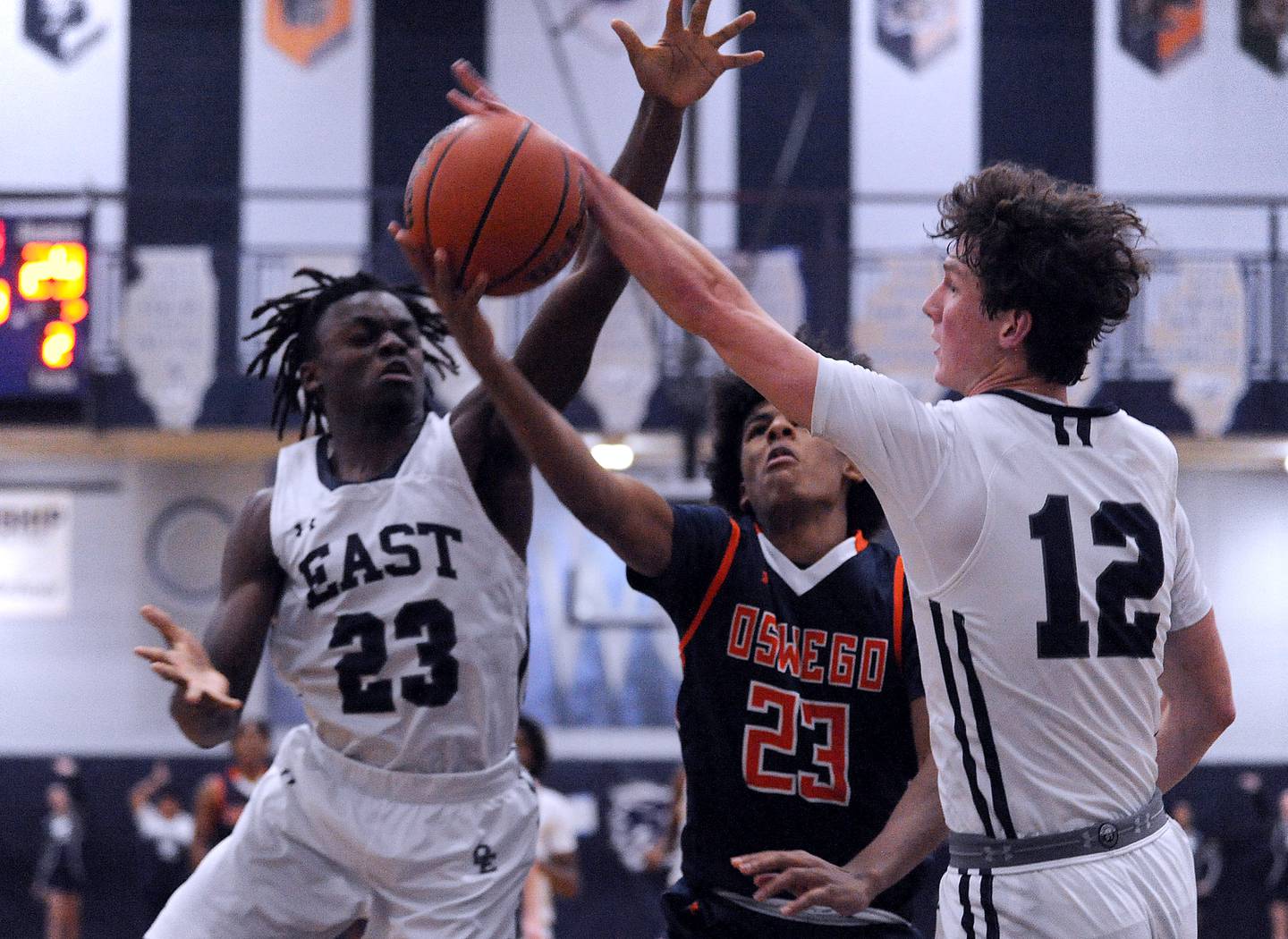 Lowery, a Towson recruit, had 12 points, 10 rebounds, three rebounds and two steals after sitting out five minutes in the first half with two fouls. Ryan Johnson scored 18 points and Jehvion Starwood 12, 10 coming in the second half for Oswego East (8-1, 4-0).
The Wolves showed a knack for pulling out close games last season with an interconnected core of long-time teammates. This is a different group. Lowery and Johnson are among the holdovers, blending in talented transfers like Starwood and Bryce Shoto.
On pure talent, it might be a collection with greater potential. It still needs to come together, but it proved it could win close ones this week against Yorkville and Oswego.
"I feel like us that have been there, we're used to those close games," Lowery said. "Me and Ryan and Mason [Blanco], we're used to those close games, we have to step it up. Our new transfers have been following along."
Oswego East led 50-40 early in the fourth quarter on a Lowery inside basket, but Max Niesman's deep 3-pointer for Oswego closed the Panthers to within 50-47 with 5:39 left.
The Wolves switched to a zone late, though, and Oswego didn't score again until Jayden Riley split two free throws with 41 seconds left.
"We weren't in the gaps defensively a lot, we weren't disciplined, so we thought maybe switching up and going zone would switch them up a little bit," Lowery said. "It did enough."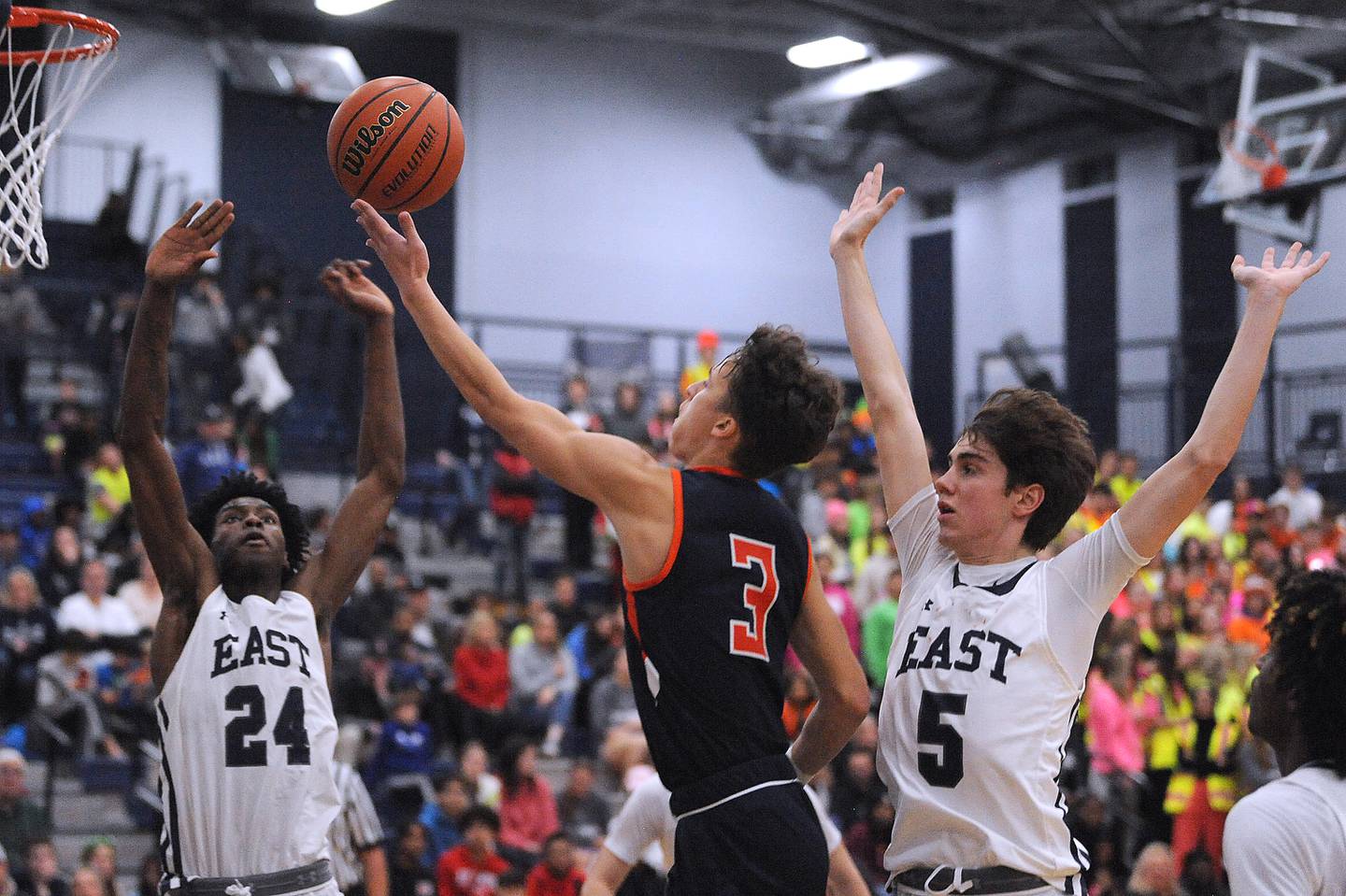 It was enough, despite 58% (11-for-19) shooting from the free-throw line. Oswego East trailed 19-13 midway through the second quarter with three of its top six players with two fouls, but closed the half on a 12-2 run for a 25-21 lead it held over the course of the game.
"I told these guys before the game, don't look at [Oswego's] record. These guys compete," Oswego East coach Ryan Velasquez said. "I'm proud of our guys for pulling out the win. I thought our zone kind of threw a wrinkle in things."
Niesman scored 20 points, and sophomore Deasean Patton added 10 for Oswego (2-7, 1-3), which to Velasquez's point has played better than its record would indicate. The Panthers also have two losses to West Aurora and one to Plainfield North by a combined 19 points.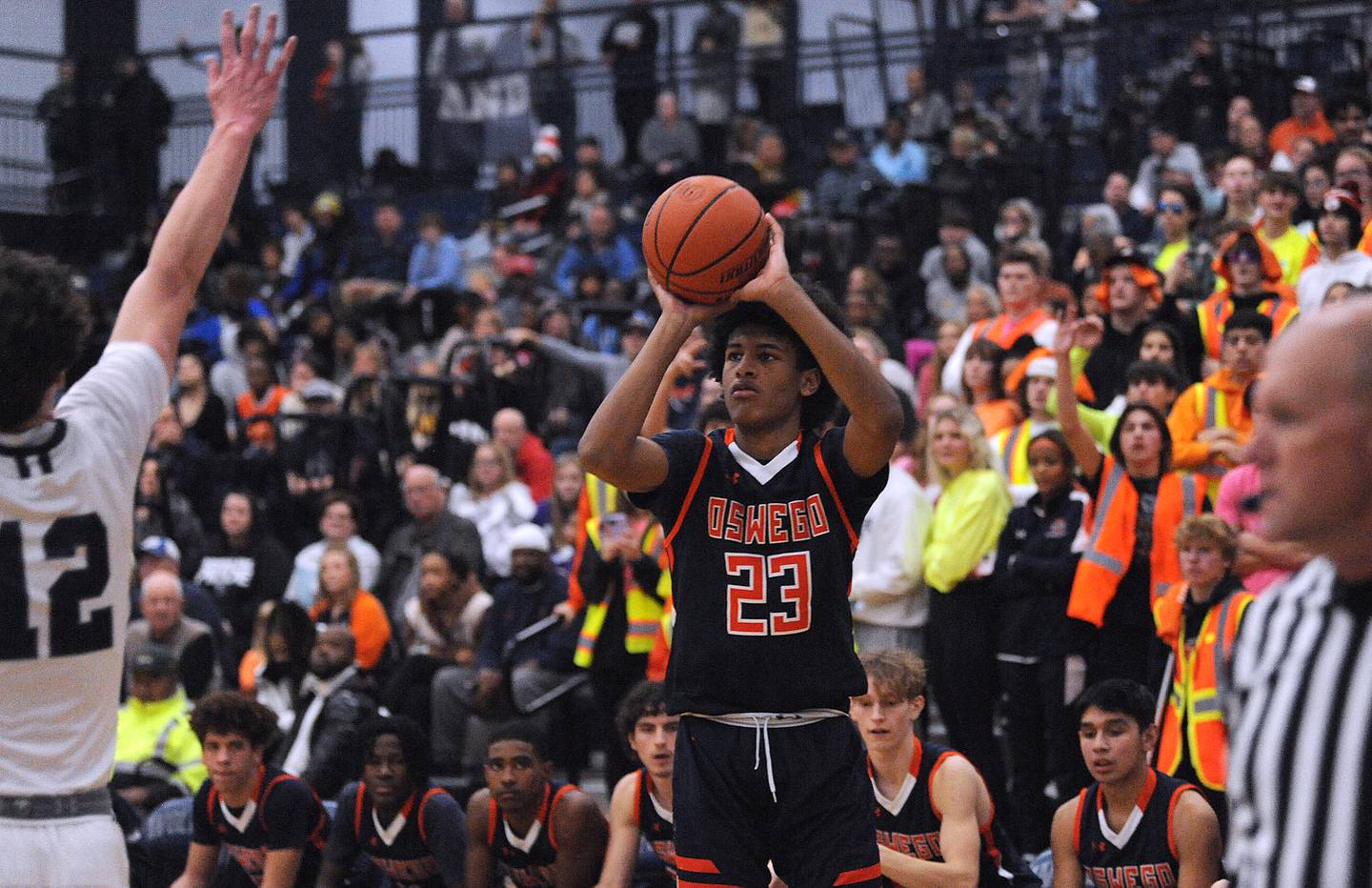 Despite being vastly outsized by Oswego East and giving up 10 offensive rebounds, the Panthers didn't give an inch.
"That last stretch kind of took the air out of our sails, but our kids have a ton of guts," Oswego coach Chad Pohlmann said. "We're right there. Our record is not an indication of how good our team is. I believe in every one of those guys in the locker room.
"We're going to stay the course."
Niesman's deep 3-pointer sent Oswego into the fourth quarter trailing 45-39, and the second deep one closed the gap to 50-47. The senior guard missed a third long one for the tie with 4:06 left, but Pohlmann will go right back to the well with Niesman every time.
"Max is so fun to coach," Pohlmann said. "He comes in the morning at 5:30 a.m., we shoot before school starts, he is the first guy in the weight room and last to leave. He's a leader, loves the game. The kid is just fantastic."