YORKVILLE – As Plainfield North's ace, Brandon Bak can empathize with a fellow pitcher who struggles to find the strike zone.
Bak and the Tigers, though, weren't about to alleviate the matter Saturday.
"We knew going into this the umpire had a tight zone so our approach going into the box was to be patient," said Bak, a UIC recruit. "When we got our pitch we were going to hammer it."
[ Photos: Plainfield North vs. Yorkville ]
Plainfield North indeed played its role well. The Tigers drew 13 bases on balls from three Yorkville pitchers, and reached base three other times on hit by pitches.
Their own pitcher, Luke Brown, took a shutout into the fourth inning, and ninth-seeded Plainfield North went on to a 12-4 upset of the top-seeded Foxes in Saturday's Class 4A Yorkville Regional final.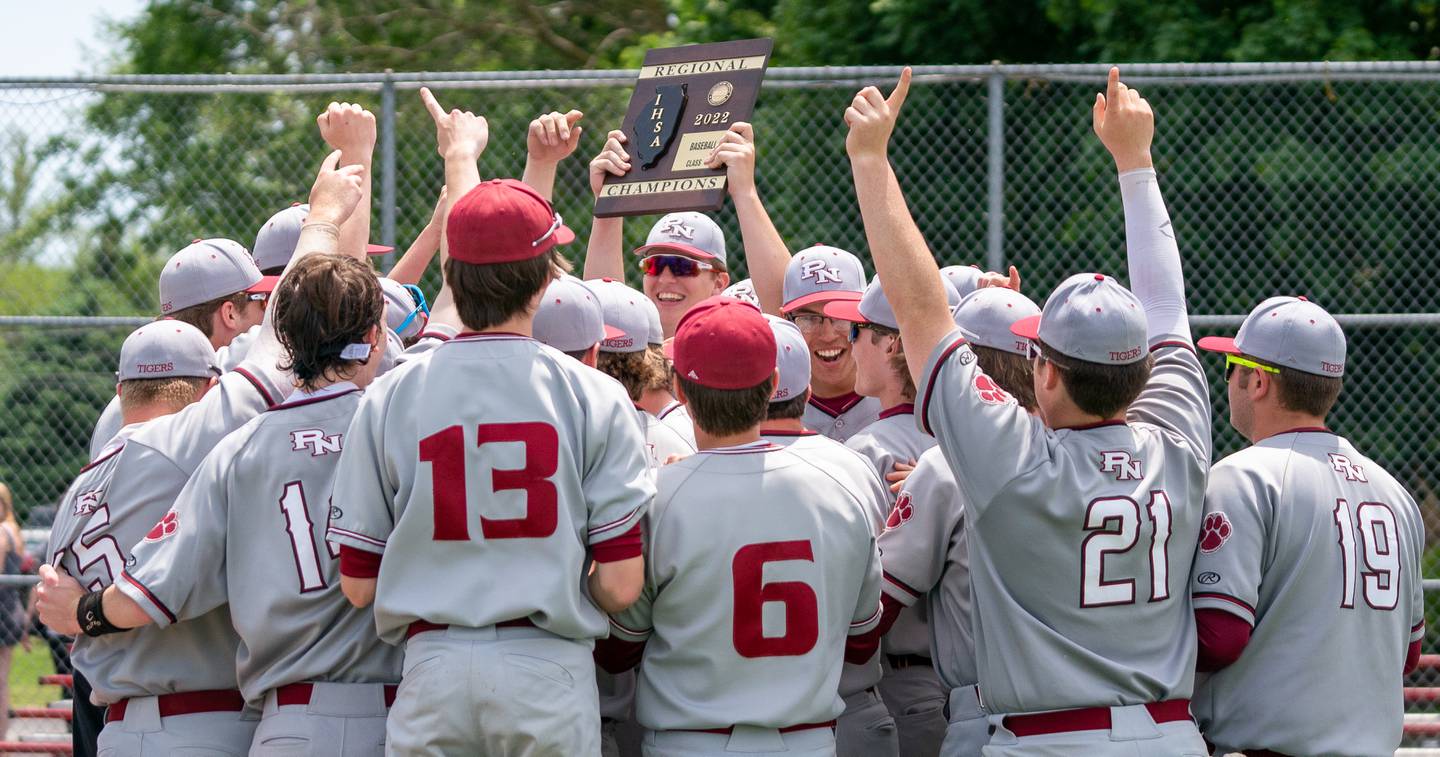 Winning their 11th regional title since 2010, the Tigers (20-13) avenged a regional final loss to Yorkville (29-8) last year and advanced to face Neuqua Valley in Wednesday's sectional semifinal at Romeoville.
Bak, who reached base in all five plate appearances, was one of four walks issued by Yorkville sophomore starter Simon Skroch in the first inning. Two others were hit by pitch as the Tigers jumped out to a 4-0 lead.
"Within the first two batters we knew he was missing up in the zone and he was inconsistent with the strike calls," Bak said. "We were waiting for a pitch we could drive and work that to our advantage."
Skroch walked two more with two out in the third, and Bak followed with a slicing fly ball that was dropped near the left field line, two runs coming in for a 6-0 game. That ended Skroch's day, and Bak scored on an ensuing wild pitch from Owen Ross to make it 7-0.
"They [Yorkville] have a hell of a team. Their pitcher, the strike zone, the emotions, got to him a little early, and that took some pressure off of us, which was great for us," Plainfield North coach John Darlington said. "We did a really good job of not letting the moment get too big for us. We came in focused and ready to go."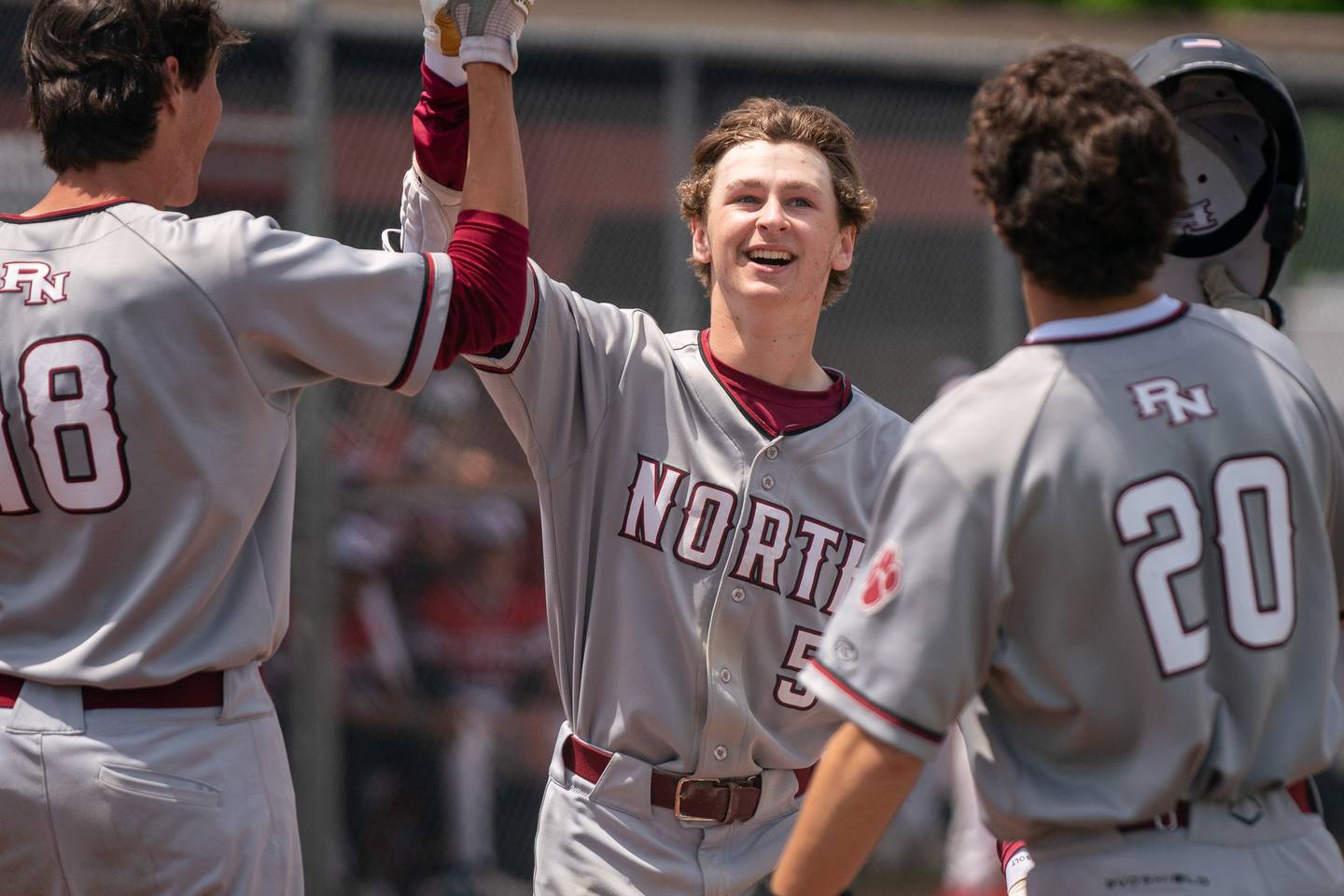 Plainfield North junior Ryan Nelson singled in the game's first two runs after back-to-back walks to start things. Then he followed Bak's double in the fifth with his second home run of the year, making it 9-1.
"Our coach said to just be patient, wait for our pitch, and that's what we did," said Nelson, who had five RBIs for the game. "I knew I had to be patient and once he threw that fastball I had to swing."
Yorkville pitching had collectively allowed just a shade over three runs per game on the season, and Skroch was a big part of that success on the mound.
It didn't carry over to Saturday. Plainfield North scored its first seven runs on the strength of just two hits, one of which was an infield single that hit the field umpire.
"The bottom line is we didn't make enough competitive pitches," Yorkville coach Tom Cerven said. "They threw the ball in the strike zone, made some key defensive plays and they hit the ball well. We didn't catch any breaks and we didn't necessarily help ourselves either."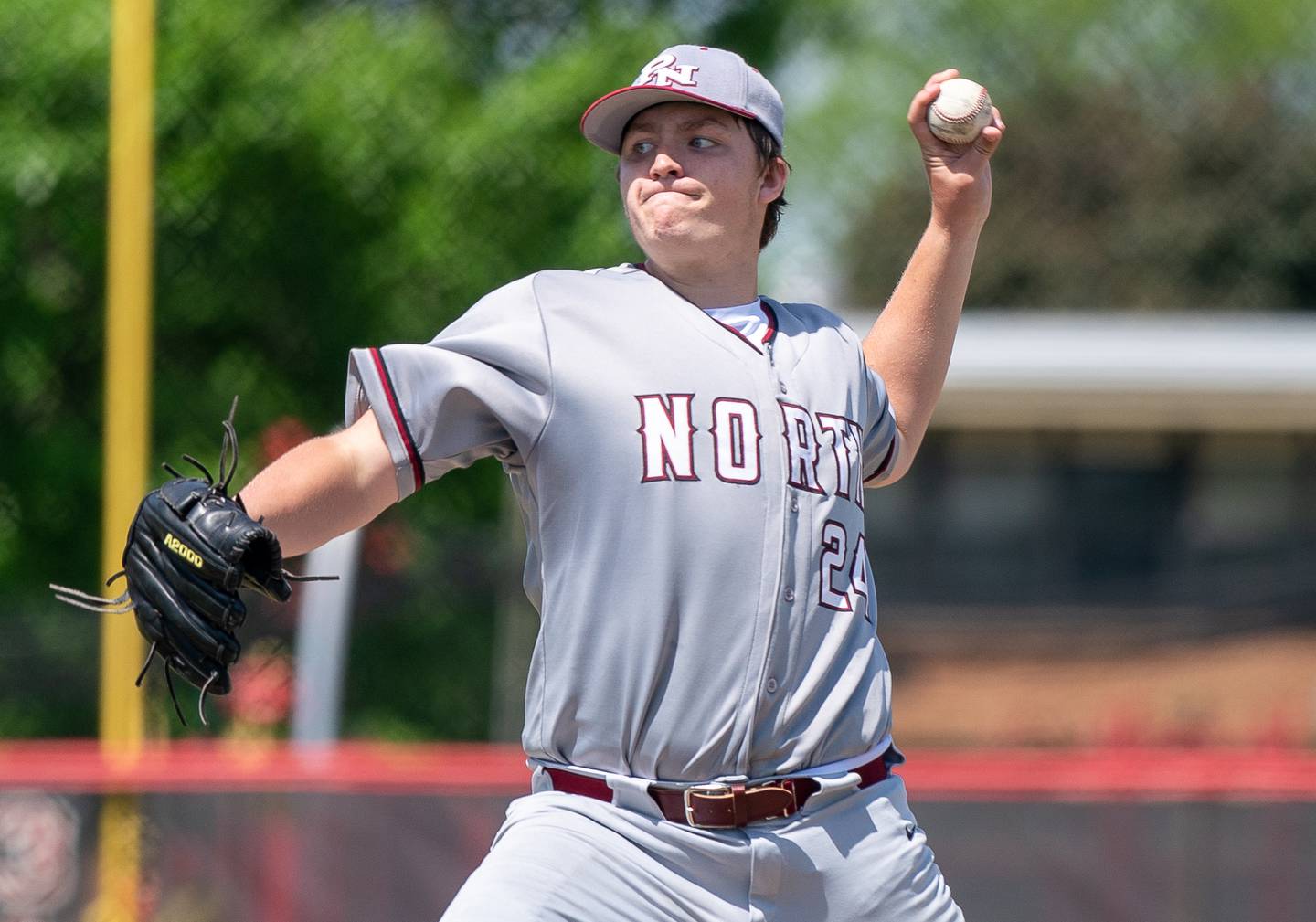 Brown, a burly left-handed junior, struck out five and allowed just one unearned run through five innings. He ended two innings with strikeouts, and unleashed huge roars and fist pumps after both, following Bak's stellar work in a 6-1 regional semifinal win over Naperville North.
"He's just an animal on the mound," Bak said. "I knew going into this game, when we got to the field, he was ready to go. He showed that. He got to the mound and wanted the ball."
Bak added a two-run single in the sixth inning. Joe Guiliano reached base three times and made a number of spectacular plays at shortstop.
Connor Corrigan had two hits, and scored Yorkville's first run on a two-out error in the fourth. Kam Yearsley singled in a run in the sixth and Nate Harris doubled in a run in the seventh.
The Foxes, despite the loss, enjoyed a banner season. They won their first Southwest Prairie Conference title and came a win shy of matching a program record for wins, a year after reaching a sectional final.
"I can't thank the seniors enough for all they've done the last few years getting the program to where it is," first-year coach Cerven said. "Our small school is starting to be heard. I'm not hearing 'Where is Yorkville?' People are starting to notice who we are. We don't do that without these seniors."