OSWEGO – The final round of the Oswego's Got Talent competition proved that the village has plenty of it.
So much so that in the youth category the talent show produced two winners, each of whom is taking home a $250 prize and a coveted performing slot at next spring's Wine on the Fox festival in the village's downtown.
The contestants, both adults and young people, brought a variety of talents to showcase before an excited crowd on Oct. 17 at Venue 1012, Oswego's brand-new amphitheater off Orchard and Mill roads.
During performances in the youth category, parents and friends cheered the ambitious artists.
First up was Levi Cull, 17, of Sugar Grove, covering the classic "Blue Moon," with precise guitar-playing.
Next was Bryce Ramsbottom, 17, of Oswego, playing with considerable flourish an original composition, "Escape," on the keyboards.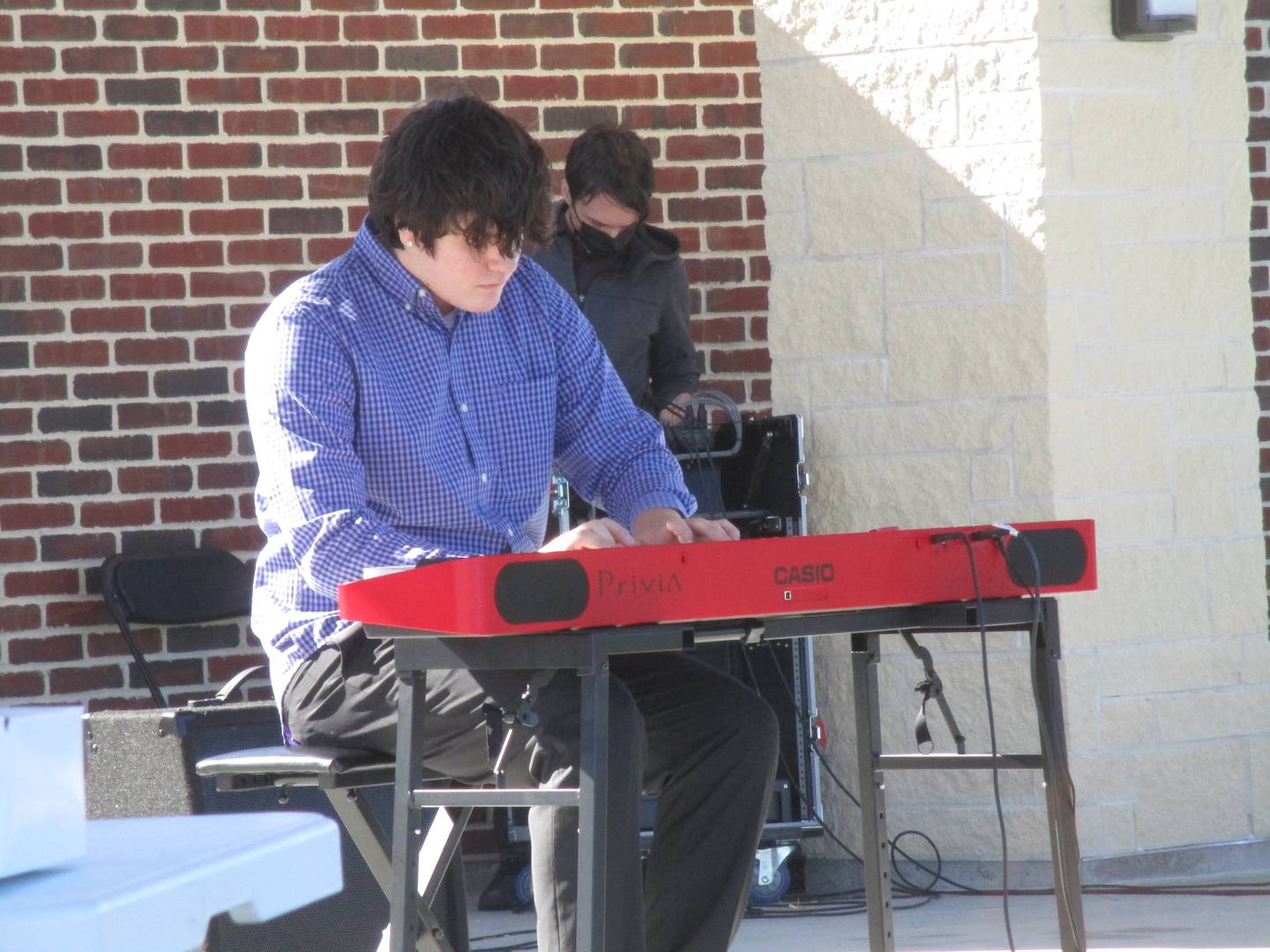 Then it was Zoe Cull, 14, sister of Levi, who sweetly sang recording star Lyn Lapid's "In My Mind" as she accompanied herself on the ukulele.
The youth finale was left to Ethan Lapato, 12, of Yorkville, who held the crowd in rapt attention as he performed a magic card trick.
The anticipation was building as the judging panel tallied their evaluations, making their assessments on stage presence, originality, preparedness and overall raw talent.
The judging panel included Kristina Nemetz of Montgomery, Anthony Pastore of Oswego, Angela Romeo of Naperville and Denise Parlier of Oswego.
Then, master of ceremonies Julie Hoffman took to the stage to announce the winner.
It was clear that Hoffman, the village of Oswego's community engagement coordinator, was the bearer of unexpected news.
There were two winners, Hoffman said, with the honors going to Levi Cull and Bryce Ramsbottom.
Next were three adult acts, starting with Karla and the Phat Cats, a rock band whose members hail from communities in DuPage County.
The band includes singer Karla Kampen, drummer Russ Chadra, guitarist Mike Manno, bassist Mike Pirro and a guitarist named Gus. The group's roadie is Nina Bush.
Kampen belted out a rendition of "Valerie" by the late Amy Winehouse as the Phat Cats backed her up.
Then it was Traeon Johnson of Chicago, who goes by the stage name of Trey Glo. The rapper performed an original composition, "Dark Rooms," exploring personal pain.
Finally, singer Kim Schomer of Boulder Hill used her operatic vocal stylings and plenty of humor to bring life to Kristin Chenoweth's "The Girl in 14G." Accompanying Schomer on keyboards was Jamie Kaisershot of Aurora.
Once again, Hoffman announced the judging decision and this time the winner was Karla and the Phat Cats. The band received a $250 prize and will perform at Wine on the Fox next May.