CHARLESTON — As the lights glistened off the wet blue track, Oswego East juniors Madison Zarembski and Ana Barroso gathered together for one last race on Saturday night.
When the day started, Zarembski and Barroso did not expect their first foray competing in the Class 3A state girls track and field meet would include so many obstacles. The one-day meet ended at nearly 11 p.m. following two lengthy delays caused by lightning and heavy rains.
Zarembski and Barroso were among a small group of competitors excited to be able to compete under the lights following a day that started with temperatures in the low 90s and later included a monsoon-like downpour.
Zarembski joked that her first trip to the Class 3A girls state track meet was certainly unforgettable.
Zarembski and Barroso both competed in the 3,200-meter relay earlier on Saturday afternoon. But the distance runners endured a five-hour wait until their next event.
"We just hung out and it was really fun," Zarembski said. "This is my first state track meet, so it's definitely going to be memorable. We were able to run under the lights, which was super fun."
After competing in two events in diverse conditions and times — in the oppressive afternoon heat and later at night on a wet track — Zarembski and Barroso hope to make their next experience at state a memorable one for their performances. Zarembski and Barroso closed out the season finishing seconds apart in the 1,600-meter run, with Zarembski placing 25th overall in a time of 5 minutes, 20.72 seconds and Barroso registering a time of 5:25.44.
Barroso said the all-day state meet was a bonding experience.
"I liked the delay because I felt like it was a big rest to help us get prepared mentally and physically," Barroso said. "We really enjoyed the break and relaxing. It was a fun experience. I thought we did good, worked as a pack and it paid off in the end."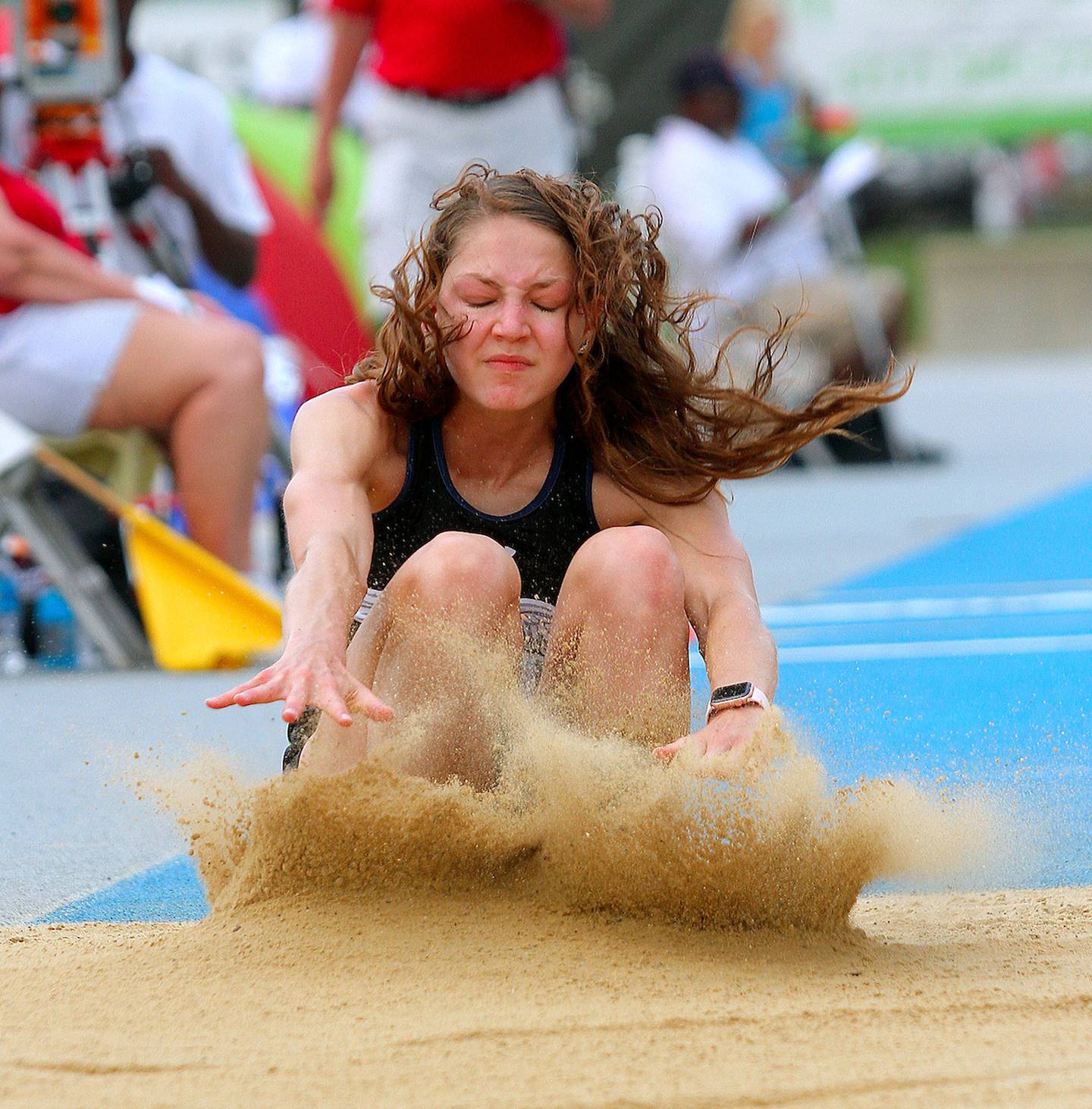 Barroso ran the starting leg of the 3,200 relay that notched a 12th place time of 9:45.19. Angeles Mendoza, Zarembski and Sydney Williams ran the final three legs of the race.
"That was a great race, and everyone was happy," Barroso said.
Oswego East junior Kenna Nord posted the best placing among Kendall County competitors, leaping her way to a 10th-place effort in the triple jump (11.34 meters). Senior teammate Gabriella Vacek finished 13th in the high jump (1.55 meters).
Oswego sophomore Audra Soderlind had a solid showing in her first trip to state in the 3,200. She crossed the finish line in a time of 11:39.67 to place 15th in the 3,200.
Our 4x4 finished the night with an 11th place!! Amazing race! Two of these girls are seniors. Two are returning.
Becca Corbett, Grace Davis, Emma Ponx, and Ella Hale pic.twitter.com/oCYHLeryQJ

— Oswego Girls XC&TF (@OswegoGXCTF) June 13, 2021
With the delay pushing back the restart of the state meet until 9:30 p.m., Oswego's 1,600 relay of Rebecca Corbett, Grace Davis, Emma Ponx and Ella Hale competed in the last race of state under the lights.
As the small but boisterous crowd cheered on the final competitors, the Panthers' foursome just fell short of earning a medal with an 11th-place time of 4:05.59 despite a late kick by Hale.
Corbett, a junior, started the Panthers off with a solid showing in the first lap, overcoming a spill in the individual 800 earlier in the day.
"I fell in the first lap of the 800, so that wasn't really what I wanted but it gave me some motivation to come out in the 1,600 relay to do well," Corbett said. "When I came out here, I used the 800 as motivation to make up for it on the track in the relay. I was running for my team and the three other girls."
Davis, a senior, endured a long wait to compete in her only state event.
"I feel I went out really strong," Davis said. "I was just striving to do good under the lights. I'm really proud of all of us for doing an amazing job following the five-hour delay."
Ponx, also a junior, started the state meet well before noon preparing for the pole vault competition before ending close to 11 p.m. She opened the meet with a personal record vault of 3.19 meters for 14th place.
"I beat my seed in pole vault, so I was really happy with that," Ponx said. "I just focused on getting over opening height of nine-feet, and then I pushed myself to get a personal record. I was happy with how I did, and happy to come down to state for my first time. I was also happy we did well in the relays and cut our times at sectionals."
Hale said she was motivated to finish the final race of her career in grand style.
"I took the first 200 out as fast as I could and it went really well," Hale said. "I passed one or two people and came close to passing another one. I'm just super happy we were able to come down here as a team and able to run in a night state meet."
Yorkville's 3,200 relay placed 15th in 9:56.55. Yorkville junior Margaret Hunter placed 18th in the 3,200-meter run in 11:44.75.