PLANO – Woodstock isn't blessed with a lot of senior leadership with only three seniors on the roster.
But the Blue Streaks are fortunate to have a talented group behind the trio of seniors, two of whom paid big dividends late in Woodstock's 1-0 Kishwaukee River Conference victory Monday.
Junior Owen Cunningham's spot-on throw in from about 15 yards away found the head of classmate Lucas Rubio for the game's only goal and kept the youthful Streaks (10-1-2, 4-0) unbeaten in league play.
"The strength of this group is with the underclassmen despite being the youngest team in our conference," Woodstock coach Santiago Rubio (Lucas' father) said. "We have to promote our young talent to perform like we know they can and we finished the day with four freshmen on the field. I'm so happy with the strength of this team being the younger guys that are leading us undefeated in our conference with a lot more to prove."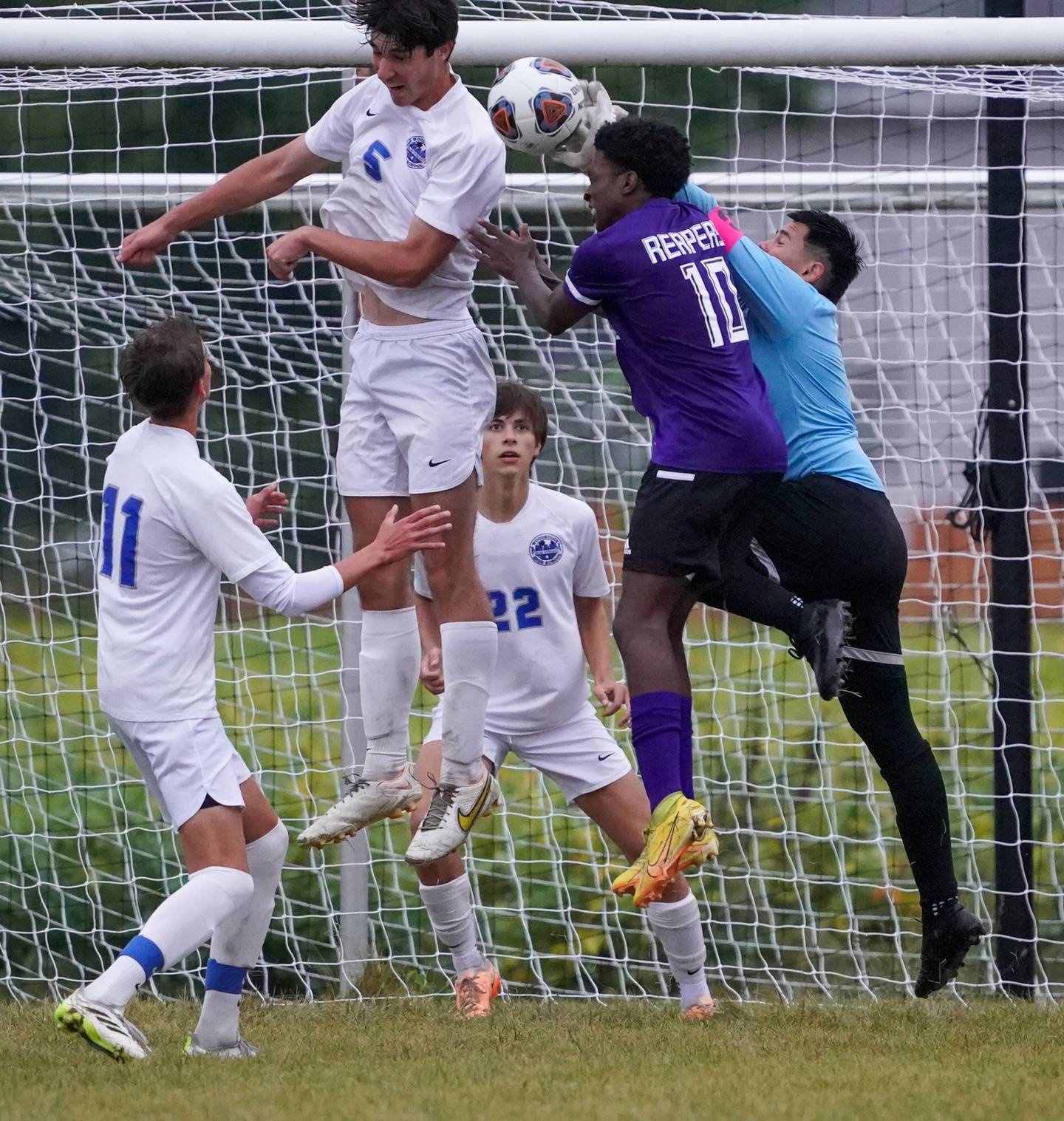 Plano (6-3, 2-2) seemed to control the proceedings at times, especially in the second half, but couldn't manage to get anything past Woodstock's junior net minder Diego Landeros, who produced some athletic saves.
"I thought we dominated the game, possession and overall from a team perspective I thought we did a good job most of the time," Plano coach Adrian Cervantes said. "But they got a late goal off a nice throw in and we couldn't get a real chance to score after that."
After a scoreless first half where the two clubs battled with not many scoring chances, the Reapers had a pair of excellent opportunities to take the lead during the first 10 minutes of the second half but Landeros turned them away with two diving saves.
"I saw a couple of times where they really had a chance to get it past me but I was able to make the stops," Landeros said. "I've worked hard to help our team win like we did today."
Then it was all up to Cunningham and Lucas Rubio to produce the game winner. Cunningham's throw in was perfect.
"I've taken a bunch of throws in practice and today it led to a goal," Cunningham said.
Lucas Rubio finished the amazing throw with a deftly placed header that secured the win for the Streaks with 14:42 left in the match.
"We came together as a young team again and battled to the end," Lucas Rubio said. "It was a beautiful ball from Owen and I just needed to finish it and I was able to get us the victory. "I hope there's no stopping us now from here because we have a ton of confidence after a win like this."