OSWEGO – Grace Petasnick was talking about practice.
Oswego's libero was walking the talk after Thursday's Southwest Prairie Conference, 25-14, 25-13 victory over visiting Yorkville.
"Honestly, these past couple of practices my passing and serving has been pretty bad," she said. "I knew in this game that I had to come out and do my thing, and I did that."
She did that by putting in extra time.
"She hasn't struggled, she just hasn't been consistent," Panthers coach Gary Mosley said. "She was key for us tonight.
"Her work ethic, she worked her tail off to improve. She asked, 'Hey, I want to stay late after practice, I want to fix what I'm doing wrong,' and we stayed late, and that's all on her. This wasn't something I approached her with. She wanted to fix that, and holy smokes did she ever."
Petasnick knew she was not only battling for her starting spot this year, but this was her last hurrah as a senior.
"At the beginning of the season it was between me and another player, which is really hard, because we're close teammates and friends," she said. "We kept pushing each other, and one person was going to get it. Once I got it, I was so happy, but knew I could lose it at any moment, so I've got to stay on it, stay on top of my game."
Juniors Mia Jurkovic and Sidney Hamaker appeared to be on top of the Foxes at times with their mighty finishes at the net, Hamaker leading the way with 12 kills and Jurkovic adding 10.
"We were coming into this game knowing it was tough competition and we would need high energy in order to beat them," Jurkovic said. "I feel like our energy really pushed us, and we were able to come out and play well."
One of Jurkovic's kills ended the life of a lengthy volley and extended a four-point run that gave the Panthers a 13-7 lead in the first game. A couple of aces from Hamaker finished the Foxes.
"I knew I couldn't miss that serve, because it's game point," Hamaker said. "I tried to hit it as hard as I could in the zone at the girl, because that's who we were targeting. I think putting that pressure on them really helped us."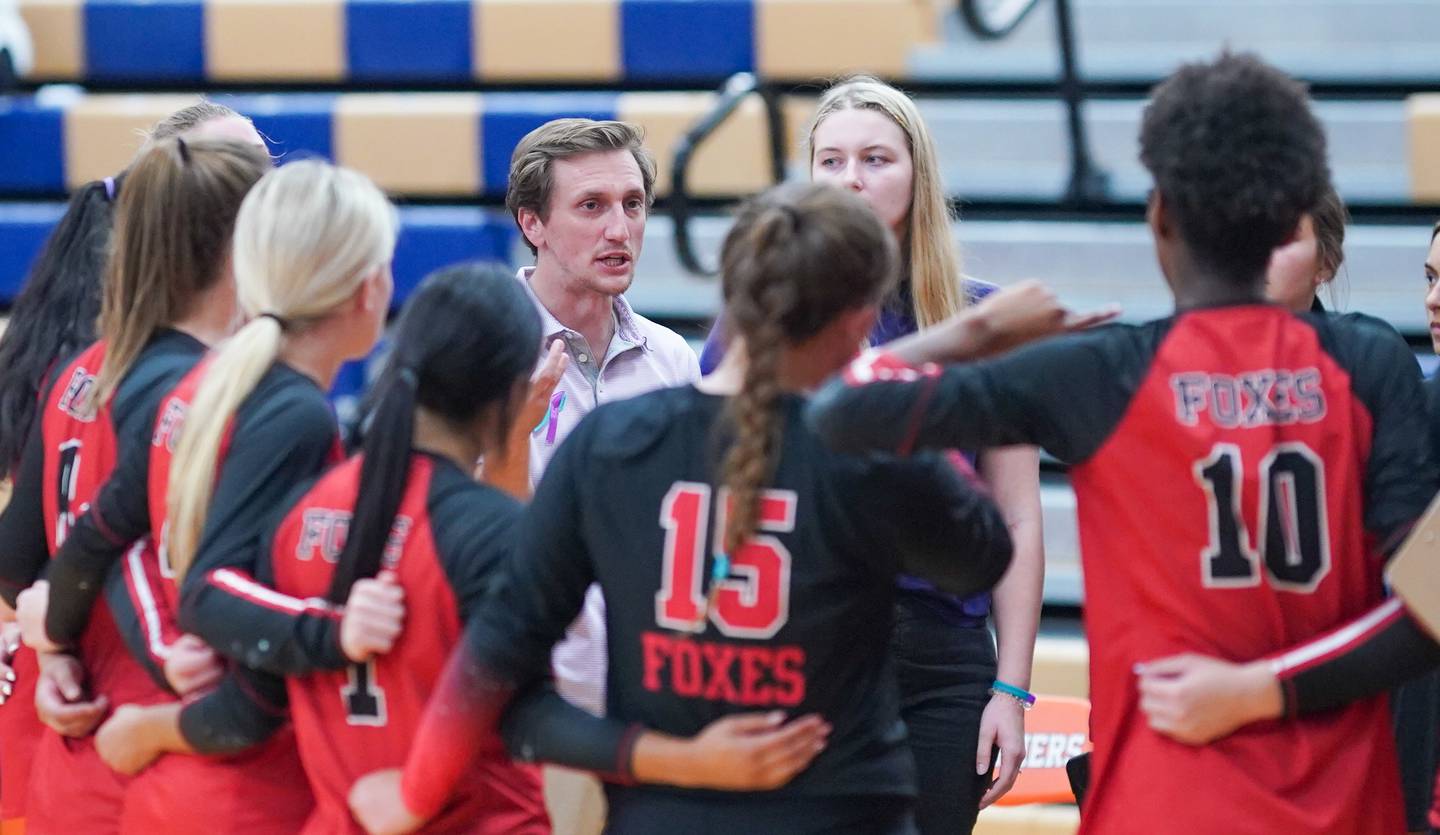 Jurkovic had four aces, while Hamaker had three more for an Oswego (9-0, 3-0) team that usually doesn't score in such fashion.
"Aces have not been a strength," Mosley said. "We serve a high percentage of balls in play. Aces aren't something we find ourselves with a lot, but you could see tonight we placed them really well. We had a good film session, and (the girls) saw weaknesses, and that helped us turn it into a strength."
Yorkville (3-11, 1-2) fell behind 4-0 in the second game but fought back to lead 9-7 before things fell apart late.
"We've been struggling a little bit here to close out games and keep our energy going the whole set," Foxes coach Ryan Donato said. "We just didn't execute as well as we wanted to blocking-wise. Most of the time we were in the right spot setting up good blocks, doing what we wanted to do. We just need to get a little bit better in that department."
Foxes senior captain Claire Knoll acknowledged those concerns.
"I think we could've gotten more touches to get some of those balls up for our defense," she said. "But they do have really good hitters on their team. We needed to get up a little bit faster."
Yorkville's got some good ones too, including Joelle Pye-Blacknard. The freshman outside hitter was all over the Oswego court.
"She's crazy good, and we love her so much on and off the court," Knoll said. "She makes it so much fun."
Players wore teal and purple socks as part of the evening's Suicide Prevention and Awareness theme. Fans and coaches were invited to as well, and many participated, including Oswego athletic director Darren Howard, who donned a shirt in Prince's favorite color.
"It feels good to support something bigger than what's inside this gym," Hamaker said. "It's something for the entire community."