The small things can make all the difference to those deployed in Iraq. Letters from home. Candy. A warm cup of coffee. Every veteran has their favorite.
For Gun Barrel Coffee co-owner and former Illinois National Guard Sgt. Sal Dazzo, it was a 7-inch DVD player and a modest collection of movies and shows.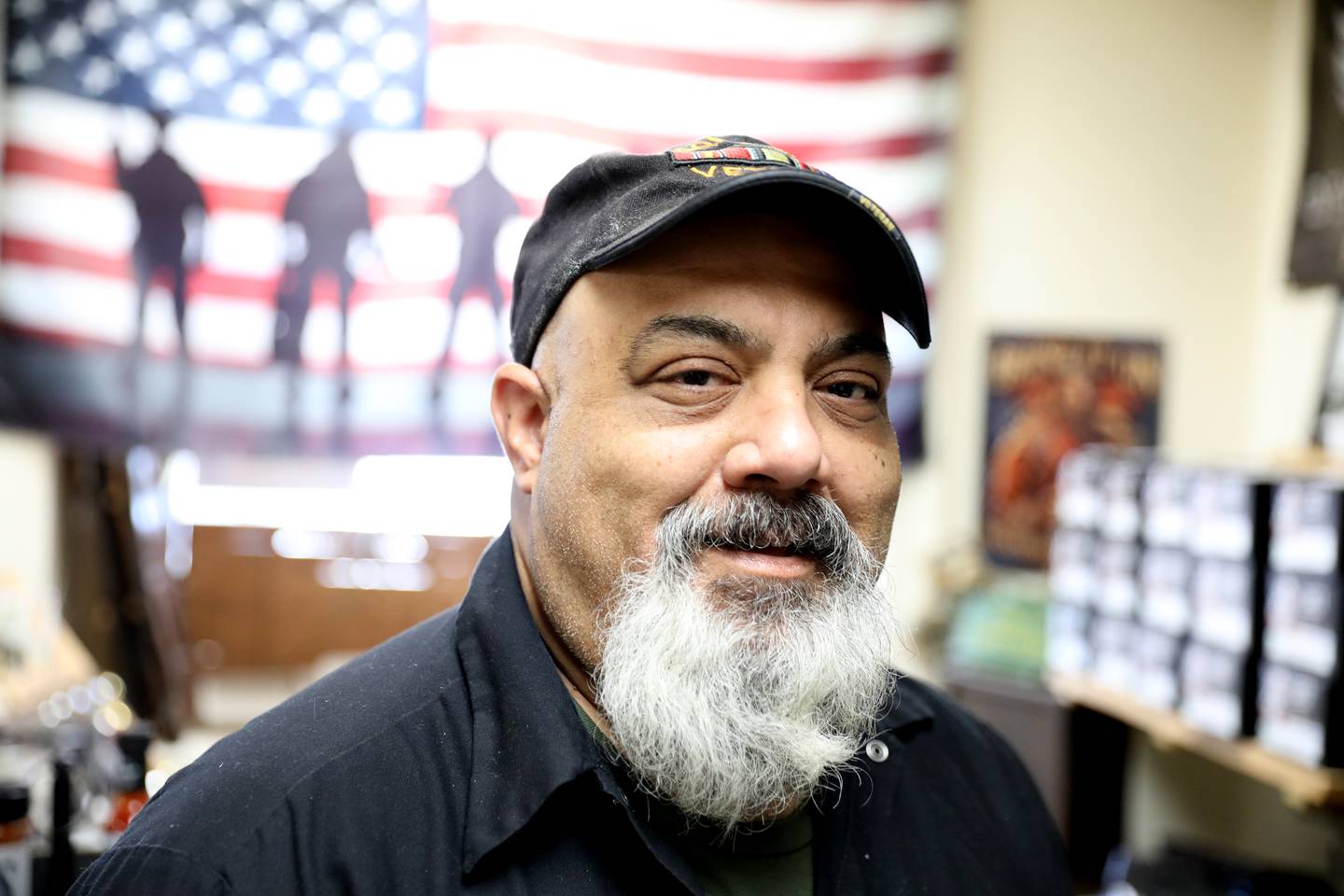 "We'd watch movies all night long," Dazzo said.
Huddled around the small player, Dazzo and other members of the Illinois National Guard 1244th Transportation Company watched the "Sopranos" and war movies such as "Black Hawk Down."
It was a much-needed reprieve from long shifts maintaining military vehicles in Iraq and Kuwait.
"We tried to make sure vehicles were fully mission capable for any deployments that we had," Dazzo said. "[Sometimes] you would volunteer for deployments. We would go out on the road as mechanics at the very rear of the convoy. If a vehicle broke down, we'd hook it up or try to fix it on the spot."
An NCO shift leader, Dazzo and his crew would alternate between day and night shifts to lessen exposure to the sweltering 130-degree daylight weather.
"You would deal with dust storms, camel spiders and scorpions," Dazzo said. "You would sleep on your cot, wake up in the morning and there would be an outline of sweat on your cot. Things happened and things didn't happen. There was a lot of boredom and then some excitement."
Before the deployment, he had been stationed at Fort Story in Virginia, Fort Bragg in North Carolina and Korea.
Joining the U.S. Army was a lifelong dream for Dazzo, who was born and raised in Geneva. An ACL injury at age 18 delayed things and Dazzo spent much of his 20s working in a factory.
"I was 27 when I joined," Dazzo said.
In 1997, Dazzo attended basic training at Fort Jackson in Columbia, South Carolina. His first deployment was in Korea, then to Fort Story in Virginia and Fort Bragg in North Carolina.
Dazzo said he spent most of 2003 deployed in Iraq and Kuwait. A family emergency forced Dazzo stateside and he was unable to return to his unit.
"It took me 15 years before I would talk to anyone I knew about it," Dazzo said. "It kind of hurt. I didn't want to get out. I wanted to stay in [and] go back."
While home, Dazzo reconnected with lifelong friend Brian Seebauer. Both avid coffee drinkers, Dazzo and Seebauer began to experiment with coffee, planting the seeds – er, beans – of what would become Gun Barrel Coffee.
"It took about a year and a half of development," Dazzo said. "We were just giving away free bags, having people try it and give their opinion."
Receiving positive feedback, Seebauer and Dazzo felt confident enough in their blends to start selling them. Dazzo said the first few months of Gun Barrel Coffee's life were spent roasting coffee beans in Dazzo's three-seasons room from after work until late into the night.
"We would have boxes of beans in the upstairs, downstairs, living room, basement. Bedroom, too, if I remember," Dazzo said. "It just got to a point where we needed space to roast. We were getting bigger and bigger."
Gun Barrel Coffee has since grown into a storefront in Batavia and its coffee products can be found across Illinois and beyond. A dollar of every sale is donated to veterans and first responder charities. The main shop also carries products from other veteran-owned companies, Dazzo said.
"We started the company so that we could support veterans and first responders. That was the main goal," Dazzo said.
Dazzo said Gun Barrel Coffee's name came from Seebauer's father, who served in Vietnam.
"[Brian's] dad said, 'Why don't you call it Gun Barrel Coffee like we did in Vietnam.'" Dazzo said. "Before we even got started, he passed away."
"It's an honor to his father, who is a really good guy. He was almost like a second dad to me," Dazzo said.
The shop has allowed Dazzo to reconnect with friends from the military.
"They'll come down to the shop and we'll sit there and talk about the old days, talk about what new ailments we have today," Dazzo said.
Dazzo said a reunion with his Iraq unit this summer allowed him the chance to see familiar faces from his old unit and honor those who weren't there.
"It was good to reconnect with some of the men and women I had served with," Dazzo said.