AURORA – Simon Skroch is a pitcher who is an uncomfortable at-bat any day of the week.
On a cool, crisp day, good luck.
The Yorkville junior left-hander and Minnesota recruit's best pitch is a hard fastball that bores in like a razor blade on right-handed hitters. Even if hitters make contact, they can't do much with it thanks to the pitch's natural movement.
"It's probably my best pitch overall, my favorite one to go to," Skroch said. "I just look to attack inside and got lucky that it moves that way."
Skroch appears to be on the attack early on this season.
He posted his second consecutive stellar start, striking out nine and allowing just one unearned run on two hits and a walk in five innings. Yorkville rode Skroch's big arm and some aggressive base running to its first win of the season, 7-1 on Tuesday at Marmion.
Skroch threw 45 of 76 pitches for strikes, and took a shutout into the fifth inning on a day played in less than favorable conditions, and in his coach's estimation without his A-plus stuff.
"That's Simon. If there's one thing you know you're going to get out of Simon is that he's going to compete," Yorkville coach Tom Cerven said. "I don't think he necessarily located his fastball particularly well today, he got behind in some counts but that kid loves to be on the mound and he loves to battle. Even when he doesn't have his best stuff, he's always going to find a way to keep us in games. We're looking for big things out of him."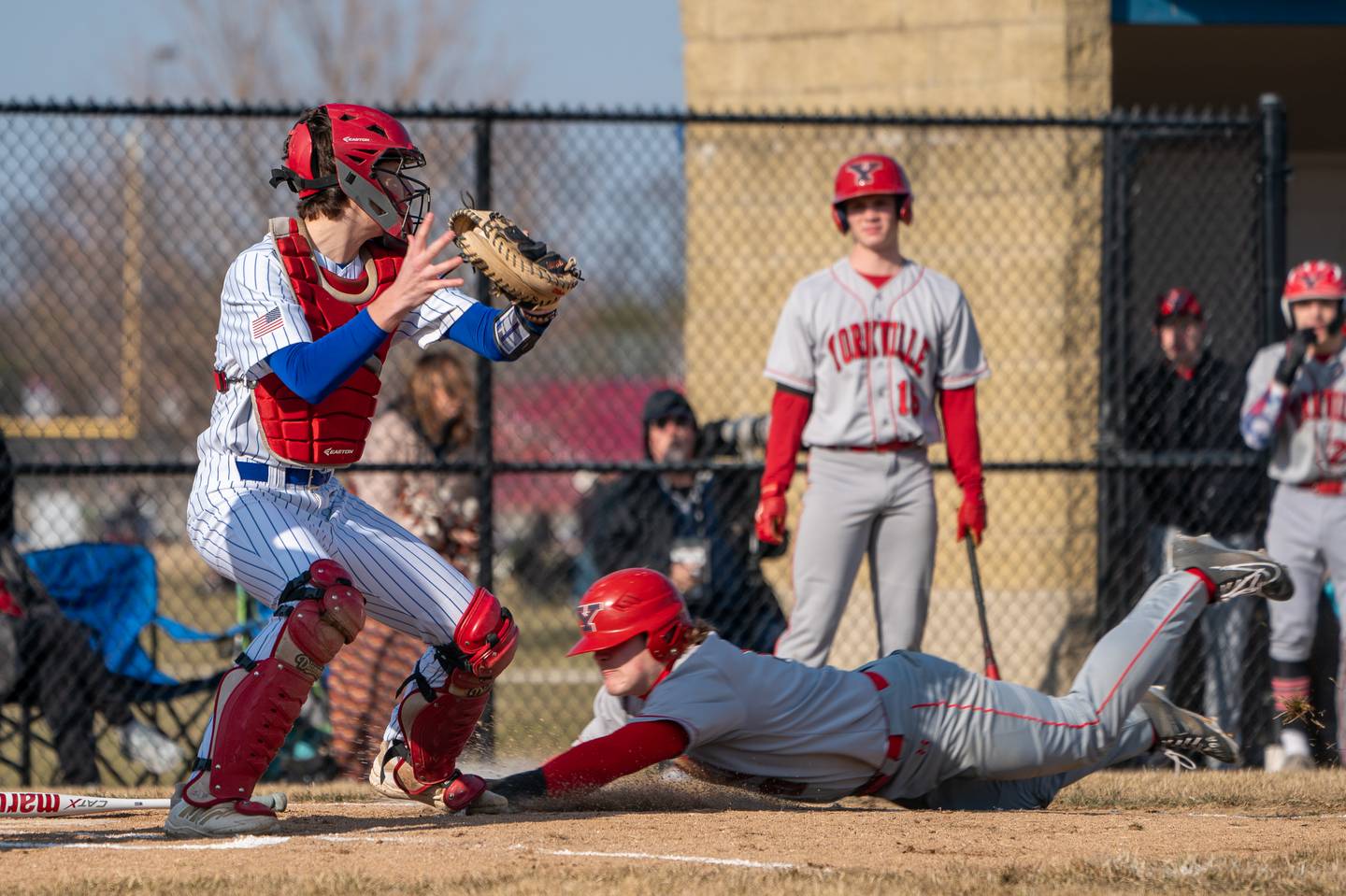 It's easy to see why.
Skroch is now going into his third varsity season, combining with Illinois State commit LeBaron Lee for an imposing front of the rotation. Skroch last year posted a 7-1 record with a 1.35 earned run average for a 29-win team. He's now allowed zero earned runs and five hits with 18 strikeouts over 10 innings in the early going this spring.
"It's always nice to have that one game penciled in every week where you know you're going to get a good start that you're going to have a chance to win," Cerven said. "He has the track record now, three years. It's day in and day out that you're going to get a quality start."
Skroch also now has the anxiety of the recruitment process out of the way, after making his verbal commitment to Minnesota March 14, the first week of baseball season.
"It's a big weight off my shoulders that I don't have to think about it. It was a little stressful," said Skroch, who started talking to Minnesota in December and visited in February, when a scholarship offer was extended. "I'm very encouraged, feeling good, have some big goals this year. So far I'm on my way."
Skroch was far less than an ideal opponent for a Marmion lineup that's been scuffling of late.
The Cadets (2-4) dropped their fourth game in a row and have scored a total of eight runs over their last five games, after putting up 11 in their season opener. Marmion scored its lone run in the fifth, as Tyler Sowers doubled to lead off and scored on a passed ball with two outs.
"I give their pitcher a lot of credit, he pitched a very good game, but from an offensive standpoint we have not been very good the last four games," first-year Marmion coach Aaron Nieckula said. "I told them just now you struck out 10 times today, 3.1 innings you gave to them. We had some opportunities to put runs on the board. We just couldn't get over the hump."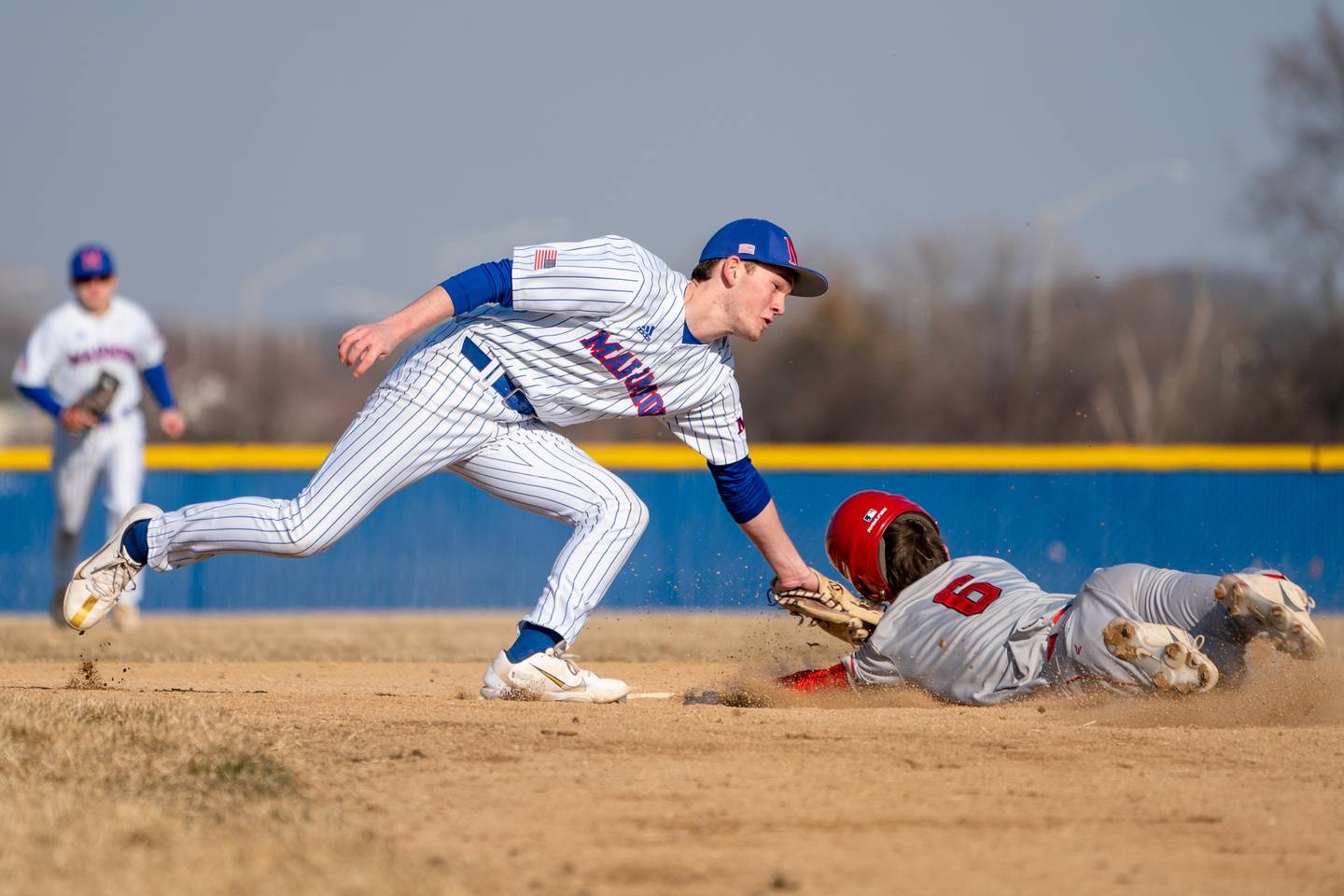 Yorkville (1-3) has had its own offensive issues in the season's early going, but managed to break through Tuesday.
Daniel Rodriguez walked to lead off the game, stole second and scored on Kam Yearsley's ground single, and Yearsley scored on an infield error for a 2-0 lead. Ryan Weis hit a booming double to lead off the fifth, and after a double steal the courtesy runner scored the Foxes' third run on a passed ball.
Yorkville tacked on a run in the sixth and three more in the seventh. It was a welcome sight for a Foxes' team that had scored just six runs over its first three games, and is an inexperienced lineup beyond Northwestern recruit Nate Harris and Yearsley.
"We knew coming in that we had talent, but we have a lot of inexperience on that side of the baseball," Cerven said. "We're going to have some growing pains, we knew that coming in, and it's come to fruition a little bit. We know we're young, we know we're going to take our lumps, but we are going to get better."
Marmion starting pitcher Connor Tulley, for his part, shook off a rough start to allow just three runs on three hits over five innings, striking out one.
"He settled in," Nieckula said. "He gave us a chance to stay in that ballgame."