Sports focus so much on winning the top prize that it can be easy to miss the personal triumphs of athletes such as Kaneland senior gymnast Olivia Kerrins.
After multiple concussions, a severe knee injury and the onset of postural orthostatic tachycardia syndrome, Kerrins has fought all the way back to lead the six-member Knights squad. She has overcome adversities that likely would have convinced many to step away from gymnastics.
"I was doing a double back off of bars and landed on my neck and got a concussion and sprained my neck," she said. "Then I was passing out every day and we weren't sure if it was from the concussions and I got diagnosed with POTS. I would just black out. At times I had to just stay in my room, so it was no screens and just Silly Putty or painting my nails."
Three-sport athletes such as Kerrins, who also competes on the track and field team and cheerleading squad, certainly are out of their element when confined to a room when their "no place like home" is the hardwood sideline, outdoors on the track and indoors on the beam. As Kerrins thought often about the long winding road to recovery, she was deeply motivated by the thought of returning to help her teammates and making school history.
"I was motivated to get back into gymnastics because I really want to be the first person from Kaneland to make it through all four years of the program," Kerrins said. "I also want to make sure the team keeps going and that everyone else on the team was just as excited to be there. I never thought about giving up. I knew it would be hard getting back into gymnastics but the support from my sister and other family members kept me going."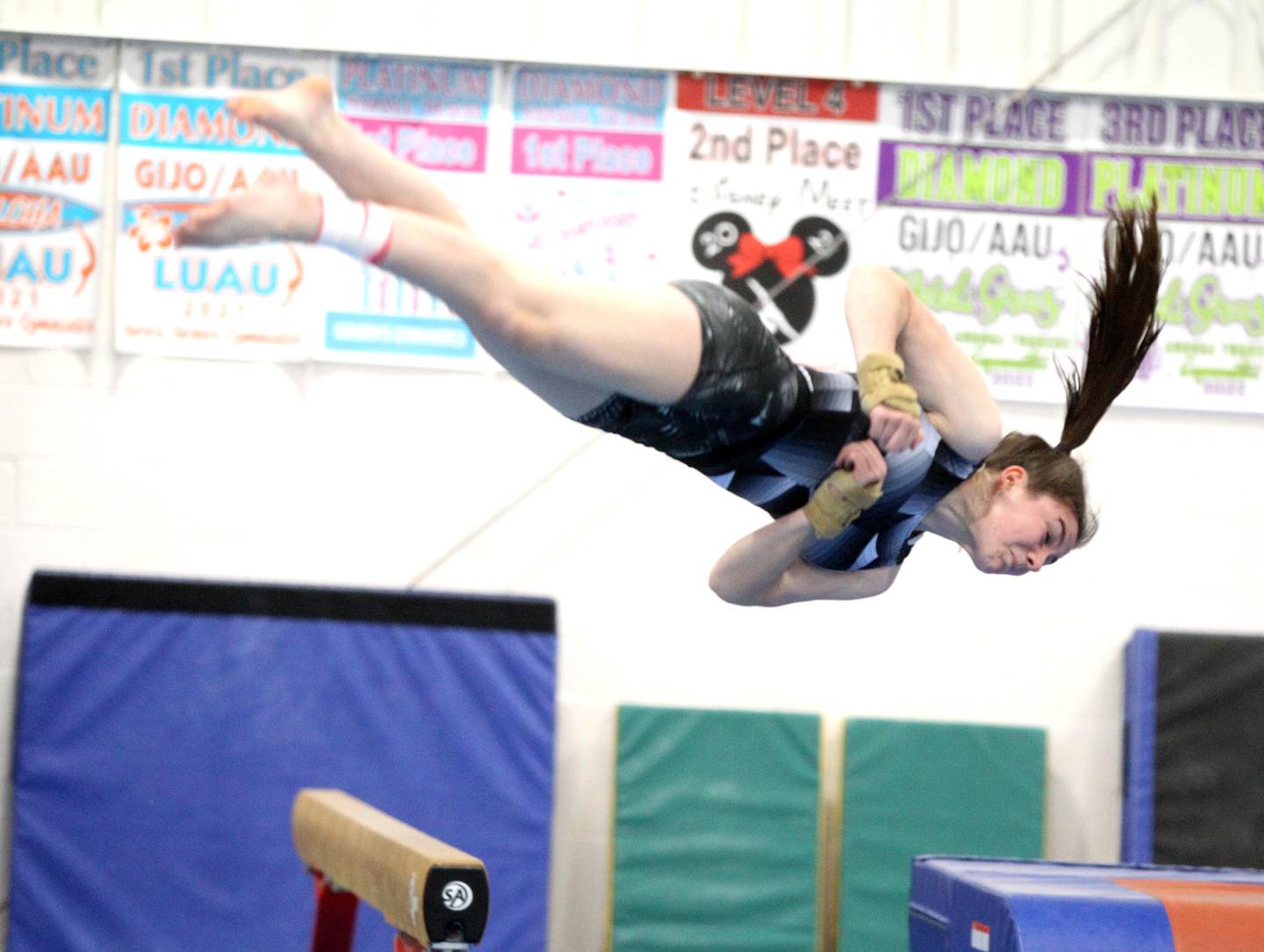 Those suffering from POTS will become dizzy or faint when they go from lying down to sitting up and standing. It's hard to fathom a teenager trying to live with such symptoms, let alone return to a sport where balance, agility and coordination are vital.
"She was doing a skill on bars and had another concussion, which was a mess, and my parents were really worried about her and she had to take it easy," said Kaneland coach Alexis Kerrins, who is Olivia's older sister. "Her heart would race when she'd go from sitting to standing, but she was able to get on some medication. It was a real shock to her to have to slow down, so she took a little bit of time off and listened to her body and then started to come back and was looking better for junior year and then she got a knee injury before this season."
Alexis Kerrins was a senior during Kaneland's first season with gymnasts in 2019-20. Olivia was a freshman. Next year, youngest sister Ella will be a freshman at Kaneland. Because the Knights aren't blessed with their own gymnastics facility, their small team, which also includes sophomore Kennedi Reed, juniors Alina Dabek, Kaci Randall and Caylee Rehkopf and senior Hailey Leonard, train at Aurora's Turner Gymnastics.
"My kneecap hit the side of my leg and I cracked two bones in the knee," Olivia Kerrins said. "There was a lot of ligament and tendon damage but it wasn't a torn ACL. I took some time off before the high school season and got back to it and I've been able to place in a couple meets, which I hadn't done since freshman year."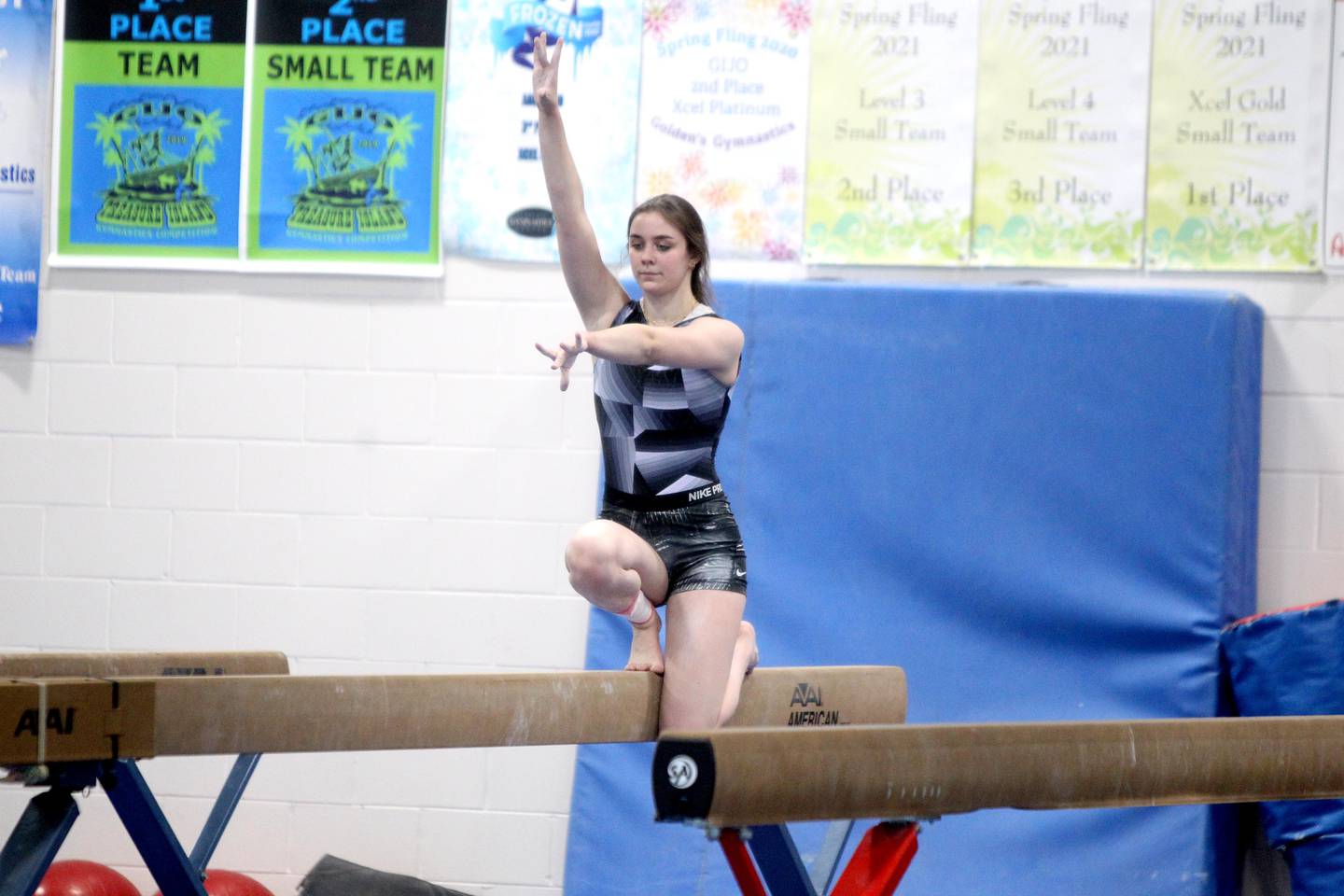 Kerrins took third on beam with an 8.8 and sixth on vault with an 8.5 during the Glenbrook North Spartan Classic on Dec. 9. Before that, she returned to action by competing as an all-arounder at the Hinsdale South Hornet Thanksgiving Invite.
"I knew I had to really put in the work, so it's really rewarding to see it come together," she said. "I'm finally starting to place on events and am meeting a lot of my new goals. I'm getting back to my motivation to make it to sectionals."
Regardless of how Kerrins ends her final season as a high school gymnast, she's already made it all the way back to competing which is a championship victory in itself.