GENEVA — Kane County's head of information technology spent nearly $60,000 in tuition payments to DeVry University over three years so an employee in his department could earn an undergraduate degree, according to county records.
The tuition payments totaling $58,211 to DeVry were made in 17 different payments from 2017 to 2020, according to records the Kane County Chronicle obtained in response to a Freedom of Information Act request.
Kane County Auditor Penny Wegman first revealed the payments to DeVry after an audit of procurement card spending — known as p-cards.
Fifteen of the DeVry payments, totaling $54,709, were made through p-card transactions while two payments totaling $3,502 were made by the county cutting checks directly to DeVry, according to the audit. Records show Kane County Information Technology Executive Director Roger Fahnestock submitted the invoices for the payments.
Employees who have county issued procurement cards must sign an agreement on the rules and limits, including that, "No other person is authorized to use the procurement card." Fahnestock signed p-card agreements on June 23, 2008, and May 21, 2012, records show.
Kane County Board Chair Corinne Pierog and State's Attorney Jamie Mosser issued a joint statement that, "we have determined there has been no violation of County policy or criminal law."
The county board's Finance and Budget Committee agenda for Wednesday includes a discussion of tightening up rules on p-card use and tuition reimbursement.
Fahnestock did not respond to a voicemail, email or text message seeking comment.
Attempts to reach the employee for comment were not successful.
Alisa Kaplan, executive director of Reform for Illinois — a nonpartisan research and advocacy organization — questioned how the tuition payments were being justified.
"This definitely seems like an unusual example of spending," Kaplan said.
"A lot of county taxpayers would be very surprised to hear that their money was being spent this way," Kaplan said. "Whether it was actually within county guidelines or not, it seems like the county should have a serious open discussion about whether expenditures like this should be made in the future."
Kenneth A. Kriz, a professor at the University of Illinois at Springfield, who has taught public and nonprofit financial management for 20 years, said it is rare for an employee to get fully paid tuition as a benefit.
"It's typically some percentage of the tuition — 50%, maybe as much as 75%. Rarely is it the case that employees receive full tuition," Kriz said.
"Organizations should abide by policies that are written guidelines. If they want to have a very large training budget and everyone is afforded an opportunity to complete their four-year degree while employed there, then it would be a very attractive place to work," Kriz said.
Board member Thomas Koppie, R-Huntley, said he disagrees with how the money was spent.
"My hang up is the $58,000. 'We will justify it for this special employee.' … It's legal, but is it kosher?" Koppie said. "You don't just randomly start educating people at $58,000 with no guarantee they're not going to go somewhere better tomorrow."
Koppie said he was not aware that there were county limitations on tuition reimbursements.
"It's an abuse of policy," Koppie said. "If (Fahnestock's) interpretation and the state's attorney's interpretation are correct, that makes it kosher. But it doesn't mean it's a good thing."
Mosser responded to a request for a copy of a report she gave to the Executive Committee, in a text message, stating, "Legal advice that I present to the board would be considered attorney client privilege."
"I do not have the authority to release such information, as I am ethically bound to preserve privileged communication," Mosser's text stated.
Tuition reimbursement policy
The county's tuition reimbursement policy has several requirements, none of which was followed for DeVry tuition payments.
The county's policy sets a maximum of 50% tuition reimbursement, limits the amount to $2,400 in any fiscal year and sets the lifetime maximum reimbursement for an employee at $9,600.
The policy's requirements include:
• The employee has to make the request for reimbursement before starting the course.
• The employee has to pay for the course before seeking reimbursement.
• The request must be filed to the department head, or the appointed or elected official for approval.
• If approved, it goes to the the Human Resources Department for review.
• If approved by Human Resources, then it is submitted to the County Board Chairman for review and final approval.
The county had three unrelated applications for tuition reimbursement from 2016 to 2020 in different departments and all three were approved.
One was $652 in 2017 for a business math course, another was for $379 in 2016 for a class in fundamentals of speech communication both at Waubonsee Community College. A third was for $436 in 2017 for a class in basic web design at Elgin Community College, according to the records released.
None of the records released in connection with the DeVry tuition payments shows official approval for the county to pay for an employee's four-year degree — except on the Nov. 1, 2017, invoice for $1,449 where a handwritten note states: "Approved by RF training."
The county will have to correct the W-2 forms for the employee, who will now have to pay income tax on nearly $41,000 for the tuition benefit the county paid for her, records show.
Response to Auditor's report
In a 63-page written response to the auditor's report, also released in response to a Freedom of Information Act request, Fahnestock defended the DeVry tuition payments as "training is an approved and budgeted expense" and that the "employee was encouraged to take courses towards a degree."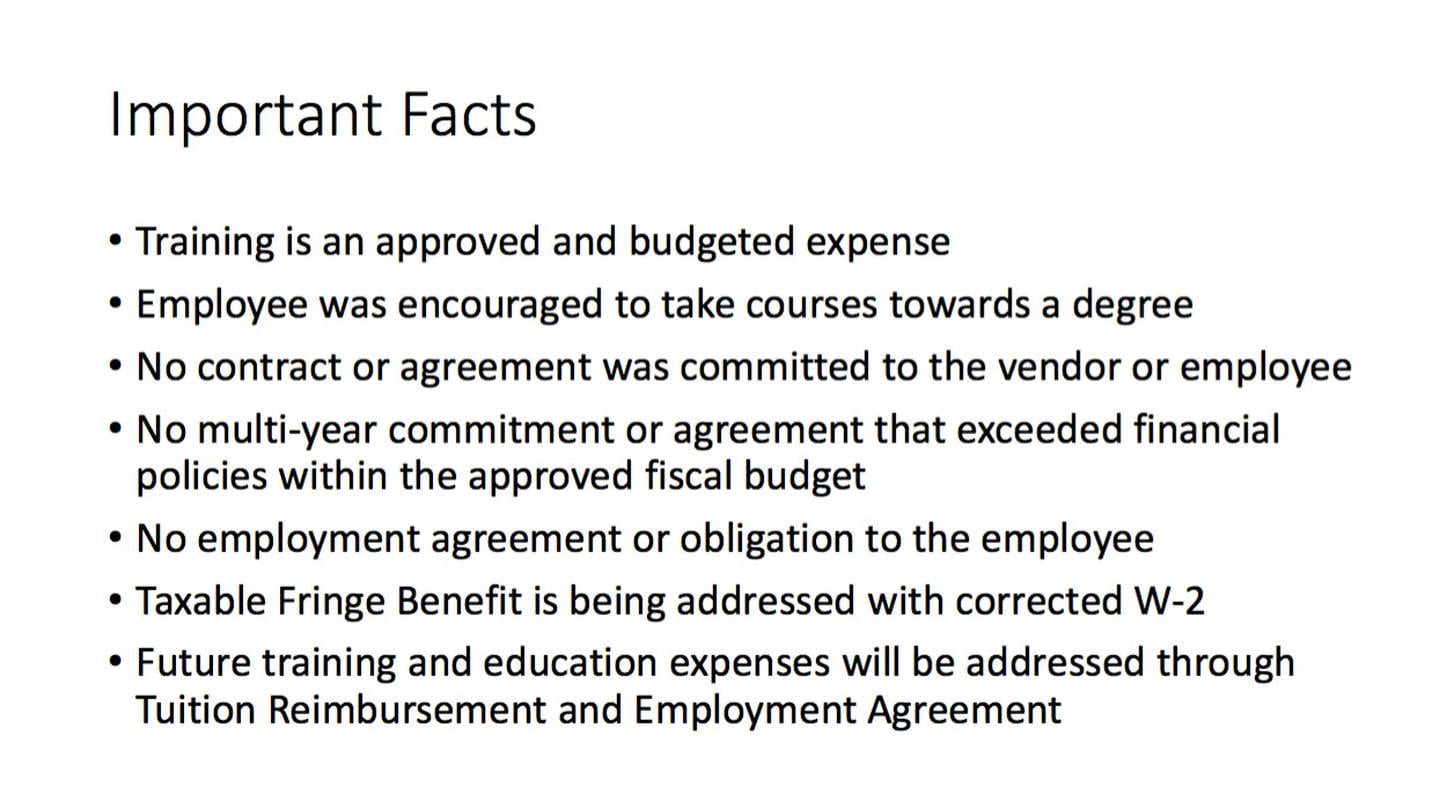 As to the cost, Fahnestock's response stated there was "no multi-year commitment or agreement that exceeded financial policies within the approved fiscal budget."
However, Fahnestock's response also stated, "Future training and education expenses will be addressed through tuition reimbursement and employment agreement."
Kane County Board Vice Chairman, Kenneth Shepro, R-Wayne, said the Human Services Committee began reviewing the tuition reimbursement program earlier this month.
"I think it is highly unlikely that any revisions are going to allow for somebody to get a whole education at the expense of the county," Shepro said.
Board member Clifford Surges, R-Gilberts, chairman of the Human Services Committee, stated in a text message that the county supports an educated workforce — which is why it has a tuition reimbursement program.
"The employee gets education assistance, and the County benefits from the added skills and experience in their workforce," Surges' text stated.
Surges said there is a difference between getting a degree and taking classes for professional development.
"'I need to go take that class to keep my certification up to do my job.' It's quite another, 'Hey, I'm going to pay for an entire education,'" Surges said.
Board member Monica Silva, D-Aurora, said her main concern regarding the tuition payments to DeVry for one employee was fairness.
"It is important that we take a look at the policy and make sure all are treated equally," Silva said. "It has to be fair across the board — not for one person, or two or three or five — but to make sure everybody is treated fairly … and has access to the same programs."
Promotions, pay increases
The employee was hired April 14, 2015, as a receptionist/administrative assistant in the Information Technology Department at $12 an hour for a 35-hour week, records show.
During the time the employee was seeking a degree at DeVry, she received promotions and regular pay increases, records show:
• On April 8, 2018, her pay, which was listed as $14 an hour — for an annual salary of $29,120 — was raised to $37,500, an increase of $8,380 or nearly 29% — and her title was listed as office assistant II.
• On Jan. 10, 2021, she received a pay increase to $62,000 from $49,300 — an increase of $12,700 or 25% — and was promoted from accounts payable analyst I to administrative services manager.
• On April 4, 2021, she received a second pay increase from $62,000 to $64,000.
P-card rules
Purchasing cards — also known as procurement or p-cards — are credit cards the county issues to elected offices and departments to use without having to go through a purchase order procedure.
The county has 79 purchasing cards issued to 26 departments, six of them to Information Technology, according to Wegman's audit.
Fahnestock's response to Wegman's p-card audit report states that the payments to DeVry were identified as "employee training" to the Finance Committee, the Administration Committee and the Executive Committee before the County Board voted its final approval.
But information contained in the meeting packets for the Administration Committee on Dec. 13, 2017, and March 14, 2018, for two DeVry invoices, for $1,449 on Nov. 11, 2017 and $2,053 on Feb. 20, 2018, both state they are for DeVry University tuition and course service fees, submitted by Fahnestock.
The supporting documents also state the payments are for DeVry undergraduate tuition and employee training.
Fahnestock's response details the Auditor's Office's own employees' approval of the p-card statements, and County Board members' votes to pay the bills, as evidence that the payments to DeVry were approved.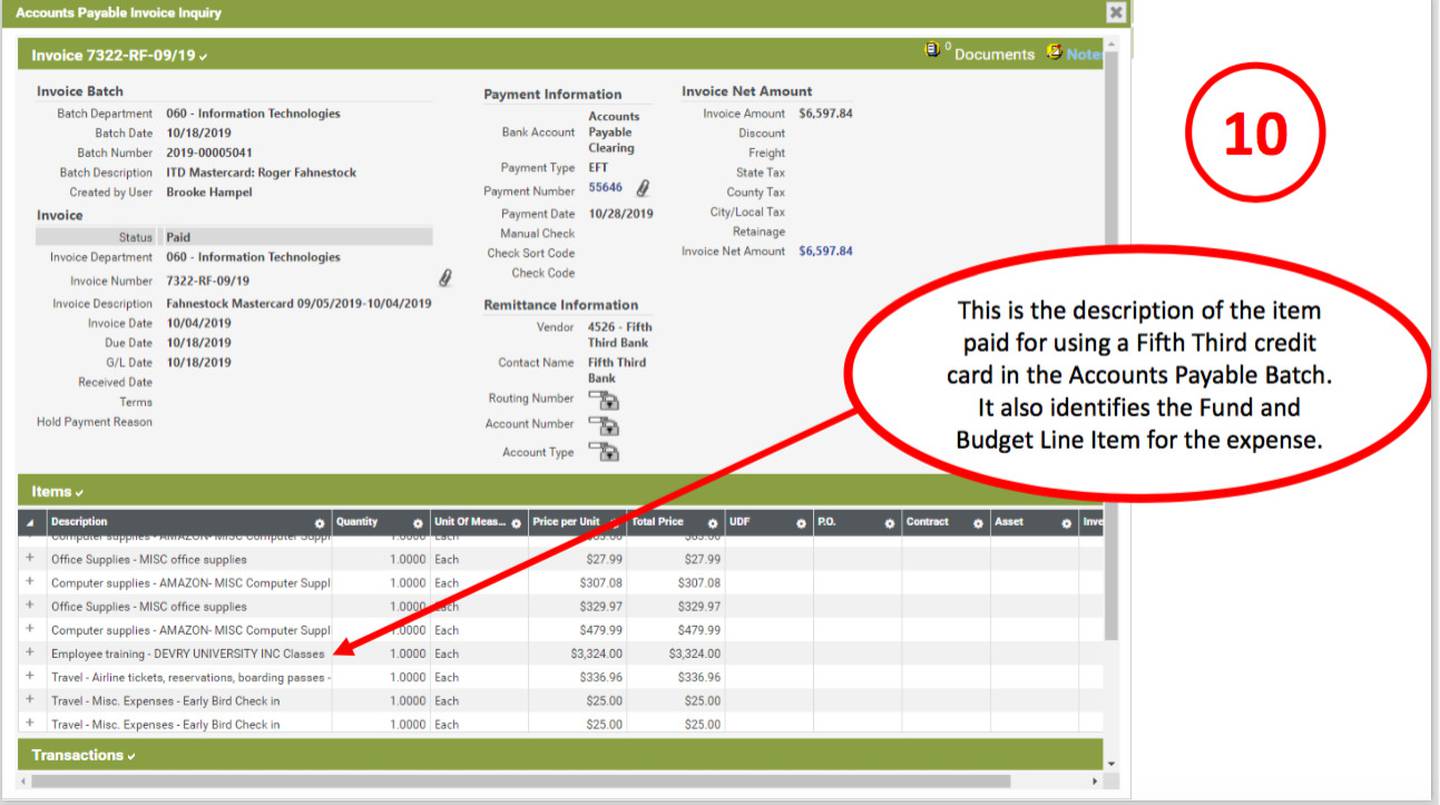 When all the bills go to the County Board for approval to be paid, they are in a list approximately 60 pages long.
Wegman said the county is legally required to pay all the bills as presented.
All the bills submitted to the auditor just need receipts, she said.
"We are required to pay all Fifth/Third invoices," Wegman said. "They (board members) are approving paying Fifth/Third, not the specific charges. It's not the same as approving tuition to DeVry. … When the p-cards are presented for accounts payable, the p-cards are required to be paid due to the contract with Fifth/Third. The county's recourse for inappropriate use is that the p-card holder must repay the county."