BATAVIA TOWNSHIP – Hundreds of parishioners held another vigil Thursday at Holy Cross Catholic Church in Batavia Township in support of their priest, Rev. James Parker.
The Rockford Diocese notified Parker that his last day is June 15, but has not assigned him a new parish – and parishioners objected – both to him being removed and not being assigned a new parish.
People filled the back yard of the church for the hour-long vigil. The edge of the property was lined with tall banners of saints and martyrs. Many held signs with Parker's photo on it. Children passed out wands with blue strands of ribbon – Mary's color – and trees were festooned with blue ribbons, all for Parker.
Supporters are also donating to a GiveSendGo.com campaign for Parker, which raised $52,000 towards its goal of $100,000.
"I am here because they are canceling Fr. Parker without any reason and they're not assigning him to another church," said parishioner Roxanne Malley. "So we want to know why and so we are here in prayer to support him and stop this persecution of him."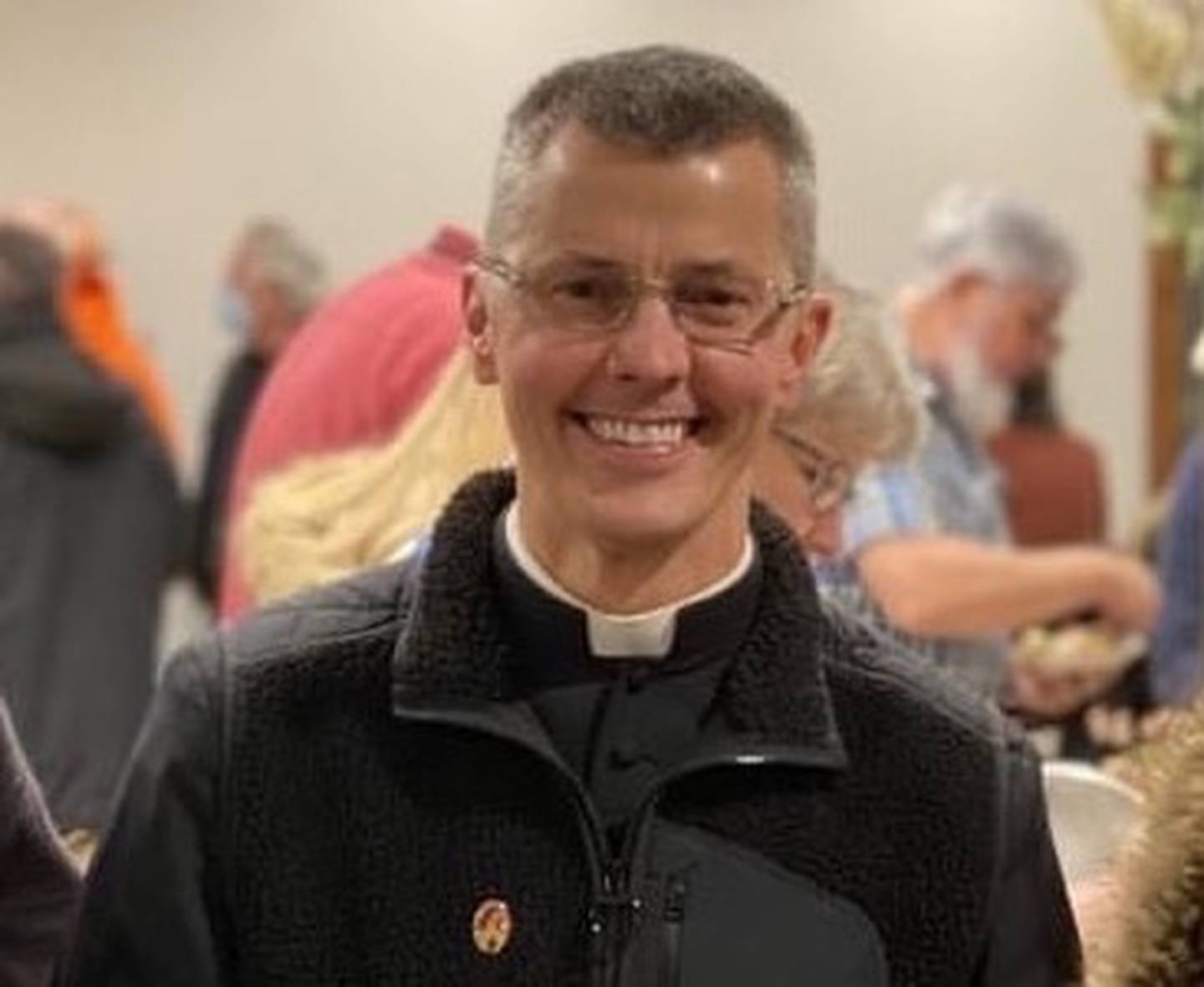 Malley said in the process of supporting Parker, she learned that other priests have been sidelined from various parishes and left in a form of limbo – still being paid, but without a church.
"We found out there have been many good and holy priests that this has happened to in our diocese over the years," Malley said.
She referred to a sign bearing a Christmas Card of these priests, which included Rev. John Lovell, "who has been out nine ... years, living with his father on the South Side of Chicago because he does not have a parish anymore."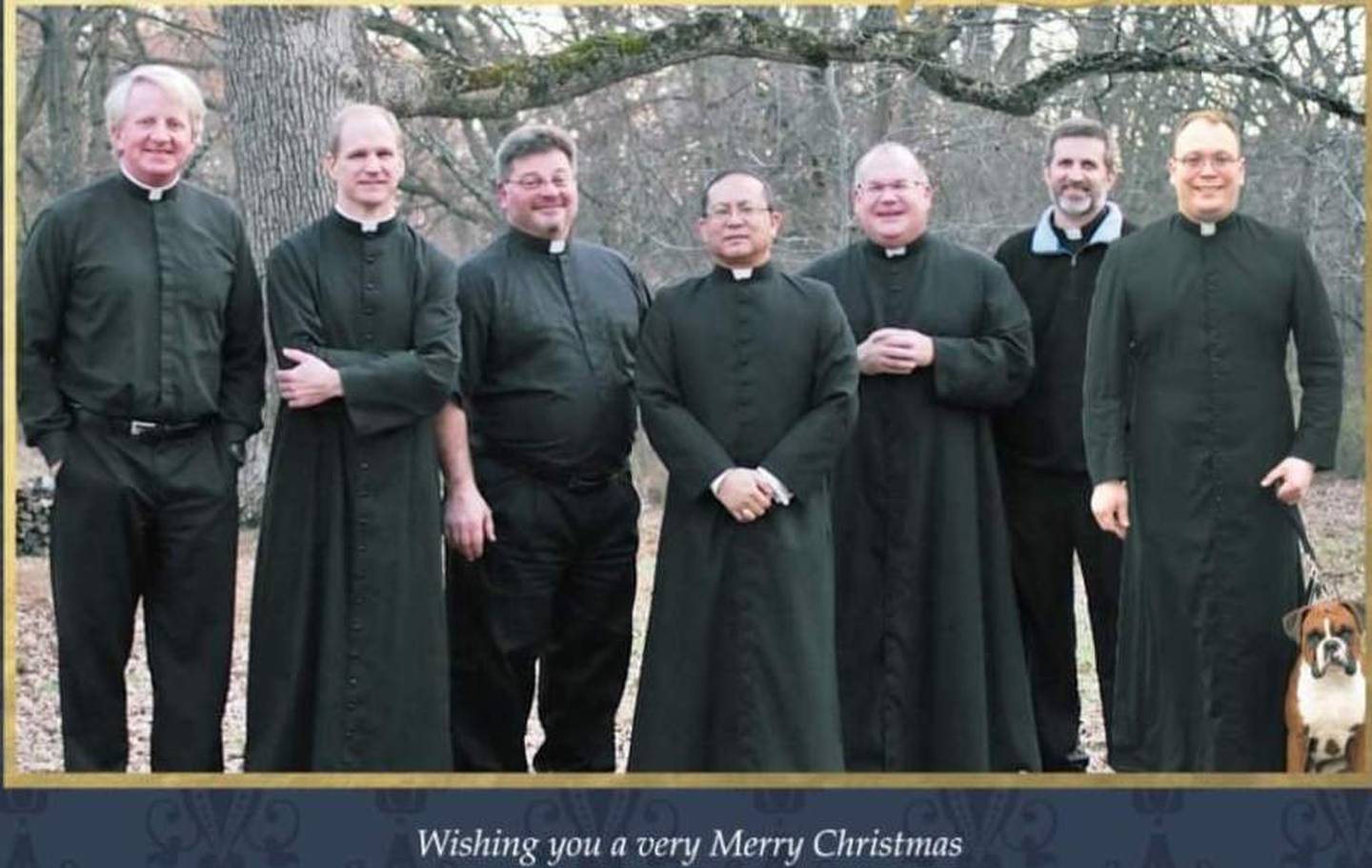 A spokeswoman for the Rockford Diocese Bishop David Malloy was unavailable for comment Friday. A voicemail request for comment at Cardinal Blase Cupich at the Archdiocese of Chicago, was not returned.
Parishioners also plan a procession and rosary rally at 7 a.m. Sunday in front of the Cathedral of St. Peter in Rockford in support of Parker and other "canceled" priests, according to a flier being passed out at the vigil.
'We are witnesses to the faith'
Lovell attended the vigil and spoke to the crowd, saying, "We are sending a message today that we want a strong faith, we want a religion that challenges us."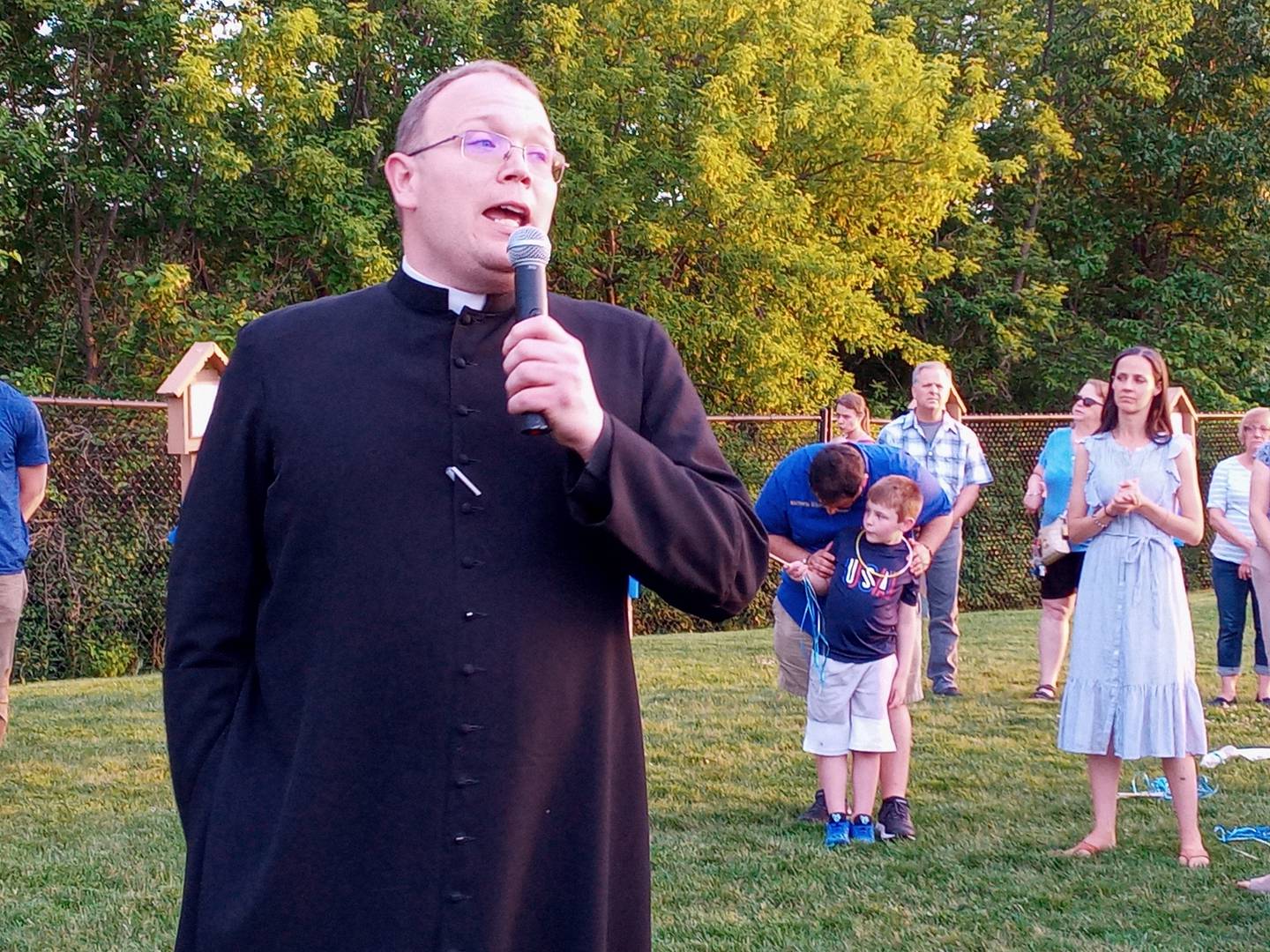 "And we want the priests of Jesus Christ to serve us, not to be sidelined, not to be silenced in the face of the cancel culture both in society and in the church," Lovell said. "This is about the priesthood. This is about truth. This is about standing up for justice."
Parishioner James Rife, who helped organize the vigil, said, "We must always remember that we are witnesses to the faith, to the love that we share for Jesus Christ."
"We are here to support Fr. Parker because he faithfully ministers to the pastoral needs of his flock," Rife said. "We will not stand idly by as our spiritual father is unjustly taken from us without explanation, though he has no place to live and no flock to lead."
In looking over the crowd, parishioner Katherine Woltring said, "I have never seen anything like this. … God has got this."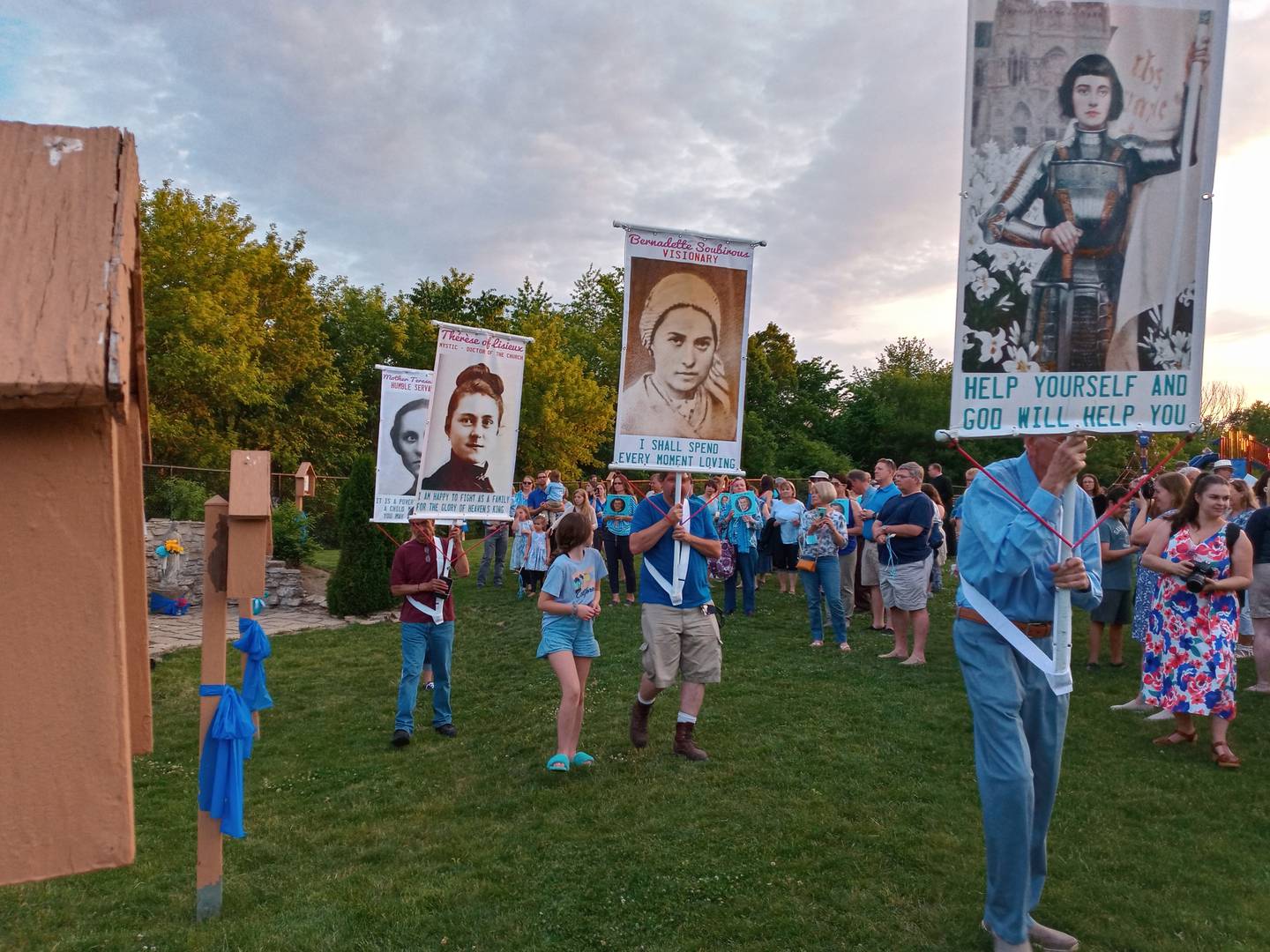 Parishioners in defense of Parker
A parishioner from Elburn, Edward Simmonds, said he hoped Bishop Malloy would relent and allow Parker to stay at Holy Cross.
"We think Fr. Parker is the best priest we can remember in our lifetimes," Simmonds said.
"I hope that the bishop will understand that we love and appreciate and want this priest at this church for as long as we can have him. And whatever is going on behind the scenes, we don't understand it, but we think something is not right," Simmonds said. "We are hoping that the spiritual solution overcomes the political realities."
Anthony and Rose Sommese of Wheaton also came, though they don't attend Holy Cross.
"Fr. Parker was there for me and helped me through a very dark time in my life," Rose Sommese said. "It was during that time that I understood the depth of faith and devotion to Christ that makes him an extraordinary priest. He exemplifies holiness and humility in all he does and his life is about service to others."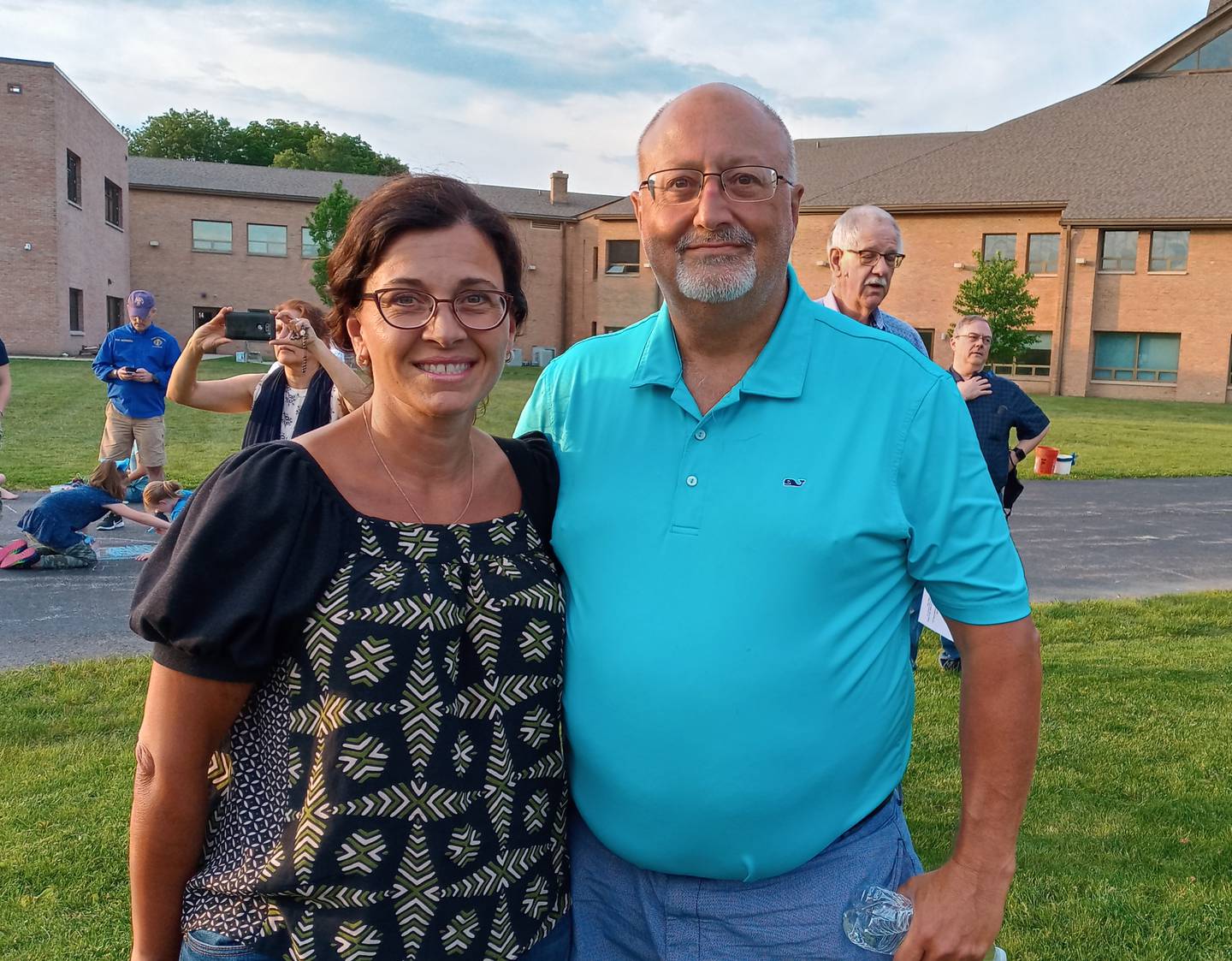 Anthony Sommese added, "Fr. Parker is an incredibly holy man."
"Although we know diocesan priests do get changed after their period of time, we believe that this change is not totally right in what has gone on," Anthony Sommese said. "This man has done nothing but raise money and tended his flock."
Parishioner Hildegard Jochum said Parker was "like a little saint."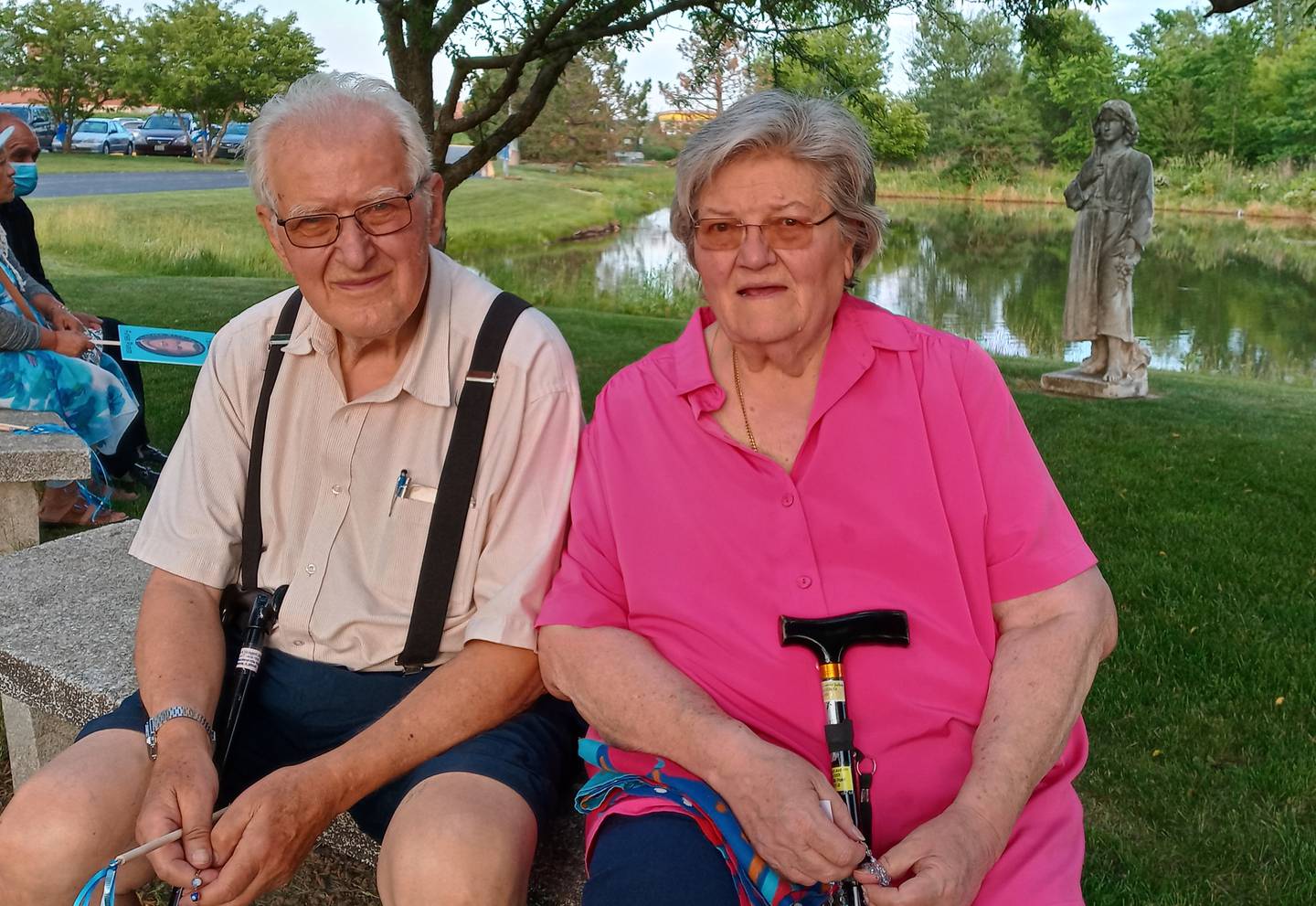 Her husband Fred Jochum added, "I think he's a little holy one."
"I hope God will listen to us," Hildegard Jochum said.