BATAVIA – At first, Cillian Mullen, 17, was nervous about coming out as a transgender male to his teammates on a female team with the Chicago Rowing Foundation last summer.
As it turns out, Mullen, a Batavia resident who was assigned as a female at birth, had nothing to worry about. The team fully accepted him, which helped give him the confidence to flourish on the elite varsity team.
And now, Mullen, a rising senior at Batavia High School, could become the first openly transgender person to compete on the United States team in the Junior World's Rowing Championship in Bulgaria this August, which features competitors under age 19 from across the globe.
"It would be such a huge honor to represent your country on a world stage in front of thousands of spectators," Mullen said. "I would be the first openly transgender person to compete in that race for the U.S. I've already had people come up to me and tell me that I'm a role model to them, and some people have come out to me. To have that image projected onto a screen that will be broadcast all over the rowing world, I can't even imagine the impact that could have. It's something I'd never though I'd be capable of, and it makes me want to push to be the best person I can be for the transgender community and be the be best athlete I can be to represent on that level."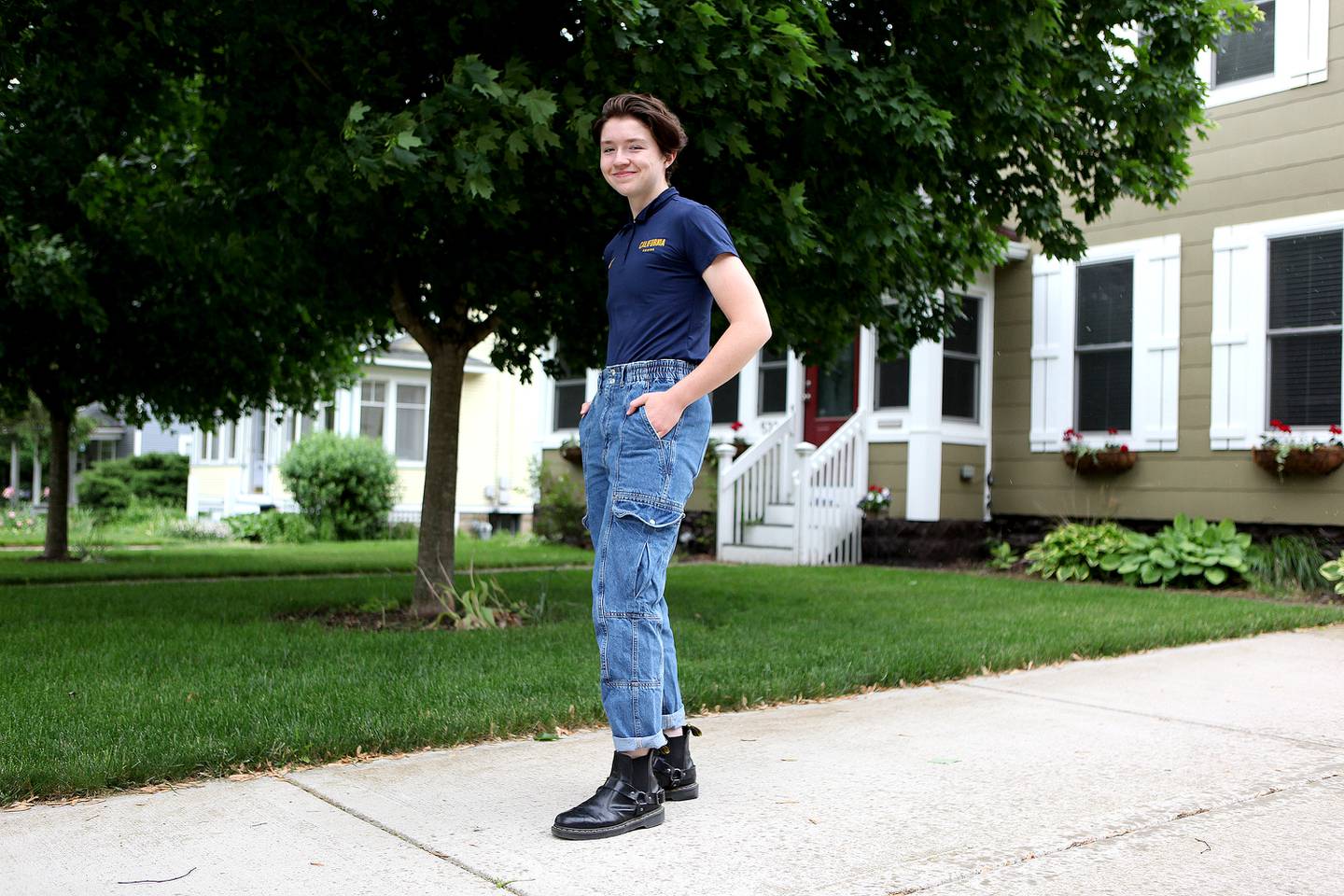 But before heading to Europe, Mullen has to earn a spot on that team. He'll be one of about 60 athletes from all over the country to attend a camp next month in Chula Vista, Calif. While there, he'll compete for a spot on the world championship team for the U.S.
Mullen was among about 1,000 rowers to apply to attend the camp, where his days will be spent competing against the other hopefuls – including some girls from his Chicago team – on rowing machines and on the water.
"You do everything you can to push as hard as you can and work as hard as you can, and the work shows for itself," he said. "It's good to think highly of yourself and think you're a strong athlete, and while I admire people who have that confidence, but you always have to be a little humble. There's always going to be someone better than you, no matter how strong you are."
An athletic child who played several sports prior to high school, Mullen has been competing with the Chicago Rowing Foundation team for about two years.
He said that his mother was a rower in college, and when he saw an advertisement from the club looking for new rowers, he decided to try it. That decision turned out to be a pivotal one in Mullen's life, and while it's not an easy sport, he thrives on the hard work that's required to be a successful team member in the 8-person boat.
"It's very intense and completely draining," he explained. "It's way more difficult than playing other sports. You have to have strength, the technique and the ability to adapt to change, while always be pushing as hard as you possibly can. This is what I want to pursue – you put in the hard work, and you get out of it what you put in."
After coming out as transgender to family and friends, Mullen wasn't so sure he'd be accepted by his teammates, putting his future in the sport in question. But his coach, Mike Wallin, encouraged him to stick with the team, and was fully accepting of Mullen's decision.
"Believe it or not, the first conversation we ever had was when he told me that he would be transitioning," Wallin explained in an email. "It was clear Cillian was one of the most promising athletes on the novice roster [at the time], so when he asked to speak with me over Zoom, I was afraid he was leaving the team. I can imagine that being our first conversation was pretty intense for him, but I was very happy to hear that he would be continuing to row with us. I just wanted him to know he would be fully supported here."
While Mullen said he had a few "rough encounters" with peers after beginning his transition last spring, he said that he's now more fully able to embrace who he is. However, he said that it took him a while to figure things out, as he had a lot of "internalized transphobia and homophobia."
"I [initially] identified as a lesbian, but quickly understood that wasn't the case for me," he said. "Growing up, I didn't see a lot of examples of people who are similar to me. It took me a while to learn to accept myself. Eventually you're going to live life and be you, or dwell on the fact that something is off. I identify much more with the male gender than anything else. I keep a tight-knit group of friends who have been very accepting of me."
While he said he still has unpleasant encounters with people who aren't as accepting of his identity, he takes it in stride, describing it as "inevitable."
"For me, when I first started to change, it was really difficult. At first, I felt isolated and didn't feel like I belonged, or I was deserving of the things that I had," he said. "It's unfortunate, but I'll be questioned wherever I go because of how ingrained the gender binary is. Some people don't value that others have to go through a lot of hardships about gender identity. I feel that we've made incredible progress accepting people outside that gender binary but it's not enough."
These days, Mullen has one focus: to compete as hard as he can to earn a spot on the U.S. rowing team. After that, he's looking forward to heading to California after graduating from Batavia High School next May to compete on the University of California Berkeley's women's rowing team.
"[Competing on the women's team] feels strange to some degree," he said. "It's a challenge at times, and it's a mental buffer I have to push myself through. But to see the results my team and I are able to accomplish, seeing the grit and effort my team puts in... it's something I don't want to lose, and if I went to a men's team, I may not have that."
But even if he doesn't travel to Bulgaria this summer, Mullen is proud to be an openly transgender man, and hopes other athletes can view him as a mentor.
"It makes me want to push to be the best person I can be for the transgender community and be the be best athlete I can be to represent on that level," he said. "I've had people confide that they identify with me, but are scared. I give them the best advice I can and the unconditional support they might not have from peers or family. It's very meaningful to me – it's the most rewarding thing, just to know there are people out there who can resonate with me, and feel more like themselves, even I'm not a part of the U.S. team."