GENEVA – Geneva police used surveillance cameras to track suspected car burglars, resulting in the arrest on June 5 of two men, according to police reports and court records.
David M. Santo, 37, of the 300 block of Ridge Road, North Aurora, and Mark D. Beltran, 48, of the 600 block of Cleveland Street, Aurora, were both charged with three counts of felony burglary without causing damage, three counts of theft of property valued at less than $500, but with prior convictions and two counts of unlawful possession of a credit or debit card, records show.
Both Santo and Beltran have previous burglary convictions in Kane County, Santo in 2013 and Beltran in 2003, according to the police report.
Both men are being held in the Kane County jail, Santo on $69,400 bond and Beltran on $72,900 bond.
Their charges stem from a May 12 incident where Geneva officers responded to reports of three unlocked vehicles burglarized between 1:48 and 2:05 a.m. within a small area of the city: the 100 block of South Cambridge Drive, the 2200 block of Wildflower Court and the 220 block of Wild Dunes Court, according to the report.
Officers tracked surveillance camera footage showing a vehicle with headlights off stopping at the South Cambridge Driveway at 1:49 a.m., depicting someone with a flashlight looking into vehicles in the driveway.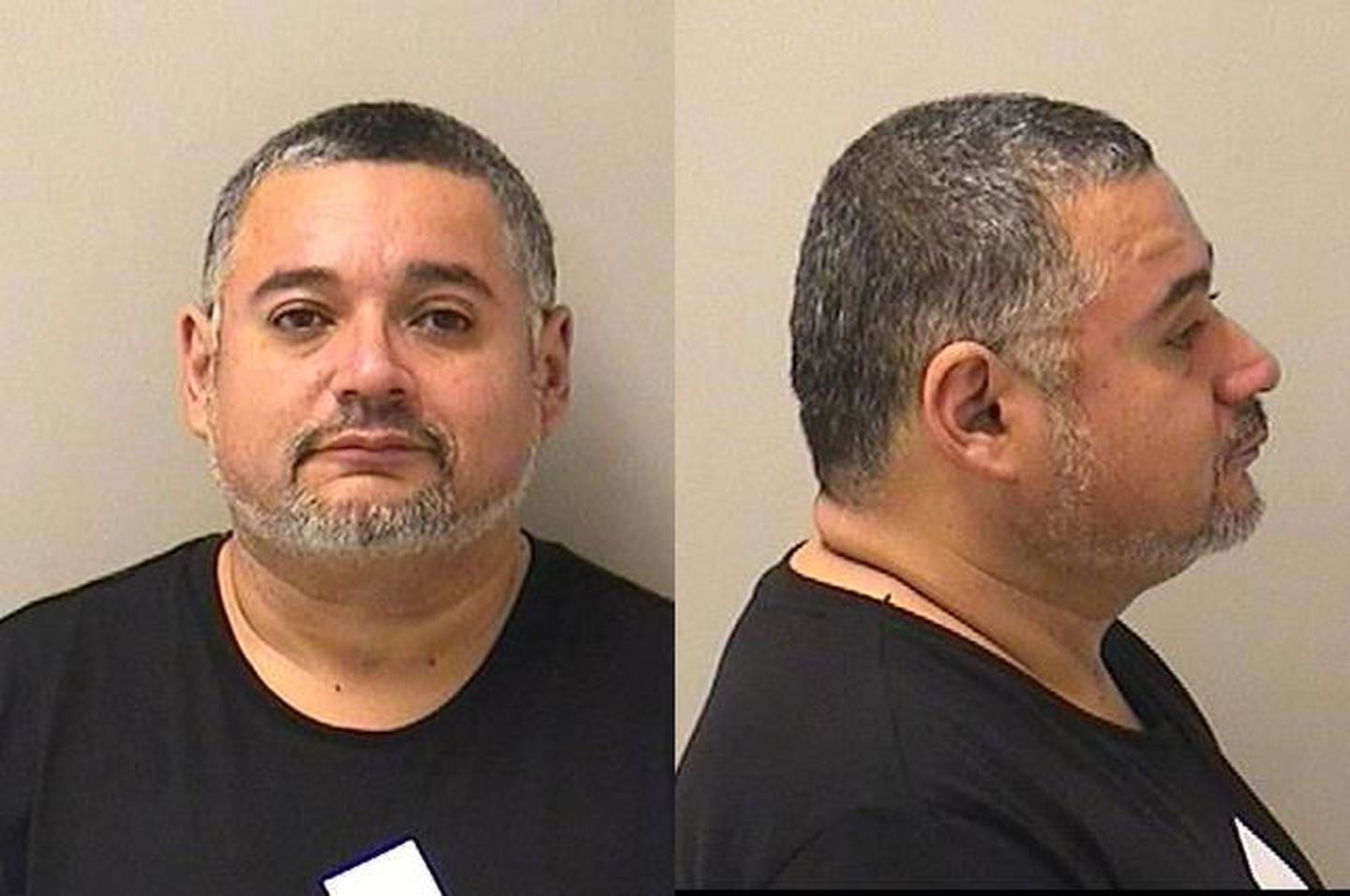 Home surveillance video then shows a small, dark-colored SUV traveling east toward Wildflower Court, according to the report.
Following up on a car burglary from April that identified Santo as a suspect who drives a 2018 Ford Edge, and it appeared to match the vehicle in the May surveillance footage, according to the report.
The next day, May 13, Santo allegedly pawned a gray Dell laptop at EZ Pawn, 300 W. Indian Trail, Aurora – matching a laptop reported stolen from the vehicle in South Cambridge Drive, according to the report.
After the owner identified the laptop as his, surveillance footage at the pawn shop showed Santo selling the laptop, according to the report. EZ Pawn paid Santo $60 for the laptop.
A purse containing Chase credit and debit cards was taken from the car on Wild Dunes Court. Minutes before 5 a.m., the victim received a text message that her cards had been used to try to buy $517.29 in merchandise at Walgreens, but the transactions were denied, according to the report.
Chase documentation showed the transactions were tried at Walgreens, 1799 Douglas Road, Montgomery, so police checked that store's surveillance, according to the report.
The surveillance footage showed the same man using the Chase cards from Dunes Court burglary as had used credit cards taken in a car burglary in April – a heavy-set Hispanic man – not Santo, according to the report.
Police noted that Santo has an associate who fits that description – Beltran – according to the report.
Santo is six-foot-seven and 180 pounds, and Beltran is five-foot-nine and 250 pounds, according to court records.
EZ Pawn reviewed surveillance footage from April and for five pawn transactions, Santo was always with Beltran when he sold items, and Beltran was often with Santo, according to the report.
Police sought search warrants for phone numbers associated with both men and used location-based information to show they were located in the area of South Cambridge Drive, Wildflower Court and Wild Dunes Court when the SUV was observed via surveillance footage, according to the report.
The phones were also in the area of Walgreens when the stolen credit cards were used, and Santo's phone was in the area of EZ Pawn when the laptop was sold, according to the report.
Court records show that Santo pleaded guilty in 2020 to felony possession of a controlled substance and was sentenced to eight days in jail and 24 months of supervision with drug and alcohol testing. He also paid a $2,745 fine.
Records also show that Santo pleaded guilty to theft in 2008 in a plea agreement and was not prosecuted on a burglary charge in Elburn, records show. But Santo was sentenced to three years in prison, court records show.
Beltran pleaded guilty to burglary in 2003, resulting in a sentence of restitution, 180 days in jail – he served 101 days – $400 in fines and fees and required follow-up drug testing.
Santo's public defender Seth McClure said he had no comment.
Beltran's public defender has not yet been assigned.
In an email, Geneva Deputy Police Chief Brian Maduzia praised officers for their police work and s that the investigation is ongoing.
"I know our detectives are working more than five cases that may [or may not] be linked to Mr. Santo and Mr. Beltran," according to Maduzia's email. " I'm sure other law enforcement agencies in the area are doing some additional investigations in their towns. I will decline to comment on the extent of the investigative work at this time, as all those cases are still under active investigation."
Geneva officers who handled the Santo and Beltran arrests on June 5 were Sgt. Gilberto Alba, officers Ryan Lane, Jim Ward and Kurtis Chione and St. Charles officers Eric Bauwens and Joshua Rowoldt, according to Maduzia's email.
Maduzia also credited St. Charles officer Justin Bennett with locating a U-Haul Santo and Beltran were using in the parking lot of Jewel-Osco.
"All of their efforts helped prevent additional car burglaries," according to Maduzia's email. "These arrests may also help solve additional car burglaries throughout the area."
Maduzia also urged residents to lock their cars and remove their valuables, as the majority of car burglaries are crimes of opportunity and are preventable.