Whiskey Bend gastropub is out to make its mark in downtown St. Charles.
Whiskey Bend, which is in the space that formerly housed Pub 222 at 222 W. Main St., opened its doors at 11 a.m. Jan. 20. The name Whiskey Bend has a historical reference as the intersection of Main and Third streets in downtown St. Charles had been known as Whiskey Bend.
In June 1896, the trolley system that linked St. Charles, Geneva, Batavia, Aurora and Elgin began to offer service to local citizens. Trollies turned south on Third Street to go to Geneva and conductors let passengers hop off for a quick drink to warm up during winter months.
Colm Headley, who has more than 40 years of experience in the restaurant business and who previously was involved in running McNally's Pub and The Beehive Tavern and Grille in downtown St. Charles, is part of the group that operates Whiskey Bend. The same group took over ownership of The Office at 201 E. Main St. in downtown St. Charles.
"I worked for Colm back in Ireland and then he opened up McNally's and they brought me here to work with him," said Simon Kearney, manager of Whiskey Bend and The Office.
Living up to its name, Whiskey Bend has a wide variety of whiskey products.
"We're going to do like 120 different bourbons and ryes, mostly American bourbons and ryes, but we have some from the rest of the world as well, including some Irish whiskies and Scotch whiskies," Kearney said. "I don't think anybody else in town has that selection. That's what is going to make us stand out from other places."
Whiskey Bend also will sell draft and bottled beer, including beers from Two Brothers, Obscurity Brewing in Elburn and Crystal Lake Brewing.
Another thing that sets Whiskey Bend apart is its menu.
"It's not your typical wings and burgers kind of place," Kearney said.
The menu includes appetizers such as fried risotto cakes and Southern poutine and house specialties such as New England steamed mussels and ricotta ravioli.
"It's stuff you don't find anywhere else, really," Kearney said.
While Whiskey Bend also sells tacos, it's with a twist. The tacos are Korean pork belly tacos.
Everything is made from scratch.
"Everything is made fresh and in-house," Kearney said.
Head chef Scott Nickell previously worked at Preservation restaurant in Geneva.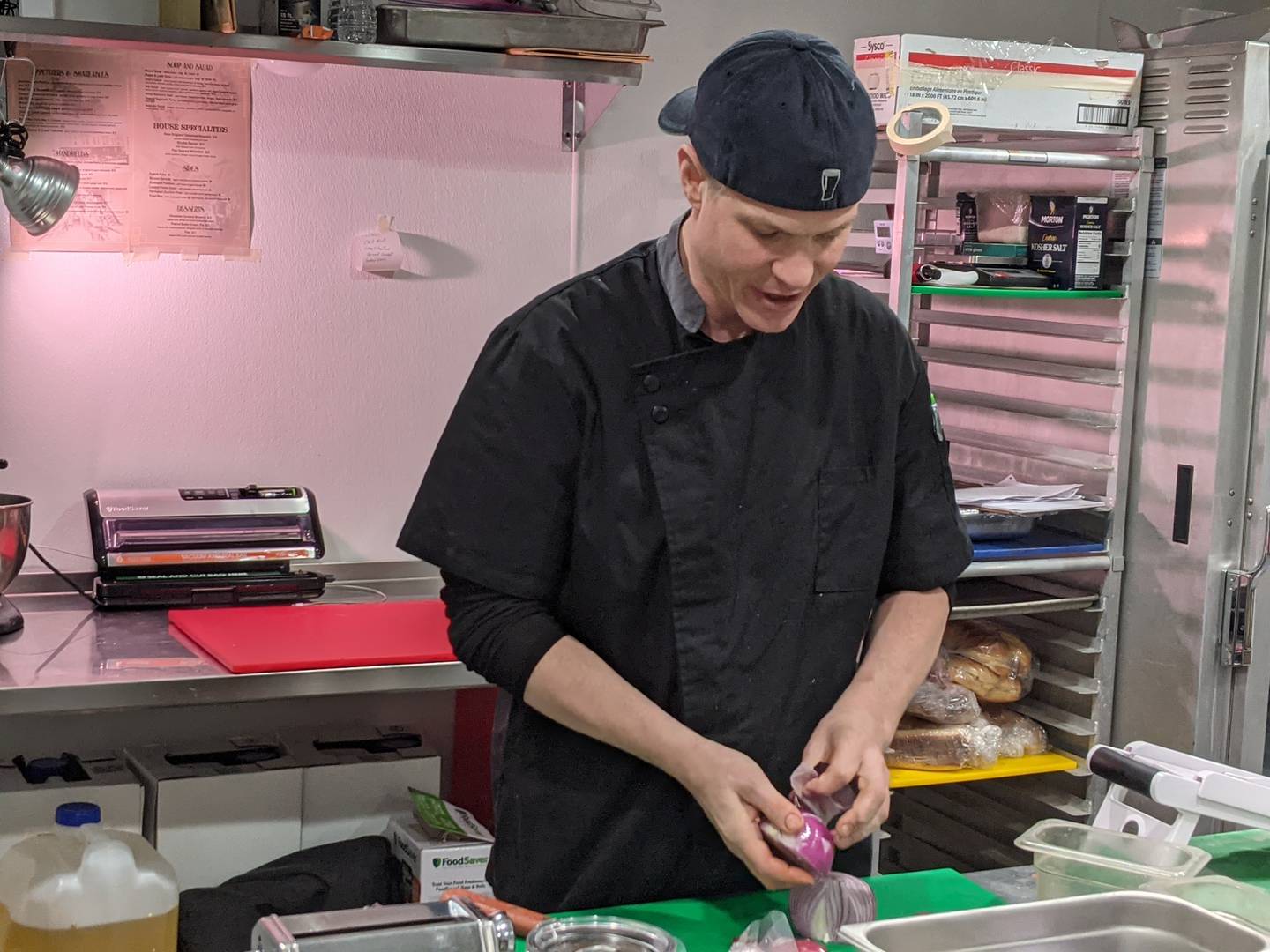 "I'm looking forward to getting the name of this place out to the local people," he said.
The restaurant's menu will evolve and change over time, Nickell said.
"We're definitely going to do different things, different soups, different salads and different entree items," he said. "It might be seasonal and it might be a monthly thing. We'll just see how everything goes. I'm excited. I'm going to be really learning for the first few months about what St. Charles wants."
Later this month, Whiskey Bend plans to be open for brunch from 10 a.m. to 2 p.m. Saturdays and Sundays. The restaurant seats about 120 people.
Whiskey Bend also features an outdoor patio with a full bar and a stage for live music.
"We'll have heaters out there as well for when it gets too cool," he said.
For those looking for a job opportunity, both Whiskey Bend and The Office are hiring.
"We're hiring for all positions, including in the kitchen and servers and bartenders," Kearney said. "We have to hire more for the summer. Because if this weather keeps up like this, the patio is going to be open in February or March. We're really looking ahead to staffing it as soon as we can."
He imagines that Pub 222 customers won't recognize the space once they walk in.
"It's totally different," Kearney said. "If they came here when it was Pub 222, they will recognize the bar and that will be it."
The bar, which is 120 years old, is original to the building. One of the tables from Pub 222 has been refinished.
"Table 6 was from Pub 222," he said. "It was a table that one of the regulars would sit at. They took the original table top and refinished it. It's kind of a salute to Pub 222. They would say that this was going to be their final drink and they would still be here six hours later."
More information about Whiskey Bend is available at its website, whiskeybendstc.com, and its Facebook page, facebook.com/whiskeybendstc.