ST. CHARLES – State champion Lianna Surtz shattered the 3,200-meter county record April 28.
The Rosary senior, however, was about 15 meters behind Batavia's Katrina Schlenker in the meet at St. Charles East.
Schlenker, a Liberty recruit, obliterated Denise Hefferin's 3,200 record at the Kane County Invitational by recording a time of 10 minutes, 35.09 seconds.
Surtz lowered her school record in placing second at the premier regular-season girls track and field competition with a time of 10:40.1.
Hefferin, a former coach at St. Charles East, had set the county benchmark in the longest individual race at 10:59.6 in 2000.
It was only fitting that Schlenker also was the last Batavia athlete on the track April 28. The senior anchored the Bulldogs' third consecutive sprint relay title, this one coming in the 4x400 in 4:02.63.
"I have been racing with Lianna since sixth, seventh grade," Schlenker said. "It was like having a teammate out there. I definitely feel a lot stronger. I had a lot left in me over the final lap."
"I had a lot of fun with both of us being from Batavia," said Surtz, who has the 2019 Class 2A metric mile, as well as two cross country state titles to her credit. "We don't get to race each other very often. It made the whole race faster."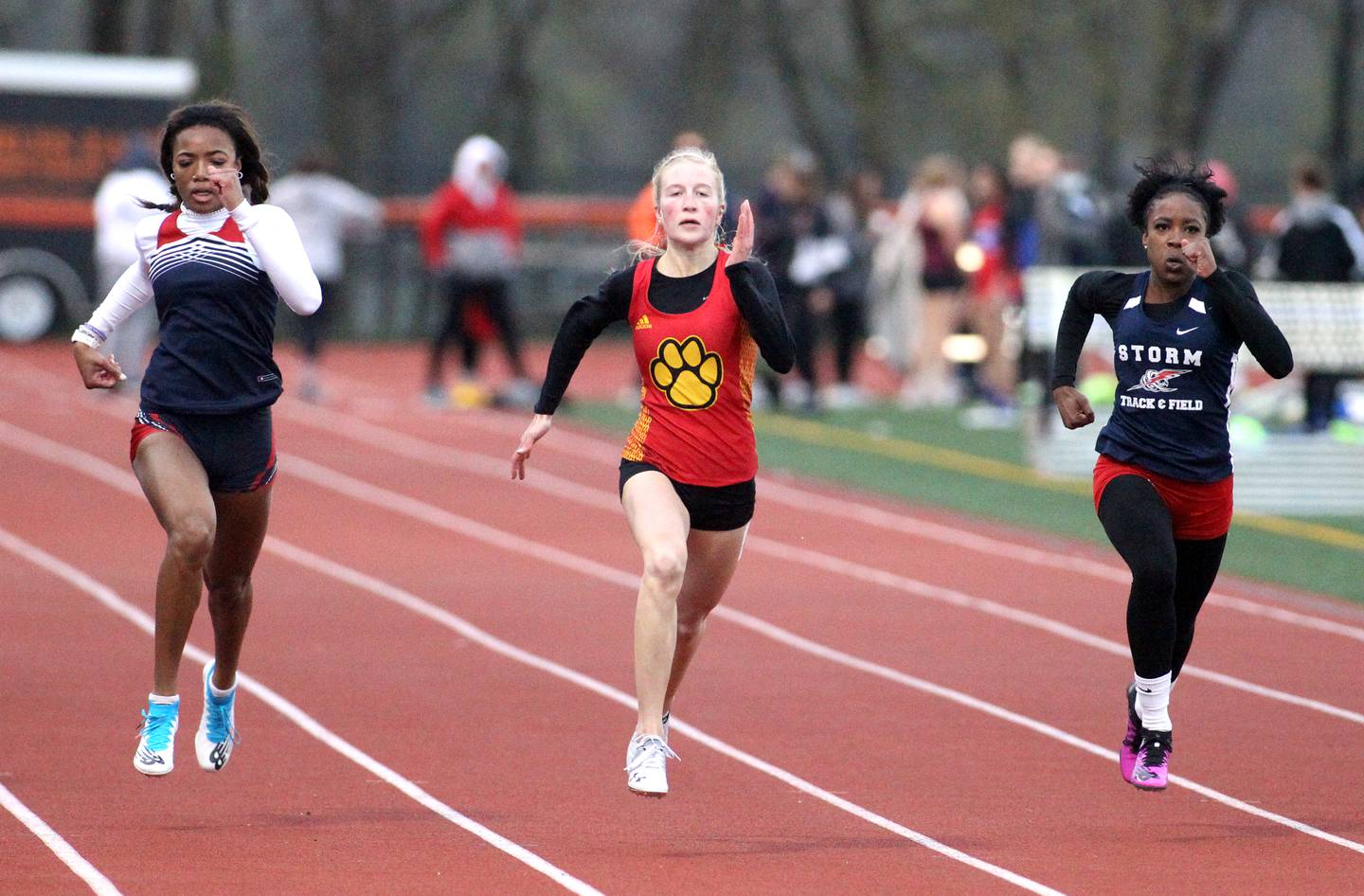 The other Batavia luminary was senior sprinter Essie Newburn.
In her lone individual race, Newburn was anointed the fastest girl in the county with her 12.82 clocking in the 100 dash to thwart West Aurora's reigning all-stater Zoe Littlejohn by nine one-hundredths. Littlejohn will compete in college at Loyola.
With an array of relay comrades – Schlenker, Skylar Sandoval, twins Maddie and Mariah Wilson and Izzy Taylor – Newburn was a four-event county champion as the Bulldogs captured the 4x100, 4x200 and 4x400 relays.
"I can't even comprehend that," Newburn said. "It feels so surreal. We were preparing for this meet like it was a state meet."
When the Bulldogs' two field event triumphs – Bridget Kosky in the long jump and Alex Baumann in the shot put – were added to the track haul, the result was a 128-106 triumph over St. Charles East for the team title.
Kaneland (67 points), St. Charles North (64), Burlington Central (61), South Elgin (57) and defending champion West Aurora (48) were well behind.
The host Saints' Katie Kempff had a win on the track and in the field.
The MIT-bound hurdler and jumper won the 100 lows in 16.24 and escaped Dundee-Crown junior Paulina Tinajero to capture the triple jump in a tiebreaker at 36 feet, 6 inches.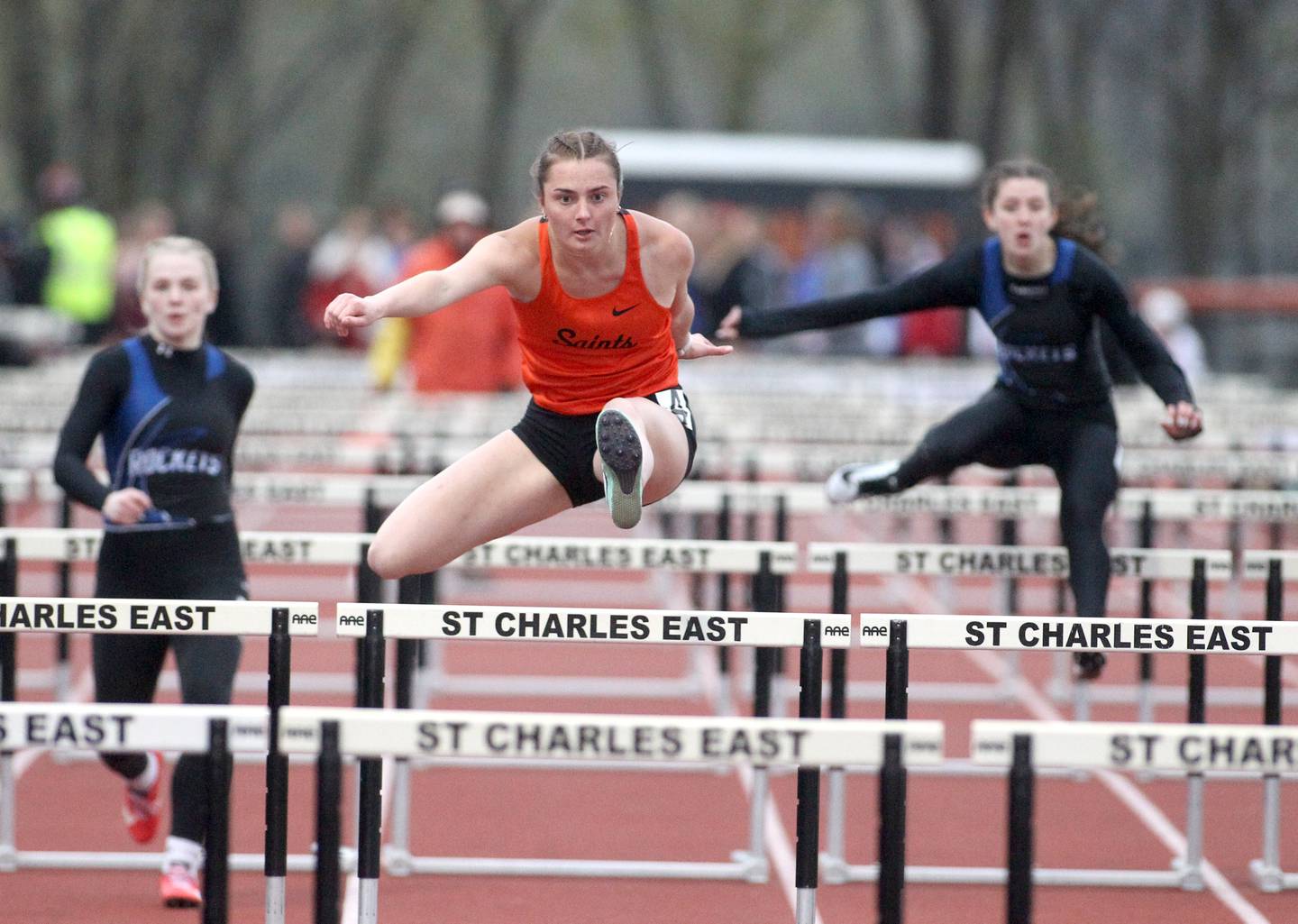 The Saints also received victories from their 4x800 relay (9:40.95) and 300 hurdler Natalie Grimaldo.
"It's good to get more data to see where you're at," Kempff said.
Natalie Buratczuk, third in the Class 3A state high jump last June, won her third consecutive county title for St. Charles North with a 5-5 clearance.
Aurora Central Catholic all-state long sprinter Isa Orozco defeated Class 3A South Elgin all-state metric half miler Naomi Ruff to win the 800 in 2:18.77. The junior added the 400 moments later for the Chargers. Ruff claimed the metric-mile in a season-best time of 5:07.2.